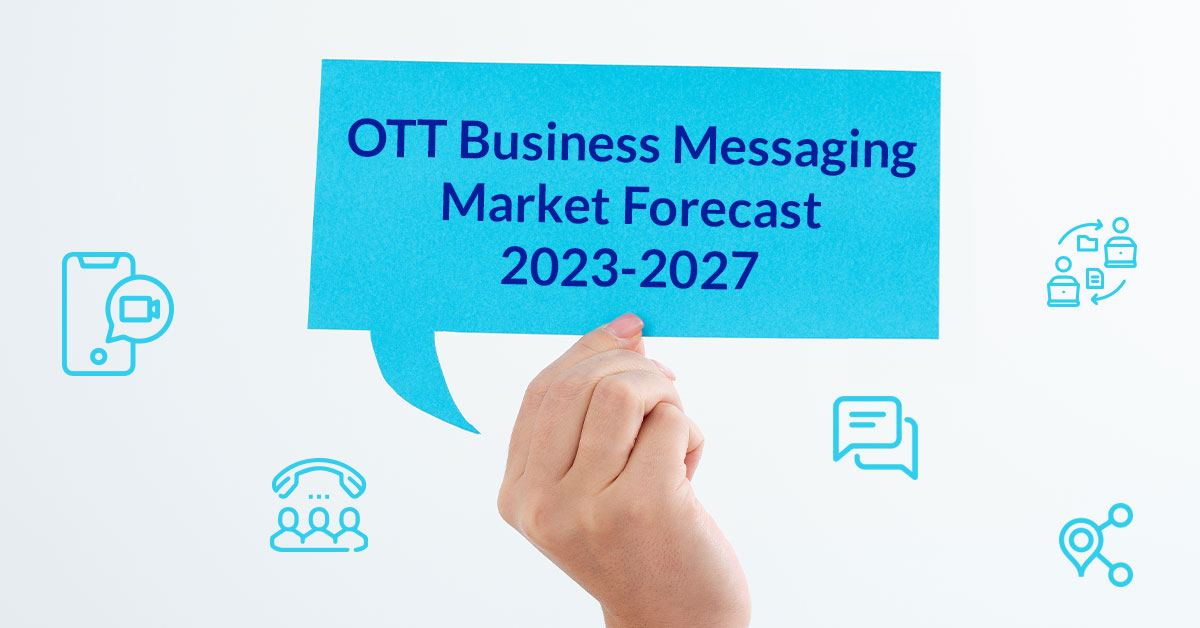 Over-the-Top Business Messaging, also known as OTT Business messaging, has become a widespread trend among businesses for various purposes including support services, sales, and marketing. OTT messaging apps and platforms have replaced traditional communication channels due to the increasing popularity of instant messaging and the widespread use of smartphones. As a result, this sector has experienced phenomenal growth.
Overview of OTT Business Messaging
Over the last 5 years, we have seen remarkable growth in the adoption of OTT messaging applications.  This adoption has transformed the messaging market by facilitating businesses to send messages, images, URLs, graphics, and more through wireless networks. It is interesting to see that OTT messaging apps bypass the use of cellular services and utilize the internet to transmit data, enabling them to operate "over the top" of the network.
In contrast to traditional communication channels like email and SMS, OTT business messaging presents a more economical and convenient mode to connect with customers. Communication through OTT messaging happens in real-time, multimedia sharing, file sharing, and group chats, are some of the features that users can enjoy while communicating with each other.
Read Also – Why OTT Chat is Becoming More Popular than SMS Messaging?
Market Size and Growth Drivers
The conversation around A2P communications is changing as brands shift from sending one-way messages through a single channel to engaging in two-way interactions through conversational messaging using OTT messaging apps.
A new Juniper Research study has revealed that mobile operators will lose out to OTT business messaging providers such as Messenger, WeChat, and WhatsApp to the tune of $2.5 billion next year – an increase of 20% over 2022.          
Though the growth of the OTT business messaging market is fueled by several factors, 3 key areas stand out as particularly noteworthy, as mentioned below:
Firstly, the benefits of employing an OTT platform for internal business communication are gaining popularity among businesses around the world. Besides enhanced efficiency through streamlined communication across departments or locations, OTT platforms also let businesses improve their customer experiences by offering faster response times and better engagement rates. 
The advent of social media has been another major driver behind the rising adoption of OTT messaging apps among businesses. Users can send messages directly within apps like WhatsApp and can also share content through other trending apps like Facebook Messenger. Clearly, this turns out to be a new avenue for businesses to reach out and connect with their potential audience and still engage with the existing ones as well. 
Since the COVID-19 Pandemic, there has been an upward trend in the digital communication space which has led to changes in consumer behavior. Consequently, this shift has led to the adoption of OTT messaging platforms to stay connected and communicate remotely.
Read Also – How Mobile OTT is Ruling over Telco Operator?
Market Segmentation

Based on several factors, the segmentation OTT business messaging market can be done as the following:
Platform
The type of messaging platform used makes the first type of segment. Some examples of various types of platforms are WhatsApp Business, WeChat, Viber, Facebook Messenger, etc.
Industry
On the basis of the end-user industry, the OTT business messaging market can be segmented. Some examples include Healthcare, Finance, Travel, Hospitality, etc.
Business Size
The next segmentation is on the basis of the size of the business using the OTT messaging platform. This can be like SMEs i.e. Small and Medium-sized enterprises and large organizations.
Region

This market can also be segmented on the basis of geography i.e. the location or region where the OTT messaging platform is being used. Some examples of this include North America, Asia Pacific, Europe, Latin America, the Middle East, and Africa.
Functionality
Considering the functionality, OTT messaging platforms can be categorized into various types such as automation, marketing, support, etc.
Deployment
Under this section, there are mainly two segments i.e. cloud-based and on-premise based on the type of deployment used by the business.
Competitive Landscape
The competition outside is complex and intense given that hundreds and thousands of companies are entering the market every day. You must have already heard these names such as WhatsApp, Facebook Messenger, WeChat, Viber, Telegram, and Apple Business Chat which are already ruling the charts.
Below mentioned are some key factors that influence the competitive landscape of the OTT business messaging market. Take a look:
Positive Customer Experience
Remember the saying "There's only one Boss – The Customer!". Certainly, there's no denying the fact if a business wants to succeed, then it must pay attention to what its customers need. By ensuring that their products are in-line with the needs and expectations of the customers, a business can surely stand out in the market. 
It is important for businesses to understand that to remain competitive and stand out in the market, they need to ensure that their products are in line with the needs of the customers and guarantee a satisfying experience.
With this, businesses need to understand the value of investing in customer-centric features such as intuitive design, customization, robust security, etc. Read Also – Which Mobile OTT Features Let You Win Tough Market Competition?
Cost Structure
The pricing structure is another factor that has an effect on the competitiveness of the OTT business messaging market. Mainly, there are two pricing models offered by service providers- Monthly or yearly subscriptions and pay-as-you-go services. For advanced features and services, many providers charge extra fees. It's crucial to understand that these pricing structures can shape the overall cost of the product.
Strategy
To establish a solid presence in the market, it is crucial to analyze the strategies used by the big players. To start with, you can puzzle out various marketing and product development approaches and filter out the ones that will be most helpful in staying competitive.
Challenges and Opportunities
The landscape of business messaging is quite dynamic as more and more businesses seek to leverage OTT messaging solutions. As a result, it becomes essential to consider the distinct demands, both obstacles and prospects that come with these services.
Challenges in the OTT Business Messaging Market
Competition
This market is highly competitive with many players already struggling to stand out from the others. It can be difficult for new companies or starters to fight the tough competition and gain an extra edge.
Security & Privacy
As the usage of OTT messaging platforms for sharing data rises, so does the potential risk to data security and privacy. Businesses must adopt best-in-class techniques to ensure that their messaging platforms are secure enough.
Integration
For businesses looking forward to leveraging the full advantages of an OTT platform, integrating their existing systems with the new ones can be a daunting aspect. This could require a significant allocation of IT resources having technical proficiency.
Opportunities in the OTT Business Messaging Market
Cost Savings
Compared to traditional methods such as email and SMS to connect with audiences, OTT messaging proves to be quite pocket-friendly.
Increased Customer Engagement
With OTT platforms, businesses get the opportunity to connect and serve customers in a more personal and direct way. This personalized messaging can help in building better relationships with customers and thus increases the chances of customer engagement.
Innovative Ways to Reach Customers
OTT business messaging is coming up with new features and capabilities every other day. This means businesses have the opportunity to formulate new and exciting ways to connect with customers.
Read Also – Is Mobile OTT The Lifesaver of Fixed Line Operators?
Forecast and Future Outlook
Juniper Research has found that global OTT business messaging traffic will rise from 93 billion in 2023, to 254 billion by 2027. This growth of 172% will be driven by the increased availability of open OTT messaging APIs and competitive pricing models; creating a viable rich media alternative to established operator-led channels, such as SMS.

Source- Juniper Research
Some of the forecasted trends of the OTT Business Messaging Market are:
RCS i.e. Rich Communication Services, is an emerging messaging protocol that offers an enhanced messaging experience by offering advanced features like multimedia support, read receipts, etc. It is expected to gain increased adoption in the OTT business messaging market in the upcoming years.
Personalized and contextual communication with customers will be a priority due to which it is highly anticipated that AI and automation technologies will play a significant role in OTT business messaging.
OTT business messaging's advanced security is also expected to entice high-spending enterprise users to adopt these services. In particular, incorporating robust security features like brand authentication will enhance user engagement, as brands increasingly seek to communicate with their customers via verified channels.
Conclusion
A key takeaway here is that transitioning away from conventional communication towards modern-day channels like OTT messaging might bring some obstacles. But if done in the right way, this shift can offer significant advantages to businesses as they strive to explore effective communication with their customers.

Read Also