Calling card business is one of the most popular businesses in the VoIP industry. Being one of the fastest growing VoIP services, it mostly attracts entrepreneurs who want to enter the VoIP market, businesses with established retail distribution channels, and service providers who want to diversify their revenue flow.
The potential consumer segment includes – students, business and leisure travelers, expatriates, immigrants, and soldiers. Calling cards are a prepaid method of making long-distance (domestic or international) calls. Using a calling card, one can save money on long-distance phone bills. There are no monthly bills, no statements, and no hassle.
Why should you start Calling Card Business?
1. Calling card platform takes advantage of DID technology, which enables service providers to provide calling card services to customers worldwide (wherever DIDs are available). Service providers need only the platform.
2. Phenomenal growth of immigrants, travelers, and international business communities.
3. Calling card is often much cheaper than long-distance providers and local phone companies.
4. Very convenient to operate.
5. There are no monthly bills and no detailed statements. Rather, you simply pay for the calling time in advance and reduce the prepaid balance as you make calls.
6. There is no gateway configuration necessary in order to make changes to your dialing plan, so carrier management is hassle-free and does not require technical knowledge.
7. Easy account top-up facility.
How does it work?
The way it works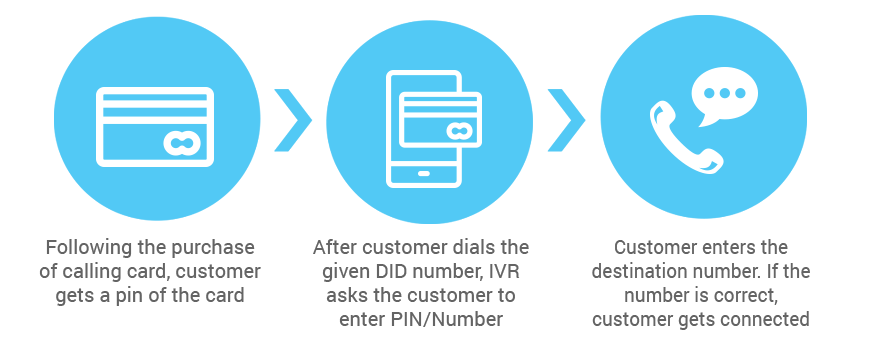 There are two different types of calling cards:
1. PIN-based calling cards
2. PINless calling cards
In both cases, the subscriber must buy a calling card for making calls, dial an access number (or DID) from his phone and follow the IVR.
Pin-Based Calling Card: In the case of PIN-based models, one needs to input the PIN. The subscriber must enter the PIN code. If the authentication is successful, the system announces the current balance and the customer dials the destination number.
PINless Calling Card: In the case of PINless calling cards, the customer directly dials the destination number.
For whom it is?
The company launching a prepaid or postpaid calling card business, especially in newly deregulated markets.
Carriers looking for additional profit from the global long-distance network. Service providers who already offer prepaid and postpaid calling card services over a switched circuit network.
Telecom companies and other service providers are interested in offering to call card services to a wide range of important target communities.
What you need to start your own Calling Card Business
A dedicated server & hosting: You need a server, where the calling card platform (Class 5 Softswitch) will be installed, which must be backed by a 24×7 power supply.
A PC (or other devices) with an Internet connection: You need a PC with dedicated Internet bandwidth for managing the calling card platform via a web interface. A stable internet connection is essential in any segment of a VoIP business. In fact, it is better to have a second internet provider as a backup. It would be wise to place your servers in co-location since it can guarantee you stable electrical power and internet connection.
A secure and reliable Calling Card Platform (Softswitch with integrated Billing): An advanced calling card platform is the heart of a calling card business which will ensure the smooth running of your business. Hence, a high-performing Softswitch is required, which supports both PIN based and PINless authorization. In case of PIN based calling cards, authorization is performed by PIN; whereas in the case of PINless version, the calling card platform resorts to ANI(Automatic Number Identification) authorization. Your softswitch should be integrated with billing system, which is a must have for this business. With a reliable billing system, you shall be able to keep a track of call rates, customer usage and payments.
Choose International Routes/Destination Provider: Another requirement for your calling cards business is choosing the best long-distance provider, who shall provide you calling minutes/ routes for all countries. However, after choosing an A to Z route provider, you must also check the quality of the routes. Now, once you have gathered the necessary software & hardware, you need to adopt the right marketing strategy.
Set up a website: Set up a website where you can clearly mention the rates for various destinations. This will help end users to check rate of any destination before making the call. A website which will provide information like:
Call rates for various destinations
Address of retail outlets
Payment medium
Any new development related to your business
Set your Calling Card prices: Not to forget, card price is just as important as call quality. It is because you want to make good money too on your calling cards. Some providers charge a monthly fee in addition to the rate per minutes, so add that up when comparing different costs. Take note of how you will be billed i.e. per second, per 30 seconds, per minute. If you are charged per minute and you will have many short calls, then you will be wasting a lot of money. Have separate prices for each destination and think about it carefully.
Print Calling Cards and promote your business: You must choose an attractive design for your phone card, which clearly displays your brand name. The plastic shall contain the access number, PIN number (displayed after scratching), and terms and conditions that you want to highlight. Spread the word among your friends and family, about the business you have started, and they will do the branding. Gradually, you will get more and more customers. If you have a larger budget, you can consider advertising a little to bring awareness about your calling cards. Tie up with local distributors to widen the reach of your calling cards. Additionally,
Go for online & offline advertising.
Create awareness utilizing social media platforms like Facebook, LinkedIn & Twitter.
Enjoy profit: In order to reap enough profit, you must clearly attain enough margins between your buying price and selling price. For example, when you buy routes, you can go for per second billing and charge your customers on per minute or per 3 minutes. Apart from buying rates, you must also consider other things like card printing cost, distributor commission etc.
Start Your Calling Card Business Right Now!
So, if you have decided to set up your calling cards business, you can adopt REVE Systems advanced calling card platform, which will allow you to manage your switching and billing operations effectively and efficiently.

Read Also