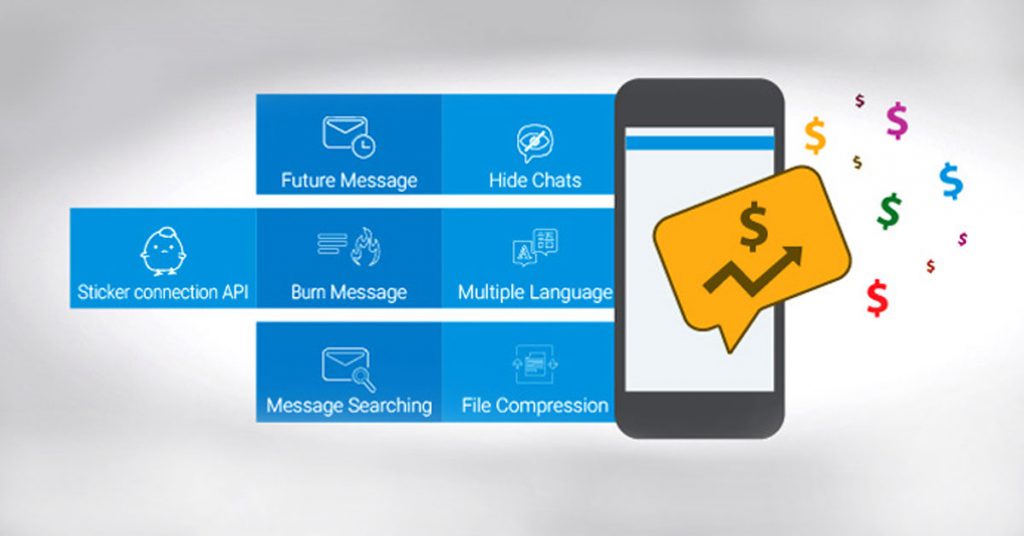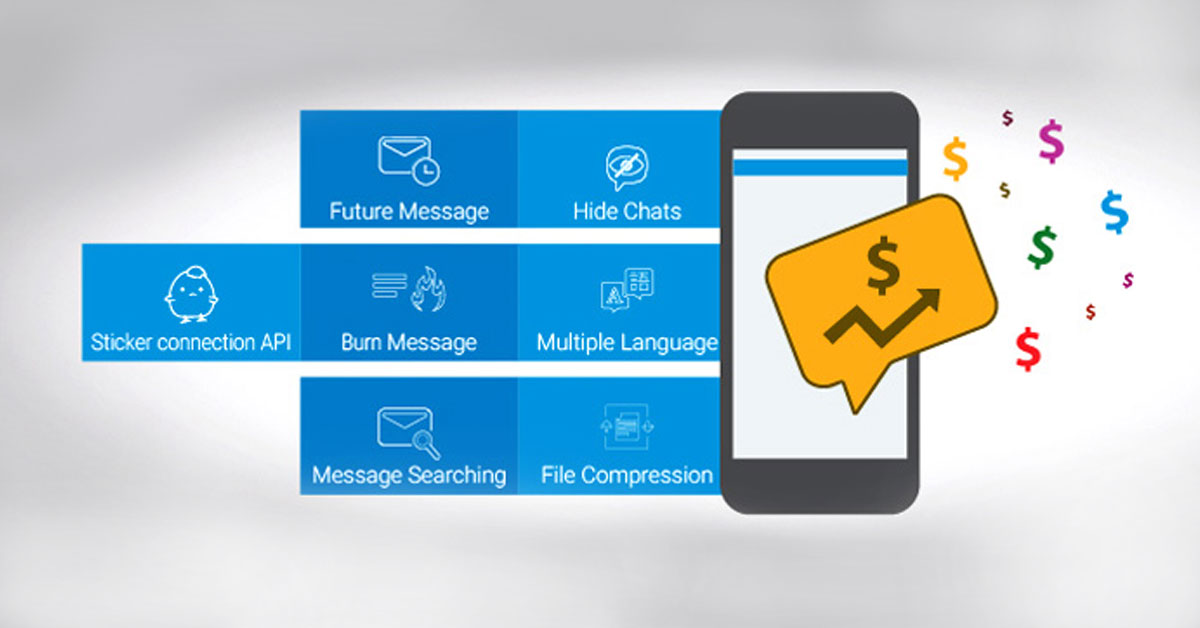 Mobile operators voice revenue is constantly declining as per various reports published. The main reason behind this is the preference for more flexible and free OTT (Over-the-Top) services by users.
As rightly said by Malcolm Gladwell, journalist, author & speaker, "Achievement is talent plus preparation". What are the innovative strategies current mobile OTT providers must implement; to achieve their expected revenue goals?
Customers nowadays prefer free Mobile OTT features like audio and video calls, fast instant messaging with real-time typing experience and secure file transfer. Interestingly, humans are the best testers for new inventions & love to follow the latest trends. So, as a VOIP service provider, you always need to plan beforehand to always position yourself at the top in the long run!
For example, before being acquired by Facebook in 2014, WhatsApp only had instant messaging features. But after understanding the demand for calling features, in April 2016, WhatsApp launched audio & video calling features, to compete with the current market. Though "calling" features were nothing new in 2016, but following the trend, usage of WhatsApp increased by many folds. There are presently more than 2 billion WhatsApp users around the globe and increasing (WhatsApp, 2020). With 1.5 billion in 2018 and 1 billion in 2016, this number of WhatsApp users has been growing at half a billion every two years.
Common Features of Mobile OTT
So, what exactly is an OTT app? OTT refers to "over-the-top" apps and services, such as WhatsApp, Viber, Voxox, which allow you to stay in touch via text and phone at lower rates than typically offered by your cellular provider.
To show you just how awesome OTT apps are at saving you money, check out these 5 ways you can lower your cell bill with a Mobile OTT communications app.
1. Save on Basic Texting
Don't have an unlimited texting plan on your phone? Don't worry because with most OTT apps you can send texts for super cheap or free. Additionally, many OTT apps have features like text translation to make staying in touch easy, no matter who you want to chat with
2. Expensive MMS to Free Multimedia Texting
Texting multi-media can be costly with certain texting plans, but using a Mobile OTT communications app can help. Instead of tapping out your texting plan, try out an OTT app and share all your latest pics and videos for free.
3. Call Cost Cutting
Call your friends and family, from anywhere in the world, for free or at really low rates. Mobile OTT apps also put tons of cool calling features at your fingertips – call forwarding, voicemail transcription, conference calls, and a few more you'll really love.
4. Secure File Sharing
OTT is blooming to enterprises and business organizations eradicating hard copy files from the employer's table. Because file transferring is really safe through OTT apps and in some cases, the communication app providers offer on premise-based OTT app server solutions to ensure maximum security.
5. Single Phone Number
If you need two phone numbers, say one for personal and one for business use – no need to pay for two mobiles! You can use an OTT communications service to get a free phone number and route it to your mobile. Not only will this save you money, but you'll also have the added benefit of just keeping track of one device.
What's new in Future Mobile OTT features?
If you're already a Mobile OTT communications app fanatic and just want more interesting features in OTT apps other than the common features, you just need to check out some exciting upcoming or recent features mentioned below:
Future Message
Future Message option will permit the user to schedule any pre-typed messages or wishes such as fixing competition, efficiency operational activity & birthday wish by selecting the date. In fact, the sender can make or change the date of creating the message as a bonus. This feature will save the Mobile OTT user from missing out on sending any important wish or work on time. For example like an app name "Textra SMS" launched this option already and it's been taken really well by the users, with a 4.5 rating at this moment in the Google Play Store.
Hide Chats
Beforehand smartphones had the option on SMS to put a barrier on the third-party view. But now OTT apps are offering these services as well. Last year, Viber has already debuted this "Secret Chat" feature and users are really happy with it. This hidden chat option is generally very much beneficial for enterprise clients as they can easily hide highly sensitive messages from any third-party view. So far, this hidden chat can be locked/unlocked in three ways-
Password
Finger Print
Shake
Sticker connection API
The use of emoticons, GIFs, cartoons in the chat is quite a trend nowadays. There are creative designers who are working really hard, day & night in the background, for creating these emoticons but lags the deserving credit. Sticker Connection on API is one such opportunity for those creative folks to directly sell their hard-done work with royalty through Mobile OTT APP.
Burn Message with Visualization
OTT apps are popular for creating a real feeling thus limiting the distance of both the app user's while they chat away with each other. Have you ever used the Skype message removing feature? If yes, then you realize the pleasure of removing unwanted or wrong messaging while messaging.  But the pleasure doubles up when you can see those unwanted messages getting burned from your app.
For example, let's say, you have sent a message to your line manager. Now, if you have typed any wrong/ unusual information it may harm your job. So, in that circumstances, the feature "Burn Message" will save you by removing the message and you will get mental peace watching that message burn.
Multiple Language
Many chat apps support different language keyboards. For example, WhatsApp supports multilingual keyboards which help native speakers to stay connected through Mobile OTT apps in a more relaxing way.
Message Searching
Can you find an important message which was sent a year ago to your friend? A "message searching" option let your clients find old messages from the server. This feature will save your client's time and enrich the experience of communicating through an OTT app.
File Compression
Are you facing trouble in sending large sized files in jpg, docs or ppt format? At the moment, you need to manually compress the files and then send them through the apps, right? But what if, you needn't do a thing and Mobile OTT app does all the job for you. Believe it or not, the "File Compression" feature will let your clients compress the files through the app!
These exciting features are going to be the new hype in OTT. Telco Operators are now moving to the Mobile OTT business and according to a report, almost 16% of operators believe they will generate incremental revenue from OTT services. So, these new moves, plans or strategies are much needed to keep the Mobile OTT on the top.
You may check the below infographic to have a better understanding of the updated OTT features.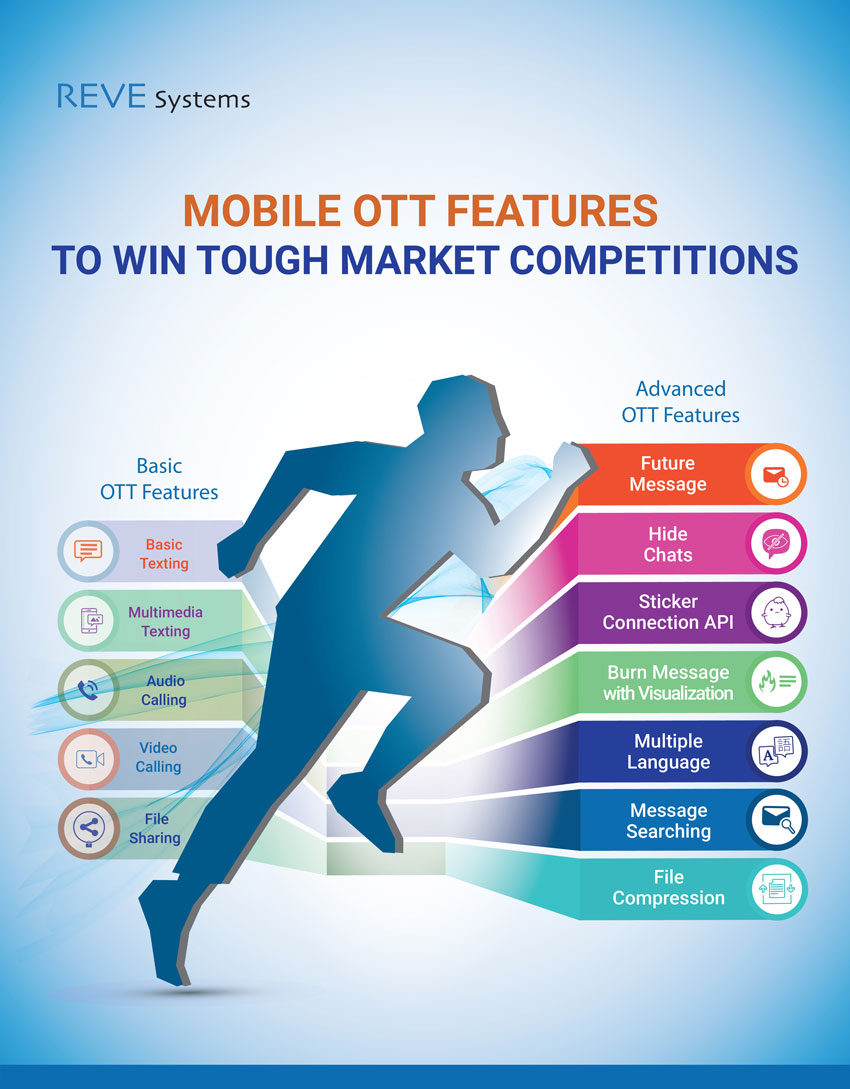 Read Also
Note:  This blog has been updated with the latest information