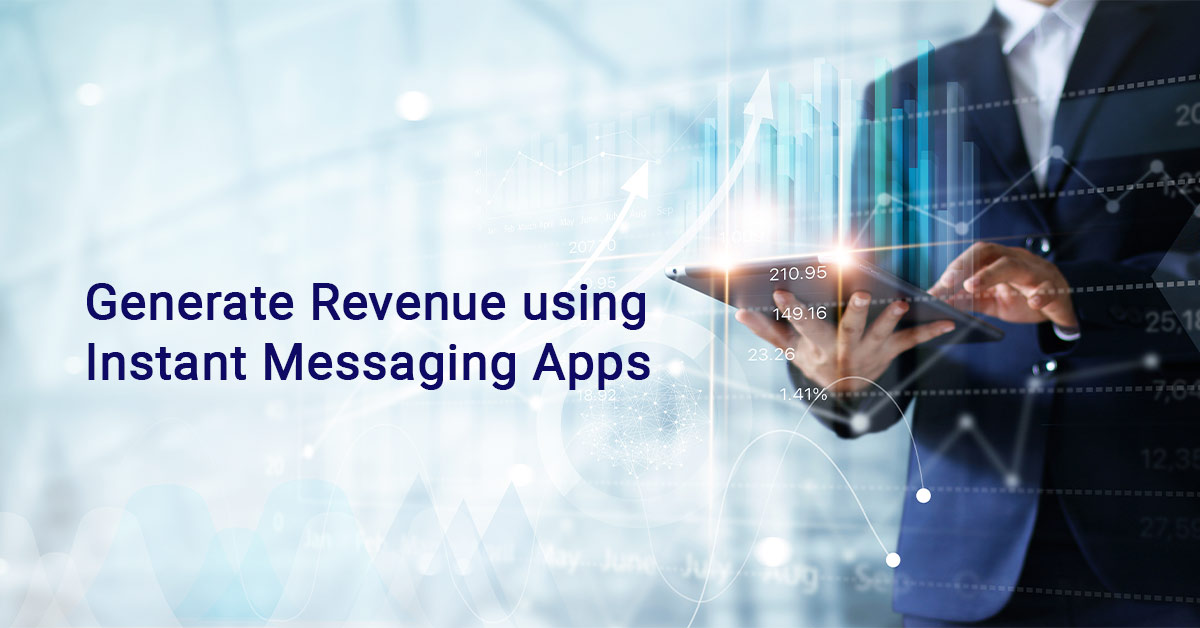 Instant Messaging Apps have changed the way we communicate. The overhead statistics are thrilling for those who dream of becoming successful communication service providers. At this moment, instant correspondences with anyone are utterly dependent on effective real-time communication.
Any form of real-time communication either voice or text-based never fails to bounce your heart with an amicable feeling while communicating with your friends, clients or kinsfolk.
A Pew Research Center study shows that out of the 85% of adults who are online; 67% are using smartphones. Amongst those, 36% use regular instant messaging apps like WhatsApp or Kik. Again out of which 17% use ephemeral messaging apps like Snapchat.
Not only general people but also global business entities are now relying on free Instant Messaging Apps available in the market.
Latest Instant Messaging Apps Statistics 2022
As per Statista, In 2021, approximately 3.09 billion mobile phone users accessed over-the-top messaging apps to communicate. This number is estimated to grow to 3.51 billion users in 2025.
Over 3 billion people are predicted to use messaging apps in 2022. In 2021, global users spent approximately 18.6 hours per month on the instant messaging platform.
WhatsApp is the most popular mobile social app worldwide and is  the most used app in over 180 countries.
As of January 2022, two billion users were accessing WhatsApp messenger monthly.
In the early days of the COVID-19 pandemic, people spent a total of 15 billion minutes on WhatsApp calls each day.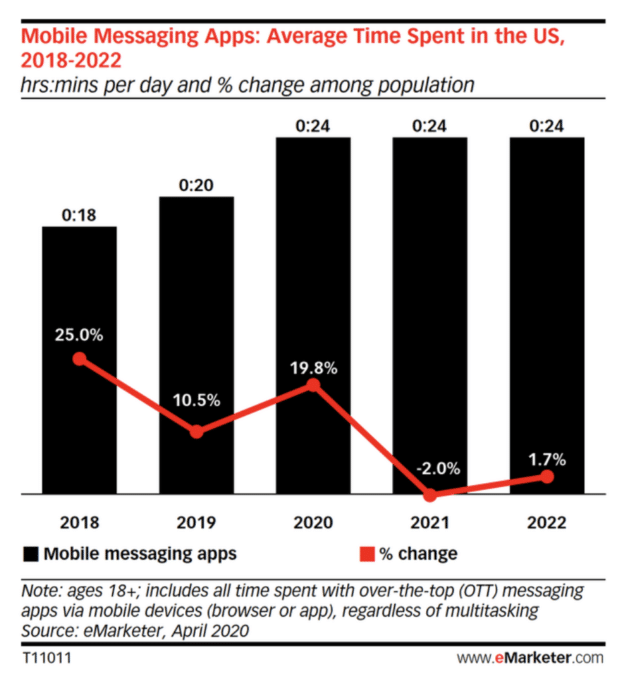 The value of WhatsApp's annual revenue in the year 2021 is estimated to be $ 8.7 billion.
Top 10 Most Popular Instant Messaging Apps in 2022
WhatsApp
WeChat
Facebook Messenger
QQ
Snapnchat
Telegram
Source – Statista
WhatsApp
WhatsApp became the most downloaded app in the world in 2022 with a popularity share of 31% of the world. The majority of WhatsApp users are located in India. This is followed by Brazil, Indonesia, the United States, and Russia.
The reason for this success is the fact that WhatsApp provided a free online messaging alternative to SMS and any other means of instant messaging available. In the year in which WhatsApp surpassed Facebook Messenger, it grew by 35% whereas Facebook had 20% growth that year.
Statista's data on the most popular messaging apps by country reveals to us that WhatsApp has an impressive 87.40% user penetration rate in Saudi Arabia. Penetration rate is one of the most important metrics in marketing. It refers to a percentage of usage or sales in the total available market.
Facebook Messenger
Basis the global advertising audience reach numbers, Messenger has at least 999.8 million users globally in April 2022. These numbers suggest that 16.1% of all users aged 13 and above use Facebook Messenger today. In the U.S. alone, 126.3 million U.S. mobile phone users accessed the messaging app to communicate in 2018. These numbers are projected to grow to 138.1 million users in 2022.
Messaging app are becoming the new domain for businesses to display their ads. However, there are many ways other than ads for businesses to tap into the messaging market. Therefore, companies are effectively using Facebook Messenger to communicate with their potential or ongoing customers.
According to data that Facebook provided, there are currently 200 million active business users on Messenger. Further data provided by Facebook this year states that over 20 billion messages are exchanged between individuals and businesses on Messenger every month. Marketing messages sent through Messenger have an average open rate of 70%-80%.
Chatbots are regarded as the future of marketing and customer service. In 2018, an announcement made by Facebook revealed that there were over 300,000 chatbots on their Messenger platform. Messaging apps statistics further show that this is three times more than the previous year when there were only 100,000 bots on Messenger.
WeChat
Launched in 2011, WeChat the messaging app has over 1.24 billion in the first quarter of 2022. It is created by Tencent, the Chinese Tech Company. Today, WeChat ranks fifth in terms of active user numbers. It has users from different age groups.
In China, WeChat is a leader in the instant messaging app business. It holds a significant market share and around 80% of the top 500 companies in China are registered as WeChat corporate users.
The point that makes WeChat favorable to the rest is the fact that it has numerous integrated "mini-apps" that cover a variety of services. Also, its payment function is a winning point. In 2018, according to the ZDNet report, there were 45 billion messages sent out each day through WeChat.  An average user spends 66 minutes a day on WeChat.
Revenue Growth Statistics of Popular Messaging Apps
The revenue growth rate of these popular messaging apps is unbelievingly fast. Let's have a look at the last 5 years' statistics by Statista which shows the revenue growth of popular messaging apps starting from 2015 and projected to 2020:
This statistic reveals information on the revenue of selected mobile messaging apps in 2015 and forecasted till 2020. According to Statista, the mobile messaging app WhatsApp generated a revenue of 49 million U.S. dollars in 2015 and will grow up to 4.8 billion in 2020.
Let's dive a little deeper.
In 2021, the estimated revenues generated by WhatsApp Business amounted to approximately 300 million U.S. dollars. The Asia-Pacific region was estimated to have generated the highest WhatsApp Business revenues, with over 113.5 million U.S. dollars spent on the professional version of the popular instant messaging communication app. Source
In 2021, WhatsApp Business was estimated to have an average revenue per user (ARPU) of approximately 0.24 U.S. dollars worldwide. Europe was estimated to be the global region with the highest ARPU for WhatsApp Business, with 1.21 U.S. dollars in revenues per user on the platform. Source
In 2021, Hong Kong, Singapore, and United States were other important markets for WeChat, collecting a combined in-app purchase revenue of two million U.S. dollars. Source
Eventually, business communication in different organizations relies on free and popular mobile messaging apps. A recent statistic by eWEEK magazine shows that 80 Percent of people use texting for business and 15 Percent said more than half of their text messages are sent or received for business purposes. Right now, popular brands and small businesses within the globe both prefer to communicate their clients and customers through messaging apps!
Hence, many new entrepreneurs or communication service providers will be curious to know the background success stories of these Apps. These apps add extra sugar to our life because most of the existing messaging apps are free, cross-platform, and proprietary instant messaging applications for real-time communications on multiple electronic devices such as smartphones, tablet computers, and personal computers. Before the discussion, we can guess your next question!
How do App Owners Make Revenue from their Instant Messaging Apps?
This question is obvious for those who want to start a business or already own an Instant Messaging App. Whether a newcomer or owner of a messaging app, both needs to put more emphasis on making revenue.
To generate that extra amount of revenue from your app there are a few helpful things. While the user makes calls or sends SMS, the balance will be deducted from the GSM account or the app account.
In addition to this, if there is virtual roaming it will further add to the revenue as well. According to Grand View Research, Inc., "the global roaming tariff market size is expected to reach USD 100,750.0 million by 2025, registering a CAGR of 5.5%."
Apart from this, enabling Operators to access competitors' customer base by engaging them with your OTT apps and then sending them different promotional content is an additional bonus in terms of revenue generation. So, here are a few guidelines with references to successful stories to tip you on the smart ways of monetizing your instant messaging app.
Top 4 Ways to earn from your Instant Messaging Apps
Subscription fee or Download charge
You can develop two versions of your instant messaging apps. One will be free of charge to download and subscribe and another one with a subscription fee which will provide your users with a complete experience.
This free version can work as a teaser because after using the free version of your app, your customers will realize that the app can serve an important role in their lives which they don't want to miss. If they enjoy what your free app offers and want a better experience, they might be willing to pay for the premium version.
If we consider that your app has 1 billion users and everyone is paying about 1 USD for renewal, it would generate about a billion dollars in revenue per year. According to a recent report on app monetization survey says that 5% of Apps are using In-App Subscriptions. 
In-App Purchasing
According to a recent study, 65% of mobile apps use advertising to generate revenue, compared to 50% using in-app purchases. If we consider Line, which is a popular messaging app in Japan, Taiwan, and Thailand, it generates revenue from two prime areas.
First are those free-to-play video games that make money from in-game purchases of virtual items and other services.
The second one is buying "stickers" featuring different emoticons, and real-life cartoon characters that users use to inbox their friends.
Besides this, WeChat can help you hail a taxi, book a dinner reservation, transfer payments, and more. Using Skype and WhatsApp you can avail calling credit as well.
The In-App purchases can also include a variety of other features, such as Personal DID Number for the end-user, Mobile TOP UP, and Money Transfer. Value-Added Services (VAS) can also help to generate more revenue from your OTT Application.
Here instead of Sending VAS content in SMS, an operator can send it through IM message to the end-user. This, therefore, helps to save SMS costs and also generate profit from VAS Services. And as IM supports rich content so it is possible to send a variety of content.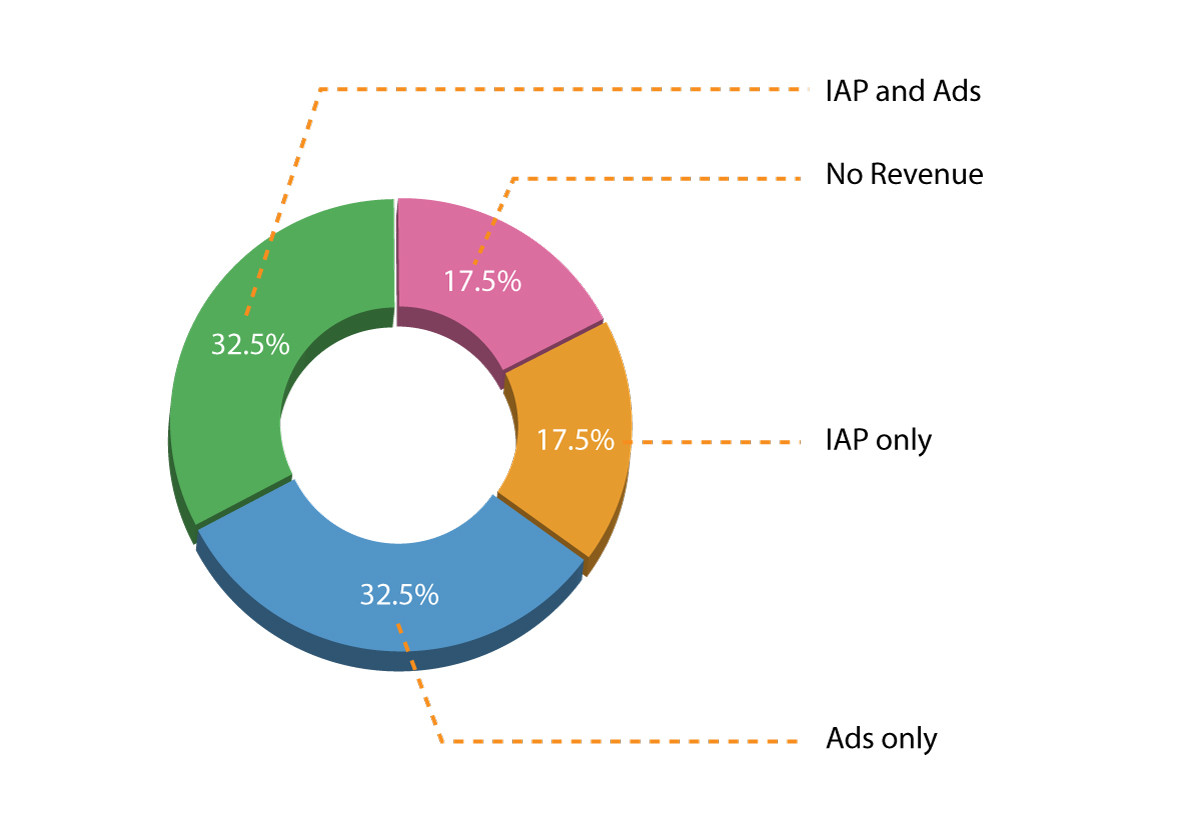 This pie-chart shows the information on how mobile apps generate revenue. According to Sweetpricing, research shows that 32.5 % of mobile apps are making revenue both from In-App Purchasing (IAP) and In-App Advertising. 
In-App Advertising or Personalized Ad Targeting
In your instant messaging apps, you can add in-app advertisements through digital marketing. But how?
Well, your users always log in to your instant messaging app using their Email account/Phone numbers/ Facebook account. When these people log in, data is entered into the app, and the analytics server can easily track your customer's behavior, likes, and tastes. Based on their interest, likes, and dislikes, you can show ads to them whenever they are using your messaging app.
Personalized Ad targeting through the segmented user base helps to reach the target audience with more precision and in turn, helps to generate revenue for the app. According to McKinsey's study, companies using "data-driven personalization as the core factor for marketing and sales decisions can improve marketing ROI by 15% to 20%".
This step increases the chances of making revenue, as you are only showing the things your customer wishes to see. However, you should be careful that this process does not hamper your user's experience. LINE Messenger and WeChat are the few OTT communications players to demonstrate revenue from In-App advertising.
Business communication solution through FREE Instant Messaging Apps
If you provide an enterprise communication app solution, you can sell your app to companies that prefer their own branded app for communicating securely. For instance, WeChat, the popular Chinese messaging app also provides an Instant Messaging App solution with a white labeling facility for business communication names such as Yammer.
To summarize, Free Messaging Apps or Instant Messaging Apps are the main targets of communication in recent days because of the highest level of convenience and cost-effective features. So, this business is emerging for entrepreneurs, communication services providers, and VoIP service providers who know about developing mobile messaging apps with multiple features. So, this article is targeted to those communication service providers and entrepreneurs as they will get to know the top points to make money out of their free messaging apps solution.
Read Also
Note: This Blog has been updated on 29th July 2022 with the latest information.