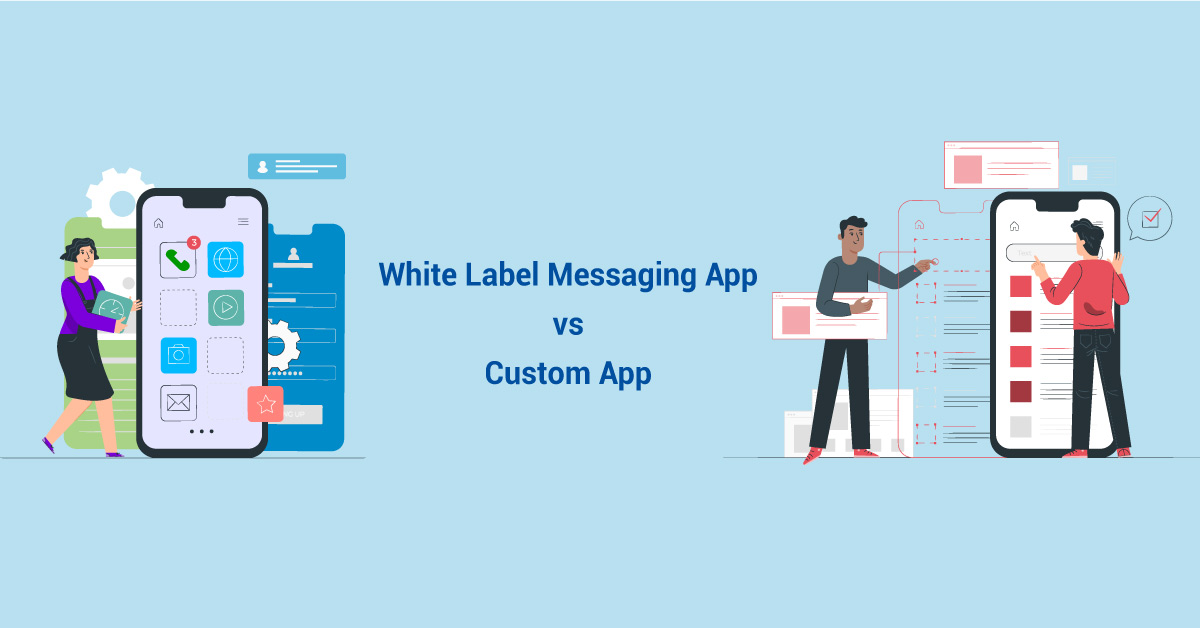 As per statista, in 2025, consumers from around the world are projected to download 187 billion mobile apps from the Google Play Store, up from 109 billion apps downloaded from Google Play in 2020. By 2025, mobile apps are projected to generate over 613 billion U.S. dollars in revenues. As of the third quarter of 2020, the most popular app categories worldwide were chat apps and social media apps, with a usage reach of 91 percent and 88 percent, respectively. These facts clearly emphasize the popularity and importance of chat apps in today's mobile dominated world. Besides being an effective medium for social networking, today almost every other business also needs a chat app to add more efficiency and effectiveness to their communication processes.
However, when it comes to getting a messaging app for business, one of the very first questions that occurs to mind is – should one be building the messaging app from scratch or go with a white label chat app solution?
What is a White Label Chat App?
If you are reading this blog, then probably you are aware of what white label apps are. However, as a quick refresher here is what you should know.
A White Label Chat App is a messaging apps that are developed by one company and used by another company under their own brand name. These applications are developed by a company and sold to another after making the requested changes or customizations of the buyer. The white-label apps are usually developed by an app development company. After the rebranding and customizations, the final product is released as the buyer company's product. So, for the buyer company, it is like a readymade solution tagged under their brand name.
Custom Apps are those apps that are designed for a specific user or group of users within an organization. These apps address specific needs within an organization as opposed to more traditional, standard software used by the masses. In other words, in custom app development, businesses can customize the whole development process like selecting each element of the mobile app as per their needs and the ongoing market trends.
The increase in the number of mobile phone users around the world has led to numerous companies coming forward to launch their own mobile app. The necessity to launch their apps despite having a limited budget made way for another business to emerge, that is, the White Label App Development.
Difference between a White Label Chat App and Custom Mobile App
6 Main differences between White Label Chat App and Custom Mobile App are as mentioned below:
Cost
Cost is something that every company or businessmen takes into consideration at the beginning of their venture. Similarly, when there is a requirement for an app, people usually look for the most cost-effective solution.
Custom Apps are built from scratch according to your directions including the latest interactive user interfaces, layouts and much more. Therefore, the cost of resulting product is higher.
White-label Chat Apps or any other white-label apps, on the other hand, are pre-made with a certain set of regular and most important features with room for customization according to the buyer. And, therefore, as it is pre-built the cost is usually less than a custom app.
Services that deal in white-label apps also offer flexible payment options. This means you get to pay only for the feature that you choose to use. So, you can choose any feature according to your budget.
App Development Time
In terms of the time needed to build and launch the app, custom mobile apps take more time than white-label apps. It is because custom apps are built from scratch. This, therefore, requires time for trial and testing.
On the other hand, white-label messaging apps are half-ready, awaiting the last finishing touches. When any business opts for a white label app, for example, a white label chat app, the basic functionalities are already present and only changes or customization are to be made as per the requirements of the buyer which hardly consume time.
Hence, opting for a white-label app will help to keep your app launch on schedule.
Resources
Building an iOS or Android app from scratch simply needs more resources as it demands a team of developers, designers and testers. They will work throughout the software development process to bring the development of custom messaging apps to completion. All this requires a continuous flow of resources which does not happen in the case of white label chat app.
Customization
There was a time when white label apps offered only limited customization in terms of features, design, etc. Today, most of the white label app development services offer maximum customizations to suit the specific needs of the customers. This makes them competitive enough when compared with the custom app development services.
Skillset and Maintenance
To own a white label chat app, businesses do not need an extra set of skilled personnel for installation, running or management of that app. There is no requirement for any other app development once you receive your white label chat app. Any request for changes can be put up with the parent company, the ones who developed the app. This therefore leaves businesses with no room for worries.
In a custom app, a team of skilled app developers seem to be a constant requirement. Along with changes, the developer's team has to look after the app maintenance as well.
Sustainability
Since white label apps are developed from the existing codes whose functionalities are already tested and running, the chances of getting bugs and errors are significantly reduced. As the codes are being validated already, the sustainability of white label apps automatically turns out to be quite high.
On the other hand, custom messaging apps hold a higher level risk of errors and bugs in the code. It demands thorough examination and testing before it goes live.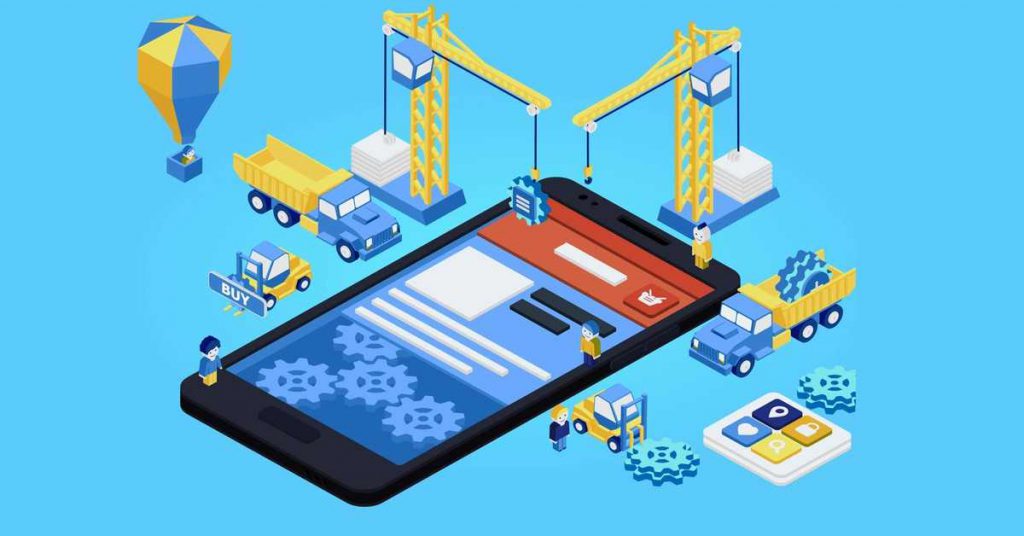 What Are The Advantages Of White Labelling?
The advantages of white-labelling are as follows:
Increases Brand-Awareness
White-labelling helps to enhance brand visibility. For any business that wants to increase its brand awareness, mobile application is an important way to achieve that. In this era of mobile users, the best way to reach and connect to people is through their phones. Therefore, with your own branded mobile app, your business will be one step ahead in gaining that exposure.
Development framework: White-labelling uses a generic app framework for app designs. In other words, the white-label apps are designed using the design model of another app. Having a tried and tested framework, therefore, reduces any chances of error in the app development process. The white label chat apps undergoing beta tests, revisions, troubleshooting and many other checks produce a refined product under your brand name.
Less App-Development Time & Cost
One of the most prominent advantages of white-labelling is time and cost. Time and cost are crucial to businesses who need to launch their app within a definite time frame and also have a limited budget. For these businesses, white-label mobile applications are the best option as they require less time to design and develop. This, therefore makes the app development timeline shorter thus helping to meet project deadlines.
Wide Range of Customization
White-labelling provides the option of customization. It is through customization that brands can make the changes they need to give the app the desired outlook. The wide range of customizations offered by the app development company helps the business to get their desired changes.
Regular Update and Maintenance
Having a reputed white-label messenger app provider simply means you don't have to worry about troubleshooting, update patching and maintenance. You don't need to hire a separate administrator as the service provider will offer customer support and maintenance services all by themselves.
White Label or Custom App – Decide which One is a Better Choice!
Let's consider an example. Suppose you bought a brand new motorbike, which has all the features as desired by you along with the design and look of your choice. Having such a vehicle is simply amusing! Now, one day you receive an offer for the same motorbike, with the same features and design, at half the price!
Yes, half the price! What will you do? Which one do you think is a better deal? While both the motorbikes are the same in terms of features, functionality, design and look, one is letting you save half the money you spent on the other.
Your choice for a Custom App or White-label Messaging App depends on various factors. These are mainly your requirements, your budget, any specific feature or function you want to include and your knowledge in the mobile industry.
Businesses that have the resources to develop their apps can opt for a custom app. They can hire a full-time app development team and go through the process. The constant requirement of the team is because it does not end after the app development is complete. The app requires constant monitoring and changes or updates according to the situation and business requirements.
Keeping in mind the cost and time factor, it would be better for a small and medium-sized business to select the option of white-label apps. This is because the white-label messaging apps would require less time and cost to develop and launch. It is also relatively risk-free as compared to the custom app as those are based on a tried and tested framework.
Also, any app-related issues will be addressed by the parent company, the one who developed the app. This, in turn, eliminates the need for an app development team on the buyer company's part. All these points come together and form a recipe for launching a successful branded mobile app.
How REVE Systems Develops White label Chat App?
The customized and white-label Mobile OTT Solution from REVE Systems allows communication service providers to build their own branded VoIP based mobile OTT app and launch the service on an existing network.
Here features like Instant Messaging (IM), media sharing and audio-video calling besides low-cost International Calls, Mobile Top Up and many more are present which can help to bring in traffic and also help in growing the existing user base.
With REVE Systems White-label Instant Messenger, customization options are available in which service providers can change skin, language and other settings to suit their brand. Faster calling and messaging and quality performance over poor network conditions are its highlights. In addition to this, the customized app can also help to generate new revenue streams by incorporating many app monetization strategies such as in-app advertising, in-app purchasing, offering subscriptions and virtual roaming, etc. To know more about app monetization, check out this post here:  How to Monetize Your OTT App For High Returns
We are always available to guide and support you with your need for business growth. Get in touch with us!
Read Also
Note – This post has been updated on 06-04-2022.