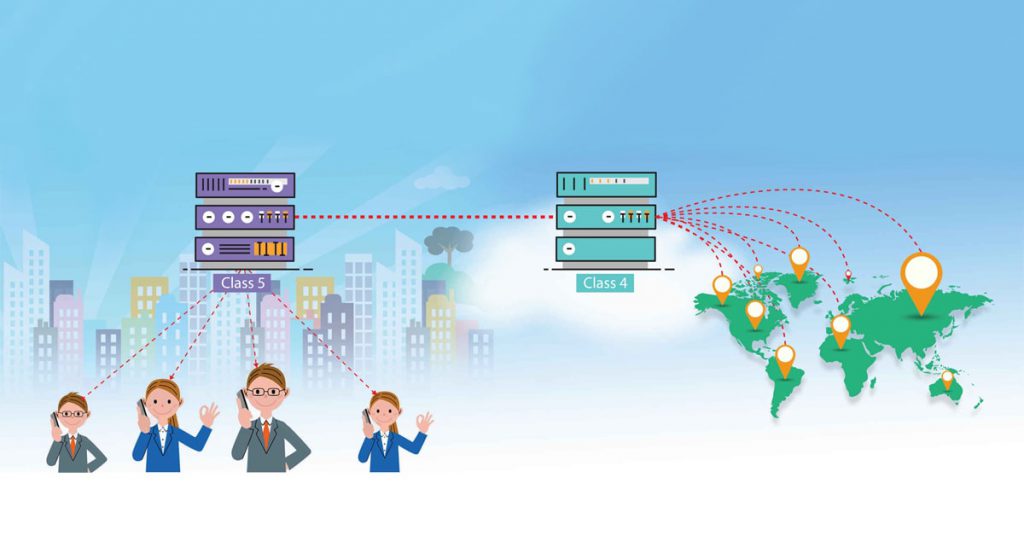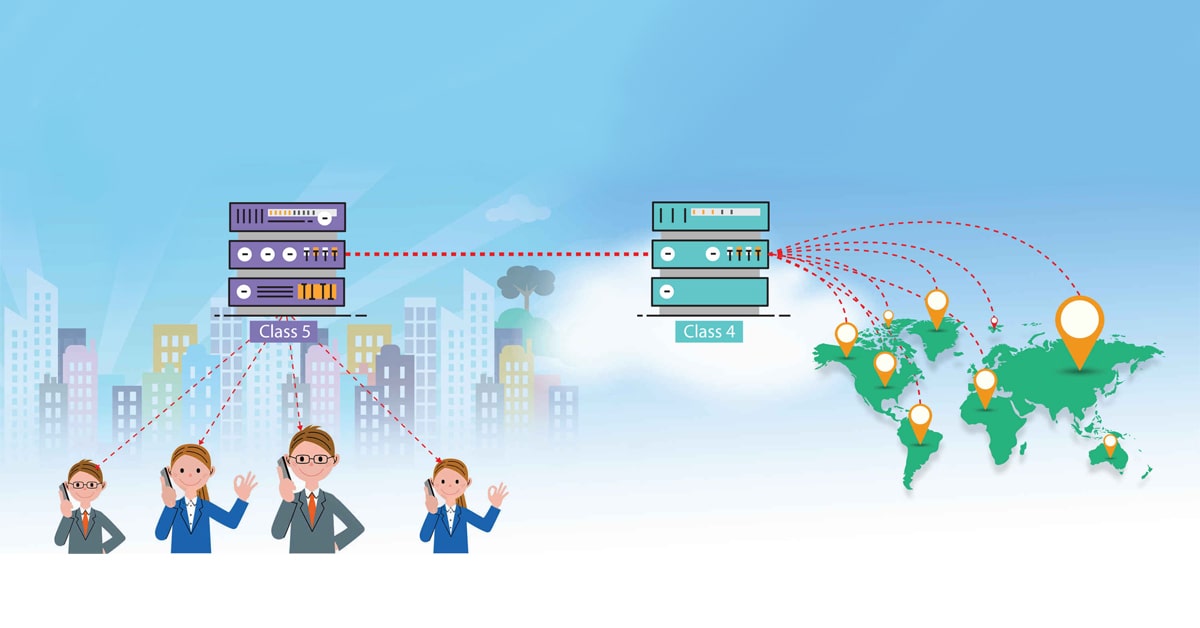 The VoIP industry is passing through a revolutionary time with new developments in the IP Communications arena. Nowadays many young entrepreneurs are getting into the VoIP business owing to the boom in this field. The communication business is growing rapidly with the increase in the subscribers base, who are adopting features like instant messaging, video calls, conferencing etc.
 According to a comprehensive research report by Market Research Future (MRFR), Global VoIP Market is predicted to reach USD 58.21 billion by 2025 at a CAGR of 12.2%.
VoIP Service providers are therefore trying their best to offer quality services upgrading the existing VoIP infrastructure. Taking about a Typical VoIP infrastructure, it includes Class 4 Softswitch, Class 5 Softswitch, Mobile Dialer, OTT Apps, Servers, etc. As a new entrant, when you are entering the VoIP arena, you should be familiar with these terminologies.
In this blog, we will discuss Softswitch and its types, which work as a middle device for initiating and routing any call through a telecommunication network.
What is a Softswitch
This is one of the most common terminologies of a VoIP business, which you might have come across many times. A softswitch is software used in the telecommunication network for launching, maintaining, routing and terminating sessions in Voice over IP (VoIP) networks. Internet-based telephony and a growing number of traditional telecommunication networks use this  software switch to manage the connection of phone calls.
Call switching in the telecommunication industry is a long-term practice to interface the caller to the intended recipient. It was a manual process earlier when the phone administrators shifted the phone line physically, starting with one circuit then onto the next, to interface the call between a caller and recipient. In the present scenario, if you notice a typical VoIP architecture, the manual call routing had moved on to an automated process with the help of a softswitch.
This software consequently switches the phone lines, and it is a mix of software and switchboard. It has the programmed logic to play out this telephone line exchanging. Class 4 and Class 5 Switch are the most widely used switch for routing calls through different networks. Some of common types of routing are least cost routing, loss-less routing, time based routing etc.

Class 5 Softswitch
Class 5 Softswitch is a strong platform with lots of interesting modern features. Through this software, a retail VoIP service provider can provide extremely rich quality IP services to enterprise and residential office customers with IP enabled devices like landline IP phones and adaptors!.
Let's take a scenario; if an end user wants to make a call from Singapore to Japan PSTN number, what's the role of Class 5 Softswitch? To begin with, the call controlled by a retail VoIP solution provider will be transmitted to a wholesale VoIP provider via Class 5 Switch. What happens after it reaches the wholesale VoIP provider is explained below.
Class 4 Softswitch
Class 4 Softswitch is mainly used for routing IP-IP calls to long distance international locations using an IP network. For example, if an end-user wants to initiate a call from Singapore to a Japanese PSTN number,  Class 4 Switch will route the call to a Japanese PSTN number only when a wholesale VoIP service provider receives the transfer order from a Class 5 Switch.
In addition, Class 4 Softswitch, which has fewer features than Class 5, enables cost-efficient scaling of voice services while offering a reliable presence between interexchange carriers.
Major Difference Between the Two Softswitch
No doubt, both Class 4 & 5  Switch are robust platforms that play an important role in a VoIP infrastructure but, you need to understand some major differences between the two. Here, I have differentiated these two software based on  purpose, features, business usage, capacity, and route area.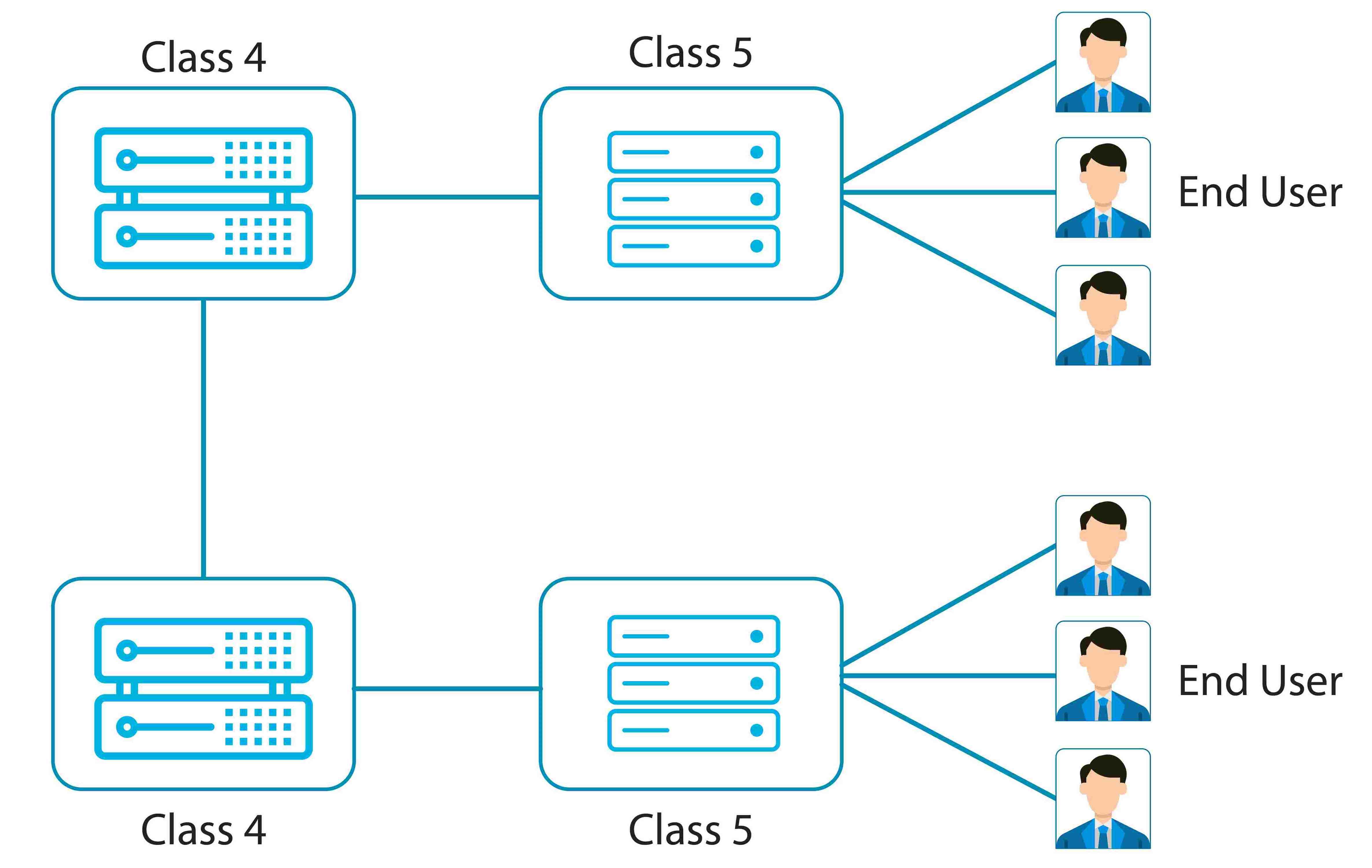 Purpose
Class 5 Softswitch is responsible for transferring calls to Class 4 Softswitch after receiving the calls, within small areas, for long-distance routing through retail VoIP service providers. After receiving calls from Class 5 Switch, a wholesale VoIP service provider routes the call to the long destination with the help of a Class 4 platform.
Features Count
Class 5 Softswitch services include basic dial-tone, calling features, and additional digital and data services to subscribers using the local loop; but a Class 4 Softswitch is just a simplified solution. The main function of the Class 4 solution is the routing of large volumes of long-distance VoIP calls paralleling with other Class 4 telephone switches.
The most important characteristics of the Class 4 solution are:
Protocol support and conversion
Transcoding
Calls per second rate
Average time of one call routing
Number of concurrent calls
Flexible UI (user interface)
Intelligent call routing
Billing interface including CDR
Secured firewall
Filtered Third-party routing engine
On the other hand, Class 5 Softswitch characteristics include:
Call authentication
Billing and Routing
IVR
Callback
Analog-to-digital conversion
Support for Codec, Media transcoding
Social Media usability
Call transfer
Call holding
Call forking
Types of Service
Class 5 Softswitch is more of a retail solution whereas, Class 4  is a wholesale solution.  This means a Class 4 switch is a central office telephone exchange which is used to interconnect local exchange carrier offices, for long distance communications, in the public switched telephone network.
In contrast, a Class 5  Softswitch is a telephone switch or telephone exchange in the public switched telephone network, located at the local telephone company's central office, directly serving end-users.
Business Usage
Class 5 Softswitches are intended to work with both VoIP service providers as well as end-users. This type of switch  platform is for local & long-distance telephony services. So, it possesses additional service features for end-users & corporate clients such as IP PBX features, call center services, calling card platform, types of authorization, QoS, Business Groups etc.
On the other hand, the Class 4 platform intends to serve wholesale VoIP solution providers, PSTN, Telco Operators, carriers etc.
Concurrent Capacity
Class 4 Softswitch can transfer a large number of calls but Class 5 Switch solution can handle a small number of calls, so it is also known as retail softswitch.
Route Area
A Class 4 softswitch routes large volumes of usually long-distance VoIP calls throughout multiple IP networks. In contrast, a Class 5 routes calls to the correct IP address, SIP address or a DID number of an End user.
Looking for VoIP SoftSwitch for Your Business?
Read Also
Note: This blog is updated with the latest information and reposted on 18th Aug 2021.