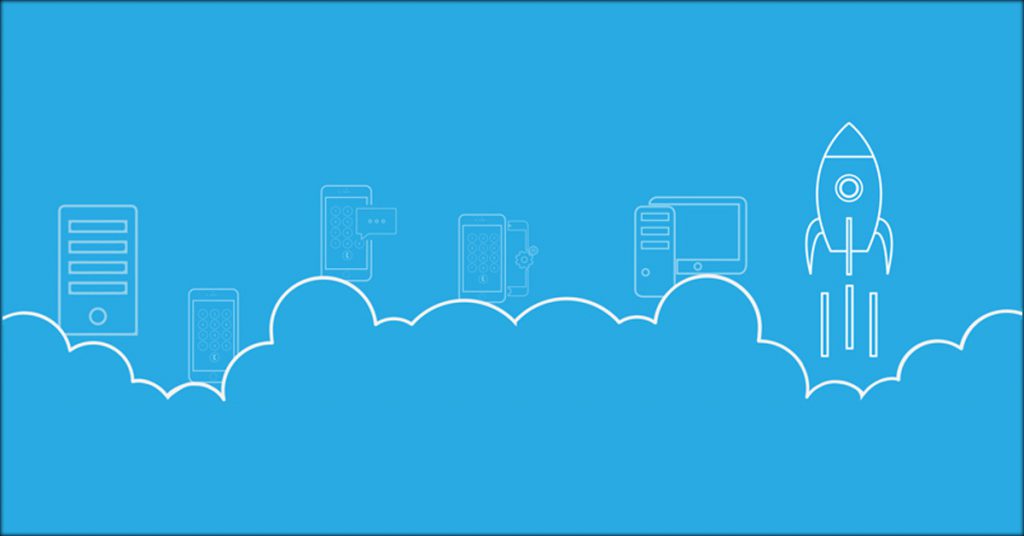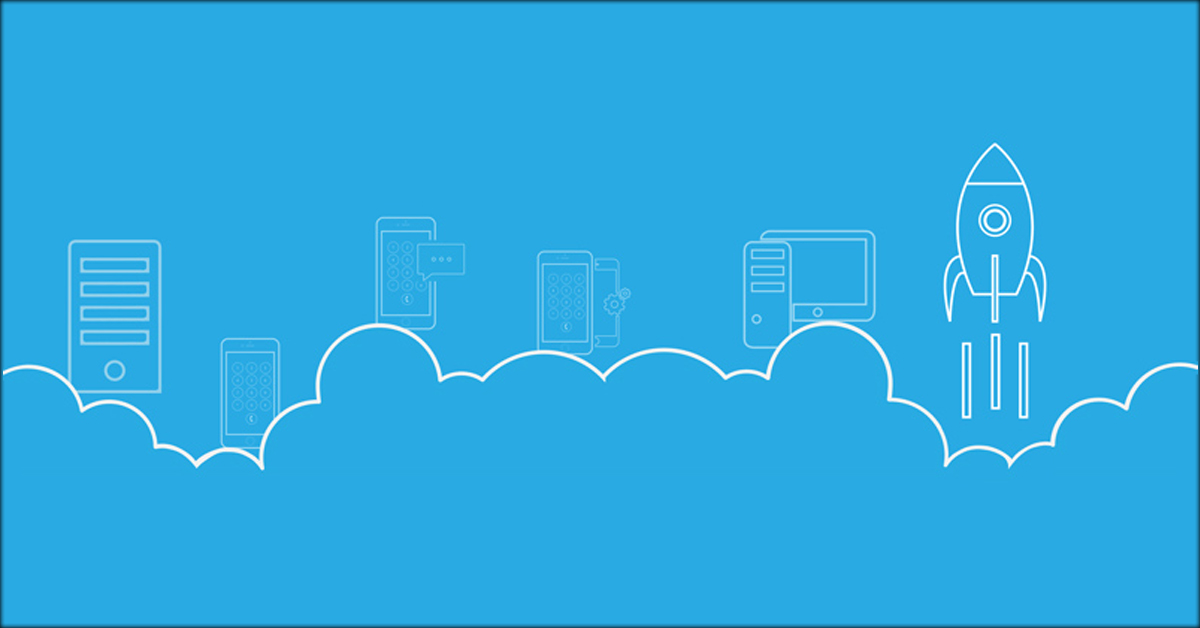 Introduction
In today's time and era of digitization, startups have to face a multitude of challenges, especially when it comes to establishing a reliable, robust, and effective communication system. Traditional phone systems that are full of complexities of hardware no longer meet the demands of modern-day businesses. However, hosted VoIP services have emerged as a transformative solution for startup businesses. In this blog, we are going to explore how hosted VoIP services can benefit startup businesses. 
What is Hosted VoIP Service?
Also known as cloud-based VoIP service, hosted VoIP service is primarily a telephony solution for businesses. By using such a solution, a business can make and receive calls over the internet cloud. This means that there is no need for a traditional telephony setup that requires tons of wire and bulky hardware that could cost a fortune. Hosted VoIP services run in the cloud and are managed by a third-party service provider. 
For calling, businesses can use multiple mobile devices such as softphones, smartphones, or even IP phones that are connected to the internet. Using hosted VoIP services, a business can communicate using voice, video, and messaging services. 
With Hosted VoIP, service providers generate maximum profit at the lowest possible business costs. Worldwide adoption of Hosted VoIP service is increasing notably as more companies look to reduce business costs. And thus, when you talk about real low-capital investment, hosted service surely takes the floor.
Hosted VoIP Service is considered a highly flexible approach for low-capital businesses. It helps Start-up service providers to establish their business with minimum risks. With this service, you can offer a wide range of VoIP-based solutions to your customer base, with no capital investment, and without purchasing your own infrastructure. It's inexpensive, easy to manage, highly scalable, customizable, and therefore can be deployed easily in no time.
Hosted VoIP Service offerings are ideal for:
Start-ups

Small and Medium-sized VoIP/Communication Service Providers (CSPs)

Enterprises

Next-Gen Service Providers (ITSPs)

Telephone Companies (TELCOs)
Benefits of Hosted VoIP Service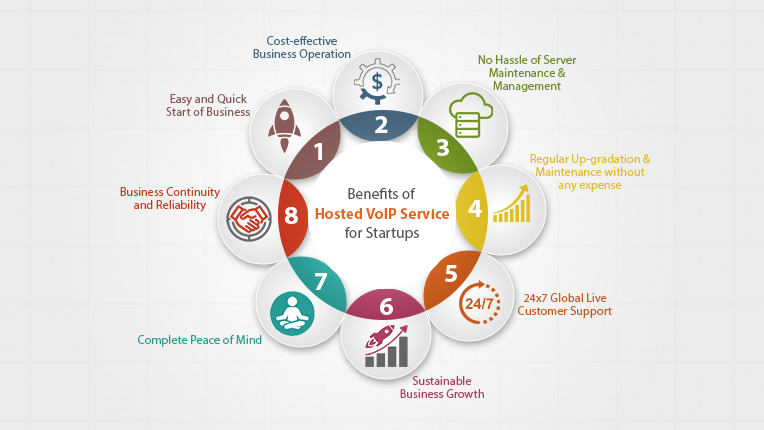 Easy and QuickStart of Business
The biggest benefit of opting for a hosted VoIP service is that there's no need to deal with all the clutter of hardware and cables. There's no need to hire technicians to do the setup and IT staff to look after it. You don't even need to spare your office space for the setup. In simple words, getting started with VoIP is very easy.  because it is hosted on a data center located offsite. With a hosted VoIP service,  you can be up and running in just 24 hours, which helps you to build and run a business easily and quickly.
Cost-effective Business Operation
We know that cost is a crucial aspect when it comes to small businesses such as startups. It won't be wrong to say that every dollar counts, right? The mention of financial savings due to cost-effective business operations is typically one of the primary benefits while discussing hosted VoIP service. 
Besides low monthly cost options, this VoIP service is available without having to invest in your own hardware and infrastructure. So when compared to traditional phone systems, hosted VoIP services come out to be more budget-friendly. 
In addition to this, you need to pay a telephone company to make calls which in case of international calls will save a ton of money for you. Instead, the business only needs to pay a monthly subscription fee basis the number of users or extensions and leverage the power of the internet to make and receive calls. This means that with a pay-as-you-go model, costs are predictable which saves businesses from the burden of any unexpected expenses. Therefore the ability of the business to save on both initial capital expenditures and ongoing operating expenses makes this solution preferable for service providers.
No Hassle of Server Maintenance & Management
Startups already have a lot on their plates and it is hard for them to allocate resources for management and maintenance of communication systems. The best way small businesses can bypass this problem is by opting for hosted services. With a hosted VoIP service, you do not need to bother about Softswitch server maintenance, management, and support, as these are handled by the host i.e. solution provider. At first, it might be hard to believe but it is true that the company that hosts the server will be responsible for taking care of all kinds of support. So, we can say that hosted VoIP service is beneficial for startups as it can save hours, and let them concentrate on the core business issues.
Regular Update and Maintenance without any Expense
There is no up-gradation or maintenance cost. Since the host handles it all, you can have the latest technology up-gradation regularly. Whereas in the on-premise server, you need to concentrate on all the other tasks, and the up-gradation might take a backseat and get delayed. Hence, hosted service ensures continuous timely up-gradation.
24×7 Global Live Customer Support
Highly-trained engineers work round the clock, on cross-vendor platforms through a dedicated online portal, to ensure unmatched quality of service for you. They are always ready to answer your questions or help you configure your services.
Sustainable Business Growth
By eliminating regular business costs like staffing, system upgrades, and maintenance, Hosted VoIP Service provides a dramatically reduced total cost of ownership to organizations. This thereby helps businesses to focus on important issues and eventually ensure sustainable business growth. As a result, Hosted VoIP can often deliver the greatest return against the allocated budget.
Complete Peace of Mind
Hosted service gives you absolute peace of mind by reducing costs, through increased staff efficiencies and technological effectiveness. This service removes all the extra hassle you must go through in case of your own business setup. Serving through the Host's platform, you can also generate smart revenue and keep it coming. "Less Investment, More Revenue" – the main purpose of Hosted VoIP.
Business Continuity and Reliability
Gone is the time when unexpected or unplanned downtimes used to happen and there was literally nothing that businesses could do about it. Today, cloud technology has revolutionized the world, and service providers are confidently guaranteeing zero downtime. Startups are already short of resources and even a single downtime can impact hugely. 
However, with hosted VoIP services, small businesses need not worry about communication disruptions. A well-established and reliable service provider will always ensure business continuity by providing redundant infrastructure and pre-defined disaster recovery mechanisms. Reliable Hosted VoIP services always prioritize maximum uptime and security of data by implementing best-in-class measures. 
Advantages over Traditional Phone Service
Hosted VoIP Phone Service significantly reduces phone bills in comparison to traditional phone services. In addition to efficient communication, this phone system gives a more professional edge to the business. Keeping up with the recent developments in technology, a Hosted VoIP phone system is far more adaptable than the former phone service. An example is the fiber-optic internet connectivity leading to a gain in reliability and uptime.
Unified Communications
The goal of unified communication is to provide convenient access to cross-channel communications. It supports a wide range of devices like computers, mobile devices, VoIP telephony handsets, and also a number of other technologies.
By putting your phones, add-on services, internet connectivity, and data on a single network, you can achieve:
Improved team collaboration

Quicker troubleshooting

Higher employee productivity

Better customer satisfaction due to transparency
Advanced Features
Traditional phone systems already provide basic phone features. So what makes hosted VoIP stand apart? Well, these are the advanced features offered by these systems that immensely enhance collaboration and streamline workflows. Some of the key features include Conference calling, video conferencing, instant messaging, and many more. All these features are accessible to team members even those who are geographically dispersed. 
Streamlined Business Communications
Traditional Phone systems come with a lot of complexities when it comes to call routing. Businesses had to go through multiple call transfers and longer customer wait times for incoming calls. But with VoIP softphones, such issues get eliminated to a great extent. These systems are equipped with better routing algorithms that ensure efficient and fast business communication. 
Mobility
Remote work is the latest trend. Businesses and employees need communication systems that support mobility without putting any impact on the way teams can collaborate and do their work. Hosted VoIP services enable employees to use their Business VoIP number to make or receive calls on a wide range of devices like smartphones, tablets, or desktop PCs. The calls appear to originate from the VoIP number and all the calls are routed through the Hosted Voice interface.
This way, employees can benefit from unlimited long-distance calling through the virtual phone system while working remotely, in turn directly reducing costs.
Flexibility & Scalability
With Hosted VoIP, businesses can add phone lines easily within minutes. Contrary to the traditional phone system there is no need for separate phone lines for every new connection.
Therefore, the flexibility and scalability of VoIP are appropriate for businesses with seasonal fluctuations in staffing or companies experiencing fast growth.
Increased Productivity
Unified Communications and Hosted VoIP phone system simplifies collaboration within and between offices. It also increases efficiency and simplifies how employees manage their communications. This system contributes heavily to increasing productivity.
Hence, with less time spent managing PBX system communication, people can focus on tasks that contribute to business goals.
Let's Sum it Up!
There are tremendous benefits that hosted VoIP services offer to startups and help them build and establish a solid communication infrastructure. Not only saving them a lot of money and support for remote work but also providing unmatched scalability, VoIP services are surely the ultimate hub of tools that businesses need to gain success in today's competitive markets. With hosted VoIP services, it becomes much easier for small to medium-sized businesses to cultivate collaboration and deliver phenomenal customer service. 
iTel Switch – An Overview
Therefore, considering the hassle-free business process enhanced productivity and smart revenue growth; REVE Systems provides iTel Switch with integrated billing on a hosted basis and iTel Mobile Dialer with Byte Saver on a very low monthly rental options.
Hosted VoIP Softswitch is suitable for small and medium-sized IP telephony service providers for retail. This is also equally beneficial for carrier-grade service providers. It helps wholesale providers who don't want to take the hassle of maintaining and monitoring the Softswitch server.
Hosted Mobile Dialer offers all the benefits of iTel Mobile Dialer including white-label & customization, VoIP Calls and SMS, cross-OS Instant Messaging, Mobile Top-up, and more. This dialer is compatible with Android, iOS, Windows, and Symbian as well.
Offering a diverse set of advanced features, choice of installation options, 24/7/365 customer care, and market reliability; who knows! Maybe REVE has exactly what you're looking for in a Hosted VoIP Solution.
Frequently Asked Questions
Yes, there are various ways in which hosted VoIP service can be tailored to fit the unique needs of a business such as by selecting the relevant features, integrating with other business applications, customizing call routing and handling, controlling user management and administration, etc.
Hosted VoIP services offer an array of benefits that are especially suitable for startups with limited budgets. Some of the major benefits include lower initial investment, scalability, feature-rich solution, minimal IT infrastructure, and maintenance, etc.
A reliable and stable internet connection is one of the primary requirements to use a hosted VoIP service. Businesses can use broadband internet connections, fiber optic, Ethernet, or dedicated leased lines, whichever is suitable for them.
Read Also

Note: This blog has been updated with the latest data and facts on 28-06-23.