A recent statistic states that, by 2019 the OTT market will have doubled or more in almost every aspect, and the number of global OTT subscriber will increase up to 333.2 million! But what about the telecom operators?
It's a really hard time for traditional telecom operators. A latest research confirms that 75% of Telco operators have expressed concern about losing revenue to Mobile OTT players! Voice profit pools are declining, and operator text messaging is moving to VoIP based Mobile OTT apps like Whatsapp, Skype, Viber or apps by expert solution providers. What's exactly left for operator is the data in this OTT dominant market, but Data doesn't seem well poised to replace lost revenue. Operators have no choice but to look for applications and content in hopes of generating new revenue streams, but this journey out of their comfort zone and into the larger web won't be easy.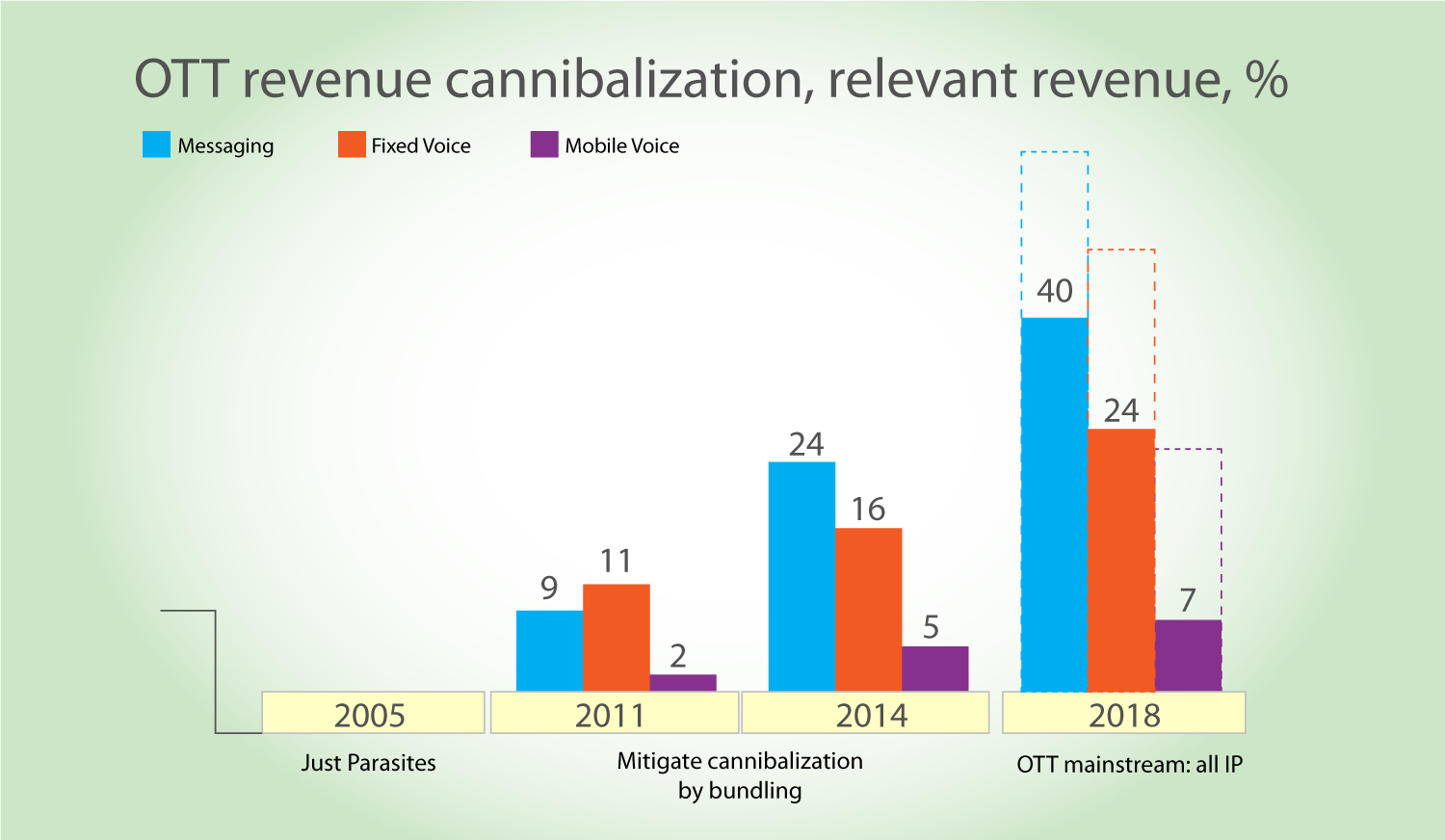 Can you imagine how do mobile operators feel while losing their hard-earned position to Mobile OTT? Did they take any step to fight back? Let's look at an example, when Apple's iPhone was released, AT&T imposed a restriction to VoIP services over its 3G network. After pressure from users and the FCC, the restriction was finally lifted. Though this is not the way to linger in the market, but what else can operators do, when the recent studies also confirm their worst nightmare. It states that the threat to traditional voice & messaging business of telco operators from communications apps, that offer free calling & messaging using internet, is rising. With the growth of Mobile OTT, operators are finding it tough to manage and ensure customer experience in the traditional way.
How is telecom losing their monarchy?
Let's think someone is using a 4G data plan with XYZ mobile operator through a smartphone and with which s/he has GSM calls and SMS service. But when that user, other than using operator's calling/messaging/data features, uses Skype or any other VoIP service through Wi-Fi / LAN to make cheaper and free voice calls/ SMS, then that's a huge loss for mobile operators. Because that voice call and SMS used to be operators' profit previously, which are now transferred to OTT players. Juniper Research projects that operators will lose up to $14 billion over the next year as consumers continue to rely on OTT communications as a means of connecting, rather than their traditional phone plans.
Why Mobile OTT rather than Network Operator Service?
Rise of E-commerce, Digital Advertising, and digital media content, for instance You Tube blogging, has benefited digital newcomers largely, who have built successful business franchises "over the top" of the telecom operators' networks. Think Skype, Google, Facebook, Whatsapp, and many others. It's not that telecom players haven't added any significant new value, but at the end of the day telecom companies themselves have been unable to benefit and count their revenue. Let's look at what attracts OTT users & where Telco's are lagging:
Free and Cheap Calls, and SMS with VoIP
VoIP is the most successful industry of the decade. Among its numerous benefits, it allows communicators to save a lot of money on both local and international calls, and on text messages. You now have services that allow you to use your smartphone with the underlying network to make free calls and send free text messages.
Licensed provider can only serve their customers within their regulated dominion. OTT services, though, can serve any user anywhere in the world. For example, network provider company Airtel user can make Voice call and send SMS within the country in a cost-effective call rate but if they send SMS or make call to long distance, they will be charged sky-high rates! On the other hand, using mobile OTT apps they can make long distant international call in a very cheap rate. So obviously, users will prefer OTT apps.
Unlike licensed network operators, OTT providers need not be subjected to bundle of standards so, mobile OTT providers can provide services with a lot freedom and relaxation.
More Real time communication experiences
While chatting with someone, if you can see the other person is writing you an instant reply that becomes a visual pleasure. In addition, if users can send cartoon emoticons or expression trolls like GIF keyboard to the person they are talking with, for expressing feelings, and send instant pictures while chatting, it will give them a feeling of completeness instead of plain simple texting. Moreover, the joy becomes double when this whole pleasure comes in a cost-effective package.
How can Telco survive?
A common strategy adopted by some Telco companies is to approach OTT providers directly to secure individual content partnerships. Telecommunication providers have tried, and mostly failed, to compete with OTT players. Some research proves that, 80% of telecommunication operators are too small and hence, not suitable for many OTT players with millions of active users It is going to be almost impossible for Telco to beat these players at their own game, as they already have such a massive market share; though some of the OTT companies like Skype are leveraging their "freemium" business models and grabbing the users' heart. Can operators turn this situation around?
Telecom operators need to make considerable investments in upgrading their networks to handle the ever-increasing flood of data created by the very OTT players that are cannibalizing their revenue. Few telecom operators have managed to build content and digital media franchises, yet these are still dwarfed by their core telecom businesses. Another and the toughest option can be developing own OTT app and serve their customer pools. But no matter what, OTT is the solution! In a wise view point, while it may appear Telco and Mobile OTT apps are in competition with each other, they can still operate in a symbiotic relationship. The main way that operators are going to benefit from the relationship is by leveraging the massive amounts of big data that no one else can possibly collect.