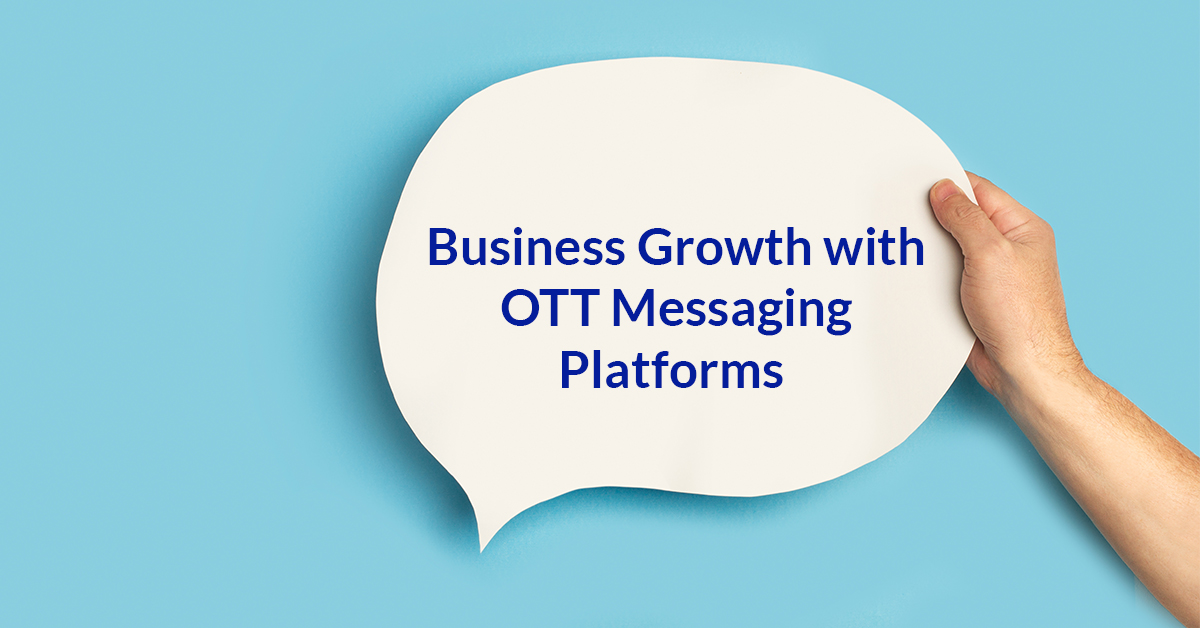 We all are well aware of the fact that OTT has revolutionized the realm of communication. The biggest example is, WhatsApp, which has bypassed the need of traditional messaging and secured the position of one of the most popular messaging apps with two billion monthly active users. Well that's simply amazing!
When we talk about OTT messaging platforms, there's much more than just WhatsApp. Today, messaging apps like Viber and Telegram have also acquired a prominent place in the communication landscape. It is interesting to see that OTT messaging platforms are also entering the business world, bringing lucrative and exciting opportunities for communication service providers of all shapes and sizes.
According to a GlobalWebIndex's 'Messaging Apps Report', almost 90% of the global internet population use some form of OTT apps to communicate. So let us first get a quick understanding of what OTT business messaging is all about. It's basically the communication that happens between brands and their customers through the exchange of messages in the form of texts, voice, video, etc. While cost of interaction through OTT is lower as compared to other traditional communication channels, there is also no dependence on telecom companies.
OTT Messaging Platforms : Recent Developments
Before we further delve deeper into understanding the utilization of OTT messaging Platforms for business growth, let us first look at how some of the big OTT messaging players are making it in the world market: 
Facebook Messenger
It emerged as one of the biggest platform for consumer engagement by offering a wide set of useful messaging features such as instant chat, media sharing, group messaging, voice message recording, live video chat and calling. Last year, on its 10th anniversary, Facebook added some more exciting features to the Messenger like cash gift, group chat poll games, birthday expression tools, direct contact sharing, etc.
WhatsApp
The purchase of WhatsApp by Facebook in the year 2014 was certainly one of the most impactful events in the OTT landscape and it certainly paved the way to the future of OTT. This platform also stepped into the business messaging realm in 2018 by launching WhatsApp for Business and has been a popular choice amongst many businesses around the world since then.
Apple Business Chat
One of the biggest multinational technology companies, Apple Inc., made their move into the OTT business space when in 2017 they announced the launch of Apple Business Chat. This business chat service straddles between text messaging and OTT messaging as the chat lives inside the Apple's proprietary messaging app.
So now, we are clear with the idea that even the giants have made great investments in OTT messaging technology, specifically for the business purpose. That being said, if a communication service provider wants to drive more traffic and grow his business by reaching new users while retaining the existing ones, then OTT messaging is the channel they should learn, test and explore.
OTT Messaging Platforms – A growth opportunity for Communication Service Providers
One question that might arise into your mind – Why OTT? Why not any other space? Well, here's the answer.
The primary goal of communication service providers or any other business is to grow their user base and ultimately grow their business. So they need to be there where the masses are and OTT is the right space for it. But how do you get started? How can OTT messaging platforms help you generate more profit? Honestly, there's no single way to do it.
First of all, you need to ensure that your OTT messaging platform provides customers or users with a coherent brand experience. To achieve this goal, we'll take you through some of the most useful OTT messaging app features to give you the best chance to grow your revenue.
Branding
Your business products are a reflection of who your brand is. So when you are choosing the best  from OTT messaging platforms for business communication, make sure the app is in agreement with your business image. Opting for a White Label Messaging app is quite a popular choice amongst businesses, so look for
Business logo adding facility
Choosing colors in accordance with business
Business name adding facility
Choosing language as per requirement
Obviously, if the business messaging platform looks like your own product than certainly it adds a sense of more professionalism and dedication to your work. It also offers a competitive advantage to your brand over others in the market.
Group Messaging
While the messaging app should have an instant one-to-one chat feature, it should also support the ability to let people communicate together at the same time and place. Whether it's your team discussing about achieving a project's milestone or one of your customers having a fun chat with his group, the messaging app should let them do that through group chat feature.
Security
Data security and protection is everyone's priority these days. You can't help but provide guaranteed security of data that goes through your app to all those using it. To ensure this, you need to look for an app that makes use of end-to-end encryption. Since it is about having an assurance that nothing bad can happen to your business data and those involved in it, pay attention to who you are trusting.
Media Transfer
We all know that sharing files and folders is quite common in business and everyday life too and there's no count for it. Why not have a messenger application that let users send and receive different types of media files and documents just with one tap? It will make things so quick and easy! For the business itself, this not only improves flow of information and work organization but also boosts productivity. On the other side, it will be a useful tactic that will keep the customers engaged.
Capacity
It will take just one disturbed call for your customers to lose their faith in your app. Don't let that happen! As you cannot keep an eye on the server activity and how crowded they are, it would be wise enough to opt for an app that is designed and developed to work just 'great' even when there is low bandwidth or in a restricted network.
Video Call
While text based chat has its own importance and place, video chat is also becoming a prominent mode of communication these days. Not just for calling friends and family, video calling is now widely used in different business scenarios as well. To ensure that video communication through your messenger app offers a pleasant experience to its users, look for HD video calling facility.
User-friendly Design
It is one of the primary reasons why one uses a certain app over and over again. If your OTT messaging app has the ability to make that first impression along with ease of communication and user satisfaction, then customers are going to stick, no matter what. So make sure the design of the app is not complex.
The above mentioned points will help you launch an OTT Messaging platform that can attract users and shall be a useful part of your customer engagement strategy.
How to Grow Sales using OTT Messaging Platforms?
Now, we shall move further to discuss the strategies that can help you monetize your OTT messaging platform. Let's take a look:
Target Ads Wisely
The primary objective to launch an OTT messenger is to generate more business revenue. Retaining existing customers and attracting new ones by offering rich features is one thing, but you can also try your hands on targeted advertisements which means showing ads to users based on their interests, demographics, etc. This is a good way to increase ROI for your business.
Retain Roaming Revenues
By offering a robust roaming solution that works through the OTT app, communication service providers can benefit greatly in terms of improved customer loyalty while retaining the international roaming revenue stream. It is crucial to understand that with an app based roaming solution, end users can save up to 90% on their international roaming charges which eventually adds up to the longevity of your business.
Offer Subscriptions
For consistent and reliable revenue generation, you can offer a subscription based model to your app users. But bear in mind that users should receive consistent value from the OTT messaging platform, otherwise they will lose interest and leave. By adding new and powerful set of features every now and then, you can take leverage of this model.
Communication Service Providers can offer multiple plans with options to upgrade, downgrade and cross-grade (app users can switch from one subscription plan to another comparable one).
Balance Transfer and Pay Online Facility
Modern day users prefer to transact online through credit/debit cards, net banking and other digital methods. Having an online payment facility will be an important factor to engage them in your app. It might appear as a simple feature, but is certainly going to give you concrete results or outcomes.
In –app Purchasing
It's another effective strategy to generate sales from your OTT messaging platform. When planning to add the option of in-app purchasing for your users, make sure you provide them a seamless and pleasant purchasing experience, otherwise there might not be any significant conversion. You can offer consumable items like coins which are to be replenished by the user as they use the app. For example, playing a game. The other way could be by offering non-consumable items like purchasing stickers, emoticons, booking a ticket, etc.
Reach, Engage and Monetize your Customers
It won't be wrong if we say that the OTT business messaging is still an emerging space and holds room for lots of new opportunities and experimentation. Also, whenever it is about business growth, remember that your customers are individuals who have their individual choices. It is you as a business, who has to treat them accordingly because that's the best way to sustain a real and long-term relationship with your customers.
Looking for a Mobile OTT Solution?
Read Also