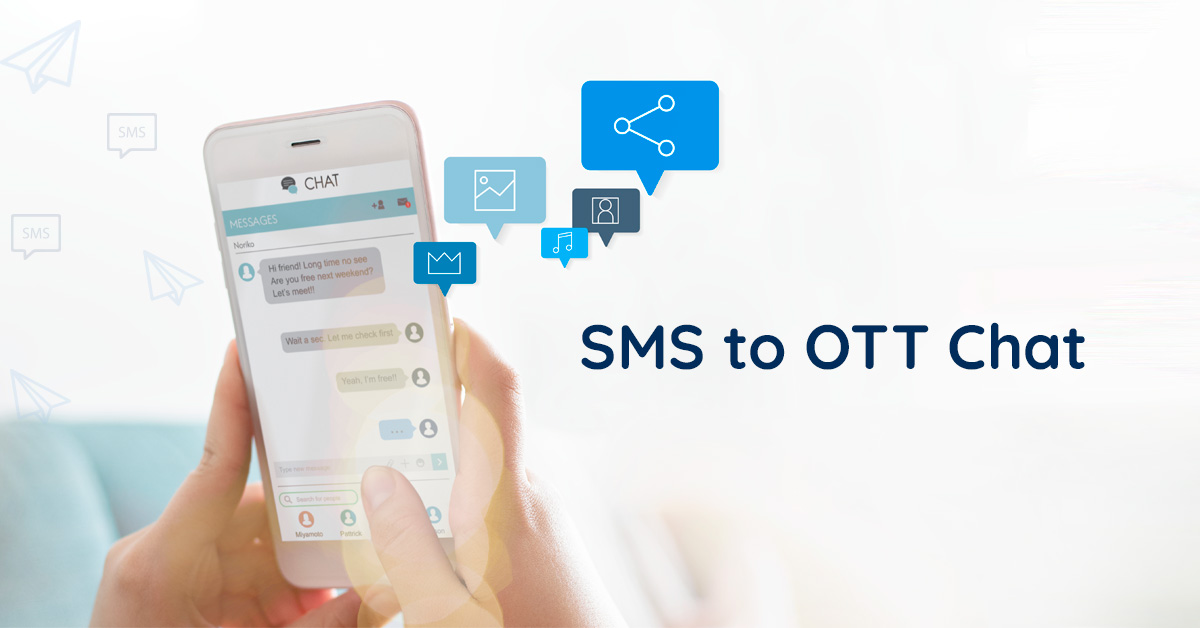 Over the years, we have witnessed the trend of person-to-person SMS chatting declining day by day. This shift is taking place because of the migration of mobile SMS traffic to the OTT apps such as WhatsApp, Viber, WeChat, Facebook Messenger, etc. which are rapidly gaining momentum.
By 2025, two-thirds of mobile connections will be on high-speed networks.
Today's generation is on a continuous search to find new and preferred ways for message communication due to which their choice is shifting from SMS to OTT Chat. Although SMS still holds its importance when it comes to A2P SMS, OTP and transaction messages, one-to-one chatting through SMS has seen a decline in these years. 
It is interesting to know that 3.3 billion people access the internet via mobile and by the year 2025, 72.6% of internet users will access the web via mobile only, using their smartphones.
While WhatsApp is ruling the OTT messaging market with over 2 billion active users, Facebook Messenger and WeChat follow it with 1.3 billion and 1.2 billion users respectively.
What Helps OTT Platforms Outstand?
So what exactly is driving this movement? When we compare the two, there are several different features available in both, but the features offered by OTT chat certainly outshines the regular text messages. Let us delve deep into it:
More Cost-effective than SMS
One of the major reasons for the extensive uptake of OTT chat is that it is less expensive than the traditional SMS. The charges are based on one's internet subscription rather than per message or number of messages. For SMS Service, carriers or telecom operators charge a certain amount per message which results in more cost for long messages. As long as you have internet data and the OTT app installed on your device, you can send as many messages as you want. So technically, we can say that mobile OTT apps are 'free' of cost which is great.
Offers Better User Experience
These days, the need to stay connected electronically all the time is quite strong. Consumers want to get real time information and not waiting. Users want to know whether their message was read by the sender or not. For all such requirements and preferences, the read and delivery reports of the OTT chat comes of great use. Also, the 'typing' feature keeps the users engaged. These features certainly add to better user experience.
OTT Chat Enables Group Communication
Another trend that surfaced through OTT chat platforms is the ability to communicate within a group. This one thing is completely missing from SMS service. Text Messages only provide one-to-one communication which is why turning to OTT apps seems to be of great benefit. With an instant messaging app, one can easily create groups by adding people and chat with them. Not only by sending texts, but they can do audio and video calling with groups in real time.
OTT is More Convenient
Variety is the spice of life. Users are always looking for communication tools that allow them to have fun and also look cool. OTT chat perfectly suffices this need as by having an internet connection on their device, users can do chatting by exchanging messages over the mobile OTT app. What's more? Besides sending text, users can make use of different types of GIF's, emojis, sound effects to add feelings to their messages and convey their emotions in a better way.
OTT Chat is Free of Limit
One of the biggest problems with traditional SMS was the character limit, which was a big hindrance for users to send long messages. SMS has a limit of 160 character with only one link that can be added per message. However, with OTT, the instant messaging does not impose any kind of character limit which means users can send lengthy messages without any hassle. Also links can be added in the message without any limitation.
Supports Multimedia
Though exchanging pictures was possible through MMS that worked on SMS protocols, it certainly lacked quality. Clearly, SMS was never fit to accommodate the modern needs of rich and high quality content and was always a basic tool for short messages. Receiving pictures, audios, videos and other rich content in high definition is a usual thing nowadays, thanks to OTT messaging. Though there are some limitations to the size of files being shared, it is still a significant benefit over the traditional SMS.
OTT Chat is Taking Over!
Though SMS functionality will remain an integral part of the phone system, the OTT is taking over the leap as it suffices the consumers' engagement preferences. There's no denying the fact that SMS has proven itself as a technology but the features offered by OTT are highly desirable today. After understanding the benefits of OTT chat over SMS, one may still be lost for ideas so as to which channel is best suitable for them. You can reach out to our experts to get one on one consultation.

Read Also