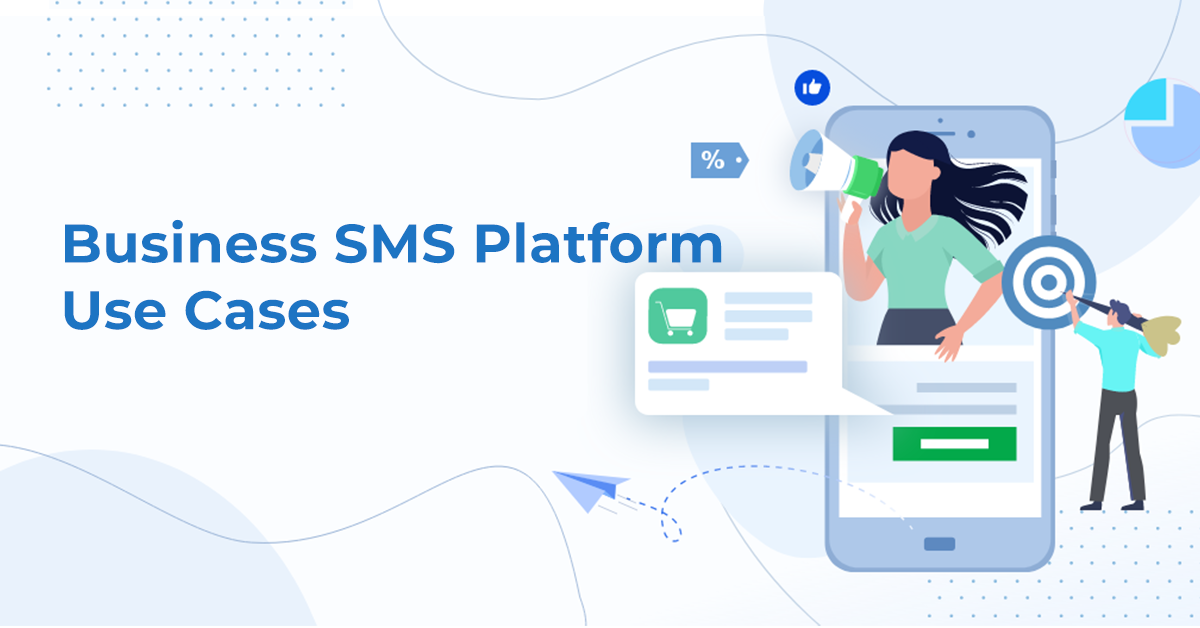 Did you know that "In 2022, 70% of consumers opted in to receive texts from businesses."? Also, 60% of business owners who text their customers plan on increasing their SMS marketing budget in 2022.
There are several other marketing options available today, but we cannot deny the fact that SMS has always been a popular and effective business marketing tool. Marketers use business SMS Platforms to send SMS messages as a part of their multi-channel marketing strategy because of various reasons as mentioned below:
SMS messages can be sent instantly or quickly
Text messages offer high open and response rate
Executing SMS campaigns is cost-effective
SMS messaging campaigns derive impressive results
Messaging campaigns are easily scalable as per need
SMS marketing offers personalization
Popular Use Cases of Business SMS Platform
In this post, let us take a quick look at some of the most popular ways text messaging is used by businesses.
Appointment Scheduling / Reminders
Reminders are simply notifications to remind customers about their orders, appointments or just anything. Suppose a customer booked an appointment for CT scan at a pathology lab, but then got busy with other activities. There are high chances that he may forget about his appointment at the pathology lab. So if he receives an email about the same, it might get skipped, but when a message lands and pops up on the phone, it is hard to be missed.
Account Verification / Password Confirmation

2FA is nowadays a popular security method used to keep customer accounts and payments secure. 2FA works by asking the customer to provide two valid proofs to verify their identity. The first proof could simply be the password and the second one could be an OTP code sent on the mobile phone number registered with the user account. So only a genuine customer can provide the OTP code received on his mobile phone number and thus authenticate his identity. These OTP codes are usually sent through SMS messages which are a convenient method for users and still offer security.
Promotional Offers
Sending latest offers such as discount coupons to clients and prospects is a usual part of any business's marketing strategy. Most of the time, promotional offers are offered for a specific amount of time, so it becomes important that customers or prospects should open the message containing the offer as soon as possible. Statistics reveal that "90% of the time an SMS is read within 3 minutes of receiving the message." This makes SMS Messaging an ideal choice for sending promotional offers that are time-sensitive.
Payment
Receiving transactional messages on phones is a very common scenario these days. Whether it is online shopping or even when purchasing something from a physical store, SMS messages containing payment information along with date and time are sent on the registered mobile number of the customer. These messages are of great value especially to customers as they get a handy proof of payment made by them for purchasing any goods or services.
Product or Service Launch Announcements
When a business launches a new product or service, the first thing is to make its audience aware about it. Making such announcements via crowded email inboxes might not be a good idea. SMS texting presents an excellent way to keep your customers and prospects in loop. This approach works more effectively if a company has more information about its audience such as their demographics, age, gender, etc. Offering 'early access' is a popular trend to generate curiosity among the audience which can be easily done by sending SMS messages.
Which is the Best Business SMS Platform for Wholesale SMS Trading?
SMS Trading is a lucrative business opportunity and a business SMS Platform designed exclusively for SMS trading can help in uplifting revenues substantially. For those looking forward to offer enterprise grade SMS service can simply go with REVE SMS Platform to get started. Below mentioned are some of the highlighting features offered by REVE SMS Platform:
It is a highly reliable business SMS platform that comes with the best-in-class industry routing processes to attain maximum delivery and minimize failovers.
REVE SMS Platform for business offers an array of features that can help a business in significantly boosting its growth. The web-based interface of REVE SMS Platform supports SMPP and allows sending of both single and bulk SMS Campaigns.
It comes with in-built charts and graphs that are extremely useful in getting profit-loss insights for any business.
It also supports reseller, route, rate, MCC and MNC management with its easy-to-use interface. Also, it aids in financial analysis based on individual clients or destinations.
As far as security is concerned, REVE SMS Gateway Platform for business implements a multi-layer security system with 2FA. Some other advanced security features are Network Topology Hiding, IP login whitelisting and blacklisting, IP security for API, etc.
To know more, please get in touch with us.
Looking for an SMS Platform?
Read Also