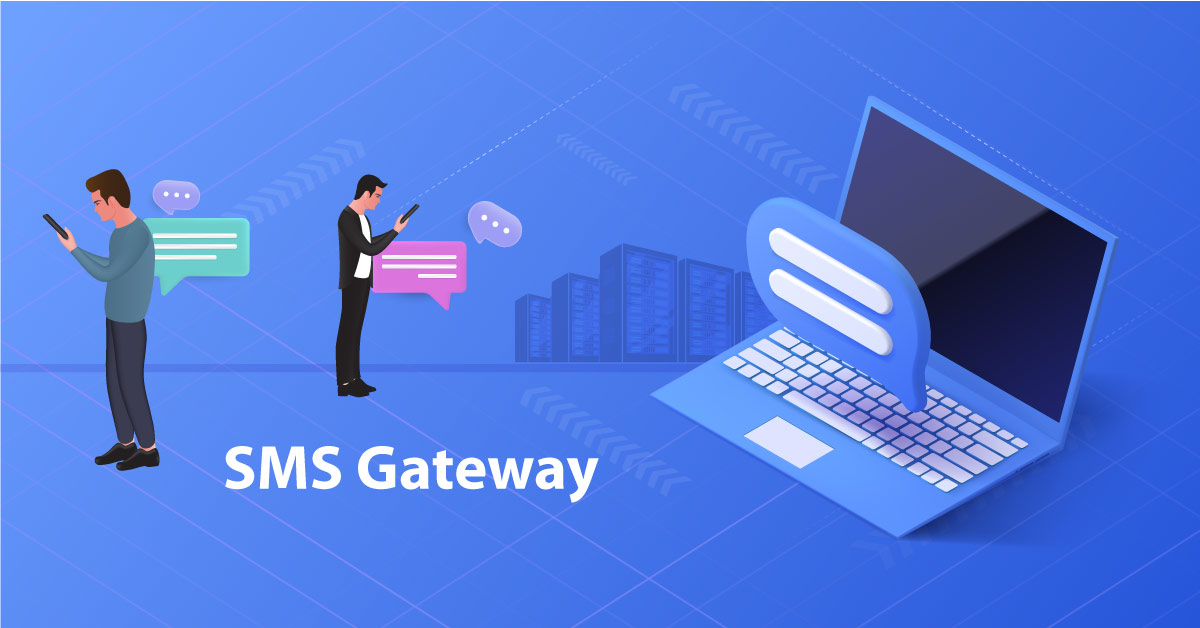 Ever heard the term SMS gateway or Text Messaging Gateway and wondered what is it about? Well, if you are dealing with SMS business or are into bulk SMS service, then you must understand this technology. In this post, we will explain some essential facts related to text messaging Gateways and how you can get the best when choosing one.
What is an SMS Gateway?
SMS Gateway or SMS platforms translate the messages sent from a web application to a format that mobile devices can recognize. Without a Gateway, messages cannot travel through the network and get delivered to the intended recipient.
For better understanding, read some facts related to SMS as mentioned below:
SMS Messages are sent from a software application, usually run on a computer system, to a mobile phone or any SMS-enabled device via the global telecommunication network.
In most cases, the messages sent from software applications are not compatible with the SMS and thus need a translation.
Until some years ago, Text Messaging Gateways were hardware-based, requiring embedded SIM cards and radios. But with technological advancements and the advent of cloud technology, Cloud-based SMS Gateways translate and communicate messages seamlessly.
How does an SMS Gateway Work?

SMSCs or Short Message Service Centers are responsible for sending and controlling SMS messages. SMSCs on both sides may have different protocols for handling SMS messages. Because of this, they are not able to exchange messages and this is where SMS Gateways comes into the picture. They allow the interworking of SMSC protocols and thus messages can be exchanged over the network.
In simple words, the Application initiates the message request towards SMSC. And, It converts the request to a protocol that the operator supports for receiving the request. Below mentioned is the step-by-step procedure of how a typical text Messaging gateway works:
The first step is about composing the message by the sender from their mobile device or computer.
The message is to be transmitted to the SMS gateway where SMPP i.e. Short Message Peer-to-Peer protocol is generally used.
Once the message reaches the SMS platform processes the message. This includes various steps such as formatting the message, verification of the recipient's phone number, etc.
After processing, the message is transmitted by the text messaging Gateway to an appropriate mobile network. It follows the process of delivering the message to the intended recipient.
The message reaches the recipient who receives it on their mobile device which could be a smartphone or any other basic mobile device.
How to Configure the SMS Gateway?
This might appear to be a complex process but with the right service, things can go really smoothly. Here are some general steps which you can follow.
Step 1: Select a Provider
You will find ample services in the market. So, choose a provider who fulfills your requirements in terms of costs, features, reliability, and scalability.
The next step is to sign up for a text messaging Gateway account with the provider that you have chosen. For this, you might need to provide your contact information, payment details, etc. to them.
Step 3: Obtain API Documentation
API documentation is an important part to integrate the SMS Platform service with your application. By receiving the API documentation from your provider, you will be able to understand the integration process with the service.
Step 4: Get the Integration Done
Now, it is time to integrate the Gateway Platform service with your application. For this, you can simply follow the API documentation and may need to use an http or https request to connect with the gateway service.
Once, the system is integrated, it is time to do the testing part. You can send text messages to ensure that the messages are delivered to and received by the recipients. 
Step 6: Monitor and Maintain
It is important to ensure that the platform works properly by testing and checking its performance from time to time. Maintenance is also a critical part, so make sure you are updating the API keys as well.
How do I find the best SMS Gateway for my Business?
You want to send and receive messages for business and you certainly need a text messaging gateway to accomplish that. To find a suitable one, you can reach out to a reputable SMS Platform Provider as they are easily reachable through the web. These Gateways are maintained by these service providers which lessens a lot of work from your shoulders. You just need to subscribe to the service to get started.
Finding the best solution for your business can be a daunting task, given the large number of options available in the market. Here are some key factors to consider:
Look for a gateway that provides global coverage with a wide range of mobile networks and countries, so that you can reach your customers anywhere in the world.
Consider the features offered by the SMS Platform, such as personalization, automated campaigns, analytics, and reporting, and choose the ones that align with your business goals and communication needs.
Look for a gateway that can integrate with your existing business systems such as CRM, marketing automation, or e-commerce platforms, using APIs or plugins, to streamline your communication processes and improve customer experience.
Compare the pricing plans offered by different providers and choose the one that provides the best value for money based on your communication volume and frequency.
Consider the quality and availability of customer support offered by the gateway, including technical assistance, training, and troubleshooting.
Ensure that the platform adheres to data protection measures, obtains consent from customers, and maintains accurate records to comply with relevant laws and regulations such as GDPR, CCPA, and TCPA.
Look for a platform with a good reputation and track record in the market, with positive reviews from other businesses and industry experts.
By considering these factors, you can find the best SMS platform for your business that meets your communication needs, enhances customer engagement, and drives business growth.
Use Cases for SMS Gateway in Business
Some popular use cases for in various industries are:
One of the most popular uses is Customer Engagement. This is done by sending promotional messages, discount offers, and new updates like service launches, announcements, etc. about a business's products and services.
Scheduling and Reminder Messages
Appointment reminders are another way where SMS platforms are used effectively. Automated appointment reminders are sent to customers through SMS messages, which helps reduce no-shows and saves the time and resources of businesses.
2 Factor Authentication is also an area where we can find the role of the text messaging gateway to be quite important. 2FA is used for account verification or password confirmation whenever there is an online transaction. It helps businesses in ensuring effective security and protection against fraud.
The role of these Gateways also expands to surveys and feedback where customers are being sent messages containing surveys and feedback forms. This is done to gather valuable data and insights on the products and services of the business.
These platforms are also used for emergency alerts i.e. sending urgent messages to employees whenever there is a disaster. This plays a crucial role in the well-being and safety of employees and customers.
You can read our blog post on  5 Use Cases of Business SMS Platformy                                         
What are the Benefits of Using REVE SMS?
REVE SMS Platform is an enterprise-grade solution that allows sending of all types of SMS messages such as promotional SMS, Bulk SMS, Transactional SMS, Response Driven SMS, etc. From a technical perspective, the REVE SMS Platform uses MySQL Database to store and manage data related to SMS. The platform is built using the Java Programming language and is hosted on Linus OS. REVE SMS platform supports multiple communication protocols like SMPP, HTTP, and HTTPS for sending and receiving messages. REVE SMS platform is capable of handling Unicode characters for multilingual messaging and provides API responses in JSON format. These responses can be parsed by developers using JSON, XML, or plain text parsers. Using this platform, companies can handle carrier-grade SMS traffic without any difficulty.
Below mentioned are some of the major reasons why you should go with REVE SMS:
You can choose a licensing capacity according to the need and requirements of your business. As your customers and business size increase, you can switch to a larger licensing capacity without any worry.
Routing plays a very crucial role in terms of revenue generation and gaining an edge in the market. Routing forwards the desired SMS messages to their ultimate destination by making use of various logic. And since there are so many routes available, it is important to go through the best ones. REVE SMS Gateway makes use of all types of advanced routing algorithms such as LCR, LLR, Percentage, or time-based routing along with failover retry.
Minimal Investment and Flexible Licensing
REVE SMS Platform is an ideal choice for those who are starting their SMS business as it requires a very low investment. Besides this, there is complete flexibility in licensing since one can opt for multiple licenses as per requirement.
Installation of REVE SMS Gateway is quite easy. Our team will help you with the installation and provide training to use the application without any difficulty. Also, you get 24/7 online technical support from our customer-friendly agents.
As per statistics, "A bulk text message system has the ability to produce 6-8 times higher engagement rates than email." Moreover, SMS has the highest of all the 'message open' rates in existence. So, there's no denying the fact that Bulk SMS messaging is a secure, reliable, and fast way to reach customers around the world. Get in touch with us to know more about the REVE SMS Platform.
How can I get started with REVE SMS Gateway?
REVE SMS Gateway is a powerful, feature-rich, and easy-to-use platform that helps businesses in sending and receive SMS messages to and from their customers. To get started with REVE SMS Gateway, you will be offered a free demo. You can test the performance of REVE SMS Platform. Please fill this form to get started with REVE SMS Gateway.
REVE SMS Frequently Asked Questions
Looking for an SMS Platform?
Read Also
Note- This post has been updated on 28-03-23.