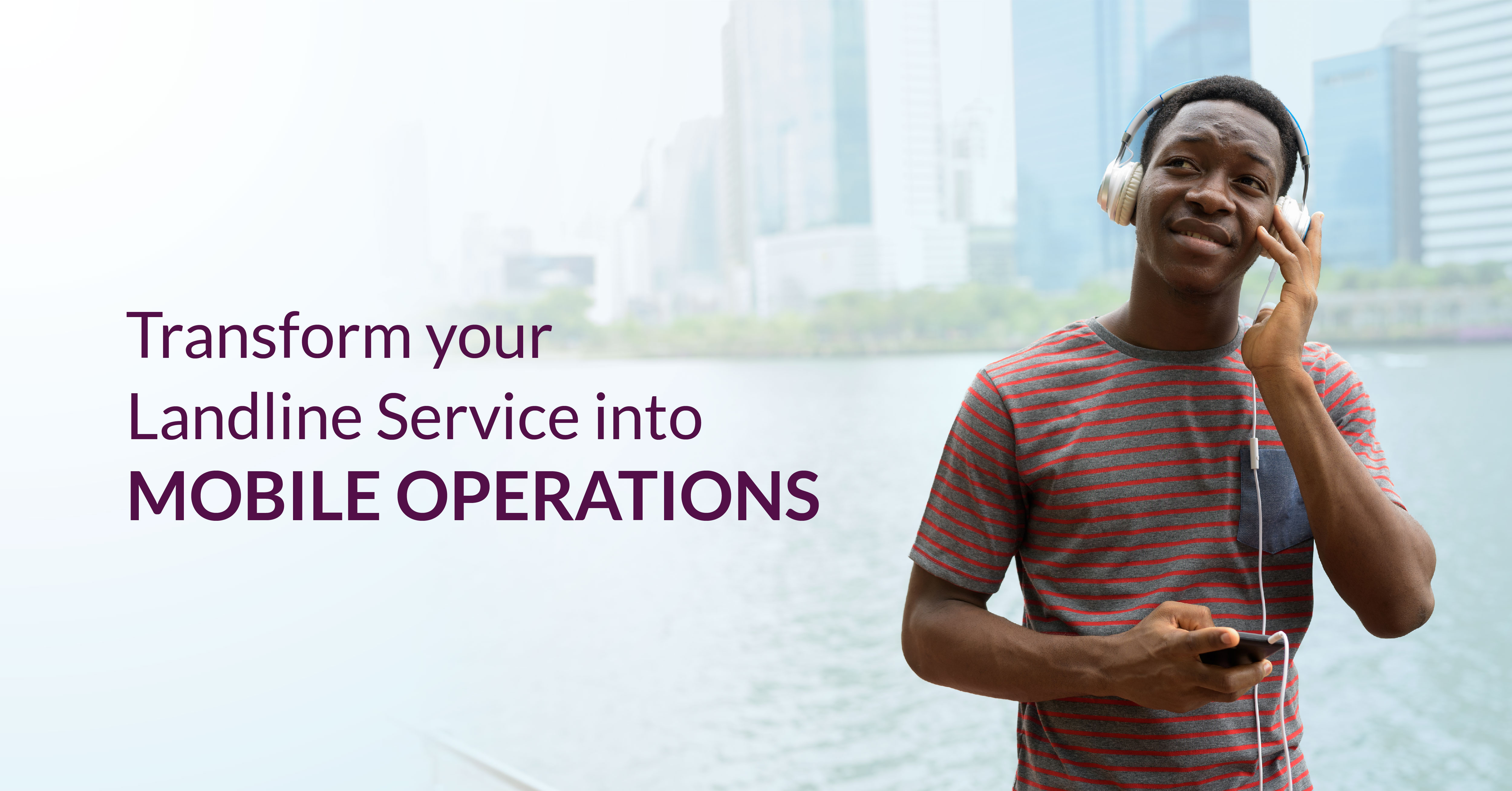 In an ever-evolving digital landscape, fixed landline operators have witnessed substantial changes in their role over time. Primarily, these operators were responsible for providing landline phones and broadband services. With the emergence of technological breakthroughs, shifting customer preferences, and cut-throat competition, landline operators started facing numerous challenges to remain relevant. However, Mobile OTT has emerged as a potential solution for fixed-line operators despite these problems. Through this blog, we are going to explore the current situation of landline operators, the challenges faced by them, and how Mobile OTT can be the ultimate solution to their problems.
Let's get started!
The Evolution of Fixed Line Operators
Fixed Line operators have come a long way since their inception. Initially, these operators solely provided landline telephony and dial-up internet connections as communication services. With the progression of time and technology, these operators widened their service portfolio and started offering broadband services as well. However, the advent of wireless technology and mobile communication posed a serious challenge in front of landline operators' well-established business models. The market grew more competitive as mobile phones gained popularity which led to a decrease in the number of fixed-line subscribers.
The Present Scenario of the Landline Market

Mobile phones, specifically smartphones, have become a constant companion for a majority of the population around the globe. Specific to the U.S., more than 90 percent of U.S. adults who lived in households had an operational landline phone. Today, it's less than 30%. This downward trend of landlines will continue with the growing popularity of mobile phones.
Current Problems of the Landline Operators

Landline, which was once a pride of every home has now become an antique piece in most cases. In recent years, traditional fixed-line operators have encountered substantial challenges.
Lack of Mobility
The absence of mobility is one of the biggest challenges for landline operators. Because landlines are typically fixed at a specific location, they lack the flexibility and mobility that businesses today need in their communication. Due to this, landline operators are unable to serve corporate clients who require mobile services for remote collaboration, thus leading to customer churn and limiting their growth potential.
Decline in Demand
With the introduction of mobile devices, landlines or fixed lines have almost become a forgotten thing that rests in some corner of the room. The flexibility of mobile devices in terms of ease of usage, lightweight, and multi-functionality has completely shadowed the landlines.
Growth of OTT Apps

The situation became worse with the huge penetration of smartphones loaded with OTT apps that make life easy and communication more real. When you have the flexibility to make a video call to someone residing thousands of miles away or send a file instantly in seconds, why would you take the pain of using a landline?
The growth of OTT communication apps such as WhatsApp, Viber, WeChat, etc. has caused a serious threat to both Fixed Line and Mobile Network Operators. A generation of "cord-cutting" customers have exited from fixed-line residential service switching over to OTT apps and mobile services. This led to a huge revenue loss for fixed-line operators.
Even mobile network operators are feeling the heat as subscribers are now using more and more OTT apps for voice, video calls, and text chats. This means that even if they have an active mobile subscription they don't have much requirement to make ISD calls or do text messages as these can be done free of cost with OTT apps.
In this scenario, landline operators are the most affected ones as there has been a constant downfall in terms of subscribers due to their inability to match the services provided by OTT players.
The Solution – Launch Your Own Mobile OTT App
The message is very clear 'Launch your own OTT app'. Yes! It's the right time for landline operators to launch their own OTT app. They already have their infrastructure ready, so they only need to develop an OTT app, which will not only increase brand stickiness but will also boost their revenue growth.
Understanding Mobile OTT
Mobile Over-the-Top or mobile OTT services represent a paradigm shift in the way communication and multimedia services are consumed and delivered. This technology enables consumers to access a wide range of services from their internet-enabled mobile devices such as smartphones, tablets, etc. without relying on conventional fixed telephone lines.
In other words, we can say that the term Mobile OTT refers to the services and applications that deliver communication and multimedia content leveraging internet connectivity while running 'over-the-top' of conventional telephone infrastructure.
How Can Mobile OTT Benefit Fixed Line Operators?

Here are some reasons why landline operators should go for a mobile OTT solution.
Competitive Edge
Fixed-line carriers can beat the competition from other operators by embracing Mobile OTT. They can differentiate their services from traditional mobile service providers by offering unique OTT services, attracting a segment of consumers who value these offerings.
Gain Additional Revenue
Fixed-line operators can generate additional revenue by leveraging mobile OTT services to offer international calling packages. This will not only help in generating an additional revenue stream but also boost customer experience. With this approach, fixed-line operators can stay competitive in the market while fulfilling the needs of their international customer base.
Monetization through Mobile Ads
By integrating diverse ad formats, implementing location-specific advertising, and applying precision-targeted ads based on user data, carriers have the opportunity to generate revenue via mobile OTT apps through mobile advertising.
Retain their Lost Subscriber Base
Telecom regulator Trai in its latest paper to regulate internet messaging and calling apps like WhatsApp, Google Meet, Facetime, etc. said that with growing usage of over-the-top (OTT) applications for messaging, and voice communication, has led to a transition from voice and SMS towards data as a primary source of revenue for telecom service providers. The revenue share per user from data usage grew over 10 times between the June 2013 quarter to the December 2022 quarter, according to the Trai paper.
Considering the above statement, landline operators have the opportunity to tap into the trend of increased data consumption to generate greater revenue. They can offer customers data packages specifically tailored to mobile OTT services. Through this alignment of data packs with OTT usage trends, fixed-line operators can boost customer satisfaction.
Cost Efficiency
When compared with conventional landline networks, OTT services require much less investment. This cost-effectiveness enables operators to save up on their resources which they can invest in other areas, such as improving customer service or developing innovative products.
How to Get Started with Mobile OTT?
You can contact a reliable white-label Mobile OTT app provider to get your branded app.
After your OTT app is ready, you must announce the launch of your branded mobile OTT app to your customers/ audience.
Your landline subscriber base can download the app on their respective devices and start the registration process.
User authentication is done to complete the registration. Once done, users can start using your mobile OTT services using the app.
Case Study: Alaap Mobile OTT App
Now that we have discussed various strategies that fixed-line operators can adopt to regain their lost position in the market with the help of mobile OTT. Now, let's take a look at a real-world example of how a renowned landline company regained its lost subscribers through mobile OTT.
How Mobile OTT Became the Game Changer for a Fixed Line Operator?
A leading landline operator BTCL – Bangladesh Telecommunication Company has been recently in the news after the launch of its OTT app Alaap. The state-owned Telecommunication Company which has seen a downward trend in terms of subscribers got 0.5 million sign-ups just 2 weeks after the launch of Alaap app.
Some of the interesting OTT features, that attracted consumers were Low-Cost International Calls, Video Calls, Video Streaming, Referral Credits, newsfeeds, etc., to name a few.
You can also read the case study here- https://www.revesoft.com/resources/download/case-studies/btcl-alaap
Why Mobile OTT is the Future of Telecom?

From the above information, it is evident that Mobile OTT in telecom has a promising future. You can also read our post on – OTT Business Messaging Market Forecast Report 2023-2027
Let's take a look at some of the most compelling reasons:
Global Mobile Reach
Firstly, mobile OTT capitalizes on the growing global mobile network coverage and the ubiquitous adoption of smartphones. This fact makes it a communication platform that is easily available and accessible to everyone.
Cost Effective & Flexible
Secondly, mobile OTT presents an economical and flexible solution. Operators can cut down on their infrastructure expenditures while extending their services.
Adaptable & Agile
Thirdly, the versatility and agility offered by mobile OTT services empower landline operators to respond to the rapidly evolving customer tastes and emerging technologies, ensuring their relevance in a constantly changing market.
Data-Driven Insights
Last but not least, mobile OTT platforms are data-driven which means they can offer fixed-line operators valuable insights for better customer service.
Let's Sum Up!
To summarize, we can say that mobile OTT has reshaped the conventional fixed-line operator model by offering users unparalleled convenience and flexibility. Mobile OTT definitely will be here for a longer period only to evolve more in the coming years. So it is the right time for Landline Operators to launch their own Mobile OTT app.
Looking for a Mobile OTT Solution?
Read Also