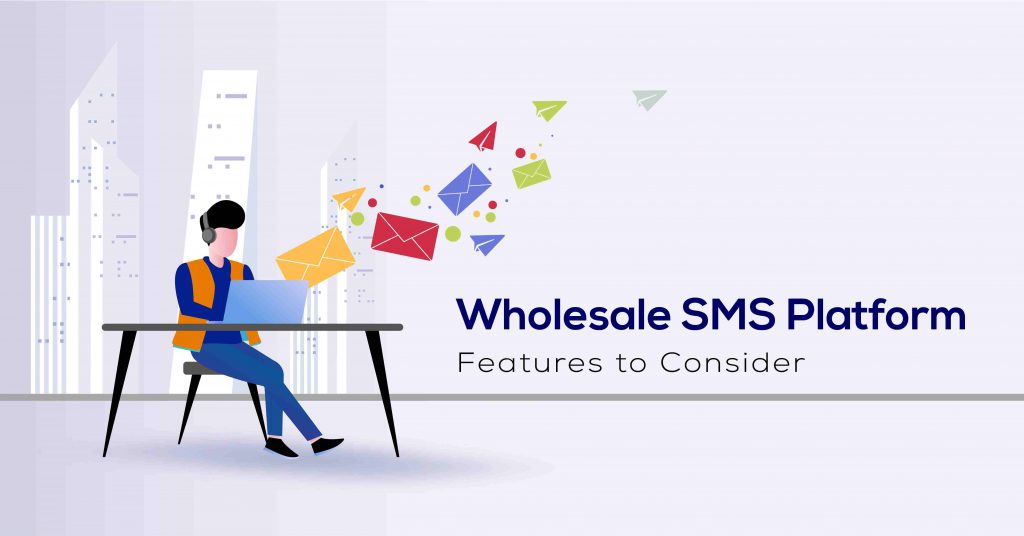 With the continuous increase of Short Messaging Services (SMS) in every industry, major Tier 1 operators and carriers are looking forward to taking the steps to manage the traffic efficiently. An SMS Wholesale model helps international service providers and telecom operators to expand their business network across different geographies without going for multiple bilateral agreements.
As SMS flows are rising, operators and carriers prefer high performing SMS wholesale platform that is loaded with advanced functionalities and supports multi-nation transactions. Being a wholesale SMS provider, you will need certain useful features in your SMS platform.
Features to Consider in a Wholesale SMS Trading Platform
Whether you are a SMS service provider or a telecom operator looking for a wholesale SMS Hubbing solution, you need to ensure to avail the following features in your solution.
Advanced Routing Feature
Routing system is one of the core features of any Wholesale SMS Platform. Your solution should include a real-time routing feature with priority and an LCR-based route selection function. Based on the selected route, the platform must have the flexibility of sender ID modification. Many times, it is seen that downtime arises during peak hour traffic, so the SMS Wholesale software should carry auto reconnection and re-routing process.
SMPP and API Integration Facility
Your Wholesale SMS Trading Platform should have both SMPP and API Integration features for bulk SMS delivery to the global network.
Easy Protocol Conversion
Protocol conversion often becomes challenging times, so you should select a wholesale SMS gateway that supports both SMPP & HTTP & Auto Protocol Switching from each other. To convert HTTP to SMPP, you need a trusted solution, which acts as a connecting channel between your desktop application and external SMS gateway. The SMS platform fetches the SMS in HTTP and converts it into SMPP.
Scalable
Rule-based routing and real-time traffic monitoring further add value to enhance business operations. With innovative business models and the ability to scale up to billions of messages, the wholesale SMS delivery platform is the comparatively most cost-effective solution in the current market.
Intelligent Analytics
Analytics is the backbone of every business. Your wholesale SMS gateway should provide you with real-time analytics. Graphical presentation of results with interactive charts and graphs that will empower you to get the actual business scenario.
Detail Reporting
Every wholesale SMS trading business requires advanced reporting formats. Some of the reporting formats that you should consider are recharge history report, user activity log report, campaign report to name a few. Your wholesale SMS platform should have a report download facility in multiple formats such as XLS, SCV, etc.
Financial Analysis Per Client or Destination
Analyzing your business from time to time enables you to maintain business profitability. Through your SMS platform, you should be able to analyze for which customer over which vendor how much profit you have for which country and which operator.
Content Management
Service providers often face issues of service blockage due to spam messages being circulated by brands. With the content whitelisting feature, authorization of an SMS Content can be done from the service provider's end before it reaches the end subscribers through the carrier's network. Your wholesale SMS platform should have SMS Text and Sender ID blocking, SMS Text, and Sender ID replacement features.
Auto Invoicing
Invoicing is one of the most crucial elements of a wholesale SMS trading platform. Opting for a solution you should ensure you have the automatic invoicing facility with multiple currency support. Real-time billing for prepaid and postpaid, billing cycle management, and multiple format invoice generation are some must-have features.
Military Grade Security
Hacking and data breach are quite common in the telecommunication industry. Your wholesale SMS platform should have a multi-layer security system, which is possible through app-based 2FA. Some security features to consider are Network topology hiding, Blacklisting and whitelisting for IP login, and SSL support, IP Security for API and SMPP Connectivity.
Selecting a SMS Solution for wholesale business can be tricky with multiple solution provider offering similar platforms. The best option is to test the solution taking a trial before purchasing the same.