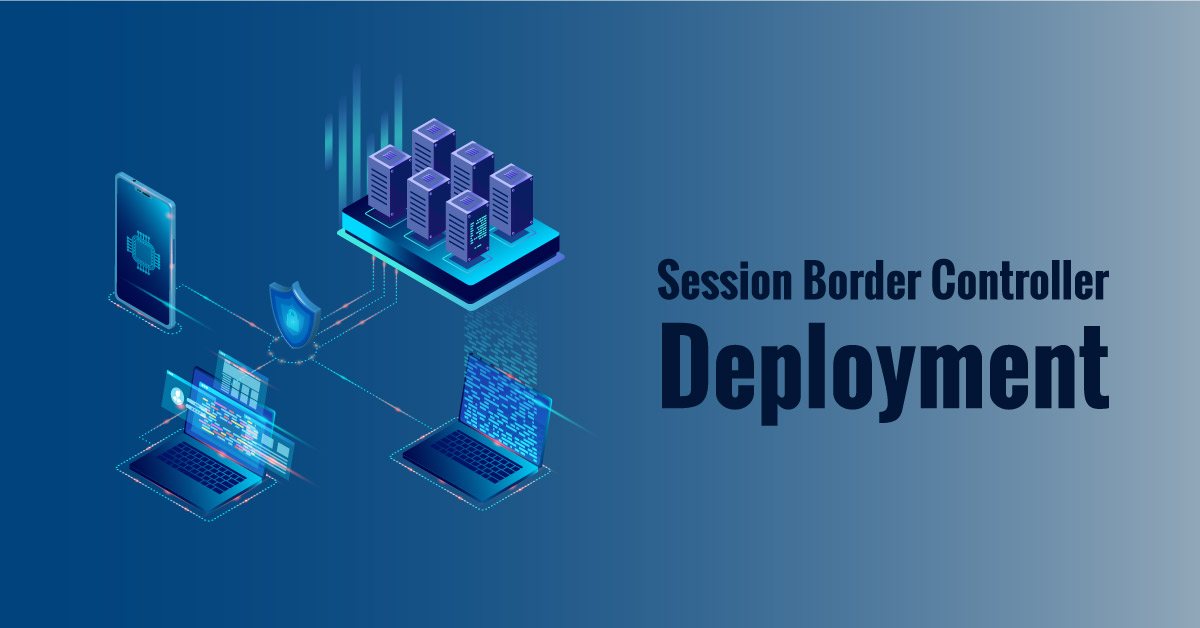 Session Initiation protocols are modern day engines that drive and bring together real time communications which are no longer limited to voice calls, but also instant messaging, video conferencing, desktop sharing, etc.
However, SIPs have their own set of challenges in terms of security, interworking and translation. This is where SBCs i.e. Session Border Controllers come into the picture and play their part. If we need to define the very basic role of an SBC, then we can simply say – An SBC performs the function of securing and controlling a session initiation protocol network. The Session Border Controller deployment is done at the network border so that they can do their job effectively.
Areas of SBC Deployment
As we move ahead, we will bring into light the Session Border Controller Deployment into different types of environments and configurations along with the special requirements and challenges associated with each use case.
Unified Communications
Enterprise communications have literally gone out with the old and in with the new. Those fixed line telephones have been replaced with mobile devices. Modern day enterprises want different modes of communication such as voice, video, chat and web based apps – all at one place, irrespective of their location, device and time.
Harnessing the power of Unified Communications, enterprises can significantly improve their productivity, reduce costs and turn over new leaves of customer service. However, a very basic barrier to UC adoption is the lack of interoperability between multi-vendor systems that are used in most of the enterprise networks.
Even SIP could not break down this barrier as it comes with its own set of shortcomings, due to which most of the enterprises are yet to achieve the benefits of an absolute communication and collaboration model.
However, if we put Session Border Controllers in place, things can be done quite easily and we can truly achieve a UC environment. How? Well, SBCs can provide a session management framework for UC and SIP based communications. Thus, integrating enterprise communication comprising PBXs, collaboration tools, IP based devices, etc.
Further, when moving more services and applications towards the cloud, the SBC session based framework can unify cloud with the on-premise based communications leading to a rich and user-friendly UC experience.
Contact Center
Contact Centers are the heart of most of the businesses. This is because everything is customer oriented and achieving high quality customer service is essential for success. We see that modern day contact centers are not just about agents taking voice calls from customers, but managing a full-fledged contact center where emails, voice calls, text messages, chats, video calls, etc., are being handled simultaneously. With so much on their part, efficiency of the contact center along with quality of service comes out to be a crucial part. Now let's understand how SBCs can add values to these areas.
Call Recording
Call recordings are a popular way used by companies for quality and training purposes. In many countries, it is mandatory to record calls for consumer protection and other legal reasons. In most of the communication networks, call recording is done by consuming an extra data port on a switch. This port replicates the call data and sends it to the recording port. However, in many instances, this process simply does not work well.
A session Border Controller can do the job of replicating the SIP session and sending it to the recording system without consuming an extra port. This is a more reliable way of data transfer and also generates availability of more ports where more customer calls can be taken. Some SBCs can even record the calls which be accessed by playing from the web itself.
Remote Agents
Remote work or work from home culture is on a rise as it adds more flexibility and scalability to a business. For instance, a retailer can add more remote agents to handle customer calls during holiday season without any added expense. However, configuration of the remote devices is an area of concern here. The need is to get a solution that does not need any configuration yet it shall remain secure. SBC works fantastically in this area by eliminating the need of a virtual private network with IP phones without compromising on the security.
Internal Transfers
Interoffice call transfer i.e. when a call is transferred to a different support agent within the same office can cost higher along with security risks if they happen over the public network. Session Border Controllers simply hit the nail on the head as they have the ability to detect internal transfers and route them through private networks thus saving cost without compromising security.    
Enterprise Connectivity
UC platforms are the modern day platforms used by enterprises for all sorts of communication including telephony, video conferencing, instant messaging, etc. SBCs act as their first line of defense as they provide secure and cost-effective connections to enterprises and branch offices. There are several roles that SBCs play when placed to work in an enterprise, some of the main are as mentioned below:
Quality of Service (QoS)
Priority based call routing for emergency calls
Call recording for legal and business use
Call Accounting for keeping frauds at bay
SIP Trunking
SIP Trunking is an crucial part of modern day enterprise communication system, but there are some challenges associated with this system which are efficiently addressed by E-SBCs i.e. Enterprise Sessions Border Controllers.
E-SBCs are specially designed to alleviate SIP security, Interoperability and interworking challenges. E-SBCs act as a line of demarcation between the enterprise and service provider network. You can learn more about Importance of a Session Border Controller in SIP Trunking here. 
IMS Networks
IP multimedia subsystems or IMS for short, is a telecommunication standard which controls multimedia services such as video, voice, and data accessing different networks. Many functions performed by SBCs complement IMS functions, which paves the way to deployment of SBCs in IMS networks.
Proxy-Call Session Control Function (P-CSCF): SBCs have the capability to handle media and signaling data much more efficiently. It does so by integrating the P-CSCF, which is the first point of contact for a user equipment, with A-BGF i.e. Access border Gateway function. Several functionalities including encryption, NAT traversal, user identity privacy, etc are being implemented.
WebRTC
The popularity of WebRTC is known to everyone. There are several cases where SBCs play a critical role in WebRTC technology:
WebRTC applications are browser based, and thus application data will transmit across the internet, there are high chances of cyber attack on the server. Suppose a customer support call is initiated from a WebRTC enabled web page so if an SBC sits in between the WebRTC application Server and SIP server of the contact center at the enterprise, then the server will remain secure from any type of attacks.
Secure VoIP Calls
SBCs can secure VoIP calls that happen between a WebRTC enabled web page and a VoIP phone. Besides security, SBCs can also provide transcoding between different codecs of WebRTC and telephony protocols.
PSTN Phone Calls
SBCs work equally well for calls that happen between a webRTC enabled web page and a landline phone. It also supports transcoding and interworking for such calls.
Video Support
SBCs are capable of providing transcoding between video conference codecs when a video call is happening between a webRTC enabled web page and a non-web RTC enabled IP phone. It also supports protocol interworking for video media transfer. It also looks into QoS and Policy Control for providing network priority to real time media data.
By now, you must have gained sufficient knowledge about SBC deployment areas, we will be coming up with more useful information about SBCs in our future posts. 
Read Also