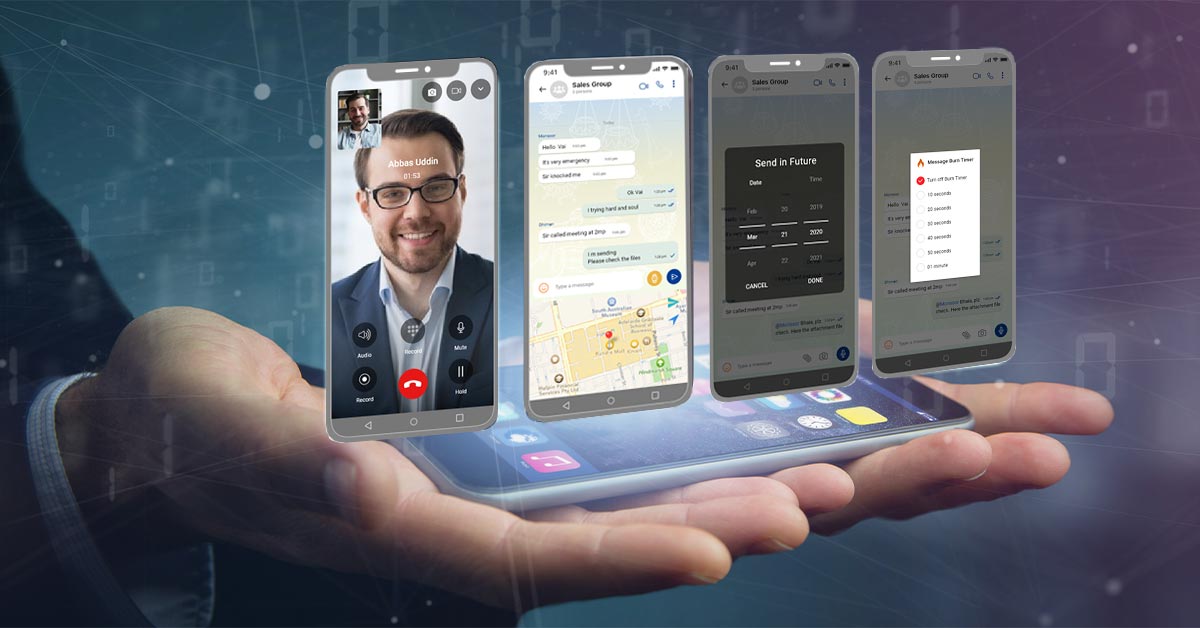 Introduction
In today's digital age, softphones have emerged as powerful communication tools eliminating the need for traditional telephony systems. Revolutionizing the way communication used to happen, softphones are software applications that enable voice and video calling by leveraging the power of VoIP technology. By using softphone applications, individuals and businesses can also unleash new levels of productivity and flexibility.
According to Data Intelo, The global VoIP softphone market is expected to grow from USD 1.02 billion in 2022 to USD 2.48 billion by 2030, at a CAGR of 10.5% from 2022 to 2030. The growth of the market can be attributed to the increasing demand for cloud-based VoIP softphones and the rising adoption of VoIP softphones among small and medium enterprises (SMEs) and large enterprises.
In this post, we will touch on the key areas where softphones can prove to be game changers for businesses.
What is a Softphone?
Also called software phones, VoIP softphones are software-based applications through which users can make voice and video call over the internet using Voice over Internet Protocol Technology. Rather than those traditional telephone units, VoIP softphones transform a laptop, computer, smartphone, or tablet into virtual phone units used for communicating and collaborating with others through various features such as voice, video, IM, etc.
How Does A Softphone Work?

Softphones make use of VoIP technology wherein voice data is converted into packets and transmitted in digital format over IP networks. Compared to a traditional landline where fixed lines had to be installed or cellular service, a softphone presents a cost-friendly and convenient way to communicate especially for long-distance or international calling.
Features of a Softphone
Softphones come with a wide range of features and functionalities to provide communication facilities and enhance the experience. Here are some of the key features of software phones:
VoIP Calling
It is the primary feature of software-based phones that enables users to make and receive voice calls over the internet. Softphones ensure crystal-clear voice quality by supporting various audio codecs.
Video Conferencing
Video calling is another key feature offered by softphones. Users can have audio and video interactions with one another in real-time using the internet. Not only for personal use, but video calling is also becoming quite popular among professionals too. Video conferencing wherein multiple group members can interact with each other is quite useful in conducting virtual corporate meetings.
Instant Messaging
It is the feature that allows users to interact with each other by sending and receiving text-based messages in real time. This functionality facilitates quick communication and is similar to traditional instant messaging platforms being integrated into a softphone.
Media Sharing
Sharing visual content is quite a popular form of communication these days and softphones facilitate this option through media sharing. Software phone app users can share different types of media such as documents, presentations, images, videos, etc. within a conversation.
Location Sharing & Tracking
Softphones also incorporate GPS or location-based functionalities thus providing the feature of Location sharing and tracking. Through this feature, the software phone app users can share their real-time location with others and can also track the movements of their friends, family, and other contacts. This is quite useful in address tracking when one wants to reach a person's physical address.
Web Messaging
Softphones also offer the flexibility to use any internet-enabled device for calling, chatting, media sharing, and more. This means that not only through the software phone app but users can also communicate and collaborate with each other using the web-based interface from a computer rather than installing a specific software application.
Benefits of Using a Softphone
Using VoIP can lower the cost by 45% compared to traditional phones, increase productivity by 67%, improve voice quality, and save employers' costs by enabling employees to work from home.
The usage of VoIP softphones is not only popular among individuals but also in business environments especially in remote work scenarios. This is because of the useful benefits these software phones offer, as mentioned below:
Cost Savings
Softphones run and operate using VoIP technology which provides a very pocket-friendly medium to make calls as it significantly reduces the cost of those high calling charges, especially for long-distance calls. Compared to traditional telephony, international calls using softphone apps can be made at much lower costs.
Mobility
Communication through a softphone app is not restricted to any physical location since there are no physical phone lines. Users can connect with the software phone app through any device which is connected to the internet. This is a lot helpful for remote workers or those who travel a lot in getting things done through seamless communication.
Flexibility
Softphones are capable of accommodating the changing needs of businesses. Without the need of making any significant changes to the software, a business can add or remove users based on their current requirements.
How to Use a Softphone?

It is clear that using a softphone is a convenient and cost-effective way to stay connected from anywhere. To enjoy the benefits of these software phones, you should know the steps to setting up and using a softphone, which are as mentioned below:
Setting up the Softphone
The softphone that you have chosen has to be downloaded and installed on your device for which you can visit the official website of your provider or contact them so that they will provide you with the application. After launching the softphone, you need to create your user account by providing the necessary information.
Account Customization
Once the setup is done, the next step is to set up your account settings. You may need additional details like your SIP server address and other credentials which you can obtain from your service provider. This step also includes testing the connection, setting audio and microphone, adding contacts, etc.
Making Calls
Now, that the softphone is set up, it is time to start making calls. For this, you can use the dial pad or just select the contact from within the softphone. For receiving calls, your softphone will provide you with different options such as answer, decline, etc.
Integration with CRM Systems
Integration with customer relationship management systems of softphones refers to the ability of the software phone application to connect and synchronize with a CRM system. While most of the softphones offer this facility, you can check with your vendor for the same.
Call Analytics
Many softphones offer analytics and reporting facilities which are quite useful for a growing business. By having access to different call-related metrics and insights, businesses can optimize their call handling, customer service, and overall performance.
Virtual Phone Numbers
As the name suggests, these phone numbers are not tied to any physical location and can be used with the software-based phone application to make and receive calls using VoIP technology. These numbers come in various forms such as DID numbers, Toll-free numbers, etc. There are also several features offered by virtual phone numbers such as call routing, auto-attendant, call recording, voicemail, etc.
Choosing the Right Softphone

In order to fully attain the benefits of internet-based communication through softphones, businesses must choose a provider very carefully. With numerous options available out there, it might be difficult to select the right vendor. Here are some key considerations to help you out:
Compatibility
You must check the compatibility of the softphone with your business devices and the operating systems. You can check with the provider whether the softphone supports different platforms used by your business including Windows, iOS, Android, etc., so as to ensure a seamless experience across all devices.
Security
It is important to pay attention to the security measures implemented by the vendor to protect your business's sensitive communication data. While the adherence of the software-based phone to industry standards is crucial, you must also look for the latest security features such as end-to-end encryption, secure transmission of data, and authentication mechanisms such as 2FA.
User-Friendly Interface
An intuitive and seamless experience plays a crucial role in the growth of any business. The softphone that you have chosen must have these qualities so that it is easy for users to navigate and use it. Look for a customization facility to adjust features according to your business needs.
Support and Updates
Before committing to purchase a softphone, you must check whether the vendor provides a support facility or not. Consider the time duration for which the support is available and look at the quality of their assistance. This will be a lot helpful whenever you encounter any issues with the software phone application. Also, look for auto-updates pushed by the vendor so that you always have the latest version of the softphone.
Conclusion
A softphone that aligns with your business communication needs can be a real game changer bringing growth and success. Considering the above-mentioned factors you will be able to make an informed decision.
REVE OTT is a customized and white label SIP Softphone solution that allows Communication Service Providers to create their own VoIP-based branded mobile OTT app and launch service on the existing network. With REVE mobile OTT solution, service providers can launch or upgrade their OTT Communication Services with Instant Messaging (IM), Media Sharing, Audio-Video Calling, Mobile Recharges, and many more value-added features.

Read Also