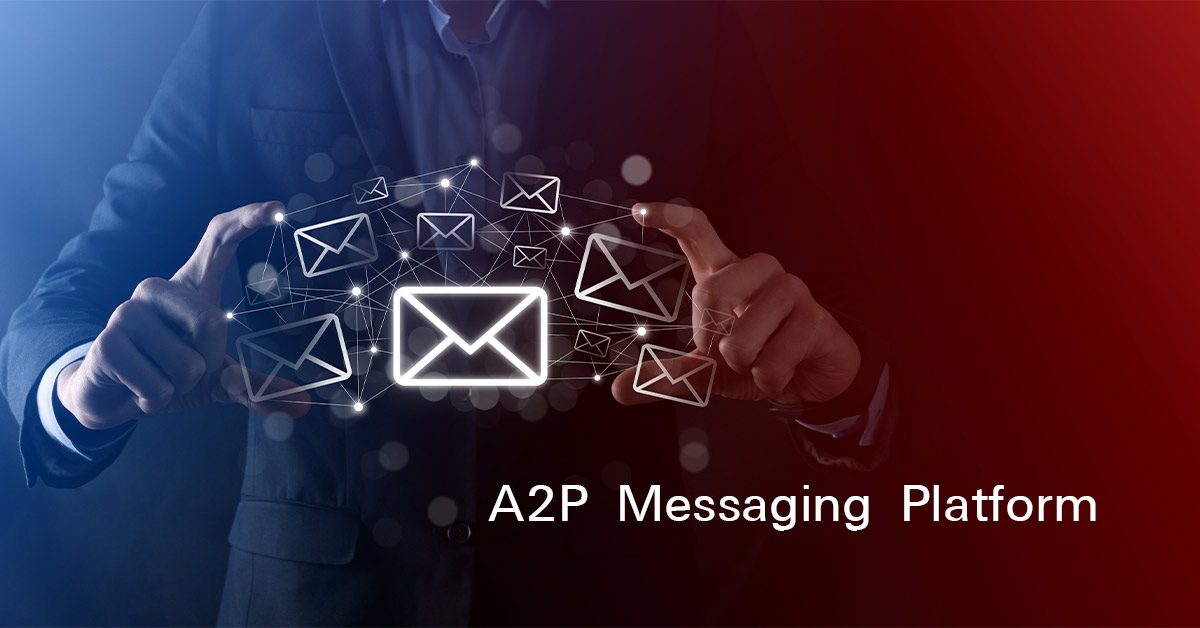 A2P messaging is one of the most popular and widely used messaging channels for commercial communication through A2P messaging platforms. The reason behind the tremendous popularity of A2P messaging is its incredible open rates. Since business messages are highly time-sensitive, A2P messages appear to be the perfect fit for business purposes.
What is A2P Messaging – Understanding the concept!
Before we move further, let us first understand the basic workings and use of A2P sms. The abbreviation A2P stands for Application to Person messaging. Usually, these types of messages are sent by businesses using a software application to a person i.e. a client or a prospect. Messages are usually sent in bulk form by using a predefined list of subscribers. Since these messages are used for commercial communication in the form of promotional or transactional messages, the communication is always unidirectional i.e. only one way.
Usage of A2P Messaging Platform
The application of A2P messaging platform can be found across a wide range of purposes. Some of the most common ones are mentioned below:
Delivery Notifications
These messages carry information about the date and time of package delivery.
2FA (2-Factor Authentication)
SMSs are sent to provide users with unique codes for login purposes. For e.g. when you log in to an app, it asks for an OTP sent to your registered mobile number after you have submitted your username and password.
Appointment Reminders
SMS is sent to confirm/remind the date and time of the appointment. For e.g. a patient's appointment with a doctor.
Order Confirmation
An order confirmation message is generated when an order is placed by a customer. This message usually confirms the order details and provides tracking information to the user.
Business Promotion
It is an extremely popular way to boost business sales by sending SMS highlighting offers, discounts, new products, and upcoming events.
Job Availability Alerts
Many online job portals and recruitment agencies send messages notifying subscribers about new job opportunities.
A2P vs P2P – Comparison
Another type of messaging is P2P i.e. Person to Person Messaging is the typical way of messaging that happens between two persons. In simple words, messages are exchanged in a two-way format. While this form of conversation is also an effective mode of SMS communication, it hardly fits into the need of a business. This is because P2P messaging cannot handle large-scale business needs which means hundreds and thousands of messages cannot be sent in one shot using P2P.
There are several other channels that businesses can use for communicating with customers. The one you choose must be evaluated in terms of effectiveness, relevance, and associated risks.
Risk in the A2P Ecosystem
While there are ample benefits of the A2P messaging platform, the chances of fraudulent activities are also high. Lack of effective barriers and grey routes are the main reasons behind increasing spam calls and messages. Such fragile security measures ultimately affect user experience and cause financial losses to the business. It would be wise to choose the best SMS gateway provider by checking their market reputation and the effectiveness of their services as it would help you in mitigating the security risks.
Which Businesses Can Reap Benefits from A2P Messaging Platform?
There are various industry verticals that can benefit a lot by incorporating A2P messaging in their marketing strategy. Let's take a look at some of them:
Banking and Finance institutions
IT & Telecommunication organizations
Education and research firms
Healthcare sector
Government sector
E-commerce companies
How to Send A2P Messages?
In order to send A2P messages, a business must follow the below-mentioned steps, which are quite simple:
Firstly, search for an A2P SMS platform that supports bulk messaging and make sure the platform provider is a reputable and trusted name in the market. You can go with a licensed or hosted A2P SMS service.
In the second step, the message is delivered by the A2P SMS application through a mobile network connection.
A2P messages are received by customers as standard messages on their mobile phones.
Benefits of A2P Messaging for Businesses
Despite being a very basic method of communication, SMS offers incredible benefits to businesses that other modes of communication could not provide. Take a look:
Grabs the Attention
In other communication channels such as WhatsApp, Messenger, etc., users can easily mute the notifications for new messages. However, with SMS, this is not the case. Every single message received on the phone grabs the attention of the user as the notification arrives.
Low Cost
As compared to other modes of communication, SMS proves to be quite cost-friendly as bulk SMS services are available in the market at very reasonable rates. For small to mid-sized companies, SMS is a good opportunity to stay in touch with their customers.
Minimal Spam
With the enforcement of GDPR, the new A2P SMS regulations have contributed to the drastic reduction of SMS spam since it posed a penalty for sending spam.
5 Reasons to Choose REVE SMS for your A2P Messaging Platform?
Complete Professional Solution – Supporting A2P, P2A, and P2P SMS
Can easily handle carrier-grade SMS Traffic
Seamless execution of SMS campaigns
Suitable for Wholesale carriers, SMS Aggregators, MNOs and MVNOs
Types of messages such as Promotional, Bulk SMS, Transactional, and Response Driven SMS, etc.
Looking for an SMS Platform?
Read Also