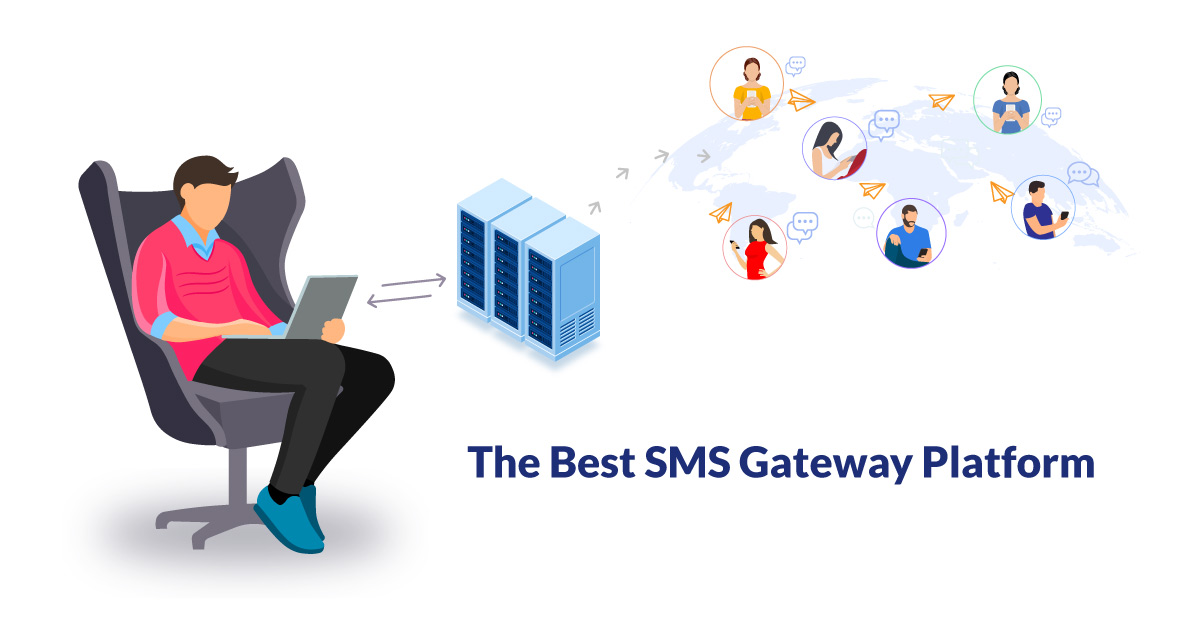 As per stats, 64% of consumers think businesses should connect with them via text messages more often. Interestingly, 75% of consumers want to receive texts with special offers. Even with the introduction of numerous modes of communication every now and then, SMS is still a popular method used by businesses around the globe to connect with customers and prospects. You can read our post on Why SMS Marketing is So Effective & How it Can Help Businesses
Find the Best SMS Gateway Provider
While choosing an appropriate SMS Gateway platform to start SMS marketing for your business, you should consider a number of factors such as delivery rate, security, reliability, customization, etc. Here are some useful tips that will help you in choosing the best SMS gateway platform provider:
Check the type of SMS Services Offered
This is one of the most primary factors to consider. Opting for a provider that offers only constricted services will put a limit on your business's marketing campaigns. However, a wholesale SMS platform that supports different types of SMS services such as Transactional SMS, Promotional SMS, Bulk SMS, etc. is always better than opting for a specific service. It will give you the opportunity to connect with your prospects using diverse types of messages.
Check the User-friendliness of the SMS Gateway Platform
A feature-rich SMS Gateway Platform is a good thing, but you should always ensure that it is not complex to operate. Sending marketing campaigns should be an easy and quick process. So check if the platform lets you do so without any hassle. And, it doesn't end there. Proper management of campaigns is also a crucial part. The SMS platform for business should allow you to administer SMS campaigns through useful insights seamlessly.
REVE SMS Platform is an enterprise-grade solution brings brilliant set of features altogether in one intuitive and robust interface. It offers a complete campaign management facility with features like multilingual message support, normal and multiple SMS character sets, etc.
Check the Reliability of the SMS Communication
Reliability makes the foundation of a successful SMS campaign. Lower uptime, delayed or missed messages are some factors that need your attention. Check the message delivery success rate of the provider's platform. Also, check the reach of the messages, whether local or global. The best way to test all these parameters is by availing a trial of the SMS Gateway Platform such as REVE SMS Platform that offers a free 14 day trial to all new users. During the trial, you can send a few test SMS campaigns to check the efficiency of the system. By availing the services of a reliable SMS provider, you can remain assured that your messages are received by the customers. So, taking a trial is completely worth your time and effort.
Check Industry Experience of the SMS Provider
Is your provider new to the market? How long have they been in the industry? Do they have 'big names' under their clientele list?  These are some questions you should have in mind before you finalize a provider. A well-established service provider is more likely to deliver value to customers by offering the best services in the market.
Check Customer Support Offered by the SMS Provider
Customer Support Service is a key part of any service. Certainly you want a faster resolution whenever you face any issue or have a query. So, it becomes important to check 24/7 customer support services from the SMS service provider. You can even test their support services by sending a basic query and see how quickly they answered and whether their support was really meaningful.
Check Data Security offered by the Provider
Safety of business data is something you cannot simply ignore. Make sure your provider has implemented all the necessary security checks like 2 Factor Authentication for login, Network Topology Hiding, login authentication through username and password, Blacklisting and Whitelisting of IP login, etc. A platform that implements all these security features certainly protects your critical business data and information from getting into the wrong hands.
Check SMS Pricing Model offered by the Provider
Besides features and functionality and everything, cost plays an important role in the selection of the best SMS Platform Provider.  Check for any hidden charges so that you don't face any surprises later. REVE SMS offers a transparent and budget friendly pricing model that ensures you pay for what you get.
Get Started with REVE SMS Today!
77% of consumers are likely to have a positive perception of a company that offers SMS.
In another research, it has been found that 50% of US customers make a direct purchase after they're sent an SMS text, coupon, or discount code.
These figures make SMS marketing completely worth giving a shot. If you are looking forward to get the best SMS Gateway Platform for your business, then our team at REVE SMS is just a click away!
Read Also