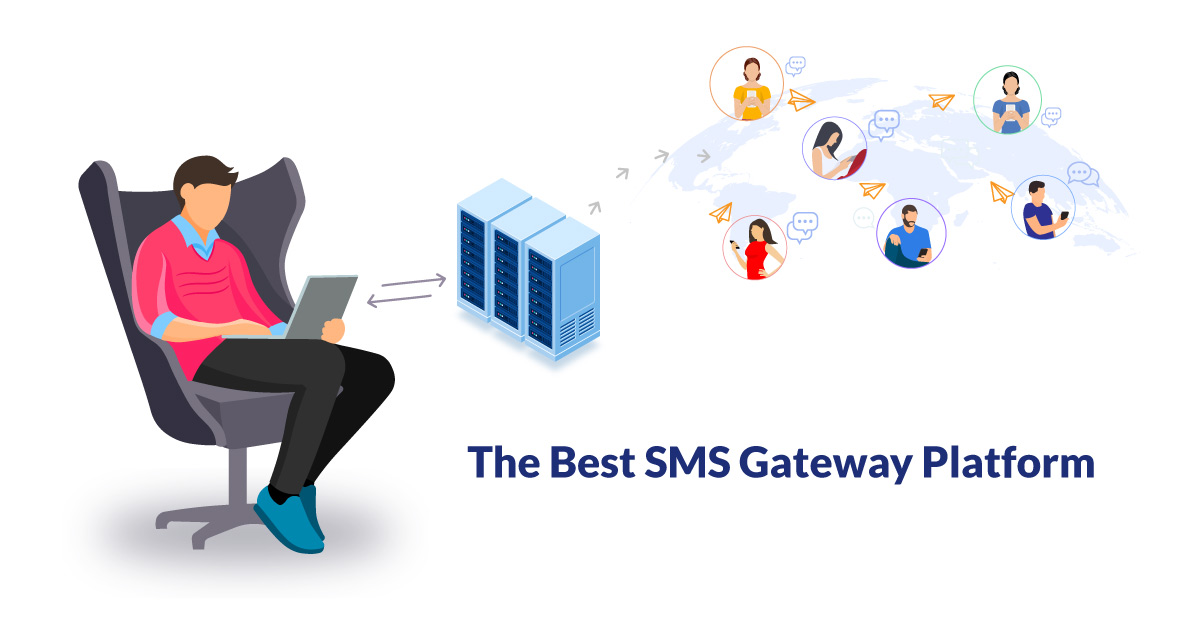 As per stats, 64% of consumers think businesses should connect with them via text messages more often. Interestingly, 75% of consumers want to receive texts with special offers. Even with the introduction of numerous modes of communication, every now and then, SMS is still a popular method used by businesses around the globe to connect with customers and prospects. 
Today, instant communication is an indispensable part of any successful business interaction. SMS empowers businesses to engage with customers quickly while remaining concise and impactful. This has certainly revolutionized the way organizations connect and inform. Central to revolution lies a pivotal tool that streamlines the transmission of SMS from businesses to their customers – The SMS Gateway Platform. But there are a multitude of options available out there and selecting the best SMS gateway becomes a cumbersome task.
We have created this post to help you understand the role of SMS gateway for your business along with the right steps you should follow to choose the best SMS gateway. You can read our post on Why SMS Marketing is So Effective & How it Can Help Businesses
Let's get started!
A Guide to Selecting the Ideal SMS Gateway Platform Provider
While choosing an appropriate SMS Gateway platform to start SMS marketing for your business, you should consider a number of factors such as delivery rate, security, reliability, customization, etc. Here are some useful tips that will help you in choosing the best SMS gateway platform provider:
Understanding Your Needs and Goals
Firstly, it is important to understand that no one goes to the market and purchases something without any reason. It is because they need that product to accomplish a certain task that makes them go get it. Now when we are talking about an SMS platform, it is crucial to figure out the specific business goals and communication objectives. 
Are you aiming to increase sales, promote customer engagement or enhance brand awareness? Some businesses might have one objective and others might want to accomplish multiple objectives. For example, if you want to generate more sales through SMS communication, then you will need to focus on promotional messages. 
Type of SMS Services Offered
From the above point, it is clear that you need to decide upon the type of messages you would want your SMS platform to support. Make a note that opting for a provider that offers only constricted services will put a limit on your business's marketing campaigns. However, a wholesale SMS platform that supports different types of SMS services such as Transactional SMS, Promotional SMS, Bulk SMS, etc. is always better than opting for a specific service. It will give you the opportunity to connect with your prospects using diverse types of messages.
Maybe for now you want to use only one type of message, but as your business grows, you might need to jump into the SMS pool and make use of other types of SMS as well. 
SMS Volume and Scalability
Before we explain why you need to consider SMS volume and scalability, you must be clear about what these terms are about. SMS volume is the number of SMS messages that you plan to send through your SMS platform. So basically it is the quantity of text messages that your business is going to generate. 
Scalability is quite related to SMS volume because it is the ability of the platform to efficiently handle the amount of messages, as they increase. A scalable platform will ensure that your messages are delivered promptly. Also, it will efficiently handle spikes in SMS volume without affecting message delivery rates. 
Delivery Rates and Speed
Reliability makes the foundation of a successful SMS campaign. Lower uptime, delayed or missed messages are some factors that need your attention. Check the message delivery success rate of the provider's platform. Also, check the reach of the messages, whether local or global. 
The best way to test all these parameters is by availing a trial of the SMS Gateway Platform such as REVE SMS Platform which offers a free 14-day trial to all new users. During the trial, you can send a few test SMS campaigns to check the efficiency of the system. By availing the services of a reliable SMS provider, you can remain assured that your messages are received by the customers. So, taking a trial is completely worth your time and effort.
User-Friendly Interface
A feature-rich best SMS Gateway Platform is a good thing, but you should always ensure that it is not complex to operate. Sending marketing campaigns should be an easy and quick process. So check if the platform lets you do so without any hassle. And, it doesn't end there. Proper management of campaigns is also a crucial part. The SMS platform for business should allow you to administer SMS campaigns through valuable insights seamlessly.
Data Security
The safety of business data is something you cannot simply ignore. Make sure your provider has implemented all the necessary security checks like 2 Factor Authentication for login, Network Topology Hiding, login authentication through username and password, Blacklisting and Whitelisting of IP login, etc. A platform that implements all these security features certainly protects your critical business data and information from getting into the wrong hands.
Analytics and Reporting
This feature of the best SMS gateway performs the systematic collection of SMS data which is then analyzed and presented in the form of comprehensive visuals. This functionality empowers businesses to get an overview of the campaign performance that helps in making data-driven decisions. Further, it helps in better understanding customer behavior to optimize marketing and engagement endeavors. 
Pricing Structure
Besides features and functionality and everything, cost plays an important role in the selection of the best SMS Platform Provider.  Check for any hidden charges so that you don't face any surprises later. REVE SMS offers a transparent and budget-friendly pricing model that ensures you pay for what you get.
Industry Experience
Is your provider new to the market? How long have they been in the industry? Do they have 'big names' under their clientele list?  These are some questions you should have in mind before you finalize a provider. A well-established best SMS gateway service provider is more likely to deliver value to customers by offering the best services in the market.
Customer Support
Customer Support Service is a key part of any service. Certainly, you want a faster resolution whenever you face any issue or have a query. So, it becomes important to check 24/7 customer support services from the SMS service provider. You can even test their support services by sending a basic query and see how quickly they answered and whether their support was really meaningful.
How Does an SMS Gateway Work?
To understand the working of an SMS Gateway, you can consider it as an intermediary or a bridge that enables the seamless transmission of messages from source to destination, traversing different telecom networks. It facilitates the conversion of messages from different types of sources, into a format compatible with the destination's network. 
Now, quickly, let's understand the working of SMS gateways. Basically, for the transmission of messages, SMSCs are the responsible units. But these units on the sender and receiver side may have different protocols being used for SMS handling. Due to this difference, the exchange of messages is not possible which is why SMS gateways jump in. By allowing the interworking of the protocols, SMS gateways enable the sending and receiving of SMS messages across the networks.
Here's a step-by-step process that happens:
The message is composed using a mobile device or a computer.
The user initiates an SMS.
The SMS gateway receives the request.
The gateway converts the message to a compatible format.
It routes the message to the recipient's network.
The carrier delivers the SMS message to the device.
The delivery report is sent back.
The user receives the SMS message.
To have detailed information about this, you can read our post on SMS Gateway: How it Works & How to Get Started?
How can REVE SMS Gateway Benefit My Business?

In another research, it has been found that 50% of US customers make a direct purchase after they're sent an SMS text, coupon, or discount code.
REVE SMS Platform is an enterprise-grade solution that brings brilliant features in one intuitive and robust interface. It offers a complete campaign management facility with features like multilingual message support, normal and multiple SMS character sets, etc.
These figures make SMS marketing completely worth giving a shot. If you are looking forward to getting the best SMS Gateway Platform for your business, then our team at REVE SMS is just a click away. 
Some Highlighting Features of REVE SMS – Best SMS Gateway
Interactive Monitoring Dashboard
REVE SMS platform offers a user-friendly and intuitive monitoring dashboard. Users can track the progress of SMS campaigns in real-time, check the delivery status of SMS messages, and monitor other key metrics. This helps in getting a comprehensive view of the SMS campaigns to make informed decisions and amendments to campaigns for better outcomes. 
2FA and Country-Based Login Restriction
REVE SMS Platform adds an extra layer of shield with two-factor authentication and country-based login restrictions. While the 2FA requires a second fro of verification from the users beyond their passwords, the country-based login restriction allows access from only familiar or specific geographical locations. By implementing these two security measures, REVE SMS ensures that the platform is accessible to authorized users.  
Multi-Currency Management
It's one of the most robust features offered by REVE SMS platform which is very beneficial for businesses involved in international messaging and communication. Through this feature, seamless management of multiple currencies can be done within a single platform. This leads to various benefits like flexibility in billing and pricing, reduction in the cost of currency conversion, generating accurate financial reports, and simplified cross-border transactions. 
Reseller Management
REVE SMS Platform has been designed keeping in mind the importance of organized and collaborative reseller management. With its Reseller Management feature, REVE SMS simplifies and streamlines the interactions between a business and its resellers. Overall, it empowers businesses to manage, communicate and coordinate with their reseller partnerships more effectively. 
Multi-Level User Permissions
It is crucial to understand that different users in an organization require different levels of access to business data. This is why it is essential to define and customize user roles. The multi-level user permissions feature offered by REVE SMS ensures that each and every user has access only to information relevant to their role in the organization. 
Supports both SMPP & HTTP
This comprehensive feature offered by REVE SMS makes it stand apart. Both SMPP and HTTP are two widely used protocols used for sending and receiving SMS worldwide. While SMPP is an industry-standard specifically suitable for sending high-volume messages, on the other hand, HTTP is a versatile protocol that enables seamless communication over the Internet by providing a user-friendly platform for sending and receiving SMS. 
Conclusion
Today, the business landscape is quite dynamic which demands the need of a right selection of software and tools for the success of any business. This statement holds true when selecting the best SMS gateway platform for your business. As we discussed various aspects related to SMS Gateways, it is evident that one must always make an informed decision. This may include assessing your unique business requirements and various other crucial factors such as pricing models, security measures, availability of advanced features, and integration capabilities. 
However, it does not end here. Besides the above-mentioned points, you must ensure that the best SMS platform is scalable enough to align with the growth of your business in the future. Remember that the best SMS platform you choose will not be just another business tool but a foundation that will drive your business forward. 

Read Also
Note- This blog post was updated with the latest information on 17-08-23.