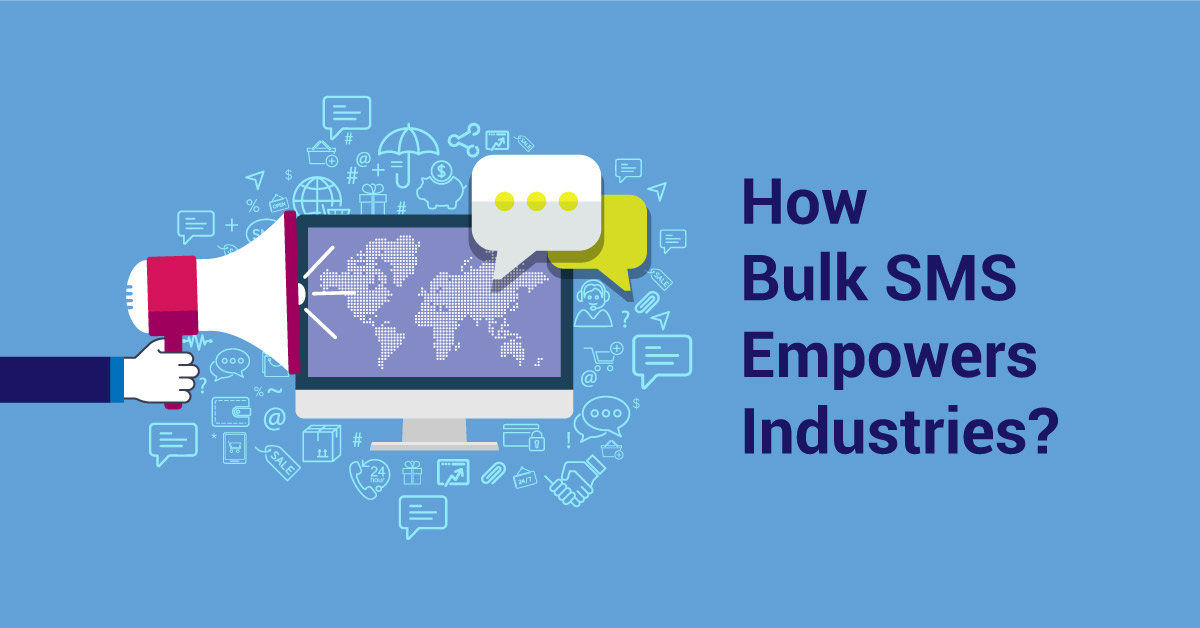 Among all the modern-day communication and marketing tools, bulk SMS is considered one of the most effective and powerful. A Key factor that supports this statement is that bulk SMS helps businesses in reaching out to a large group of the audience quite quickly and efficiently. Even if we look at the latest statistics, the effectiveness of Bulk SMS is quite clearly evident. Have a look:
65% of the world's population prefers SMS over other communication mediums. (source: Bulk SMS Service-Facts and Figures)
75% of consumers would like to receive offers via SMS. (source: Digital Marketing Magazine)
SMS marketing coupons are redeemed 10 times more often than other types of coupons. (source: Clickatell)
87% of businesses rate SMS marketing as important to their future marketing strategy. ( Source: Forrester, 2022]
Top 9 Industries that Can Benefit from Bulk SMS
Today, almost every industry leverages the benefits of SMS marketing by using bulk SMS to reach out to potential prospects, engage the existing client base, and thus grow their brand. A2P SMS i.e. Application-to-Person SMS is a popular choice for bulk SMS campaigns due to its scalability, advanced automation capabilities, and efficient delivery to large audiences all at once. Read How to Get Own A2P Messaging Platform for Bulk SMS.
In this post, we have compiled a list of 9 industries that can use bulk SMS for marketing their business.
1- Healthcare and Pharmaceuticals Industry

Missed appointments have shown to be the number one reason why the healthcare industry loses out on its revenue. Sending appointment reminders through SMS at specific times such as a day before or a few hours before the scheduled appointment time can be used to cut down on no-shows and late arrivals. According to a survey by PatientPop in 2021, 50% of patients want to receive text reminders to schedule their next appointment.
Another practical use of bulk SMS in this industry is by sending health tips and alerts to patients, especially during outbreaks.
2- Retail and E-commerce Industry

Retail and e-commerce establishments must stay in touch with their customers from time to time for engagement, drive traffic either online or offline, and increase sales. But how does Bulk SMS help? Well, by having the contact number of the customers and prospects, businesses dealing in the retail and e-commerce industry can use bulk SMS to promote their flash sales, upcoming events, discount offers, and codes. One can even create a list of those extra-special clients and send them secret offers and discounts through bulk SMS.
3- Events and Entertainment Venue Industry
Event organizers, concert promoters, and entertainment venue marketers can also leverage the benefits of bulk SMS. Businesses in this industry can send upcoming event notifications, ticket sale alerts, exclusive offers, and reminders through bulk SMS to boost engagement and sales. Read our post on How to Choose The Right SMS Platform for Business?
4- Real Estate Industry

People dealing in the real estate world are often mobile and need a marketing platform that is efficient, effective, and portable. Given these conditions, Bulk SMS appears to be an ideal tool. Real estate brokers and agents can use bulk SMS to send property listings, open house notifications, updates on seasonal rental offers, etc. to prospective buyers and tenants.
5- Education Industry
This industry involves a lot of activities in the form of examinations, meetings, schedules, and deadlines. Educational institutes like schools, colleges, and universities need to intimate information about various activities to students and parents. Bulk SMS can be a significant game changer for this industry as educational authorities can communicate with parents and students quickly and effectively.
6- Banking and Finance Industry

Banking and Financial services need to be fast, effective, and informative. Customers expect to receive transactional messages instantly and want to remain informed about their banking activities. To fulfill these needs of the customers and to prevent banking fraud, banks, and financial institutes can utilize the power of bulk SMS by sending account balance notifications, transactional alerts, payment reminders, etc.
7- Hospitality and Travel
Customer experience is the top priority for this industry and to ensure this businesses dealing in hospitality and travel need to utilize the best tools to communicate with customers. Certainly, bulk SMS can be used by hotels, travel agencies, and airlines to send booking confirmations, promotional offers, flight schedules, updates, etc. Bulk SMS can also be used to send personalized travel itineraries to customers so that they have convenient access to their travel routes.
8- Logistics and Delivery Industry

With the upward trend of online shopping, there has been significant growth in the logistics and delivery industry as well. Courier companies and logistic services must provide customers with real-time information about their couriers and packages. This is where bulk SMS comes into action. Logistics companies can use bulk SMS services to send order-tracking updates, delivery notifications, and time-specific alerts to ensure that customers have pleasant delivery experiences.
9- Government and Public Service Industry
The government sector has to circulate a lot of information to the public and they certainly need an effective communication channel like bulk SMS to achieve this objective. With just a few clicks they can send emergency alerts, bill reminders, public safety tips, and other such information.
Leveraging the Power of Bulk SMS
It is interesting to see that "70% of businesses want to tap into SMS marketing for its high engagement rate." (Forrester, 2021) There is no denying that the above-mentioned industries can benefit significantly from bulk SMS Marketing. If you are looking forward to becoming a bulk SMS service provider, then the most crucial requirement to get started is having a robust and reliable SMS platform like REVE SMS Platform. It is an ideal wholesale and retail SMS trading available in licensed and hosted models.
Read Also