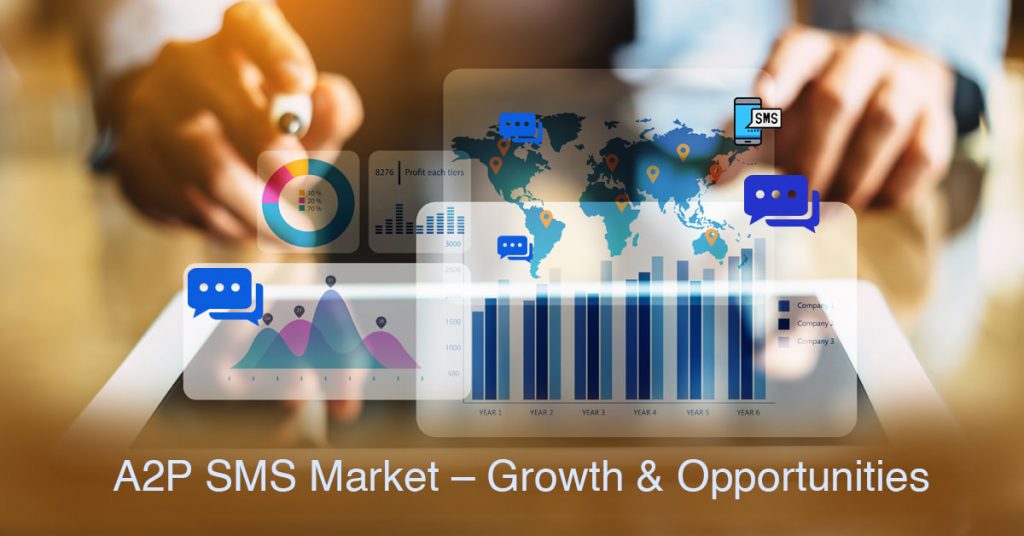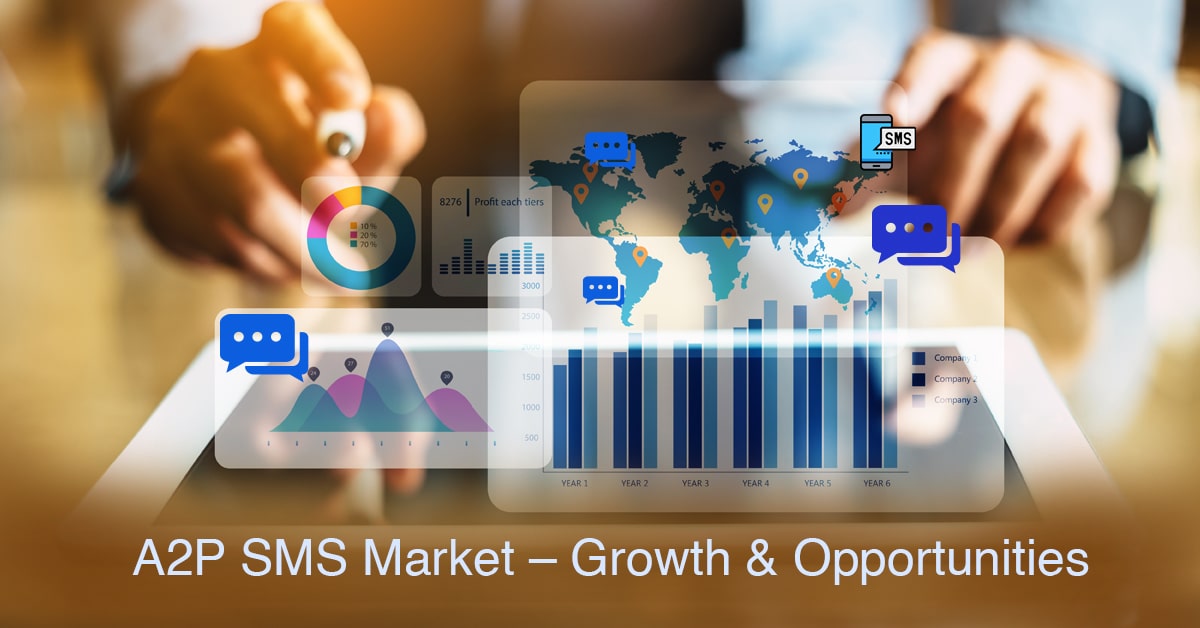 The A2P SMS Market has registered a positive growth in last 1 decade owing to the dependencies of businesses  and enterprises, who want to connect with their mobile consumers. The increasing use of A2P messaging has been seen in several  industries such as travel, tourism, marketing, healthcare and other industries for improving customer relationships. As per a report, by 2025 the global A2P messaging market size is expected to grow to USD 72.8 billion from USD 62.1 billion.
Overview of the A2P SMS Market and its Growth Potential
As there is a constant growth of the mobile subscriber base and mobile marketing activities, the global A2P SMS market is expected to expand at a compound annual growth rate (CAGR) of 4.9% from 2023 to 2030. In 2022, the global A2P messaging market was valued at USD 66.84 billion and is expected to grow by ~ US 101 Bn by 2030. 
Growth Drivers:
Increasing adoption of mobile phones and smartphones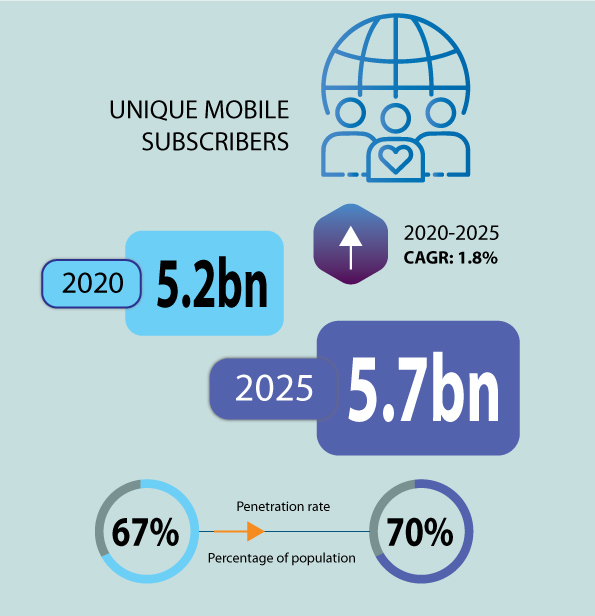 The global smartphone adoption rate has been steadily increasing over the years. As more people use mobile devices to access the internet and communicate with others, the demand for A2P SMS has also increased.
As per the GSMA Mobile Economy 2021 Report, in the year 2020, there were around 5.2 billion unique mobile subscribers. Out of this, the 68% ratio was smartphones, which is predicted to increase to 81% by 2025.
With the continuous increase in the mobile subscriber base, it becomes easy for MNOs, enterprises, and application developers to connect with their users. Making more investments in A2P services,  MNOs target to increase their revenue which has been coming down due to various reasons including the growth of OTT.
More and more industry segments are embracing mobile technologies which are leading to the progression of the A2P SMS market. Various other factors that are contributing to the growth of the enterprise A2P SMS market are the emergence of IoT technologies, increased demand for digital advertising, etc.
As per a market research report by MarketsandMarkets, a sector research, growth advisory, and analytics firm, the global A2P SMS market size was valued at USD 62.1 billion in 2020 and is projected to reach USD 72.8 billion by 2025, at a CAGR of 3.2% during the forecast period.
Expeditious development of e-commerce & m-commerce
Online shopping and mobile transactions are common things nowadays. There's no doubt about the fact that the majority of businesses rely on A2P messages to communicate with customers. Some common examples include sending notifications and conveying critical information to customers.
More demand for mobile banking and financial services
The usage of A2P SMS is quite significant in the banking and finance industry. A few examples include one-time passwords and transaction alerts. Also, it is evident that the demand for mobile banking and financial services is on a continuous rise which means that the A2P SMS market is surely going to grow by leaps and bounds.
Emerging technological advancements
The development of new technologies such as chatbots, artificial intelligence (AI), and machine learning (ML) has enabled businesses to automate their A2P SMS services and deliver personalized messages to customers.
Segmentation of the A2P SMS Market
Based on different factors, the A2P SMS market can be segmented into various categories, as mentioned below:
Application:
Based on the type of application, this market can be segmented into various areas such as promotional and marketing, authentication and verification, etc. The largest share of the A2P SMS market is held by the promotional and marketing segment. This is because more and more businesses prefer to rely on A2P messaging for their marketing campaigns that boost customer engagement and leads to conversion.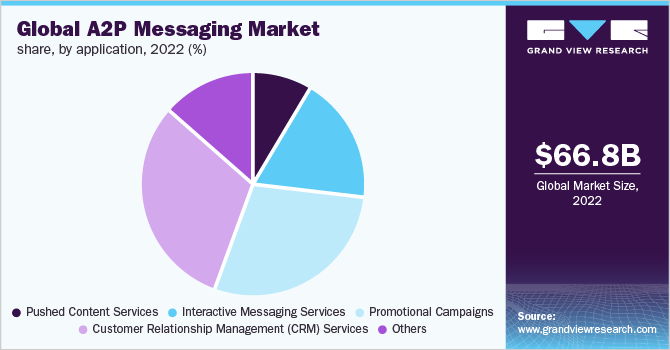 The share of the customer relationship management services segment is anticipated to hold a notable percentage as compared to the other components of the A2P SMS market. However, the authentication and verification segment is also expected to witness significant growth, as A2P messaging is increasingly used for two-factor authentication and other security-related applications.
Industry Vertical
The A2P SMS market can be segmented based on industry verticals, such as BFSI (Banking, Financial Services, and Insurance), healthcare, retail, travel and hospitality, and others.
Type of SMS
The A2P SMS market can be segmented based on the type of SMS used, such as standard rate SMS, premium rate SMS, and others.
Service Type
The A2P SMS market can be segmented based on the type of service, such as cloud API messaging platform, traditional and managed messaging services, and others.
Region
The A2P SMS market can be segmented based on geographical regions such as North America, Europe, Asia Pacific, Middle East and Africa, and Latin America. Geographically, the Worldwide A2P Messaging Market has been divided into the Asia-Pacific, North America, South America, Europe, the Middle East, and Africa.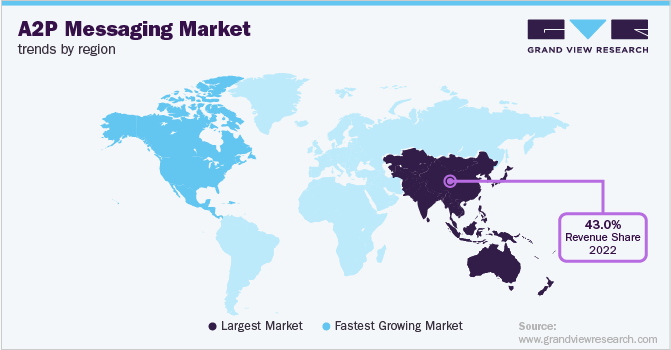 If we talk about the market share of A2P Messaging, Asia-Pacific emerges as the leader. The Asia Pacific region dominated the overall A2P messaging market in 2022, with a market share of over 43.0%. In the Asia Pacific A2P Messaging market, China, India, Japan, and the rest of Asia-Pacific are included.
The North America A2P Messaging market is segmented into Canada, US, and Mexico. As per a report by KVB Research, the North American A2P Messaging Market would witness market growth of 3.5% CAGR during the period 2020-2026.
End User
The A2P SMS market can also be segmented based on end-users, such as small and medium-sized enterprises (SMEs) and large enterprises. In the case of the end-user industry, during the forecast period, the retail segment is set to dominate the market. 
These market segments help businesses to identify and target specific customer groups and develop tailored messaging campaigns for effective customer engagement and business growth.
Key Market Players
The A2P Messaging Market is dominated by some of the leading players such as:
Bharti Airtel Limited (India)
AT & T (US)
Vodafone Group Plc. (UK)
Orange (France)
Monty Mobile (UK)
Tata Communications (India)
China Unicom (Hong Kong) Limited
Infobip (UK)
A2P SMS Industry Trends
There are lots of emerging trends that are shaping the A2P SMS market. Here are some of the latest trends:
Use of Artificial Intelligence (AI)
AI or Artificial Intelligence is a popular concept these days which is gaining more and more momentum. The A2P SMS industry is not left untouched as businesses are using AI-powered chatbots to connect with customers and cater to their needs. AI technology is also helpful in analyzing A2P messaging data for improved performance and better customer engagement. 
Increasing Adoption of RCS
Businesses want to deliver a rich messaging experience to their customers in the form of multimedia content. This is where RCS or Rich Communication Services comes into action. This technology is gaining momentum in the A2P SMS market because it helps businesses in delivering personalized experiences to their clients. 
More Focus on  Privacy & Protection of Customer Data
Data privacy and protection is a primary concern for every business these days. This is why the implementation of relevant measures for the protection of customer data and ensuring compliance with the regulations is increasing. Data encryption and compliance with GDPR are the two most common measures being implemented.
Shift to Omnichannel Messaging
Omnichannel messaging which means using multiple channels to connect with existing and potential customers is a popular trend adopted by businesses across the globe. Some common examples of different channels include SMS, social media, chatbots, IM platforms, etc. It provides businesses with the opportunity to reach their audience across different touchpoints. This shift helps businesses to provide a smooth and unified messaging experience to customers.
In conclusion, the A2P SMS market is experiencing several industry trends that are shaping the future of the market. Businesses that stay up-to-date with these trends and adopt innovative messaging strategies are well-positioned to succeed in this dynamic and evolving market.
Challenges: Key Restraints of the A2P SMS Market
Technical Anomalies Overriding Bulk SMS
Often SMS is linked with basic phone features so mobile brand companies often ignore it while developing smartphone features. The true potential of messaging technology as a marketing tool is not yet tapped by Bulk SMS Service providers.
The main reason for this brand owners and marketers are quite enthusiastic about the features and experiences they can offer through mobile web and apps, which often outshine the features offered by A2P messaging.
However, there are different types of challenges such as leveraging SMS that can fit a broad mobile strategy. Experts are needed to set up an SMS program so that permissions are structured easily from wireless carriers. For the growth of the A2P SMS market, generating shortcodes used in SMS campaigns is another challenge.
As A2P SMS mostly relies on the usage of shared or dedicated shortcodes, brand promoters often get confused and bear the uncertainty while setting up short codes and regulations.
Security Concerns
A2P SMS is vulnerable to various security threats, including phishing attacks, SMS spoofing, and malware. According to Federal Trade Commission (FTC), a staggering $86 million was lost to scam texts in the United States in 2020. Businesses need to ensure that their A2P SMS services are secure and compliant with data privacy regulations. As enterprises are using SMS messaging services to improve user experience by communicating with them, the immediate need to protect the data of their organizations and customers has emerged as one of their top priorities.
Competition from Other Messaging Platforms
With the growing popularity of messaging apps such as WhatsApp, WeChat, and Facebook Messenger, businesses may shift their focus away from A2P SMS.
Increasing Regulations
Governments around the world are implementing new regulations to protect consumers from spam and fraudulent messages. These regulations may impact the A2P SMS market by limiting the number of messages that businesses can send to customers.
Opportunities for Businesses
The Growing Trend of Mobile Marketing via Messaging
With mobile marketing, companies offer their product/ service users instant alerts, ticketing, promotional messages, and marketing messages. Mobile marketing is widely used in different types of industries such as tourism, travel, BFSI, Media and healthcare industries. Being one of the cost-effective and easy-to-use mediums for generating leads and developing customer relationships, mobile marketing is widely used. According to a report of Zipwhip, a leading business-texting platform in North America, 68% of businesses use some form of texting today.
As enterprises are using SMS messaging services to improve user experience by communicating with them, the immediate need to protect the data of their organizations as well as customers has emerged as one of the top priorities for them.
SMS aggregators and mobile network operators are shifting their focus to A2P messaging to boost their revenue. For instance, Companies pay SMS aggregators and telecom operators when mobile marketers use A2P messaging. SMS providers across Africa, Asia Pacific, the US, and Europe have been identifying ways to gain maximum from this segment. Also, SMS platform and Gateway providers are busy adding new features to support the increasing demand from various SMS retail and wholesale players based across these geographies.
During the forecast tenure, the authentication services segment is expected to grow at the highest CAGR among applications. In the A2P SMS market, authentication services are mainly used for communicating  authentication messages to the users. Due to the increased usage of applications, the number of logging and registration has increased. This has led to the high growth rate of this segment.
Looking for an A2P SMS Platform?
Read Also
Note: This post has been updated with latest information on 16-09-2023.