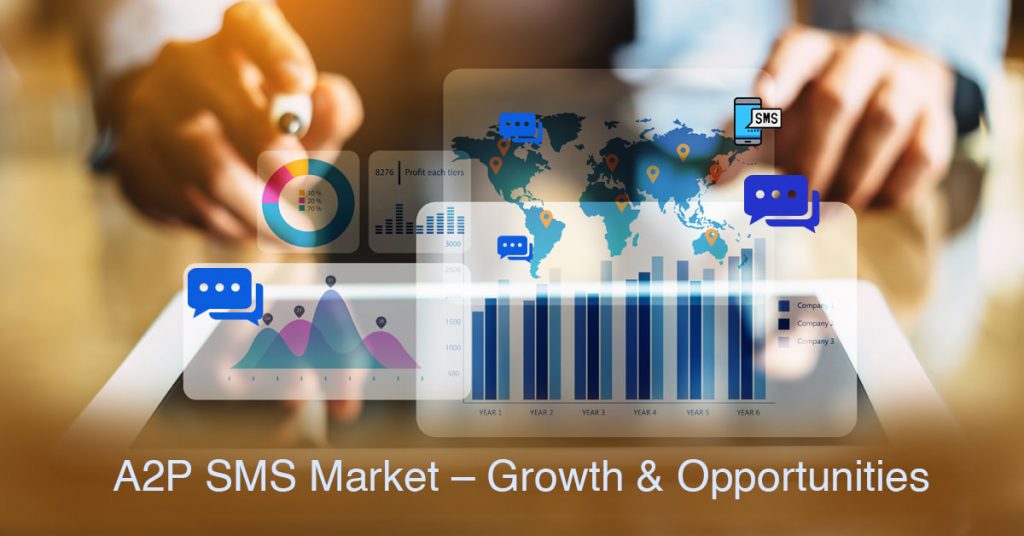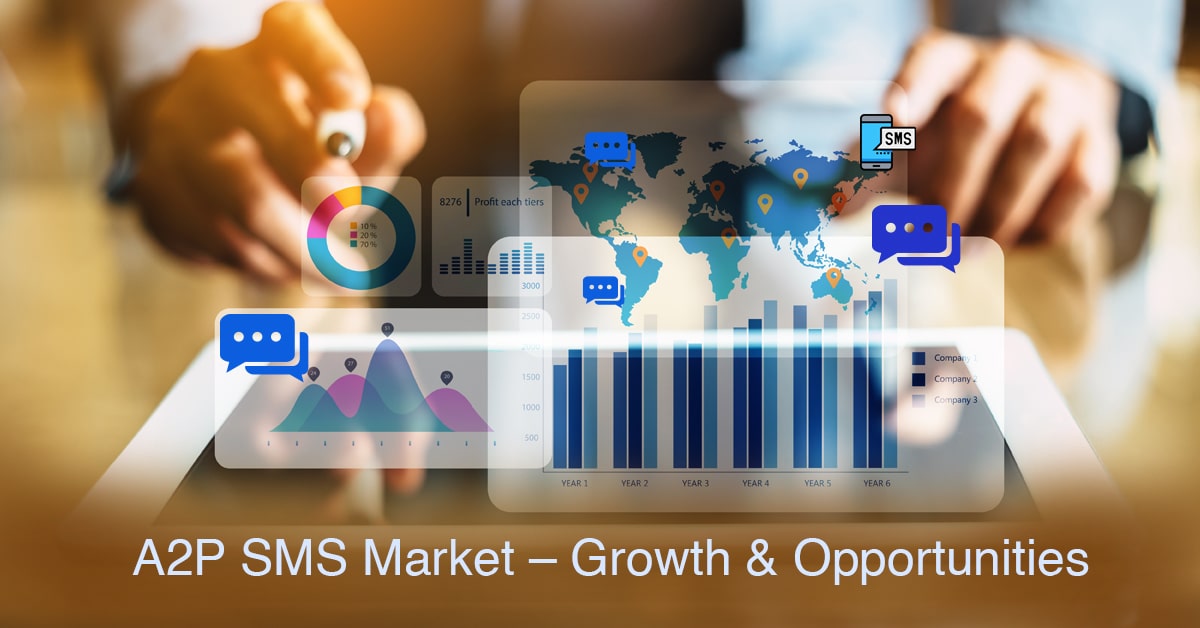 Businesses or enterprises in the communication market space depends a lot on A2P messaging to connect with mobile consumers. In order to notify users about various types of company updates, businesses use text messaging. This results in revenue growth of the company.
SMS proves as an effective medium for travel, tourism, marketing, healthcare and other industries for improving customer relationships. As per a report, by 2025 the global A2P messaging market size is expected to grow to USD 72.8 billion from USD 62.1 billion.
MNOs are moving ahead to secure their networks and address the problems that grey-routes present whereas Over-The-Top (OTT) messaging applications are becoming a new threat to the revenues of A2P.
Market Dynamics
Driver:  Growing Mobile Subscribers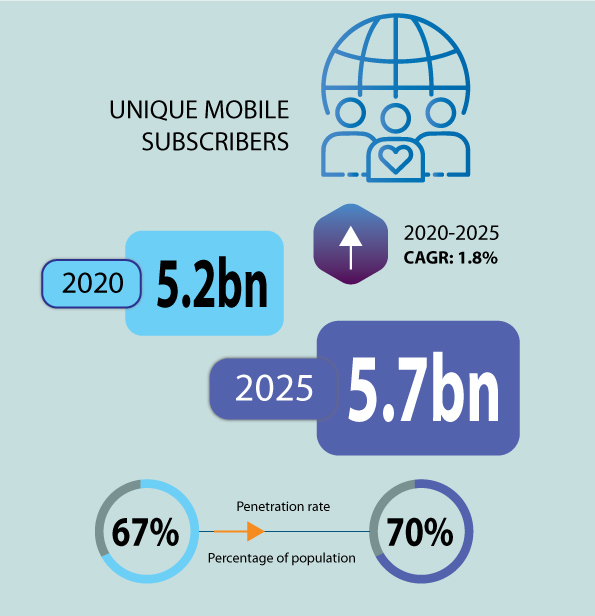 Increasing mobile subscriber base is stimulating the A2P market. According to the GSMA Mobile Economy 2021 Report, in the year 2020, there were around 5.2 billion unique mobile subscribers.
Out of this 68% ratio was smartphones, which is predicted to increase to 81% by 2025.
As the mobile subscriber base is increasing, MNOs, enterprises and application developers can connect with their users easily.
By making more investment in A2P services, the aim of MNO's is to boost their revenue, which is falling due to multiple factors such as the growth of OTT.
The increasing adoption of mobile technologies across various industry segments is expected to fuel the growth of the A2P messaging market. Some of the other factors to push the Enterprise A2P SMS market are:
Rising digital advertising
Increasing demand for advanced products
Emerging IoT technologies
Increasing ICT spending
A2P SMS Market: Overview
As there is a constant growth of mobile subscriber base and mobile marketing activities, the global A2P SMS market is expected to grow at a CAGR of ~4% during the forecast period. In 2019, the A2P SMS market reached a value of US$ 64.6 Bn and expected to grow ~US$ 101 Bn by 2030
In terms of application, the share of the customer relationship management services segment is anticipated to hold a notable percentage as compared to the other components of the A2P SMS market.
In the case of end user industry, during the forecast period, the retail segment is set to dominate the market. For A2P SMSs, Asia Pacific remains a prominent market. By the end of 2019, the market in the region was valued at US$ 26.3 Bn.
A2P Messaging Market Regional Analysis
Geographically, the Worldwide A2P Messaging Market has been divided into the Asia-Pacific, North America, South America, Europe, the Middle East and Africa.
If we talk about market share of A2P Messaging, Asia-Pacific emerges as the leader. In the Asia Pacific A2P Messaging market, China, India, Japan, and the rest of Asia-Pacific are included.
The North America A2P Messaging market is segmented into Canada, US and Mexico. As per a report by KVB Research, the North America A2P Messaging Market would witness market growth of 3.5% CAGR during the period 2020-2026.
Key Restraints of A2P SMS Market
Technical anomalies overriding bulk SMS
Often SMS is linked with basic phone features so mobile brand companies often ignore it while developing smartphone features. The true potential of messaging technology as a marketing tool is not yet tapped by Bulk SMS Service providers.
The main reason for this brand owners and marketers are quite enthusiastic about the features and experiences they can offer through mobile web and apps, which often outshines the features offered by A2P messaging.
However, there are different types of challenges such as leveraging SMS that can fit a broad mobile strategy. Experts are needed to set up an SMS program so that permissions are structured easily from wireless carriers. For the growth of the A2P SMS market, generating shortcodes used in SMS campaigns is another challenge.
As A2P SMS mostly rely on the usage of shared or dedicated shortcodes, brand promoters often get confused and bear the uncertainly while setting up short codes and regulations.
Opportunity: The Growing trend of mobile marketing via messaging
With mobile marketing, companies offer their product/ service users instant alerts, ticketing, promotional messages, and marketing messages. Mobile marketing is widely used in different types of industries such as tourism, travel, BFSI, Media and healthcare industries. Being one of the cost-effective and easy to use mediums of generating leads and developing customer relationships, mobile marketing is widely used.
97% of all SMS messages are read within three minutes.
As enterprises are using SMS messaging services to improve user experience by communicating with them, the immediate need to protect the data of their organizations as well as customers has emerged as one of the top priorities for them.
SMS aggregators and mobile network operators are shifting their focus on A2P messaging to boost their revenue. For instance, Companies pay SMS aggregators and telecom operators when mobile marketers use A2P messaging. SMS providers across Africa, Asia Pacific, US and Europe has been identifying ways to gain maximum from this segment. Also, SMS platform and Gateway providers are busy adding new features to support the increasing demand from various SMS retail and wholesale players based across these geographies.
During the forecast tenure, the authentication services segment to grow at the highest CAGR among applications In the A2P SMS market, authentication services are mainly used for communicating the authentication messages to the users. Due to the increased usage of applications, the number of logging and registration has increased. This has led to the high growth rate of this segment.
Looking for an SMS Platform?
Read Also