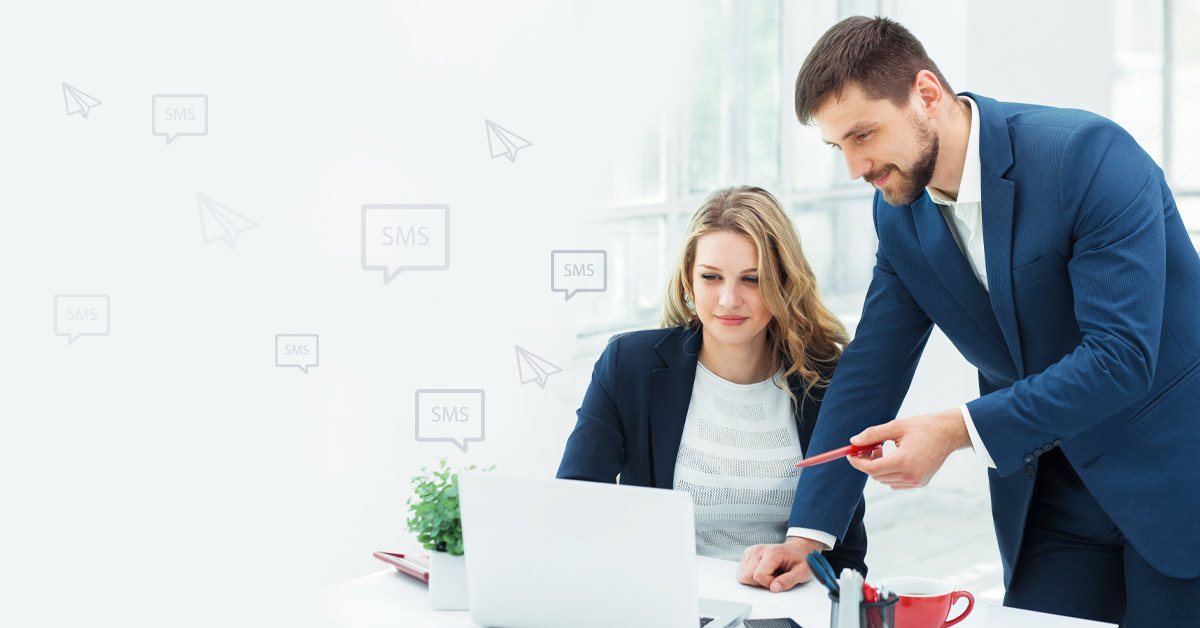 With businesses looking forward to more efficient ways to target customers that are on the move, SMS is emerging as a highly-effective type of marketing tool as it has a very high opening rate.
Stats suggest that "Opening rate of text messages is about 98%", which is amazing!

According to statista, "There will be 7 billion mobile users in the world by 2024."

As per Startup Bonsai, "75% of people aged 44 and below like contacting businesses via text."
It is a common misconception among many businesses that Mobile Phone Marketing demands a high level of investment and minimal customization of the marketing communication. The real fact is that mobile phone marketing is highly affordable and is becoming one of the most prominent components of mobile marketing communication.
In this blog, we delve deep into the world of SMS marketing or text message advertising – exploring its immense benefits, how it works, and the best practices. 
What is SMS Marketing?
Also known as text message marketing, sms marketing is a form of marketing where businesses send promotional text messages to their prospects and customers via the SMS platform. It is a direct communication channel between businesses and customers through mobile devices. It's a powerful and highly effective communication tool that when implemented correctly can be a game-changing marketing strategy. 

Today, text message marketing plays a significant role in driving business success. In fact, the US text-based marketing market is projected to be worth a whopping $12.6 billion by 2025, with an impressive CAGR of 20.3% as shown in the above image.
How Does SMS Marketing Work?
The process of Text Message Marketing involves a number of steps which are described below:

Initially, a business or an organization collects the phone numbers of their customers who opt-in to receive sms messages. By opt-in, we mean customers who willingly provide their phone number by subscribing to the service and agree to receive marketing messages from the business. 

Once the list of mobile phone numbers is ready, businesses create campaign content i.e. the text message they want to send to their audience. This can be about an upcoming event, a recent product launch, festival discount offers, flash sales, etc. 

After the business is ready with the text and phone numbers, they use an SMS platform to create campaigns by uploading the list of phone numbers and adding the content.  
Why is SMS Marketing Effective?
It is a popular marketing technique particularly because it allows businesses to directly reach their target audience. Moreover, statistics tell that SMS has a significantly high open and response rate compared to other marketing channels, which adds to its effectiveness. Other than this, there are some key factors that support the fact that text message marketing is highly effective. Let's discuss those in detail:
Opt-in Nature 
To receive promotional messages from any company, the customers are required to opt in or give their consent. This means that the audience is already interested in your products and services which means they are more likely to engage and convert into your customers.
Easy Opt-out
We have discussed above that opt-in is essential for your audience to receive marketing messages from your business. Now, the opt-out process is also available to them in case they no longer wish to receive messages from you. This means non-interested parties can straightforwardly unsubscribe which helps you in maintaining a more engaged and interested audience.
Short and Concise Nature
The character limit for SMS messages is usually 160 characters compels businesses to create and send only meaningful messages. They need to remain "to the point" rather than adding extra or non-relevant information in their messages. With this, it is ensured that messages that reach the audience are clear, targeted, and easy to understand.
High Conversion 
We have already mentioned that SMS messages have high open rates as compared to other communication channels. Combined with the direct nature, text-based marketing also results in higher conversion rates. This is because recipients are more like to take action when they receive a time-sensitive offer such as a flash sale or an exclusive deal.
Mobile-friendliness
This is an obvious point, but it is worth mentioning. Mobile device usage is increasing every single day, which means SMS marketing connects with users on a platform that is a part of their daily routines. Recipients don't have the need to check their emails or check websites for getting the latest updates. This helps in streamlining communication in a much better way.
Despite all the above-mentioned ways that make text message marketing stand out from its counterparts, it is important that every business should use text marketing in a responsible manner. A business should always respect the privacy of its audience and must not spam them with promotional messages. Following these practices can certainly add more effectiveness to your SMS advertising results.
Different Types of SMS Marketing
Now we will be covering different types of text-based marketing techniques that would help businesses in reaching their targeted audience in an easy and effective manner along with increasing their revenues. Take a look:
Discount Offers and Deals
We all are aware of the promotional SMS messages that are sent by brands to customers to inform them about various deals and discounts. It is a widely used marketing strategy where SMSs are directly sent to the customers and present them with a special offer which is generally available for a limited period of time. Thus, such messages demand prompt action from the customers' side which means instant sales and thus business growth.
Contests/Competitions
It is a form of text Marketing where SMSs are sent to customers informing them about a contest or competition in which they can participate to win gifts or rewards. Customers can enter the contest by simply replying back with their answers or view. Once the deadline for the contest gets over, one or more winners are selected randomly or as per the company's policy.
This type of text message marketing is done to engage and entertain new and existing audiences and make them aware of the business. Free Gifts in the form of gift cards and complimentary services are usually offered as prizes to winners.
Flash Promotion
Time is the main element that differentiates Flash Sales from other types of text message marketing strategies. This type of SMS promotion carries the message for a very short period of time and demands urgent action/reply by the receivers. The message sent usually presents a specific service or product offered by the business.
Loyalty Programs
These marketing programs are designed with the aim to drive more sales and boost referral recommendations. This is done by encouraging customers to purchase services/products and offering them free or discounted products for referrals. This is done to make the customers feel valued as they spend more time and money with the business. Loyalty programs are quite effective in maintaining long-term relationships with customers.
Notifications and Alerts
This is a widely-used text message advertising technique. Notifications and alerts include updates such as information about an upcoming event organized by the business, new services being introduced, the arrival of new products, restock alerts, emergency notifications, standard company updates, etc.
The format of these messages generally includes a short text message along with a URL through which the receiver can learn more about the offering or update mentioned in the message.
Advantages of SMS Marketing
Earlier in this blog, we mentioned various factors that contribute to the effectiveness of SMS as a marketing channel. Now, in this section, we are going to address some more praises for this marketing tool. Here we go:
Instant Delivery and Communication 
SMS messages are delivered and received within the blink of an eye. This allows businesses to instantly communicate with their customers especially when there is time-sensitive information to be sent such as festival discounts, daily discounts, etc. 
High Open Rates
Research tells us that 90% of sms messages are opened and read within a few minutes after they are received. This number is much more than other communication channels such as emails that usually end up in spam folders. 
Personalized Communication 
Text-based mobile marketing allows businesses to personalize their messages as they can address recipients by their names. This enhances customer engagement and helps businesses in building stronger connections with their customers. 
Wide Reach
There's no doubt about the fact that the majority of people carry their mobile phones with them, no matter where they go. This means that sms has the potential to reach a large and broad range of audiences quite easily.
Cost-Effectiveness
SMS messaging is quite budget-friendly as the cost per message is lower when compared to other forms of advertising. So even if a business doesn't have much to spend on its marketing campaigns, it can still derive significant leads by choosing SMS advertising. 
You can also read our blog on 5 Awesome Marketing Benefits of A2P Messaging
SMS Marketing Best Practices and Rules 
One must comply with the rules and best practices of text marketing to reap the full benefits of this powerful marketing tool. Here are some key points to keep in mind:
Obtain Opt-in Consent 
Having explicit consent from your customers or recipients is a must-to-follow practice to ensure that you do not land into any legal issues. This also helps in making sure that your messages are targeted to the right audience. 
Keep it Simple & Concise 
SMS messages have a certain character limit which is usually 160 characters. So within these characters, you must ensure that your message is short and to the point. Also, don't miss to add a call to action in your message, as you don't want your audience to remain clueless after they read your message. 
Be Mindful of the Timing 
Timing is Key. Sending messages at odd hours such as early morning or late evening may lead to unsubscriptions. It is always better to consider the time zone and active hours of your target audience before sending sms messages. 
Personalization Matters
Personalized sms messages can help you stand apart from your competitors. So wherever possible, try to address your customers with their names in the sms messages to create a more personalized experience. Not only it will enhance engagement but also makes the customers feel valued. 
Test and Analyze
A/B testing is a great way through which you can test different sms formats, call-to-actions, and timings to see what resonates best with your audience. Analyzing the test results regularly can help you gain useful insights and make improvisations in your texting campaigns accordingly. 
Limit Message Frequency
You should always define a certain limit on the number of messages you send to your customers daily, weekly, and monthly. Frequent bombardment of sms messages can annoy the audience quite easily and result in unsubscriptions. 
Comply with Regulations & Guidelines
Every country has certain regulations and guidelines governing message marketing practices. In the United States, TCPA i.e. Telephone Consumer Protection Act is practiced and for Europe, GDPR i.e. General Data Protection Regulation is followed. It is important that you comply with these regulations as applicable in your region to avoid any legal issues and maintain trust among your audience. 
How Can REVE SMS Help Businesses?
With people having their phones with them all the time, it has been found that text messages are being opened within the first 3 minutes of receiving them.
Through studies it is indicated that "45% of SMS Marketing campaigns can bring successful results on ROI which is above 50% successful than other marketing channels, email and social media – combined."
REVE SMS Platform is an enterprise-grade service that is exclusively designed for wholesale and retail SMS trading. This SMS Platform supports all types of messages such as Promotional, Bulk SMS, Transactional, etc. It is available in licensed and hosted versions. If you are a wholesale carrier, an SMS aggregator, MNO or MVNO and are looking for a reliable SMS Platform for your business needs, you can trust REVE SMS Platform for successful business results.

Read Also
Note- This post has been updated with the latest information on 26-07-23.