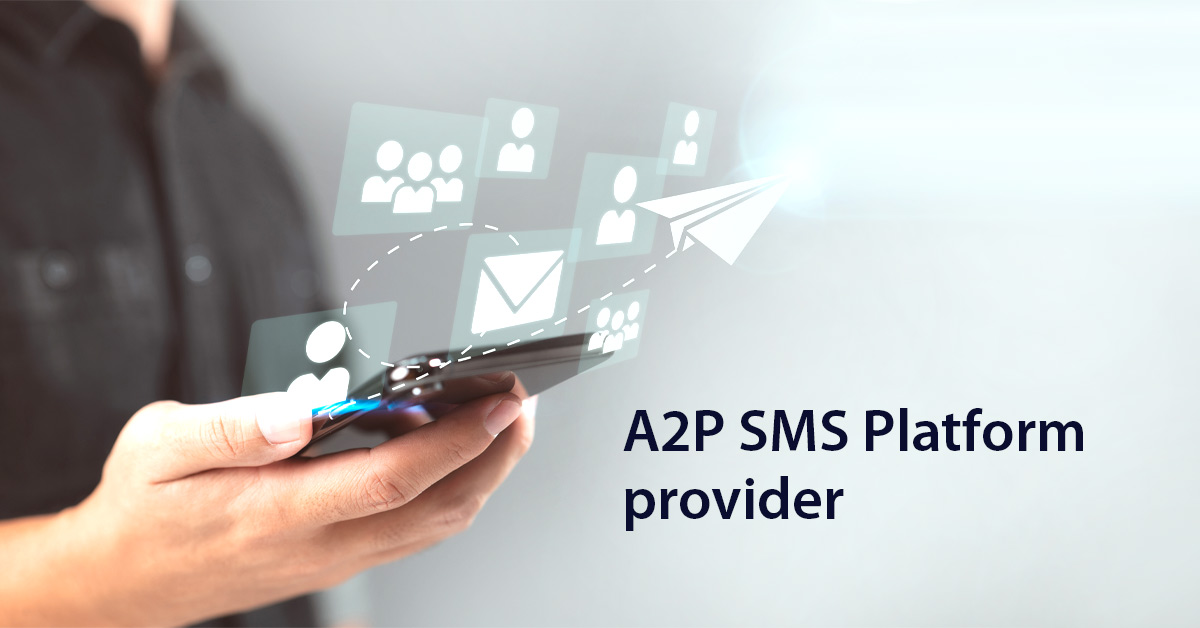 Did you know "48% of the world population owned smartphones in the year 2021?"

Did you also know "48.7 million people chose to receive business SMS Messages in 2020 and 75% of people aged 44 and below like contacting businesses via text"?
Though today, there are a plethora of business marketing tools including social media and email, the above-mentioned facts clearly highlight that the popularity and importance of SMS i.e. Short Message Service has not faded but is actually on a continuous rise. Companies around the world are looking for superior A2P SMS platforms to ensure that their SMS marketing campaigns are up to the mark. With this, it would be wise enough to say that the A2P Messaging platform appears to be a lucrative and revenue-generating business opportunity for those who are already in the SMS business or are looking forward to starting their own wholesale or retail SMS business.
Quick Definition – A2P SMS Platform Provider
A2P SMS stands for Application-to-Person SMS. In this type of service, SMS messages are sent from a software application to a person in other words a person receives SMS messages from an application. Usually, messages trigger from an application on the basis of a certain set of rules or conditions. A very simple example where A2P messaging is generally used is Two-factor Authentication. You can also read our post on What are A2P, P2P, and P2A Messaging?
Top Things to Consider when Choosing an A2P SMS Platform Provider
Since you are stepping into the SMS business, it is crucial that you opt for an A2P SMS platform that offers the best of the services available in the market. In this post we are going to discuss different aspects of A2P SMS platform providers so that you as a business can choose the most suitable one:
1- First, Don't Miss the Essentials
There are a few key features that you must always look for in an A2P SMS provider:
Normal and multiple SMS character support so that the message displays as intended no matter the target location
Multiple Sender ID support to suit different geographies
Concatenation of long messages so that they are not received in parts
Message delivery report notifications for tracking and measuring the performance of marketing campaigns
2- Look for Easy Setup, Deployment, and Management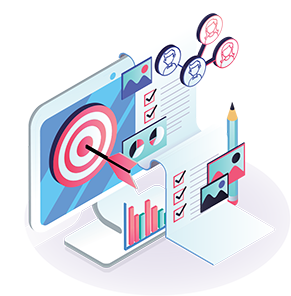 Ensure availability of an easy-to-access web-based dashboard to manage accounts, users, recipients, campaigns, sender IDs, etc. Pricing and Rate management is another feature of the SMS platform that can help you avoid business loss and maintain surplus balance by updating prices instantly. If it comes with an Active Block feature then it's an added advantage.
3- Figure Out the A2P SMS Processing Time
It is important to check how fast the SMS gets processed. Remember that the best SMS gateway can process messages within milliseconds, otherwise, it is of no use. For this, you need to check two metrics – Latency and Throughput. While latency is the amount of time to perform an action, Throughput is the number of actions performed/executed per unit of time.
Both these metrics are important as SMS gateways perform the function of sending and receiving text messages as they are connected to the SMSC i.e. Short Message Service Center.
4- Look for an Efficient Portability Handling Facility
The way in which SMS Gateway handles the phone number portability issues will have a great impact on the success of your SMS business. We know that customers have the option to port their phone numbers from one mobile operator to another without losing their phone number. This sometimes creates problems for A2P SMS providers. When an A2P SMS platform sends an SMS to a phone number, the message gets routed in accordance with the prefix associated with the phone number. But since the customer has already ported the phone number and is no longer associated with the MNO, the message never gets delivered to the recipient.
Portability issues are generally handled in two main ways. The first way is by HLR lookup in which the MNO to which the number is registered is determined. It is quite an efficient way to handle portability issues. The other way is ENUM which is also used by some SMS platform providers to manage phone number portability problems.
5- Check for Real-time Billing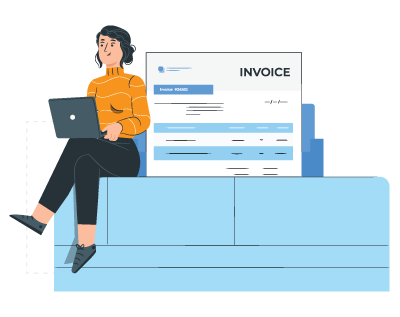 Automated Invoicing is a feature that you simply can't afford to miss in your SMS platform. Billing cycle management becomes a breeze when there is a real-time billing feature integrated with the SMS platform. By generating invoices in real-time, this feature saves your precious time. It also ensures that you receive payments on time and can keep a tab on the ongoing finances. The most popular formats for invoice generation are excel and pdf.
5- Ensure Compliance Standards are met
As a business, it becomes your responsibility to ensure that your customer data remains safe. Since this data stays and travels through the internet, it is prone to cyber-attacks. Therefore, it is crucial to ascertain that the A2P SMS Provider helps you in keeping customer information safe and secure. You must look for the following compliance measure:
The SMS platform should not store data and information associated with the messages such as phone numbers, and other details related to customers.
Your A2P SMS provider should help you understand and comply with messaging frequency limits and throughput regulations in accordance with different geographies or areas.
Your A2P SMS provider should support Opt-out and auto-replies such as "stop" for long code messages.
6- Check the Reliability of the A2P SMS Provider
Sending bulk SMS messages should be a breeze for your customers and they must be able to do that with complete peace of mind. Therefore, it becomes important to have a platform that offers guaranteed uptime of 99.95%. Look for the following to determine the reliability of the platform:
The SMS platform should have a Tier 1 carrier network to ensure high deliverability.
The A2P SMS provider should have a redundant carrier network so that messages with 'failed delivery' by one carrier are automatically routed to the next suitable carrier.
7- Look for Advanced Routing Capabilities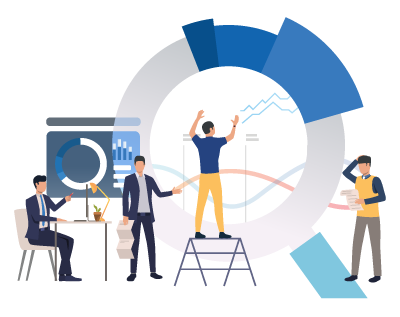 An A2P SMS platform with advanced routing facilities can really make a difference. You can check for real-time routing support along with priority and LCR base route selection with the route retry facility. Also, ascertain that it supports auto-reconnection and re-routing process so as to handle high traffic or link failover.
8- How Good is Customer Support?
There is no denying that the quality of customer service reflects the ethics of a company. It is true for one and all. A good A2P SMS provider should have a customer support team having all the knowledge to help you with your concerns and queries. In simple words, the customer support staff should also be familiar with the compatibility problems.
To find out how good the customer support of your A2P SMS provider is, you can email them with any concerns or queries. Once done, you must check for the following:
Did they reply?
How much time did they take to reply?
Does the reply answer your question?
Does the reply reflect that they have thorough knowledge about the topic?
Do they offer to help further?
Besides email support, many A2P SMS platform providers offer telephonic support as well.
9- What Type of Protocols Does the Platform Support?
There are various protocols that are useful in sending and receiving SMS messages. The two most important protocols are:
This is an advanced form of the protocol which ensures faster delivery of SMS Messages. It is a binary form of the protocol used for communicating with SMSCs and SMS Gateways. This protocol is specifically designed to handle large volumes of SMS message traffic thus making it an essential requirement for sending bulk SMS Messages.
It is one of the most simple and common protocols used for sending and receiving SMS messages. However, HTTP alone is not secure for data transmission. So, in order to ensure that the data transmitted over the internet is safe from snoopy eyes, a layer of security has to be used. This is where HTTPS comes into the role. It is basically HTTP with SSL encryption. With the use of HTTPS, data is encrypted before it transmits over the internet, thus, providing protection from network eavesdropping.
10- Check the Pricing Offered
First of all, it is important to understand that there is no such thing as 'free' in the market. If an A2P SMS Provider is offering free services, then stay informed that availing of such services can lead to the leakage of your precious client phone numbers to third parties. Certainly, you don't want that to happen. Therefore, it is better to pay for the services but make sure you don't overpay.
A good way to determine the most reasonably priced service is to ask for quotes from the shortlisted A2P SMS platform providers and list the features offered by them. Keep in mind the below-mentioned points:
Look for pay-as-you-go pricing models
Discounts for higher messaging volumes
Is there any setup fee?
Are there any minimum purchase requirements?
Why is the REVE SMS Platform the Right Choice for the A2P Messaging Platform?
Being a reliable name in the industry, REVE SMS can be the right SMS platform for your business. Its enterprise-grade service lets companies easily handle large volumes of SMS traffic. The robust messaging platform guarantees seamless execution of SMS Campaigns and thus makes certain that your clients never complain.
As far as the delivery and reach of the message are concerned, the REVE A2P SMS Platform assures efficient translation of the messages to make them compatible for reaching the recipient. It is an ideal solution for all kinds of retail and wholesale SMS businesses. Businesses from different industry verticals such as finance, healthcare, travel, and hospitality, logistics and transportation, retail and eCommerce, telecom, etc., have put their trust in the REVE SMS platform.
The global enterprise A2P messaging market is expected to grow at a CAGR of 4.6% and reach USD 46.81 billion.
The major reason behind the accelerated growth of this market is the rapid adoption of mobile and smartphones. Moreover, increasing focus on customer service and engagement is going to boost this segment of the global market. So, it's high time to get answers to all your queries regarding A2P messaging by getting in touch with us.
Looking for an SMS Platform?
Read Also