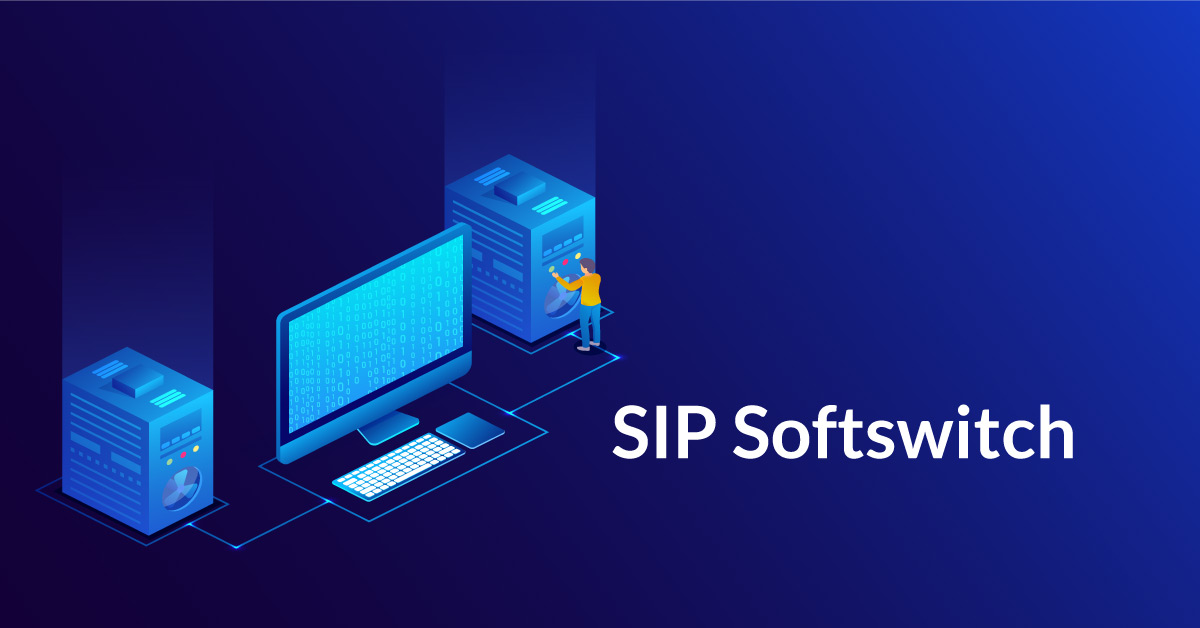 In the world of VoIP, a Session Initiation Protocol (SIP) softswitch is a crucial piece of technology that facilitates the transfer of voice and multimedia data over the internet. A SIP Softswitch is responsible for routing and connecting calls, managing user accounts, and performing various other functions that are necessary for a VoIP network to operate efficiently. With so many Softswitch providers available in the market, choosing the right one can be a daunting task. In this article, we will take a closer look at what a SIP Softswitch is and explore some key factors that businesses should consider when choosing a softswitch provider.
What is a SIP Softswitch?
Since SIP is amongst the various protocols that come under VoIP, we can say that a SIP Softswitch is a type of VoIP Softswitch. It can be considered a bridge between VoIP and PSTN calls. It is just like an operator who is responsible for the transfer of calls to their intended destination. The SIP Softswitch works by staying informed about the call signals that pass through the software and making sure that signals reach their destination. Besides connecting voice calls, a SIP Switch also supports the transfer of multimedia messages.
How does a SIP Softswitch Work?
A SIP Softswitch works as a central point of control in a VoIP network, managing all incoming and outgoing voice and multimedia traffic. The softswitch is designed to receive, process, and route calls between endpoints, such as IP phones, softphones, and other endpoints.
When a user initiates a call, the SIP switch checks the user's credentials looks up the destination number, and determines the best route for the call.

After that, a connection between both the parties i.e. the caller and the receiver is established by the switch. It also manages the session till the call is over.
The SIP switch is also responsible for other call-related functions, such as call transfer, conferencing, and call forwarding.
Besides the above-mentioned functionalities, SIP Softswitches can also offer other services like IVR, voicemail, and billing. This makes these switches an all-in-one communications platform. 
Top Features of SIP Softswitch
There are several features offered by SIP softswitches and each Softswitch can have a different set of features depending upon the vendor but generally, they include the following:
These switches route calls between different endpoints by using a pre-defined set of protocols. These switches are also capable of performing basic call-routing functions such as forwarding, transferring, and conference bridging.
These switches are capable of translating between different signaling protocols, such as SIP, H.323, and MGCP. This is useful to facilitate interoperability between different networks and devices.
Various advanced call management features such as call monitoring, call recording, call blocking, and call queueing are offered by these switches.
It can perform tracking and billing of the usage of services. Moreover, it can generate invoices for customers according to the services used by them. It can also provide real-time reporting of call activity and usage.
It can implement security measures such as encryption, authentication, and access control to protect against fraud, hacking, and other security threats.
It can be easily scaled up or down to meet changing traffic demands. It can handle a large number of concurrent calls and can be clustered for high availability and redundancy.
Integration with Other Systems
It can integrate with other systems such as customer relationship management (CRM), billing, and provisioning systems to provide a seamless end-to-end solution.
Overall, the features of a SIP softswitch are designed to provide a flexible, reliable, and efficient platform for delivering voice and multimedia services over IP networks.
Benefits of using a SIP softswitch
There are several benefits of using a Session Initiation Protocol (SIP) softswitch for managing voice and multimedia communications over IP networks. Here are the top three benefits:
When compared to conventional telephone systems, SIP softswitches prove to be quite cost-friendly. As there is no need to buy expensive hardware, the initial costs get significantly reduced. Also, the use of IP networks for communication makes SIP switches a pocket-friendly option than those traditional telephone lines. 
Flexibility and Scalability
In terms of scalability and flexibility, these switches offer great value. Businesses can easily add or remove users and services whenever there's a need. Such flexibility helps businesses in surviving and adapt to dynamic communication needs without spending any extra amount of money.  
The advanced features such as call routing, billing, security, call management, and protocol conversion available in SIP softswitches are hardly found in conventional telephone systems. The advantages offered by these features include delivering high-class and reliable voice and multimedia services. 
Some other benefits which are quite significant for businesses include improvement in communication capabilities, increased flexibility and reduction in costs. 
Importance of Choosing the Best SIP Softswitch Provider
The Softswitch is the backbone of the VoIP network, and it's responsible for ensuring that calls are routed accurately, users are authenticated properly, and data is transmitted securely. A reliable provider can ensure that your business communication operates efficiently, while a poor one can cause disruptions, poor call quality, and other issues that can negatively impact your business.
Moreover, choosing the right provider can also help you save costs, as a good provider can offer you flexible pricing plans and scalable solutions that can grow with your business needs. In short, selecting the right SIP softswitch provider is a critical decision that can have a significant impact on the success of your business communication.
How to Choose the Best SIP Softswitch Provider?
A Softswitch greatly defines the success or failure of a business, so when it comes to selecting one of best softswitch vendors, it is important to evaluate the features of the switch offered by the provider and ensure that the solution can be used for the long term. Let's take a look:
Determine your Business Needs
Before you start your search, define your business requirements, including the number of users, features needed, quality of service, budget, technical support, and security requirements.
Research Potential Softswitch Providers
Conduct a search online for potential SIP switch providers. You can use search engines to find provider websites, industry directories, or reviews and comparison sites. Read reviews and testimonials from other businesses that have used the provider's softswitch. You can find reviews on the provider's website, social media pages, or industry forums. 
Ask the provider for references and contact them to learn more about their experience. You can ask about the quality of service, support, and any issues they have experienced.
Key factors to consider when selecting a Softswitch Vendor
          1. Reliability and Uptime
Look for the provider's Service Level Agreement, which outlines their commitments regarding uptime and availability. 

Research the provider's track record and check their uptime statistics.

Check the provider's network infrastructure and data centers to determine if they have redundant systems, backup power, and other measures to ensure uptime and reliability.
          2. Scalability
Ask the provider about the maximum number of concurrent calls their softswitch can handle and how they ensure smooth call routing and processing even during peak traffic hours.

Check if the product can handle a growing number of users or businesses without compromising on call quality or reliability.

Inquire about the provider's failover and redundancy mechanisms to ensure uninterrupted service in case of network or hardware failure.
          3. Flexibility:
Evaluate if the provider's softswitch can integrate with your existing phone system, applications, and third-party platforms to enhance your communication capabilities.

Ask if the provider offers customized pricing, features, and support options to fit your specific business requirements.

Inquire about the provider's support for various SIP trunking protocols and codecs to ensure compatibility with your devices and network infrastructure.

Check the provider's support for advanced features like call recording, IVR, conference calls, and mobile access, among others.
Overall, it's crucial to test the provider's services before committing to a long-term partnership. You can request a demo or trial of the provider's softswitch to evaluate its scalability, flexibility, and ease of use in meeting your business communication needs.
Timely Upgradation and Maintenance
The best part of opting for a hosted softswitch is that the regular updates and upgrades, which are crucial to making the system adaptable to the current market trends, are provided by the service providers and are usually free of cost. However, if not free, you can go with the paid ones by checking their usefulness.
Once you have finalized the softswitch, obviously you want to get started quickly. For this, it is important that the setup procedure of the softswitch is easy and fast. By availing a free demo from the service provider, you can check out the time to set up and the user-friendliness of the softswitch portal. Make sure it is easy to operate and manage for seamless business operations.
Since the switch is software-based, you will need support from the service provider's technical team at different stages. This can be in the form of software updates or data backup services or it can simply be some customization in the software to meet business needs. Having support from a technical team is quite useful for all such activities. Therefore, check the support services to ensure that your queries are addressed immediately. It is best if it is free of cost and available 24/7.
Check Technical Specifications
Can you afford to buy a softswitch that is using obsolete technology? Technical specifications such as OS platform, programming language, reporting tools, supported browsers, database, etc., must be checked to ensure that the system uses the latest technology.
By considering these factors and determining your specific business needs, you can choose the best SIP softswitch provider for your business. It's important to evaluate multiple providers, compare their features and pricing plans, and read reviews and testimonials from other businesses to make an informed decision.
Check for 'Must-have' Features
While the features offered by service providers vary from one provider to another, you can do some research and define a list of key features that will suit your business requirements. Some of the most useful features of a VoIP softswitch are:
Integrated Billing System
Why get into trouble for compatibility and functionality issues later when you can get a switch with an integrated billing management system at first? You must choose a product that supports multiple currencies and has automatic invoice generation ability.
To ensure a maximum business profit and seamless operations, check for these routing algorithms:
LCR i.e. least Cost Routing function

Percentage routing

Longest prefix match

Automatic blockage of non-profitable calls

Client wise routing

Report Generation
Reports are an integral component in tracking business performance. With numbers in hand, it becomes quite easy to make decisions for business growth. The softswitch should provide reports based on clients and carriers, payments and recharge, client, and destination, etc. so that you get to know the profit and loss figures.
Call monitoring functionality with real-time information is a useful feature. The solution must provide details of active call lists, SIP call logs, and total call monitoring which includes in-progress, concurrent, and connected calls.
Check if the provider's solution is compliant with industry standards and regulations. Evaluate the security features offered by the provider, including encryption, authentication, and access control. A business cannot rely on a system that is not stable and secure. Make sure the softswitch system offers these security functions:
2 Factor Authentication

IP restriction

Whitelisting and Blacklisting of IPs

Auto block for unusual / failed login attempts

Pricing and Billing options
Compare pricing plans offered by different providers and determine the best fit for your business. Consider the pricing model, any additional fees, and the long-term cost of the solution.
Starting Your VoIP Business with Hosted SIP Softswitch!
So, the question that comes to mind is How to Start a Mobile VoIP Business? Rather than exhausting your monetary resources in a one-time purchase, it is better to rent the server so that you can spend on other useful areas and have some buffer amount in hand as well. With hosted softswitch solutions, there is less cost as compared to the overpriced infrastructure. So, if you are ready to turn your softswitch business idea into reality, then make sure you consider all the above points.
REVE Systems offer SIP Softswitch services with an easy-to-pay monthly rental option. Whether you are a small to medium-sized IP Telephony service provider looking forward to starting your retail business or a carrier-grade service provider planning to offer wholesale services, our Softswitch is completely suitable for your business needs.
Read Also

Note- This post has been updated with latest information on 22-02-23.