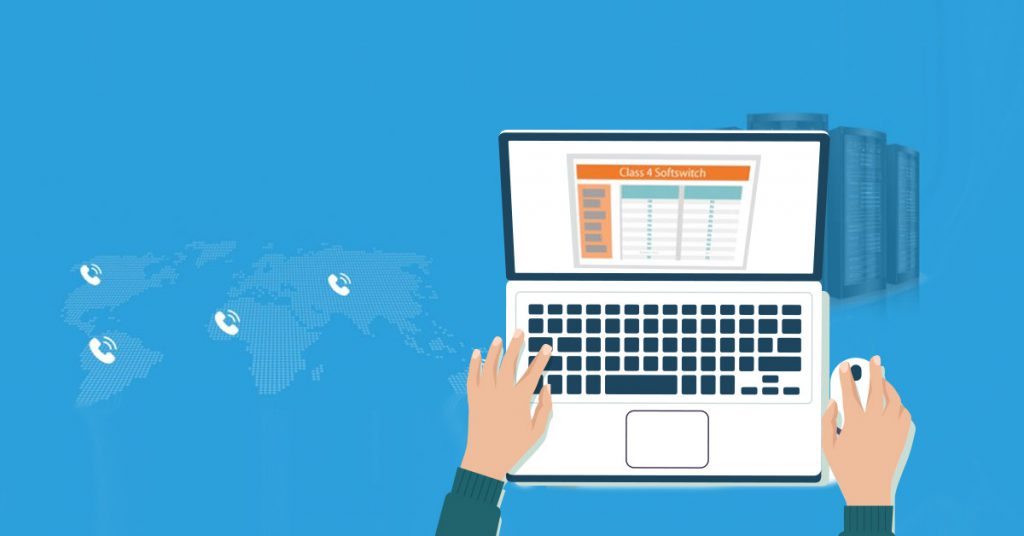 According to Grand View Research, the global mobile VoIP market size is expected to reach USD 145.76 billion by 2024.  The expansion of this market is driven by technological leap and increased usage of the new services over various channels.  Robust growth in the VoIP market depicts the importance and demand for VOIP business solutions.
What is a Class 4 Softswitch?
Softswitch is one of the key components for a wholesale VoIP business.  Basically, it's a server-side software that enables you to connect one phone line to another through the Internet.  To put it more simply, it's a software that makes IP to IP calls.  A server needs to be deployed for softswitch functionality. 
Choose the Best Softswitch Vendors
Choosing the best softswitch is necessary for optimum business performance. You should consider the following features of class 4 softswitch while selecting from the best softswitch vendors :
Billing Management
Choose a softswitch with an integrated billing system. Separated VoIP billing systems might get you in trouble like compatibility issues and lack of functionality. An integrated billing feature will give you precise control over the business. Keep in mind that unbilled call minutes bring significant loss to your VoIP business and should be prevented by any means. The billing system should also be scalable, automatic and multi-currency enabled. Check out for features like automatic invoice generation, report generation ability, call statistics or diagram. These enable you to monitor and control your service better.
Routing
How good is the routing function? To ensure cost-saving routing, it is necessary to buy routes from termination providers throughout the world. Having a wider range of routes ensures smooth business operation with maximum profit. Look for the Least-Cost Routing (LCR) function in the switch. LCR enables a softswitch to determine which outbound line will be least expensive. Percentage routing is another important feature you should look for. It allows a softswitch to transmit the call through a route that has a maximum percentage and if not available, choose the next maximum percentage. Longest Prefix Match feature matches the incoming call's prefix with the prefix assigned to each route and selects the route with which the call has a maximum match. An automatic blockage of unprofitable calls is another feature you don't want to miss.  
Secured Switching Function
Class 4 softswitch should be a stable and secure system ensuring efficient data (Voice and SMS) transmission.   In order to obtain better security, the switch should have VPN support and Network Topology Hiding. Using VPN means the client has to go through the VPN server (VPN is the middleman here) and encrypt/decrypt data before channeling it to the softswitch. Make sure that the VPN server and the softswitch server is the same data center.  This will avoid latency and poor voice quality. Topology hiding is a feature that assures enhanced SIP network security.  Normally, critical IP address data is sent to other networks in regular SIP traffic. Topology hiding prevents third party threats from stealing this data and attacking your SIP network.
Sales and Analysis Report
The ability to generate on demand report, Inbound/Outbound/Unauthorized call report, traffic volume tracking and revenue report help you to keep track of your business performance and accelerate business development. Having all the numbers figured out gives you the leverage to measure your business parameters and take the right business decision.  Also, look for softswitch vendors that offer Payment and Sales report, data export in XML and CSV format. 
Flexibility and Compatibility
Check out protocols and codecs compatibility before you buy your softswitch. Make sure your supplier and clients are using codecs that are supported by your softswtich. If your switch has transcoding option then protocols and codecs can be converted in the desired format. A dual-layer firewall should also be considered.  
Easy and Quick Set Up
Make sure that the softswitch set up is easy and fast. It will help you in quickly getting started with your VoIP business. Look for a user-friendly and robust management portal where all the activities can be managed which will ultimately result in better customer satisfaction, loyalty and retention. All these factors are extremely important for the success of a business. 
Post Sale Support
It is obvious that majority of the softswitch vendors will provide technical support during the whole purchasing journey, but what after that? You must have chosen the best softswitch as per your needs, but eventually you will need technical support for troubleshooting and various other tasks. Ensure that your service provider offers on-demand troubleshooting at any given time. Not only it saves you from the hassle of paying extra money for support but also lets you focus on your important business activities.
Regular Updates and Upgrades
Market Landscape is never constant. Even after you purchase the best softswitch, it is crucial to make it adaptable  in accordance with the ongoing trends. You will need to match your softswitch services with your competitors or even make it better than theirs. This means that regular updates are necessary to keep you ahead in the market.  Check which softswitch vendors provide support with updates and upgrades and if those are free or paid. You can go with the paid ones if it is worth your business requirement. 
Scalability
Lastly, avoid buying your softswitch based on only CC (concurrent calls) and CPS (calls per second) values. For example, while buying a house someone does not just look for a bigger space, right?  Apart from spacing, there are other features to look for in a house. Same goes in case of a softswitch.  CC and CPS are important but also look for features, functionality, integration and customization options.   
Getting Started
VoIP business is quite trending these days and is certainly profitable. You just need to be thoughtful and mindful. Before you choose the best from various softswitch vendors, make a checklist of the features you are looking for in your softswitch that serves your business best.  Choosing the best VoIP Softswitch will ensure maximum profit and seamless business experience for you and your clients.
Read Also

Note- This post was updated on 10-01-2022.