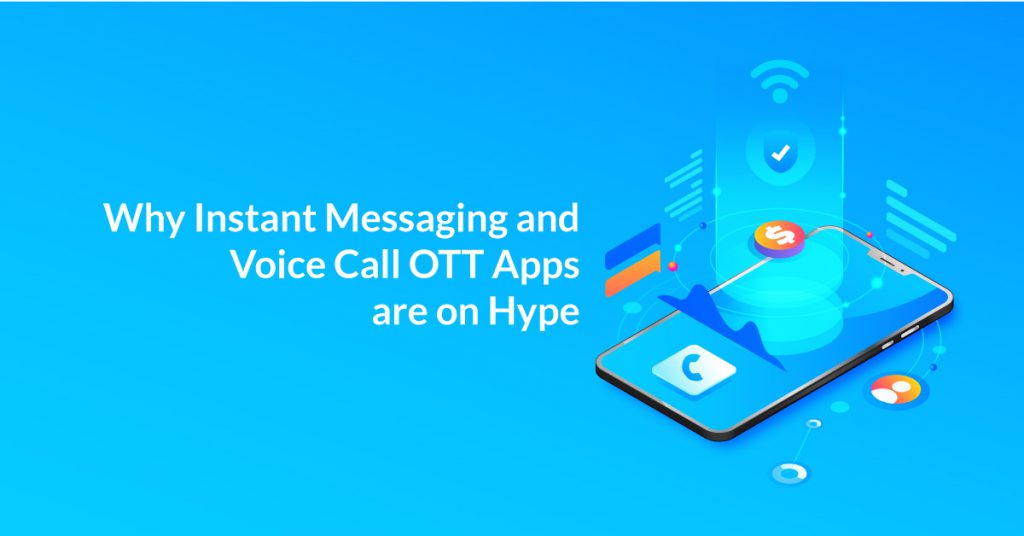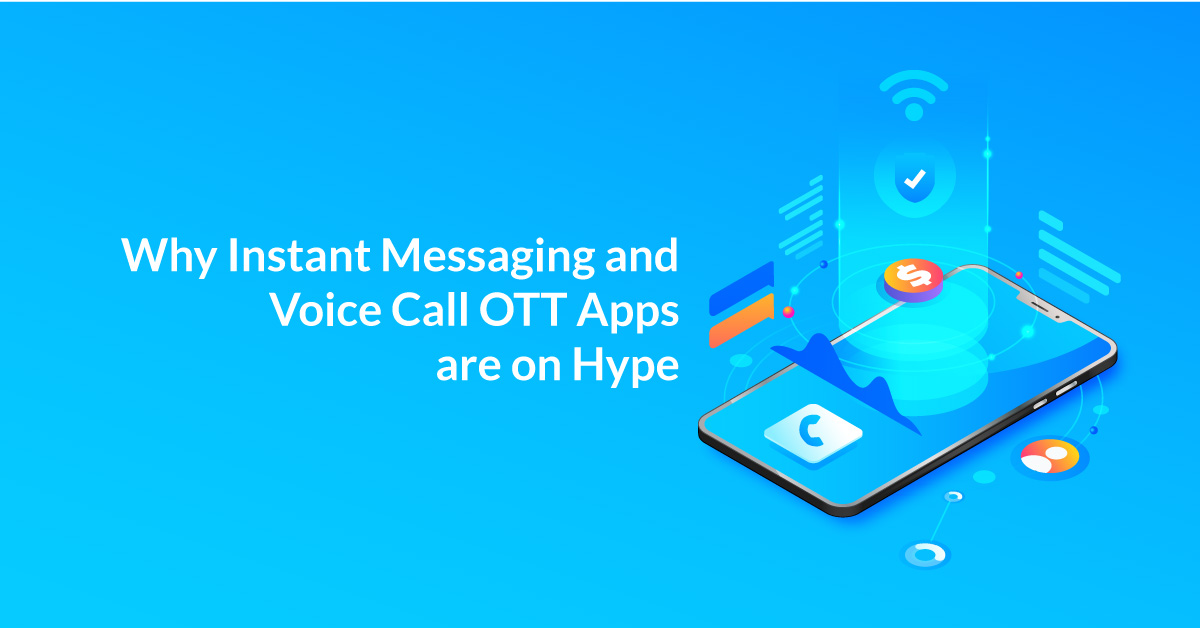 OTT Apps refers to "Over-The-Top" applications that offer services over the Internet, bypassing the traditional distribution methods. These applications are accessed over the internet using mobile data or Wi-Fi thereby eliminating the need to use the network of a service provider. An OTT backend usually handles all the media, users, subscriptions, security and rights of the OTT platform.
The cost of OTT service is much less than what the traditional service providers charge for their services. Consumers are showing more interest in OTT apps because of multiple factors like their interesting features, cost-effectiveness and entertainment options. There are many OTT apps available in the market. They offer a wide range of content like video streaming, gaming, Instant Messaging, audio-video calling, VoIP and many more.
Instant Messaging and Voice Call with OTT Apps
In this section, we are going to focus on two important features of OTT apps:
IM (Instant Messaging)
Voice Call
Instant Messaging OTT Apps
OTT based instant messaging services connect users directly through internet connections, bypassing the mobile SMS networks. Nowadays, users like to chat with others by using Facebook, Skype, WhatsApp, Viber and many other similar apps that offer these chat services.
Online messaging apps are causing a fall in the revenues from short messaging services (SMS), thereby forcing mobile operators to find new ways to compete and maintain their profits. In addition to this, online chat applications are also challenging the voice business of mobile operators as well. A report from Telecom consultancy firm Ovum shows a 20-30% annual decline in SMS usage.
Some popular OTT messaging apps and their stats
Meanwhile, WhatsApp, Facebook Messenger, Skype, Viber and other similar applications or Over-The-Top (OTT) services are experiencing huge boosts in user bases. According to the latest messaging app usage statistics, WhatsApp has 1.6 billion users worldwide and Facebook Messenger is in the second position with 1.3 billion, while WeChat is just behind, recently hitting the 1 billion mark.
WhatsApp is a hugely popular messaging app that lets the user send messages internationally to others using the same app without paying any international SMS rates. According to the latest report, more than 65 billion messages are sent every day through WhatsApp. That amounts to around 1.95 trillion WhatsApp messages sent every month and 23.5 trillion WhatsApp messages sent every year.
In addition to one-on-one messaging, OTT apps also offer the features of group messaging, group audio-video calls, sending multimedia files, sending or sharing live locations to others and many more. Because of these attractive features and their user-friendliness, mobile chat apps are becoming more popular.
Voice Call with OTT Apps
As a result of the rapid increase in the popularity of voice services on Viber, WhatsApp, and other OTT applications, mobile operators are facing constantly growing pressure on their main revenue channel, which is voice revenue.
Most of the OTT apps like WhatsApp, Viber, and IMO offer an almost free voice call service through an internet connection without international charge. According to an analysis of Mason, Messaging apps are used by more than half of smartphone users worldwide and WhatsApp dominates this market with a 45 per cent of user market share.
This, therefore, means there is already a large base of customers who can start using voice services. This, in turn, makes WhatsApp one of the largest mobile voice providers in the world. It is a huge threat for mobile operators who earn higher revenue from international calls.
In recent days, subscribers have also started making local calls over the OTT apps. This clearly shows that the customers are shifting towards OTT apps as VoIP calls increase in quality. It reflects the potential of the OTT to take over the mobile operators as the primary voice service provider.
Conclusion
However, the OTT voice market remains relatively small in less-developed countries where the network quality and internet bandwidth are low. Mobile operators are trying to compete against the rising popularity of OTT apps by offering low voice tariffs.
The mobile industry experts believe that the growth of OTT services will not create competition, but it will open new opportunities for operators to create new revenue channels. Operators need to bring out new ways to charge consumers, with OTT users currently paying for internet bandwidth only but not on a per-message or call basis.
To know more about OTT Apps and how to create new revenue opportunities from them check here: 5 Ways to Create New Revenue Opportunities with Mobile OTT Solution
Editor: Mir Monsoor Hossain
Read Also