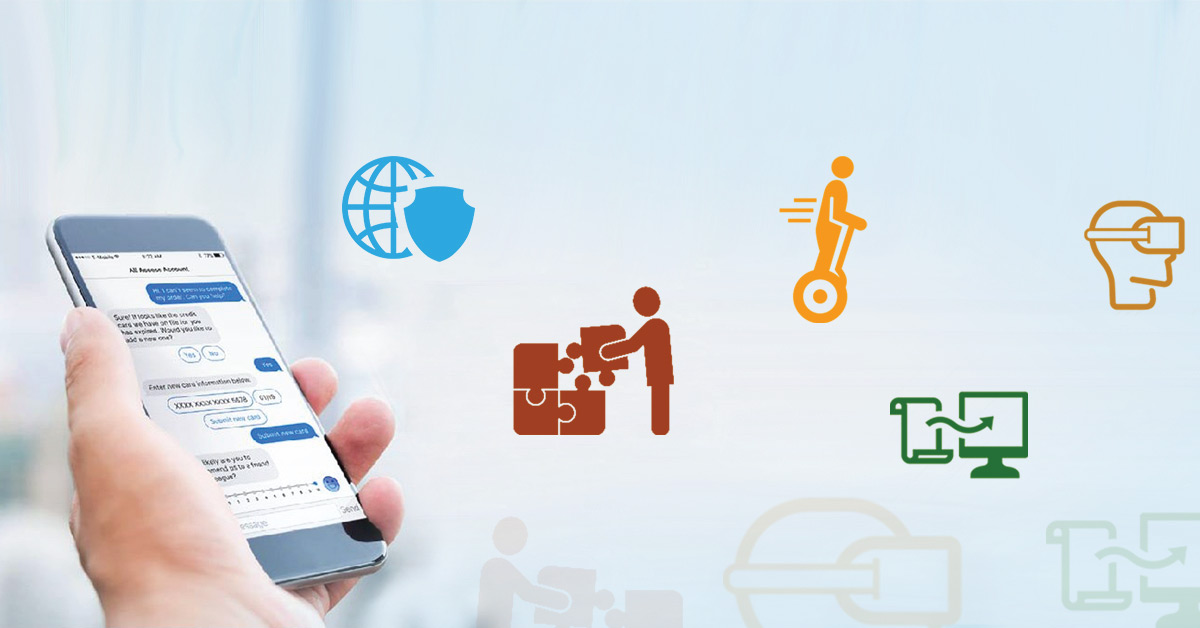 According to a study, an average person spends 90 minutes of the day on their phone. Business productivity nowadays depends heavily on effective mobile communication.  Fast mobile messaging has become extremely important for productivity.  Almost 70-80% of internal communication within an enterprise will be conducted through messaging apps on mobile devices in the years to come. Enterprise messaging covers the growing convergence of both physical and virtual communication sphere and offers limitless digitization opportunities in almost all areas of communication.
What is Enterprise Messaging?
Enterprises are getting bigger by the day and the market sphere is transforming to a more complex landscape. Geographical borders are getting blurred with ever growing possibility of communication.  Such a situation demands instant and versatile communication solutions for businesses to thrive on. Instant messaging for business ensures better connectivity, customer service, troubleshooting, productivity and so on.
In order to understand enterprise messaging, we can take the example of a consumer messaging app whose main function is to connect users and let them share files and information instantly. Though most of the employees must already be accustomed with the popular Messaging apps like WhatsApp, Facebook Messenger, etc. but those can't fit into a typical business model for many valid reasons. A messaging app for enterprise shares this similar function but has a different set of features because of the involvement of sensitive company information. It means your employees have the right tools at the right time to maintain a consistent business tone.
5 Reasons to Consider Enterprise Messaging for Your Business
CMSWire reports that 97% of employees believe communication impacts their task efficiency on a daily basis. While this is just one, there are several other reasons for a business to consider a company-wide enterprise instant messaging app. Here are the top 5 reasons and their resulting benefits for businesses:
Enhanced problem-solving ability
Business managers need to take prompt action when needed.  Gone are the days, when we relied on email exchange and waited for a reply.  It's very helpful when the business team can be contacted promptly, in case of an emergency or on a regular basis, for taking necessary actions.  A tidy business environment requires not only the ability of the organization to contact the employee, but also vice versa.  As everybody nowadays carries a computer in their pocket, with an enterprising messenger app, they can easily share any information or document.  Everyone can see this, and share their opinion and feedback throughout the team.
Adaptability and mobility
Enterprise instant messaging can be adapted for any type of business.  For some, enterprise instant messaging is mobile, which results in flexibility and mobility for the workers.  Nowadays, employees tend to do office work on the road, while traveling, in the middle of a meeting or from the home office. They can access the instant messaging system from their cellphones, office PC and even from a web page.  In case, a worker is not at the workplace for any reason, he can communicate and send data through the messenger to be in the communication loop all the time.
Spread of AI and VR
Artificial Intelligence and Virtual Reality has been developing to a level, so as to be considered as a communication tool.  With recent development of deep learning and facial recognition, interaction with AI has become more useful than before for any business. Apart from gaming, VR is now being used for better user experience and immersive communication.  Many companies, including Google and Facebook, are looking forward to integrating AI and VR into their communication platform. Chatbot can be a very useful and essential tool in enterprise instant messaging.  Along with already popular role playing in the B2C space, chatbots are entering the B2E and B2B scenarios as well.  There are lots of bot-building platforms in the market offering a whole lot of features, with each platform having its own set of unique capabilities.  Enterprise messaging can tailor itself according to the needs of the business.
Digitalization
Digitalization is currently one of the major shifts in the business landscape throughout the world.  It is basically the process of moving to a digital business. It means reshaping the business model with digital tools and trends, and moving towards a more digital business.  Interoperability and information transparency have become key components of today's business.
Enterprise instant messaging enables this digitalization process for an organization.  It provides companies the ability to connect & update employees in real-time, to quickly solve problems, take prompt decisions and instantly align production teams & the whole of the company.
Enterprise instant messaging app can receive real-time notifications and documents from third parties, for employees and teams. Thereby, enhancing and accelerating the workflow process, and ensuring timely and up-to-date information exchange.
Cyber Security
Security is a vital issue for business, and everybody involved in digitization process.  The digitalization of business raises many security questions and data protection concerns.  Enterprising messaging apps can combine strong encryption.  The manager of the team can control the ability to see the message content for anyone or provide permission on what can be shared.  Enterprise messaging can protect confidential business information, data and intellectual property, and ensures cyber security required in this digital age.
How to Choose the Best Enterprise Messaging System for Your Business 
Today's organizations are constantly in need of synchronization with the changing communication landscape. Enterprise messaging systems ensure organization agility, better teamwork, immersive communication, and better customer experience. Also, it makes an organization's overall functioning much more efficient.
The following considerations can help you choose a robust, reliable and useful instant messaging for business :
Does the messaging app have the collaboration tools that your company needs?
Do you know that "teams who communicate effectively may increase their productivity by as much as 25%." Collaboration is the key to a successful business. It is therefore important to check whether the messaging platform has all the useful collaboration features that your business needs. Audio/video calling, Call conferencing, media sharing with multiple file support, etc. are some must-have features. Further, location tracking and sharing, message broadcasting, directory searching are some features which can help your employees to collaborate much more effectively.
Do you have control over your enterprise instant messaging data?
Your company's messaging data holds tremendous value and you certainly want to protect it from intruders. It may even be worse if the historical messaging data suddenly becomes unavailable. While the majority of the commonly used messaging apps like WhatsApp do not offer full control over user data, this is where an enterprise instant messaging app can be a big time savior. With server installation in your own premises, you get complete control over the application data, along with implementation process and security policies as well. Even if you are a small to medium size business, considering this aspect is vital.
Is the enterprise messaging app able to maintain communication privacy and security?
Communication privacy is another crucial consideration which a business simply can't miss. You need to see what type of encryption and authentication techniques are being implemented in the messaging app and whether those techniques are good enough to protect a business's classified information.
Does the enterprise messaging app represent your brand or company's name or image?
An instant messaging for business app that harmonizes with your company's image would certainly be a plus point. Check for White-label instant messaging for business solutions as they let you customize the app as per your brand's name and theme. This also helps you in saving all the time and effort that would otherwise go in creating the app from scratch.
Does the messaging app work on different platforms to suit your communication needs?
It is interesting to know that "85% of employees use more than one communication device to communicate at work." Cross-platform support ensures multi-device availability of the instant messaging app which is a must these days. Android, iOS, Windows, etc. are some of the most popular platforms which the messaging app should support.
It's essential that you choose an enterprise messaging platform that best matches your business needs. At REVE Systems, we offer REVE Enterprise Communication App which is a highly secure, reliable, robust and customized platform that ensures fast and real time communication and collaboration. You can learn more about our app for instant messaging for business by getting in touch with our support team.

Read Also
Note – This post has been updated on 14-02-2022.