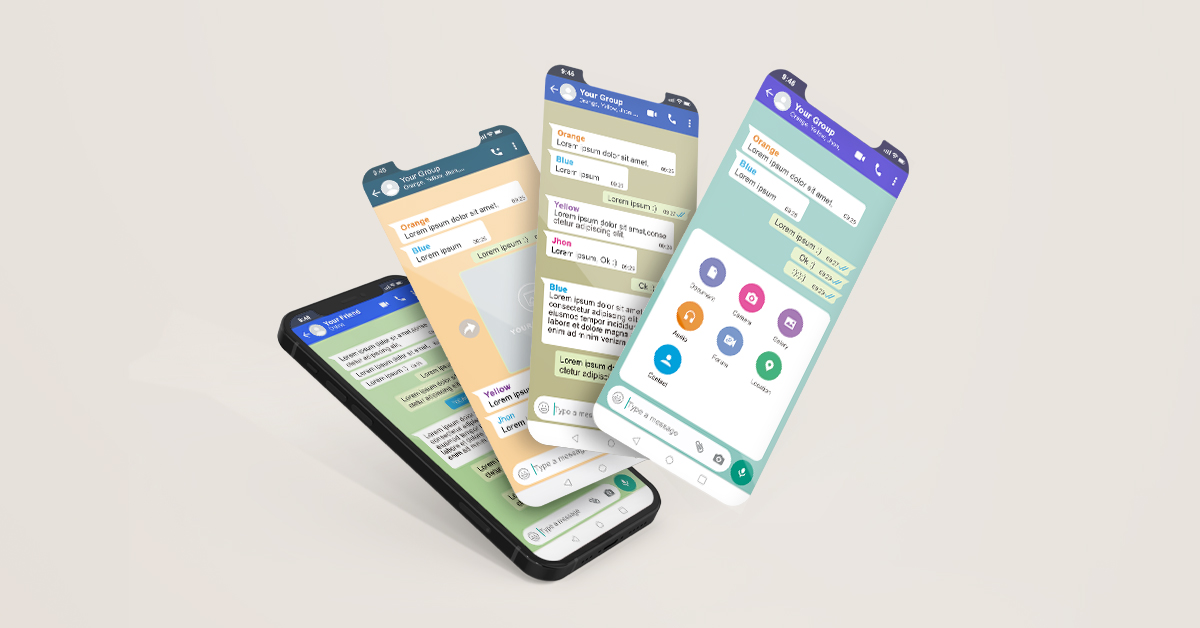 Mobile messaging apps like WhatsApp which are also known as communication apps are the latest buzz. For communication service providers planning to invest in such an app for business purposes seems like a profitable opportunity. Through this post, you will be learning the complete process to develop an app like WhatsApp. As you know, there is no option to go for a White Label WhatsApp as this solution is not provided by Meta, you need to contact a software solution provider.
First, let's take a look at some of the statistics:
WhatsApp grabs the first rank amongst the top messaging apps by country.
As of April 2022, WhatsApp had approximately 2.44 billion unique active users worldwide.
More than 100 billion messages are sent each day on WhatsApp.
The average WhatsApp user on Android spends 38 minutes per day (19.4 hours per month) on the app.
In the US alone, the number of WhatsApp users has increased from 68.1 million to 85.8 million from 2019 to 2023.
Now with the above stats, it is evident that WhatsApp has reached every nook and corner of the world. It is  an extremely popular app amongst the masses. The idea of launching a WhatsApp-like communication app in the market has enormous potential. If you choose the right path then it will certainly bring fruitful results.
Top Requirements to Build a WhatsApp-like Messaging App
It is important to understand that there are two ways to proceed with the development of a messaging app. The first approach is to create the app from scratch. This means having your development team which demands a huge investment in terms of time, money and other resources. Also, it carries the risk of development errors and bugs which may show up after the app gets launched in the market.
Now, the second approach is to get a White label WhatsApp messaging app. You get a ready-made, fully-functional app customized according to your brand's image and requirements. The investment in terms of time, money and other resources is comparatively quite less. Also, the risk of bugs and errors is minimal as the product is already running in the market.
If you decide to choose the second approach, i.e. build a white label WhatsApp, then you can simply go with REVE OTT to ease the process further.
What is REVE OTT?
REVE OTT is a complete white label communication solution built exclusively for communication service providers. It is for CSPs who are planning to create their VoIP-based mobile OTT app and launch the service on their existing network. This solution can be white labeled and customizable. It means CSPs can get this app tailored as per their business needs and brand's image.
What are the Features Offered by REVE OTT?
When you plan for a messaging app solution, you need the best features in your app. This is important to thrive and succeed. Having just another bunch of ordinary features that are hardly going to catch anyone's attention is not going to work. REVE OTT is an all-in-one communication solution that offers a variety of advanced messaging features. These features can help you in exceeding others in the market. Let's take a look:
High-Quality Audio Video Calling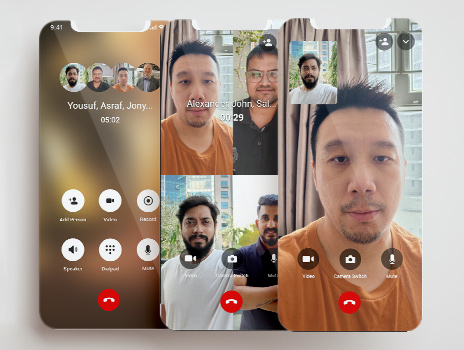 Voice and video calling is an essential requirements for mobile communication these days. Not every app offers the superior quality of service that a business requires. REVE OTT provides high-quality audio-video call. This allows your customers to stay connected over any network without any disturbance.
Solid Security With End-to-End Encryption
User data that revolves around calls and messages is extremely critical. Bad actors can misuse such data which can be damaging for both the company and the customer. REVE OTT ensures that all the communication that happens through your white label chat app is secured by the latest end-to-end encryption techniques. 
Real-Time Messaging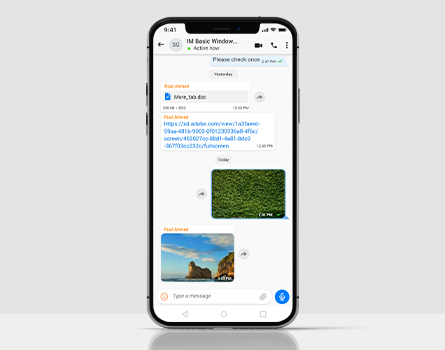 When the trend of instant messaging entered the market, no one thought that it would soon become an essential requirement for communication around the world. Chatting with friends, family, colleagues in real time is simply precious and immeasurable. REVE OTT supports one-to-one and group messaging. It makes it even more interesting for your customers with different types of stickers and emoticons.
Media Sharing
Sharing files, photos, videos, and several other types of documents, both personal and professional, has become an absolute necessity in today's digital world. REVE OTT lets users share all types of media in real-time with each other with just a few taps.
Calling Minutes Packages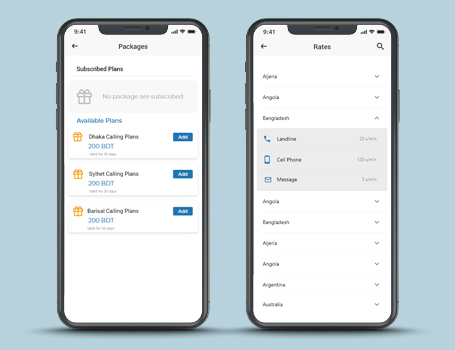 International calling becomes quite easy and affordable with calling minutes packages. With REVE OTT, you can offer your customers varied calling minutes packages. These packages are for different countries such as the US, UK, etc., which they can purchase as per their need.
Location Tracking and Sharing
Address tracking and sharing feature sounds more useful for security and emergency purposes only. However, users find this as a tool to stay informed about each other's physical location and also for visiting one's place. With REVE OTT, you can get this valuable feature in your messaging app.
Referral Credit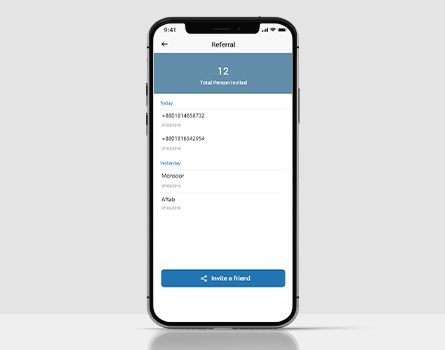 This is an extremely useful feature for both the business and customers. The business gets the opportunity to boost its sales and marketing initiatives. The customers get the benefit of credit for referring the app to their near and dear ones.
Web Messenger
What about having a messaging app that not only works on mobile but also on the PC? Your customers are certainly going to love this convenience. With REVE OTT white label solution, your customers will be able to enjoy messaging, voice/video, calling and file sharing from the web as well.
Virtual Roaming
Having your white label WhatsApp messenger app with REVE OTT means it comes with a default virtual roaming solution, so there is no need to build a roaming network from scratch. Your subscribers can benefit from international roaming services using your communication app.
Tech Stack for REVE OTT
REVE Mobile OTT solution incorporates the latest trends in audio codec and transportation technology so you need not to worry about keeping up with the market trends. It uses:
Up to 1024 Bit RSA Encryption
Session Initiation Protocol (SIP)
Supported Codecs – g729, AMR, GSM, g711, and Opus
UDP and TCP Transport
Runs behind NAT or private IP
Supports 3G/4G, GPRS, EDGE, and Wi-Fi for internet connectivity
What are the Revenue Opportunities using REVE OTT Solution?
REVE OTT is a customized OTT app and service useful for the communication service providers. MVNOs, MNOs, VoIP Carriers and VoIP service providers can use it to gain profit from their existing customer base.
Some key areas where service providers can gain revenue are:
Virtual Roaming Services can generate significant revenues
Gain revenue from global Voice calling & SMS.
Personalized Ad targeting through the segmented user base
Sell Personal DID Number to the end-user
Offer Mobile Top-up to users
You can sell VAS service from OTT Application
And many other ways… Read more.
As of 2021, over 3 billion people across the globe have used messaging apps.
Don't lag, get your WhatsApp-like messaging app with REVE OTT. Get in touch with us for getting answers to all your queries.
Read Also