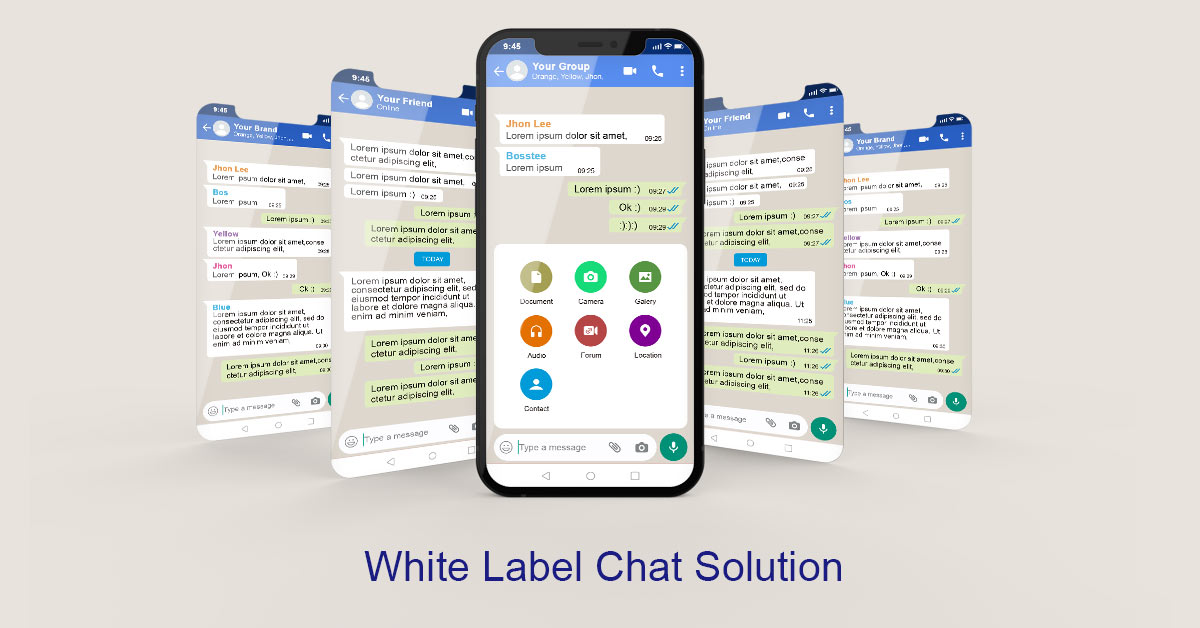 Are you looking for a white label solution to create messenger/chat app for your business? Well, while there are so many options out there, it is up to you how and which solution you choose. So if you have any doubt or need to create your own messenger app with white label solution, then this post is meant for you. Let's start.
What is a White Label Chat Solution?
Messenger or chat apps are already in much demand these days. Businesses are also heading forward to get personalized business messenger apps that fulfill not only their communication needs but also match with their brand image in terms of color, brand logo, etc.
A white label chat solution like our REVE Enterprise Communication App is a secure, reliable and customized platform which is especially designed for enterprises. Our solution creates a virtual office platform that ensures faster yet real time business communication and collaboration.
Why do Businesses need White Label Messenger App Solution?
While messenger or chat apps are the need of the hour for effective business communication, having a white label solution acts as an icing on the cake. Let's take a look what REVE Enterprise communication app offers in terms of benefits:
Brand Labeling
Why to have a messenger app for your business without your company's branding when you can white label it with your brand name and theme. Not only it helps in creating trust amongst the customers but also adds to the reliability of your company.
Time Savings
If you start from scratch, it is certainly going to take more time. A white label solution is already developed and tested. So, only a small amount of time is required for branding the application, thus saving you from the huge time investment in development of the software.
More Customer Satisfaction
Satisfied clients are the growth pillars of any business. A messenger app with your branding gives customers a feeling of trust that makes them feel secure and safe as they connect with you through your business messenger app.
No Third Party Interference
If we look at other messaging apps like WhatsApp and Facebook Messenger, there are a lot of third party constraints such as ads and tracking scripts which are annoying for most of us. However, with a white label messenger app solution, there are no such issues.
Important Features to Create your Own Messenger
Some of the most popular features that a messenger app for business communication should have are as mentioned below:
Instant Chat
Real time one-to-one and group chat features are really helpful in brainstorming ideas within a group, having quick chat discussions, and exchanging information in instantly.
Audio and Video Calling
Just the way text chat feature helps you to connect with your colleagues, this feature lets you make audio and video calls, both one to one and in groups.
Media Sharing
This is a very useful feature of the modern day chat solutions. You can quickly share files, documents, images, and links with preview of any format with others using this feature.
Call Conferencing
This features lets you make high quality conference calls with co-workers for conducting meetings. It brings geographically dispersed teams together without any difficulty.
Message Broadcasting
With this feature, a message or broadcast can be sent to the entire organization with just a single click that saves a lot of time. For example, making announcements.
Location Tracking and Sharing
Location Tracking and sharing feature helps in tracking the location of other co-workers' device as well as updating your location with them. This is a great way to know where your colleagues are working from.
Getting the Right White Label Messenger App Solution for Your Business
So now, the above information has given much clarity when you want to create your own messenger solution, it is time to get the most suitable one for your business. These 3 steps can help you in making the best choice:
Market Research and Evaluation
While the market is flooded with so many app providers, it is important to pick a company based on the following factors:
A company with good reputation in the market
Quality of the software application
Security of the software
Customer service
Cost-effectiveness
Cross Platform Support
Since employees will be using different devices to operate the business messenger app at different points of time, it is important to check that the app should provide cross-platform support with multi-device availability on Android, iOS, Windows Phone along with mobile phones, tablets and PCs via a web browser.
Network Compatibility
While your employees might stay on different types of networks as they work, it becomes imperative that the business chat app must be able to work smoothly in all networks. Check if the app connects with different types of networks such as 4G, 3G, GPRS, EDGE, CDMA, Wi-Fi and also across low-bandwidth areas.
Get Started!
By now, you must have made your mind to create your own messenger by availing the best services. We, at REVE Systems are here to simplify your search, answer all your queries and provide you with the best White label Chat Solution.
Read Also