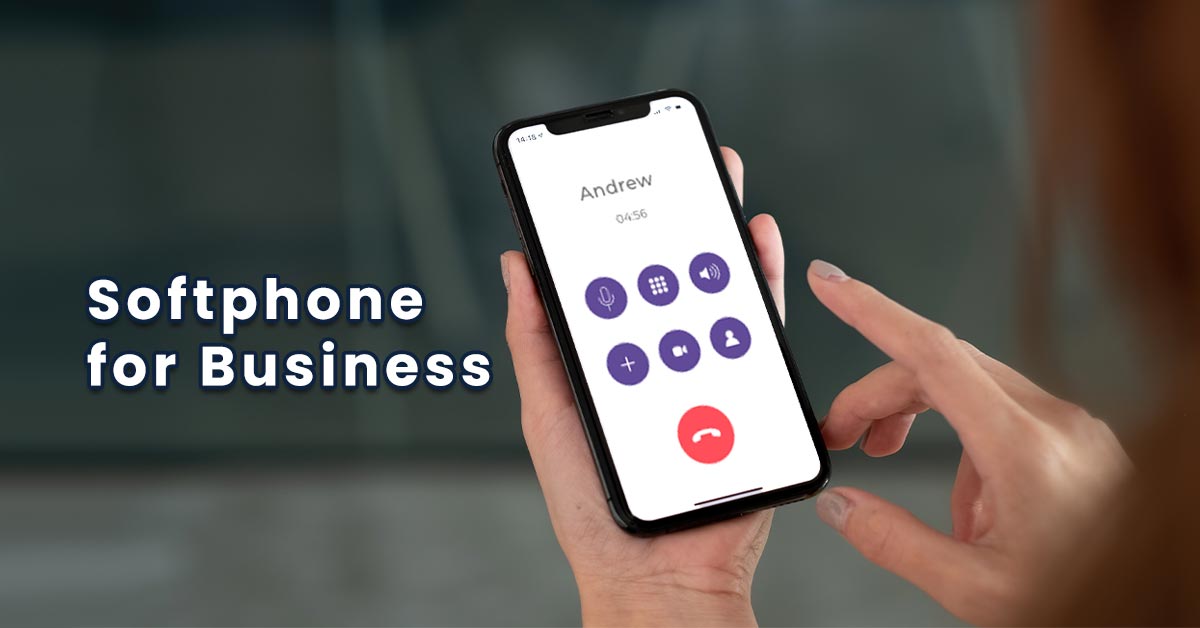 Softphones are a must-have communication tool for businesses these days. These are easy and cost-effective ways to make and receive calls over the Internet. This is why softphones have proven themselves to be an essential tool for business communication all around the world. But you know these softphones also hold an underlying revenue and business growth opportunity for communication service providers? Yes, you read that right! 
In this post, we are going to discuss the underlying revenue and business growth opportunities for communication service providers using softphones.
What is Softphone App?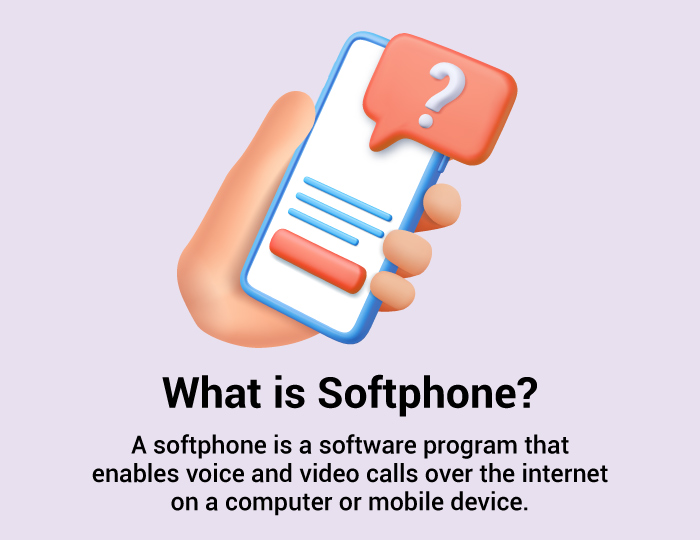 A softphone for business is a piece of software, typically a mobile app that allows a user to make internet-based calls from the device. Softphones usually have a user-friendly interface and function almost similar to a landline phone.
To use a softphone, the user must have an internet-enabled device. This could be a computer, mobile phone, or tablet through which the calls can be made using the app or the web version of the software. Also, the user must have access to a VoIP headset, microphone, or speaker on their device.
Why You Should Use a Softphone App?
The need to use softphones lies in their ability to provide cost-effective, feature-rich, and flexible communication. It's an ideal choice for modern businesses and individuals. However, softphones hold a special business opportunity specifically for CSPs i.e. Communication Service Providers. Here's why CSPs need to have a Softphone app:
The competition in the telecom industry is growing rapidly. With this, CSPs just can't go ahead with their traditional offerings – they need to innovate and improve their services. By offering value-added services like Softphones CSPs can stay competitive in the telecom market. 
Softphones enable CSPs to build a communication ecosystem tailored according to the needs of their customers 

CSPs can extend and diversify their service offerings to drive traffic to grow their user base while retaining their existing customers.
Softphone Examples: 3 Popular SoftPhone Services
In our everyday lives, we use softphone applications for personal and professional communication. Here are the top 3 softphone examples that are popular all around the world:
Skype

Skype has

over 300 million monthly active users and 40 million people use it daily.

Developed by Microsoft, Skype is one of the most well-known softphone services.

It offers voice and video calls, instant messaging, and group video conferencing.

Skype is available on various platforms, including Windows, macOS, iOS, and Android.
Zoom

Zoom averages 300 million daily active users in meetings.

While primarily known for video conferencing, Zoom also offers softphone features.

It provides high-quality voice and video calls, screen sharing, and instant messaging.

Zoom is widely used for virtual meetings, webinars, and collaboration.
Microsoft Teams

Microsoft Teams had 280 million daily active users as of 2023.

Part of the Microsoft 365 suite, Microsoft Teams includes softphone capabilities.

It offers voice and video calling, as well as team collaboration features
How does Softphone App Work?
Now that you are clear with the idea about the definition of a softphone, it's time to discuss the working of a softphone app. 
Primarily, a softphone app operates by converting analog audio signals into digital data, which is transmitted over the internet using VoIP technology. Here's a step-by-step explanation of how it happens:
Installation and Setup of the Softphone App
The first step that you need to do is download the app from the provider's website and install the application on whichever device you want to use i.e. computer, smartphone tablet, etc. Once the application is installed, you need to configure it by creating your account. You can take the help of your service provider to complete this step. 
Ensure a Stable Internet Connection
Having a strong and reliable Internet connection on your device is essential for using the softphone app. Your internet connection could be in the form of WiFi, ethernet, or mobile data, but ensure it has high speed. 
Audio Conversion
When a call is initiated using the softphone, the audio signal or the voice is picked up by the device's microphone from where the softphone app converts this analog audio signal into digital data. 
VoIP Transmission
Now the digital voice data is packaged into data packets. These packers with the help of VoIP technology are transmitted over the Internet so that they can reach the intended destination. 
Receiving and Decoding of Digital Data
On the destination side, the softphone app of the recipient receives the transmitted data packets which are then decoded and converted back to audio signals. 
Audio Output is Received
The converted analog signals are received by the recipient and played through their device's speaker which allows them to hear the voice message of the caller. 
Call Management Features
Softphone for business usually offer various call management features such as call recording, voicemail, and call transfer, which are quite useful for users, especially in business environments. 
Data Encryption and Security
Softphone apps ensure the security of data transmitted over the internet during calls by employing encryption protocols. With this, softphones keep unauthorized access and eavesdropping at bay. 
Features Offered by a Softphone for Business
A softphone allows users to do the following:
Make and receive Audio/Video Calls
Manage contacts – adding, removing, blocking contacts
Instant Group and one-to-one messaging
Media sharing – files, photos, and documents
Location Sharing and tracking
Personal DID numbers
While there are several other features that a softphone for business can offer, it is all up to the requirements of the business.
15 Best Softphone Apps for Businesses
It's valuable to know which platforms are leading the way. So, here's a compilation of the top 15 softphone apps for businesses:
REVE OTT
It's a customized & white-labeled softphone app that enables communication service providers, landline, and mobile operators to launch their branded OTT app service on their existing networks. REVE OTT offers advanced and distinct features including built-in virtual Roaming, Personalized Ad Targeting, Personal DID Numbers, Support for rich content, etc. 
FastCall
This softphone application was primarily designed for Salesforce and has continued to evolve since then. It allows users to make and log calls, track call data, and manage call queues efficiently. Some of the major features are Outbound calls, Call routing, Inbound calls, and SMS. Video calls and conferencing, Call recording, Call routing, and Call integration with the Salesforce mobile app.
3CX
It supports standard calling features and supports calls from desktop and mobile. This is suitable for small and mid-sized businesses. It's a no-hassle product and offers pricing based on the number of simultaneous business calls. 
Zoiper
This is also a popular VoIP softphone application that enables users to make voice and video calls over the internet from various devices. Its app is available on multiple platforms like Android, iOS, Windows, etc. Zoiper 5 is one of their latest products that offers a free plan. 
Grandstream
Grandstream offers a range of VoIP phones, IP video phones, and multimedia communication solutions, catering to businesses' voice and video communication needs. This is a free softphone app and supports features like background mode, proximity sensor for in-call touch screen and keys lock, auto rotation
Avoxi
Avoxi provides cloud communication services, including virtual phone numbers, call center software, and global VoIP solutions, serving businesses with international communication requirements. It comes with features like features like click-to-dial, call forwarding, and more.
KloudTalk
KloudTalk is a cloud-based contact center software that empowers customer support teams with features like intelligent call routing, IVR, voicemail-to-email, call analytics, and integration capabilities. Its pricing is quite reasonable and offers an intuitive user interface which makes it easy to use. 
Five9
Five9 is a cloud-based contact center solution that offers omnichannel support, automation, and analytics, enhancing customer service and sales operations. Some exclusive benefits of Five9 softphone are easy-to-access CTI web services and a toolbar, quick deployment of a complete contact center, easy addition of contact center agents, etc. 
LinPhone
LinPhone is an open-source VoIP application that allows users to make voice and video calls, enabling secure and customizable communication experiences. Some key features offered are HD audio and video calling audio/video meetings and group calling, secure communications with post-quantum end-to-end encryption, instant messaging (IM), group chat and file sharing, and interconnections with Apple's and Google's push notification systems.
Telzio
Telzio provides business phone services, including VoIP calling, virtual phone numbers, and cloud-based communication solutions, tailored to meet business communication needs. It's easy to deploy, manage and scale. 
LiveAgent
LiveAgent is a helpdesk and live chat software that offers multichannel support, ticketing, and customer engagement tools for businesses to manage customer interactions. It's a feature-rich softphone software for B2B & B2C. Some key features include smart call routing, IVR and Call back options, Call tracking, logs, reports, and call recordings. 
Convoso
Convoso is a cloud-based contact center platform offering outbound and inbound call center solutions, designed to improve customer interactions and agent productivity.
Nextiva
Nextiva offers cloud-based communication and collaboration tools, including VoIP, video conferencing, and team messaging, designed for business communication efficiency.
Evoice
Evoice is a virtual phone number and business phone system service. Users can enjoy features like call forwarding and professional greetings to enhance business communication.
GoToConnect
This is our last pick. GoToConnect is another popular cloud-based business phone system that provides features like video conferencing, messaging, and call routing for seamless communication and collaboration. It offers easy access through computer, mobile, smartphone, tablet, etc. 
The very next question that comes to mind is how to get a softphone for business. Let's find the answer.
How to Choose a Softphone App for Business?
Well, there are two approaches to choosing a softphone for business. Let's discuss them.
Create the App from Scratch
The first way is to hire your team of developers, designers, testers, and other resources to execute the software development process. You need to make sure that your resources are skilled and experienced so that you don't have to spend time and money on training them. Further, you need to understand that executing the development project yourself carries a lot of risks of bugs and errors that can appear during any phase. 
Opt for a White Label Softphone for Business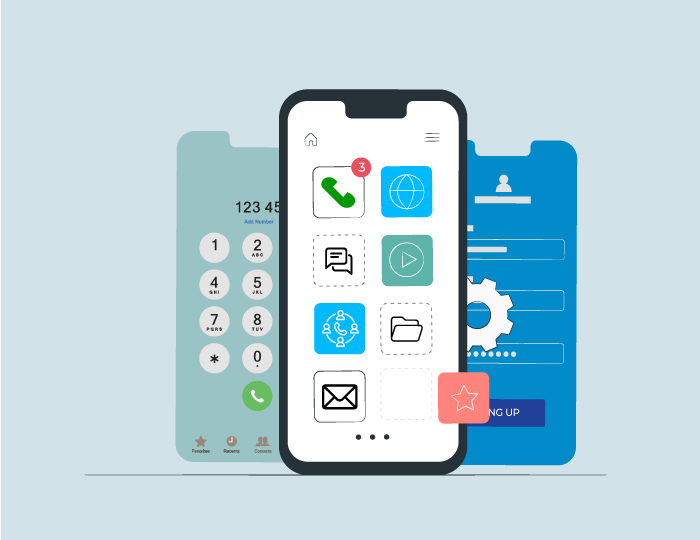 Certainly, every business wants to save time and money when it comes to software development and white label solutions are a perfect answer. A white label softphone solution is a ready-made software or app that is developed by a software provider such as REVE OTT. Investing in such an app would simply mean that all the hassle of software development gets eliminated.
Benefits of White Label Softphone
A Customized Product
Another benefit of opting for a white label solution is that you get to customize it the way you want. The look and feel of the app can be tweaked as per the image of your business or brand.
Significant Savings in Time
We cannot demean the value of time. White label solutions help in significant time savings as the product is already developed and only a little time is needed for customization.
Reduced Costs
When it comes to cost savings, a white label softphone would be a big yes as you only need to pay for the service and not the whole development process which is quite expensive.
Which Platform is Best for a Softphone?
Today, mobility is a necessity. People use different types of devices to communicate. Due to this, it becomes important that the softphone you choose must be able to support some of the major platforms such as Android, iOS, Windows, and a web version.
REVE OTT – A Reliable and Advanced Softphone for Business
REVE OTT is a VoIP-based white label mobile OTT app that allows communication service providers to have their branded communication app and launch the service on their existing network. Some of the most useful features offered by REVE OTT are:
High-Quality Audio & Video Calls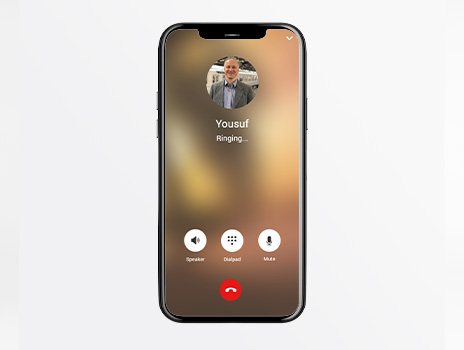 App users can enjoy high-quality audio and video calls just from anywhere around the world. No disturbances, lags, or pauses offer them a superior and remarkable calling experience. So when connecting with colleagues that are far away through business conferencing, the softphone app ensures crystal-clear voice quality.  With such superior and seamless communication and collaboration, users can engage in meaningful and productive conversations. 
 Encryption for Calls & Messages
With end-to-end encryption for calls and messages, user data remains completely safe from cyber threats. The softphone app prioritizes the security and privacy of user data by ensuring that data exchanged during the calls is securely encoded and remains inaccessible to unauthorized users. It offers assurance to your users that they are in safe hands. 
Instant Messaging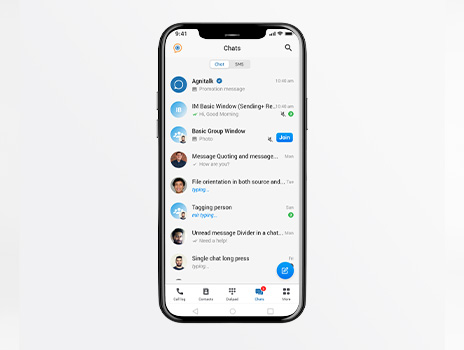 With this feature of white label chat app or custom app, users can communicate with each other in real time. The biggest benefit of real-time communication is that messages are delivered and received instantly which leads to efficient and engaging interactions. Furthermore, one-to-one and Group messaging along with stickers and emoticons make conversations more interesting. This helps in adding a touch of fun or emotions between the participants. You can read our post on How to create a messaging app like WhatsApp?
Media Sharing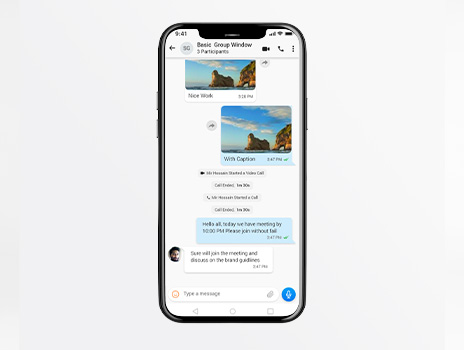 This is a powerful feature of the softp[hone app that takes communication between users one step further. With this functionality, users can easily share files, photos, and, videos for both personal and professional use. In business environments, this feature becomes a valuable tool for collaboration and productivity. Users can effortlessly share business-related files such as presentations, spreadsheets, and documents. It also enhances remote work scenarios where visual demonstrations are required.
Calling Minutes Packages
Users can avail calling packages for different countries such as the US, UK, etc., as per their needs. It lets users enjoy longer calls and more minutes at lower rates. In other words, we can say that the Calling Minutes Packages feature provides users with flexibility and cost-effectiveness when it comes to international calling. Rather than being charged per minute at standard rates which are usually very high, users can purchase these calling minutes packages tailored to their specific destinations.
Location Sharing & Tracking
This feature makes address tracking a lot easier. Users can share their exact location with others without any location restriction, leading to seamless navigation and coordination. This feature is particularly useful in business and professional scenarios. For example, in logistics and field operations, dispatchers and team members can use the feature of location sharing & tracking to locate delivery drivers, field technicians, and sales agents. This helps in optimizing routes and ensuring timely service.
Referral Credit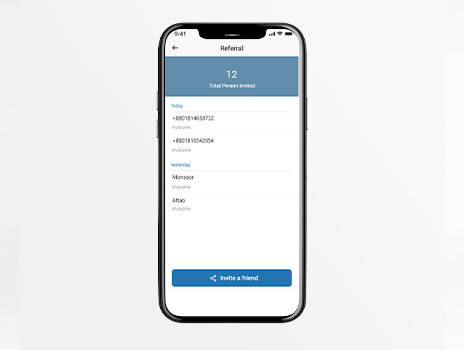 It's a great way to step up your sales and marketing initiatives. By referring the app to friends and families, users can earn referral credit which they can use for recharging, etc. This means that this feature turns your existing users into your brand advocates. Users are motivated to refer the app to their friends and in turn, they receive rewards. Overall, it is a win-win strategy for both the users and your business. 
Web Messenger
It's a cutting-edge feature of the softphone for business that lets you provide your customers with a superior communication experience. They can enjoy messaging, voice/video calling, and, file sharing even from a PC. This means that it extends communication capabilities beyond mobile devices. By providing a web messenger, the softphone app offers convenience and flexibility to users as they can seamlessly switch between devices without any disruptions in their conversations. 
Virtual Roaming Solution
You can offer mobile subscribers access to international roaming services using this feature. It saves your precious time and money as there's no need to build a mobile roaming network from scratch. With this in-built feature, the softphone app eliminates the need for creating and building a physical roaming network from scratch. It saves precious time and resources for the business and leads to cost savings for the user. 
Multiple Recharge Options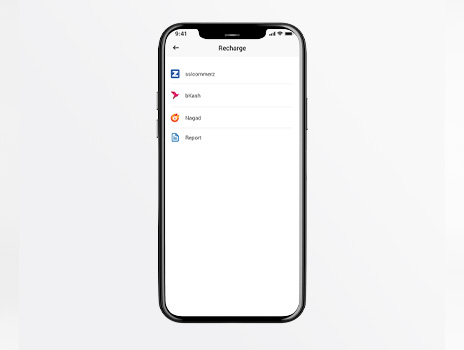 App users can recharge their accounts easily using any of the 3 available payment options – Credit/ Debit Card, PayPal, and Recharge Card. This means users can choose a payment option that aligns with their needs and convenience ad can continue enjoying uninterrupted communication services within the softphone app.
Auto Sign Up
Softphone users can sign up to create their accounts instantly using this user-friendly feature. It automatically turns their mobile phone number into their PIN for hassle-free onboarding into the app. It simplifies the account creation process, thus adding to the reliability of the softphone app. 
Benefits of REVE OTT
White Label & Customizable
You can customize REVE OTT in terms of app version, skin, language, and settings as per your brand's image. Certainly. This helps in gaining an edge in the OTT market.
Best Quality in Low Bandwidth Areas
REVE OTT let users enjoy crystal-clear high-definition audio and video calls just over any connection. Even restricted networks and low bandwidth areas are not a problem!
Faster Calling & Messaging
Make uninterrupted voice/video calling and messaging by using appealing emoticons, easy media sharing, instant location tracking, and much more with just a few taps.
New Revenue Streams
With a customized OTT app and service, REVE OTT opens doors to several new opportunities to capitalize on your existing user base and generate new revenue streams.
Conclusion
Creating a softphone app for business communication offers various benefits that save time and money. If you decide to create your business softphone app by yourself, then you must have a thorough understanding of VoIP i.e. Voice over Internet Protocol technology. You also need various other resources such as a technical team of programmers and coders, designers, testers, etc., who can create and test the app.
However, by opting for white-label technology, businesses can easily create a cost-effective communication solution without having to make any huge upfront investment. The plethora of useful features offered by the softphone apps is simply amazing. Overall, it seems that investing in a white label softphone app presents a smart and strategic approach for businesses to amplify their communication game. 

Want to Develop Your Own Softphone?
Note- This post has been updated with the latest information on 10-11-23.