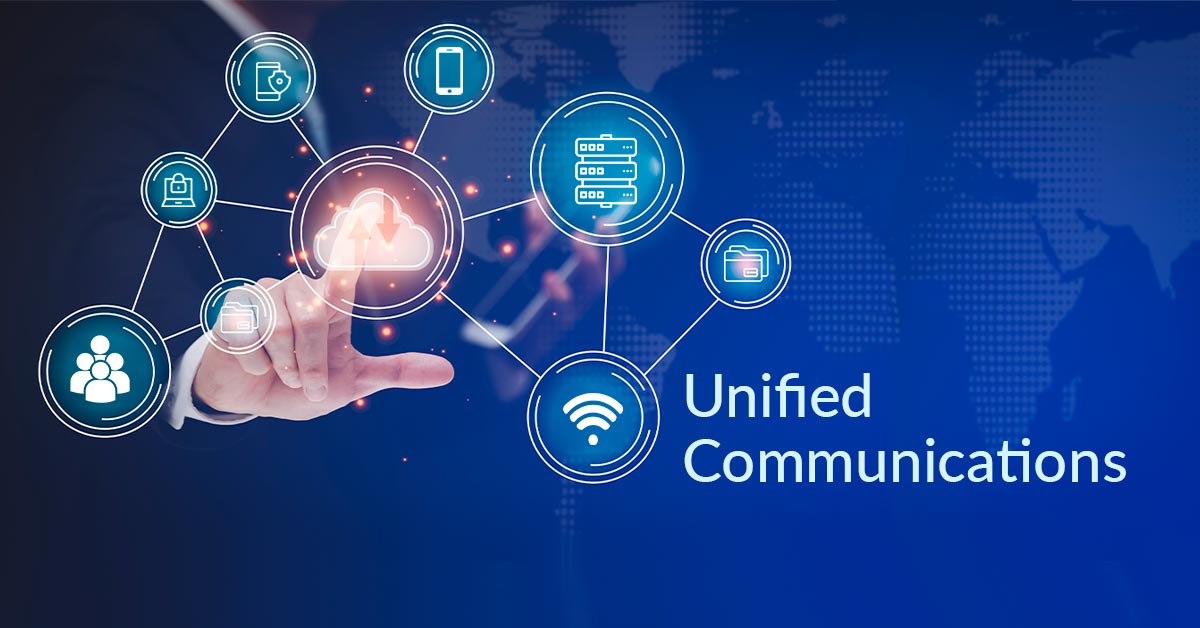 With the increasing demand for communication tools, it has become imperative for businesses to manage workplace applications systematically. The traditional communication system or PBX equipment, which was so much popular a few years back has been outsmarted by the technology known as Unified Communications.
Today as an entrepreneur, you need a solution that promises a simple, flexible, and mobile end-user communications experience.
What is Unified Communications?
Unified Communications is a complete business phone system that combines multiple enterprise communication tools such as Instant Messaging, Voice & Video Calling, Email, Presence, and Audio & Video Conferencing to name a few. The list is huge and new tools are added with the latest innovations in the communication sector. The Unified Communication Products and Services can be added with IT business applications, consumer applications, and devices to enhance seamless user experience and boost productivity.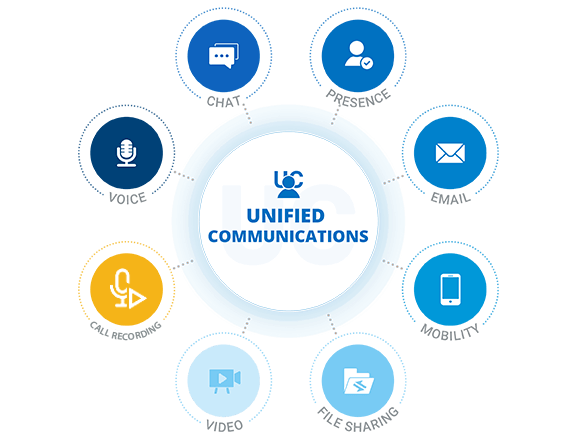 Features of Unified Communications
As discussed, unified communications is the combination of different  types of communication that happen in real-time such as text messaging, voice  & video communication and collaboration. When you go for a UC system for your enterprise, you can choose from the required features that will be most used.
Web-Based Dashboard
The beauty of today's Business Phone Systems is that they come with a central console from which you can manage your business communication seamlessly. You can customize your phone settings, IVR, Voice Mail, Click to Call buttons, etc.
Interactive Voice Response System
An IVR Set up is ideal for your organization if you have multiple departments such as Sales, Support, Admin, Marketing, and Human Resource. A Unified Communication Platform comes with IVR Set up facility to route calls to different departments. You can easily do so from your business phone system dashboard.
Instant Messaging
Instant Messaging has become one of the most used communication tools. Nowadays, enterprises are keen to get their IM application designed with several customized features including end-to-end encryption.
Web Conferencing
Modern businesses need a conferencing solution as a part of their communication strategy. Audio and Video conferencing have become the part and parcel of small, mid-sized, and even large enterprises after the pandemic. A UC system with conferencing feature helps you to accomplish your day-to-day online meeting needs with your clients and branch offices.
Presence
The presence feature in a unified communication system enables your team to update their status such as Online or Busy or Away. In this way, calls can be systematically assigned to the available agent.
Unified Communications Market Size
The unified communications market crossed USD 30 billion in 2019 and is expected to increase 8% by 2026. One of the reasons that fueled the growth of the UC market is the infrastructure model where a single unified interface can handle all communications, making it highly easy to manage the communication tools.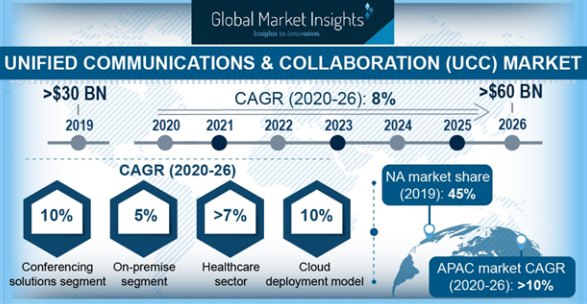 Source: Business 2 Community
Companies need not go for hardware infrastructure to be deployed on-site but rather move ahead with a cloud-based UC system. With the outbreak of the COVID -19 pandemic, the unified communication and collaboration industry received a strong push. The reason being the interest of enterprises to deploy UCC tools for secured communication and business continuity.
Benefits of Unified Communications Solution
The benefits of unified communications for enterprises are endless. Starting from productivity, to customer service to cost, a Unified Communication solution will help your organization excel in all areas. Here are some of the core benefits of a UC system.
Mobility
A UC system is perfect for your organization if you have remote staff. Not limited to office extension, your remote workforce can receive calls on their mobile application. Any call that lands on your business phone numbers can be routed to your remote staff. Also, your team can join audio and video conferencing from any location.
Cost-Effective
The unified communication system is cost-effective being a cloud-based setup as there is not much hardware cost involved. Multiple communication tools are added which makes it a cost-effective alternative to individual communication tools.
74 percent of the new unified communications licenses bought by organizations will be cloud-based by 2024 – Gartner
Better User Experience
Your Unified Communication System provides a great user experience to your employees and customers. Productivity of your team increases and for your customers, it's better communication. There is less amount of wait time involved including prompt communication and quicker decision making.
Convenience
When you have a centralized dashboard to manage your multiple business communication tools, it becomes convenient to manage the same. Whether you are setting up an IVR or monitoring your agent's productivity or handling the calls that land on your business phone numbers, you experience convenience with a business phone system.
If you are interested for an Unified Communication Solution, you can talk to our experts to help you with the right product.
Read Also