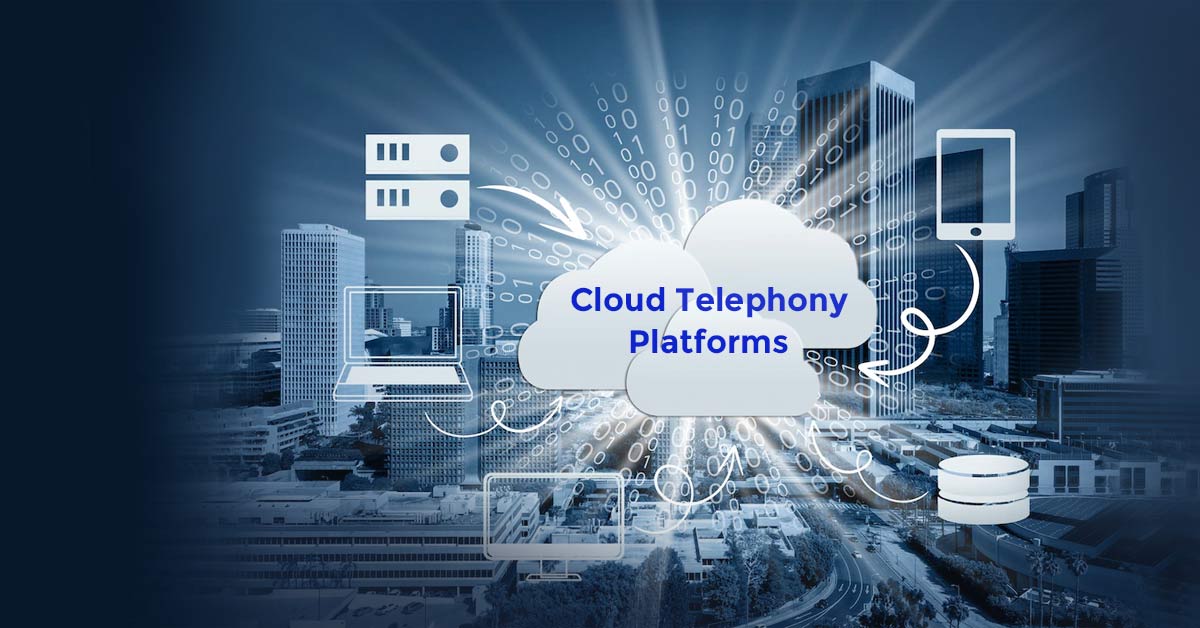 Cloud Telephony Platforms are the latest buzz in the realm of Business Communication. As per the Global Industry Analysts study, the global cloud telephony services market size was $13.5 billion in 2020 and is expected to reach $34.5 billion by the end of 2026, growing at a CAGR of 16.8%. Technology not only promises big things like cost-efficiency, reliability, and security, but it also brings exciting opportunities for businesses such as more productivity, mobility, and flexibility. At first, it might look a little daunting to switch your phone systems to the cloud, but if you have the right service provider, it is much easier than you think. In this post, we are going to explain some important things that every business should know about cloud telephony. Here we go:
What are Cloud Telephony Platforms?
The basic purpose and working of cloud telephony platforms remain the same as that of traditional phone lines i.e. to make and receive calls for business purposes. But the key difference between the two is that cloud telephony solutions are hosted by third-party service providers. This means that all the communication infrastructure required to support the working of cloud telephony remains with the service provider. As a business, one only needs to subscribe to this service which lessens the investment cost as well. Further, all the responsibilities associated with the maintenance of the cloud telephony solution are with the service provider.
Streamlining Success: 7 Ways Cloud Telephony Transforms Business Operations
Running a business means one has to work in a dynamic environment keeping in mind a lot of things. We already know that businesses save money by opting for cloud services especially startups have a lot of advantages as they are usually in a crunch of cash. Besides saving money, cloud telephony platforms help businesses in dealing with a lot of other important challenges, as mentioned below. You can also read our blog on 8 Important Benefits of White Label Hosted PBX Solution
Managing Call Routing

The everyday business receives calls – sometimes traffic is more, at times it is less. But no matter what the traffic is, it is important that every call should go to the right agent as per the concern of the caller. Suppose, a caller is looking forward to knowing about the delivery of his order. So he needs to talk with an agent from the Order Delivery department. But what if the caller gets to speak with someone from the Finance department? It will result in a lot of time wastage and frustration. Here Call Routing emerges as an important feature of cloud telephony platforms. Basically, Call Routing is an advanced phone function that works on a predefined call flow and directs calls to agents based on the option selected by the caller. So without any wastage of time and error, it connects the caller with the right agent.
Listening to Calls
With the Call Recording feature of Cloud Telephony Platforms, business owners, managers, and supervisors have the opportunity to record agent-customer interactions over calls. It is a great way to assess the performance of the agents and keep a check on the quality of service. Seniors can use these recordings to give tips and ideas to agents for better performance and handling of customer calls.
Automating Call Flow
In a typical business scenario, a human receptionist picks up the call and listens to the queries of the callers. But when we talk about, say 200-300 calls a day, how can a receptionist takes all the calls, greets every caller, listen to them and transfer their call to appropriate departments? Quite impractical, right? So by going with cloud telephony platforms, first of all, the need to have a human receptionist simply gets eliminated. The IVR or Interactive Voice Response System does it all. It greets the caller, presents them with a menu with multiple options, and transfers their call to a suitable agent using intelligent call routing as we mentioned earlier in this post.
Distributed Workforce Management
The best part of using Cloud Technology is that one can access it anywhere, anytime, and from any internet-enabled device. So for today's call center workforce which is often dispersed and prefers remote working, Cloud Phone Systems just work wonders. Since there is no hardware installation required, workers can connect with callers in their comfort. Also, for businesses, it becomes quite easy to manage the workforce by having centralized access to the cloud system.
Set the Seal on Business Continuity

As per the stats, 84% of businesses store backups in the cloud, and 93% of small enterprises have adopted the cloud. The world is moving faster than ever before. A business simply cannot afford downtime even for a few minutes as this can make them lose lucrative business opportunities to competitors. But unexpected disasters can sink a business. With Cloud Telephony Platforms, it becomes easy to recover from disaster situations and other unforeseen events. Backed up with redundant servers, these systems ensure that data is always available and never lost.
Review Business Calls
Assessment is a crucial part of every business. Hiring a team to do this job can be very exhausting for a business. Having advanced analytical tools that can generate useful insights in the form of reports helps in making wise business decisions. Cloud Telephony Platform can automatically generate Call Reports thus replacing the manual work and automating the workflow.
Making Wait Time Easy for Callers
Do you know that "60% of customers think that one minute is too long to be on hold from contact center agents?" The word 'hold' is frustrating for each and every one. But during peak hours, callers may have to wait to get connected with an agent. Cloud telephony platforms ensure that callers are not bored with the monotonous dial tone or simply no audio. Rather, the IVR i.e. Interactive Voice Response can play any preset music so that callers remain engaged.
With all the above-mentioned points, it is evident that cloud telephony solutions are of great value to businesses. If you are looking forward to switching to cloud technology, then do get in touch with us for a seamless transition.
Read Also