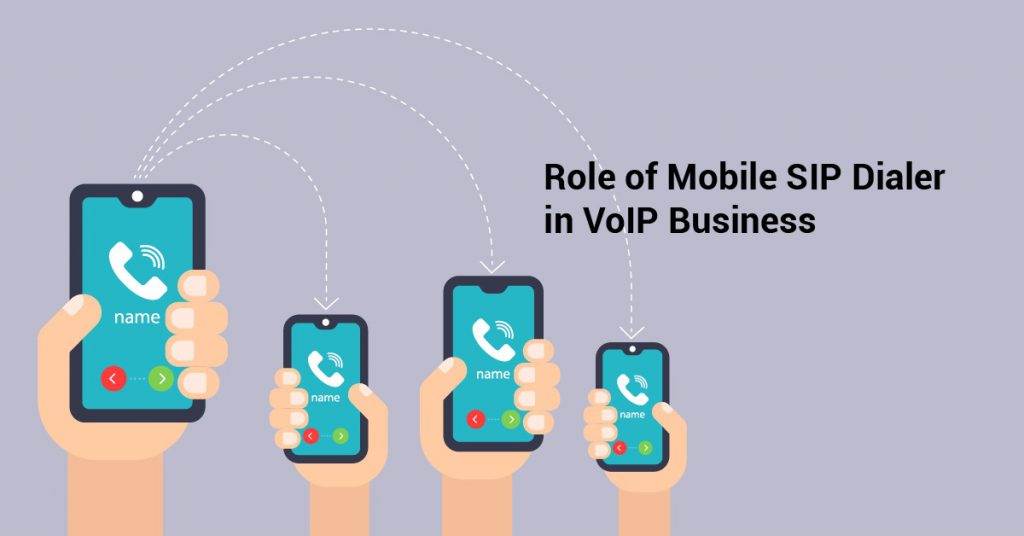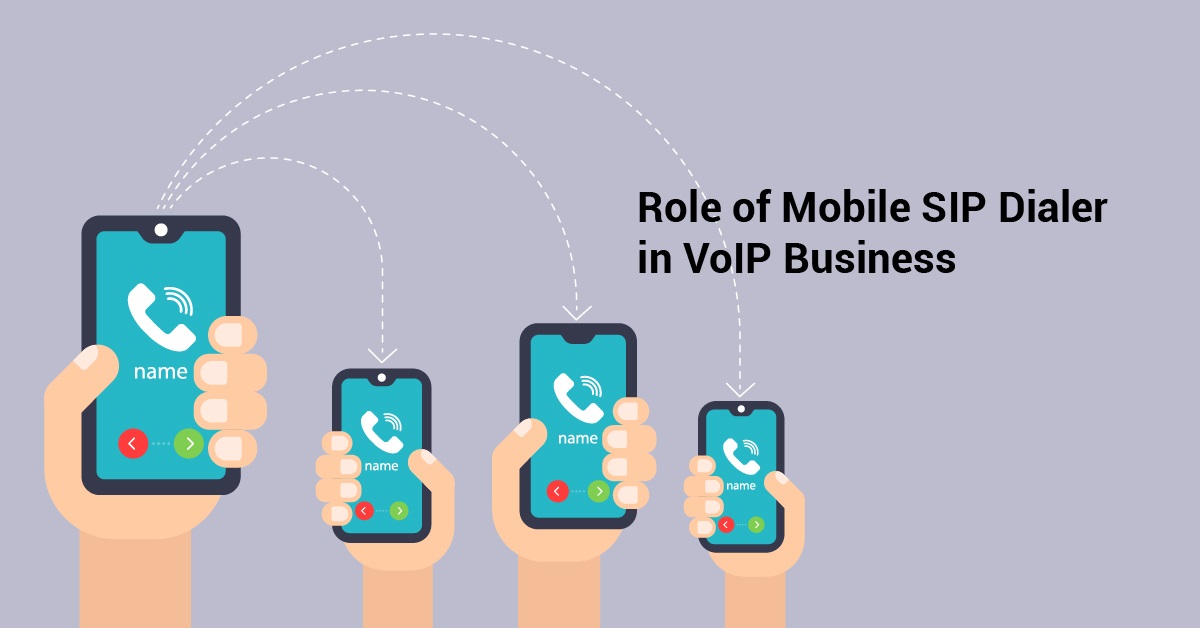 Also known by different names such as softphone or VoIP application, Mobile SIP Dialer is considered to be one of the best combinations of VoIP and mobile technology. Since a mobile dialer is a critical part of the VoIP business, it is contemplated as the lifeline of every VoIP business or simply an indispensable part.
What is a Mobile SIP Dialer?
It is a mobile application using which VoIP calls can be made. Users can use this application on a mobile device such as a smartphone or tablet. Here the role of SIP i.e. Session Initiation Protocol is to initiate, maintain and terminate VoIP calls. 
Data packets are sent between the caller and the recipient using the internet which makes it suitable for making long-distance calls at lesser costs. 
It enables VoIP Service providers to offer feature-rich calling services along with various other features such as instant messaging, mobile recharge, and value-added services to name a few.  
How End Users Make Calls Using a Mobile Dialer?
In order to make calls using a mobile dialer, a user needs to download the application from the service provider's website or Google Play/App Store. Users can sign up using their mobile number, which is the operator code or any other code provided by their service provider. There are two ways of making calls using a mobile dialer by any end-user.
With a mobile dialer application, users can make calls to other users who are on the same platform, which means they must be using the same app. Usually, app-to-app calls are free but users need an active internet connection for the same, which can be a 3G, 4G, or WiFi Connection.
Mobile SIP Dialer is an excellent application to make calls to landlines and GSM mobile phones. However, these calls are not free and require a calling balance which is provided by the service provider. VoIP Calls are much cheaper compared to regular GSM calls.
Benefits of Using a Mobile SIP Dialer in VoIP Business

With just an internet connection, VoIP calls can be made and received when using a mobile SIP dialer. This is one of the biggest advantages as VoIP businesses enjoy more flexibility and can be more responsive to the specific requirements of their clients. Obviously, this results in enhanced satisfaction among customers. 

Enhanced Quality of Calls
Clarity of calls plays a crucial role in the performance of a business and mobile SIP dialers ensure high call quality by implementing the latest audio and video codecs. 
When compared with the calls made through conventional telephone systems, VoIP calls made via mobile SIP dialers appear to be more pocket-friendly. This is particularly beneficial in cases of calls that are made over international borders or long distances. For businesses, it can be a significant amount of savings on their telecommunication costs as they generally have a higher number of calls per day. 
Besides all other points, it is important for every VoIP business to ensure the privacy of customer data by protecting all sensitive information. Mobile SIP dialers ensure that any type of interception does not happen by implementing robust encryption techniques. 

Security and Privacy Considerations for Mobile SIP Dialers

This is a powerful security mechanism that ensures that call data remains protected from intruders and is not intercepted. 

A Firewall offers a strong protective layer to your VoIP system from hackers and attackers. It makes sure that only authorized traffic passes through the network. 

The mobile SIP dialer must have a foolproof authentication mechanism such as 2FA. This is critical to prevent unauthorized access. 

Public networks such as open WiFi connections are never safe and can let potential attackers get access to your data. It is advisable to always connect with a secure network. 

Installation of the latest patches and updates should be done on a timely basis to ensure that attackers are not able to leverage vulnerabilities.   

Purchase Options of Mobile SIP Dialer for VoIP Service Providers
There are two ways by which mobile dialers can be deployed in a VoIP business – Hosted and Licensed Models.
A hosted dialer is a type of solution availed by VoIP service providers on a rental basis. Here, as a service provider, you need not buy the software but can take the same on a monthly rental basis. If you have budget constrain, you will find this option best.
In a licensed model, service providers usually need to buy the mobile VoIP application by making a complete payment or making the payment in 2-3 parts.
How to Implement a Mobile SIP Dialer in a VoIP Business?
This can be done by following the below-mentioned steps:
The first step is to look out for a suitable mobile SIP dialer. Since there are so many options available in the market, you need to follow a checklist to ensure that the dialer you have chosen fits perfectly with the needs of your VoIP business.
The very next step is the installation of the mobile SIP dialer. For this, you need to install a dialer on the mobile devices of your agents or employees, whether personal or company-owned.
Now comes the crucial part of configuring the mobile SIP dialer. For this, you need to enter your SIP account credentials, i.e. username and password.
Once done with the configuration, it is time to test the mobile SIP dialer. You can check the functioning by performing test calls and using various features to ensure proper working.
Training is a crucial part of the implementation process. Help your employees in understanding the usage of the mobile SIP dialer by conducting training sessions.
Last but not the least, you need to keep a check on the usage and performance of the mobile SIP dialer. This is done to ensure that the dialer is delivering the expected results for your business.
Whitelabel and Customized Mobile Dialer
Mobile SIP Dialers are available in customized form, where usually service providers can get their mobile app customized as per their requirements from the software solution provider. As a service provider, you can get your required features in the mobile VoIP application. Price may vary depending on the level of customization.
In the case of the Whitelabel solution, you can get your mobile dialer designed based on your brand color adding your logo to the same. A whitelabel solution is a great way to showcase your brand among your customers.
Read Also
Note – This post has been updated with latest information on 22-03-23