A2P messaging is one of the most powerful mediums for modern enterprises to communicate with their customer base. Businesses use text messages to generate leads and enhance the customer experience across several industries such as travel & tourism, BFSI, retail, health care, telecom, and a lot more.
Some of the key drivers of enterprise A2P Messaging includes its better reach, cost-effectiveness, increasing penetration of smartphones and security. You will find more about these key drivers in detail below.
The market share of A2P SMS globally is dominated by the Asia Pacific where China, India, and Japan are the top 3 markets where it is utilized the most by businesses.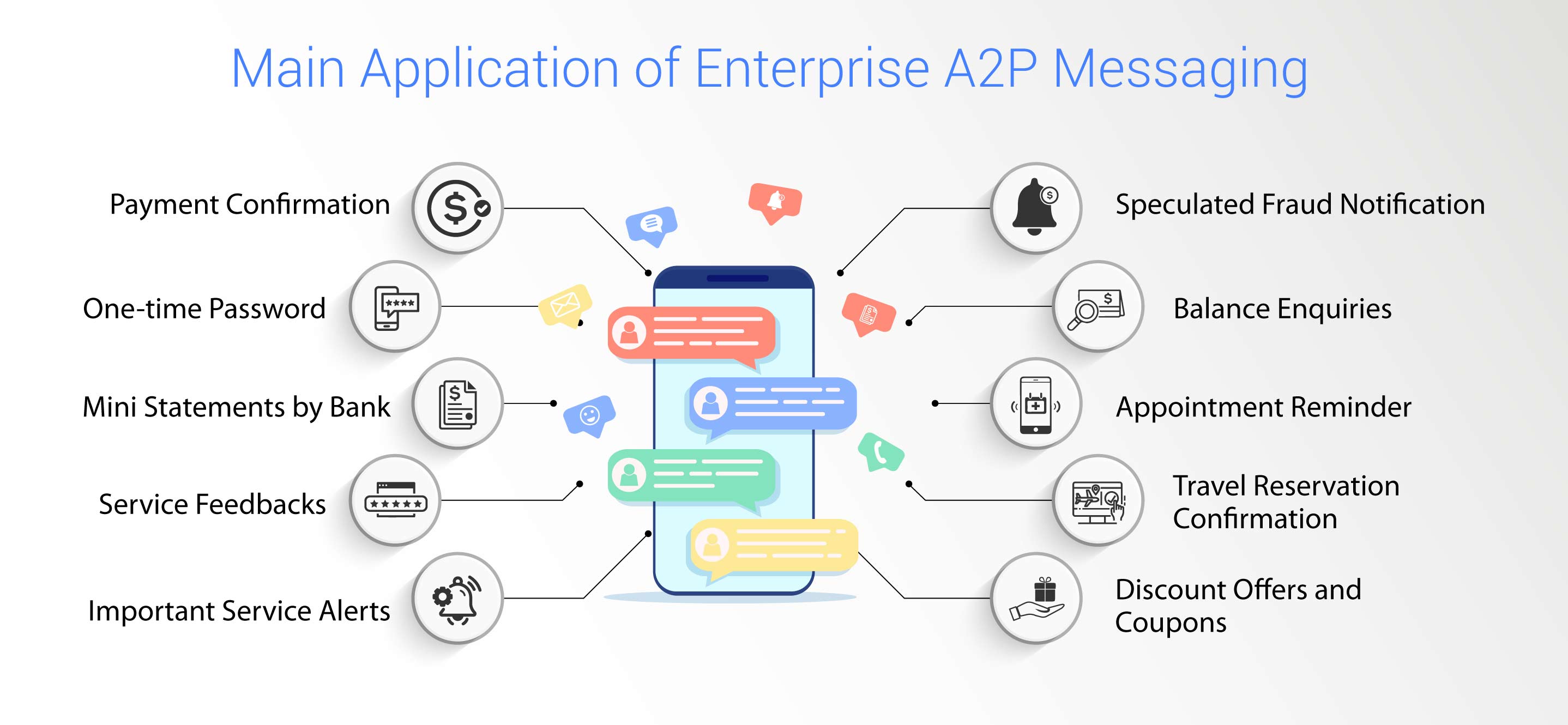 Enterprise A2P Messaging is growing and along with that opportunities for SMS, Players are also increasing. Although there are several challenges faced by players, especially with the rise of OTT messaging applications, enterprise messaging still has its strong foothold. Also, mobile operators are losing a major chunk of revenue due to unauthorized grey routes.  In spite of the challenges faced, the enterprise A2P messaging industry has huge potential. Here are some reasons.
5 Key Drivers of Enterprise A2P Messaging
Here are some of the main drivers that are fueling the growth of A2P Enterprise Messaging:
1- Better Reach Than Email
Do you know SMS has an open rate of 98% compared to that of email? Apart from the open rate, Text message also excels in terms of response rate which is around 20% compared to 6% that of email. These are some of the reasons, businesses prefer communicating through SMS compared to email, which often reaches in the junk folder. Apart from this, the rules of email sending are getting tougher day by day. If it's a quick and short communication, often SMS becomes a favorable medium.
2- A2P Messaging is a Cost-effective Method
Cost is one of the important factors, which plays a major role while preparing a marketing strategy. If you are a marketer, you will invest in tools and methods which are both cost-effective as well as result-oriented. Compared to many marketing channels such as Print Ads, Television Ads, and Digital Campaigns, SMS proves economical. You just need to have an SMS platform through which you can shoot various types of SMS campaigns even in multiple languages.
3- Increasing Penetration of Smartphones
Smartphone subscriptions are continuously rising as devices are getting cheaper and purchasing power of consumers increasing. As per Statista, the number of global smartphone users is estimated at 6.4 billion. Although A2P SMS does not completely rely on a smartphone as basic phones also solves the purpose of marketers, Smartphones make communication effective and engagement level better. Two-way communication and instant purchasing decision are some perks of smartphones.
4- Trusted Method of Communication
Nowadays P2P messaging is decreasing due to OTT channels but A2P messaging is increasing. When it comes to communicating with enterprises or financial institutions such as banks, users mostly rely on text messages. Even for brands, they are sure of the delivery of the SMS as it does not require any sort of internet connectivity.
5- A Preferred Method of Communication by Financial and Govt. Bodies
A2P Messaging is usually preferred over OTT Messaging by Govt. bodies, financial institutions, insurance companies etc.  Usually, for transaction alerts, OTP messages and reminders, text messaging is used. Branded Short Codes are used by senders to differentiate themselves from one another. Also for broadcasting A2P messaging over an OTT channel also a broadcasting channel is required.
Opportunity for SMS Players
Going forward richer forms of messaging, like RCS, will boost the customer engagement potential for enterprises but A2P SMS will remain a preferred method owing to its reliability and reach. SMS players such as SMS Aggregators, MVNOs, MNOs and Service Providers have a huge opportunity for monetization. They just need to prepare the appropriate strategy and target the right market. Selecting a reliable SMS Gateway is also a crucial part.
Looking for an SMS Platform?
Read Also