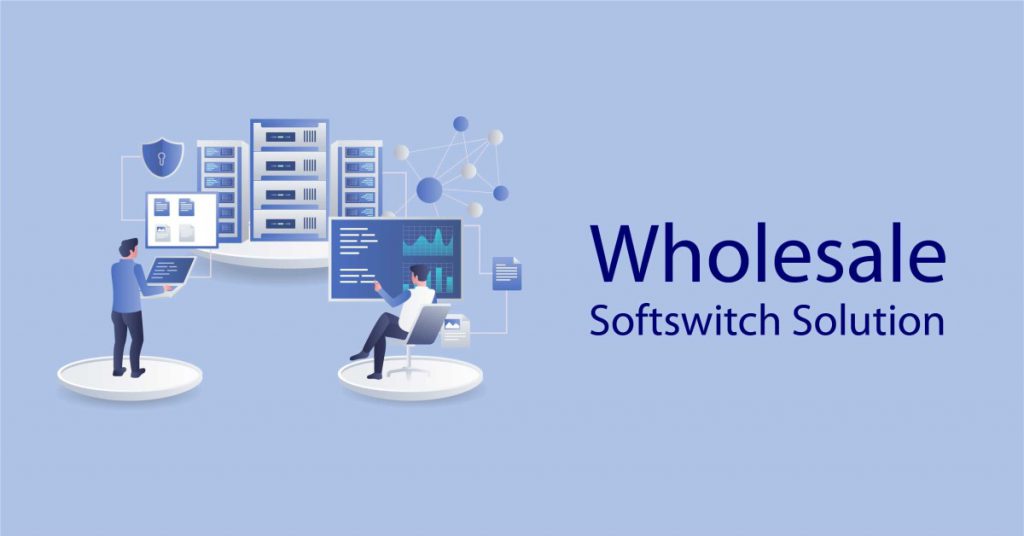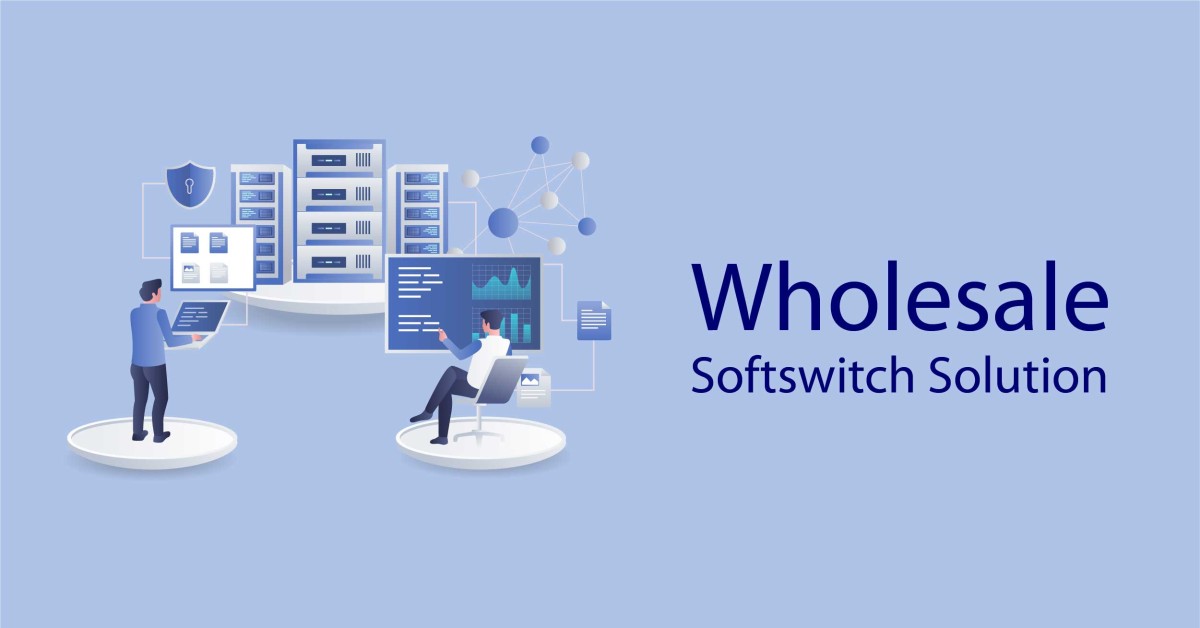 According to a report, the global VoIP market is expected to experience significant growth during the period 2017 – 2024. It is likely to generate US$ 194.5 Billion in revenue towards the end of the year 2024. Due to its continuously evolving landscape and so much innovation happening every single day, the adoption and usage of VoIP solutions have become imperative for VoIP businesses. In this post, we will be discussing the wholesale VoIP softswitch solution, its key features, and how a business should choose the right softswitch.
What is a Wholesale Softswitch Solution?
A few years back, hardware-based class 4 switches were dominating the wholesale VoIP business. However, with the cloud technology gaining popularity, software switches started replacing their hardware counterparts. Also known as Wholesale Class 4 Softswitch, it is a solution used by service providers who deal in the wholesale VoIP business model. The basic function of a wholesale softswitch is to allow the transfer of traffic between carriers over long distances. This type of softswitch generally handles routing of large call volumes.
How Does a Wholesale Softswitch Work? 

Let's take a look at the step-by-step procedure of how a wholesale softswitch works:
Call Initiation
The first step of the process is the origination of the call. This is done by a customer or a subscriber from the origination network. For instance, a customer makes a call using his mobile phone using one carrier's network.
Call Routing Request
For this initiated call, a call routing request is sent to the wholesale softswitch by the origination network. Along with this request, information about the call such as the destination phone number, origination phone number, etc., is shared.
Database Lookups
Upon receiving the call routing request, the wholesale softswitch performs database lookups to identify and select the best route for the call. The selection criteria include consideration of several parameters such as the quality of service, the cost, and agreements with other carriers.
Carrier Interconnection
Upon lookup, if the softswitch finds that the call needs to be routed through a different carrier, then it first establishes a connection with the appropriate carrier. This is done either by establishing a direct physical connection or an IP-based connection via the Internet.
Call Routing
Then the call gets routed via the selected carrier which involves the usage of VoIP and other telecom protocols so that the call is transmitted over the network.
Interconnect Billing
The wholesale softswitch maintains a record of details related to the call such as the call duration. This type of information is important for billing and settlement between carriers.
Call Termination & Completion
The call reaches the recipient's network which is called the destination or termination network. This network routes the call to the intended recipient which indicates the completion of the call. Here, the transmission of voice data happens between the point of origination and termination.
Call Logging and Reporting
The wholesale softswitch logs important details related to the call such as the duration. This type of information is useful for generating bills, ensuring quality, and optimization of the network.
Post Call Operations
Once the call gets completed, the wholesale softswitch performs post-call operations such as billing and generating CDRs.
Benefits of Wholesale Softswitches for VoIP Providers
Enhanced Efficiency
There are multiple ways in which softswitch offers enhanced efficiency to VoIP providers.
By efficiently routing incoming and outgoing calls along with minimizing call set-up time, wholesale softswitches cut down latency and improve the overall performance of VoIP calls.
Wholesale softswitches accurately track crucial call parameters such as duration, origin, termination, etc. This helps in automating the billing process as well as simplifying the revenue and reporting for VoIP service providers.
Wholesale softswitches allow VoIP providers to expand their services easily. With this highly scalable nature of softswitches, VoIP providers can add more lines and resources to align with the growing demands of their business.
Global Reach
Wholesale softswitches play a crucial role in helping VoIP providers achieve global reach.
By facilitating interconnection between VoIP providers and carriers worldwide, softswitches let VoIP providers offer international calling services.
Softswitches also allow VoIP providers to offer virtual phone numbers for different countries, through which customers get to have a local presence in various locations/ regions around the globe.
Softswitches support peering agreements with carriers across the globe, thus helping VoIP providers to expand their network globally without investing in physical infrastructure at every location.
Redundancy and Reliability 
Softswitches offer redundancy and reliability in the following ways:
Softswitches can be configured with redundancy and failover mechanisms can be employed to ensure continuity in service. In the event of failure of a route or server, traffic or calls are routed to backup servers and paths.
Softswitches ensure efficient resource utilization by balancing call traffic across multiple servers and thus preventing overload on any single server.
Enhanced Security
Wholesale softswitches ensure the security of VoIP communication by the following means:
By supporting encryption protocols that help in securing data transmitted during the calls.
Softswitches come with fraud detection mechanisms for monitoring any kind of abnormal behavior thus helping in detecting and preventing fraudulent activities.
Implementation of robust access control measures is another way through which softswitches secure access to a network.
Support for Various VoIP Protocols 
Versatility is a key feature of the softswitches as they support various VoIP protocols:
Softswitches support SIP i.e. Session Initiation Protocol thus offering compatibility with different SIP devices and applications.
Codec Flexibility is yet another way through which softswitches allow VoIP providers to choose a suitable option among the various audio codecs and ensure optimal call quality.
Key Features of Wholesale VoIP Softswitch
Some of the key features supported by a wholesale softswitch are as mentioned below:
Integrated Billing system
A wholesale softswitch without an integrated billing system can cause trouble and mess. Using a separate billing software may arise lots of issues like incompatibility, improper functionality, etc. A wholesale softswitch should have features like real-time billing and multi-currency support.
Efficient Routing
A softswitch capable of implementing different types of routing can generate maximum profits. Least Cost routing (LCR) is quite important as it helps the switch to detect the outbound line that costs the least. Further, Percentage Routing ensures that the softswitch will transmit the call through a route that has the highest percentage and in case it is not available, then it chooses the next highest percentage.
Secure Functioning
SIP Topology hiding is an advantageous feature from a security point of view. It is easy for hackers to get into any SIP network if they get access to IP address data sent into the SIP traffic. Topology hiding prevents outsiders i.e. hackers or attackers from stealing the IP address data and thus secures the network.
Reporting
Generating reports is one key feature that helps in tracking performance of the business and making decisions for its growth. A softswitch that can provide reports for calls including incoming, outgoing, active, and unauthorized, etc. can be very useful for the business. Reports for traffic volume, payment, sales and revenue can also be looked for.
Scalability
The softswitch must be able to support the increasing demand for the number of concurrent calls and call per second support. A softswitch that is not able to fulfill your increasing business requirements can become a roadblock to business's growth.
Use Cases of Wholesale Softswitch

Let's take a look at the use cases of wholesale softswitch across different types of industries:
VoIP Service Providers
A wholesale softswitch lays the foundation of any VoIP service and acts as the central unit for call routing, billing, and management of traffic. It is a valuable and crucial component for VoIP service providers as it helps them manage large amounts of traffic without any difficulty.
Charging the customers accurately is essential for VoIP providers and softswitches let them do this by providing correct and detailed call records and billing information.
Wholesale Softswitches can easily scale up to accommodate the needs of growing traffic thus enabling VoIP service providers to expand their customer base.
International Calling Services 
The call quality is of paramount importance for international calling services. Softswitches offer features like QoS monitoring and traffic prioritization that help in maintaining the quality of calls.
Softswitches enable global connectivity by connecting to multiple carriers across the globe and thus enable international calls to flow seamlessly across different networks.
Softswitches ensure that international calls are routed through the most cost-effective routes, by connecting with multiple carriers and choosing the best route for every single call. This helps in reducing operational expenses significantly.
Call Centers 
Call Routing and Load Balancing
Softswitches are used by call centers to efficiently route calls to the available agents. It also makes sure that calls are patched to the right or intended agents. This helps in reducing wait times and improving customer experience.
Call centers require maximum availability of their services. As softswitches support redundancy and failover mechanisms, they ensure that services remain uninterrupted whenever there's a network issue or hardware failure.
Advanced Call center features offered by softswitches are quite useful for enhancing call center productivity and customer satisfaction. Some of the popular features are Interactive Voice Response, Call Recording, and Call Analytics.
Telecom Carriers
For seamless exchange of traffic and expansion of network reach, telecom carriers make use of wholesale softswitches to interconnect with other carriers and service providers.
With the help of softswitches, carriers can manage and optimize traffic flow, and prioritize the traffic to ensure efficient utilization of resources.
Softwitches support various types of services including voice, data, and multimedia. By using softswitches telecom carriers can offer diverse services to meet the evolving needs of customers.
How to Choose the Right Wholesale Softswitch Provider?
Though wholesale VoIP calling is a competitive business, there are endless opportunities as well. If you too are interested in starting a business as a wholesale VoIP service provider or looking forward to replacing your hardware SBC with a software-based SBC, then keep these 3 points in mind:
Features
There's a list of 'must-have' features already mentioned above in this post. It is good to look for these features when searching for a wholesale softswitch, however, avoid too many features as it may add complexity to the working and usability of the softswitch.
Reliability
Keeping in mind the criticality of the wholesale VoIP business, it is important to look for a solution that exhibits dependableness and robustness. Your vendor should have a good reputation in the market with a history of trustable services.
Support
There's no denying the fact that you will need help from the support staff even after your softswitch is working completely fine. Your team may require an understanding of certain tasks that can be provided by support engineers. So check for the availability of post-sales support to ensure that you get help instantly whenever required.
Conclusion
There are a lot of different options available for class 4 wholesale softswitch, you just need to choose the one that fits well with your current needs and can support the future needs of the business. Get in touch with us to know how we can help you with making the right choice for wholesale softswitch.
Read Also
Note- This post has been updated with latest information on 29-09-23.