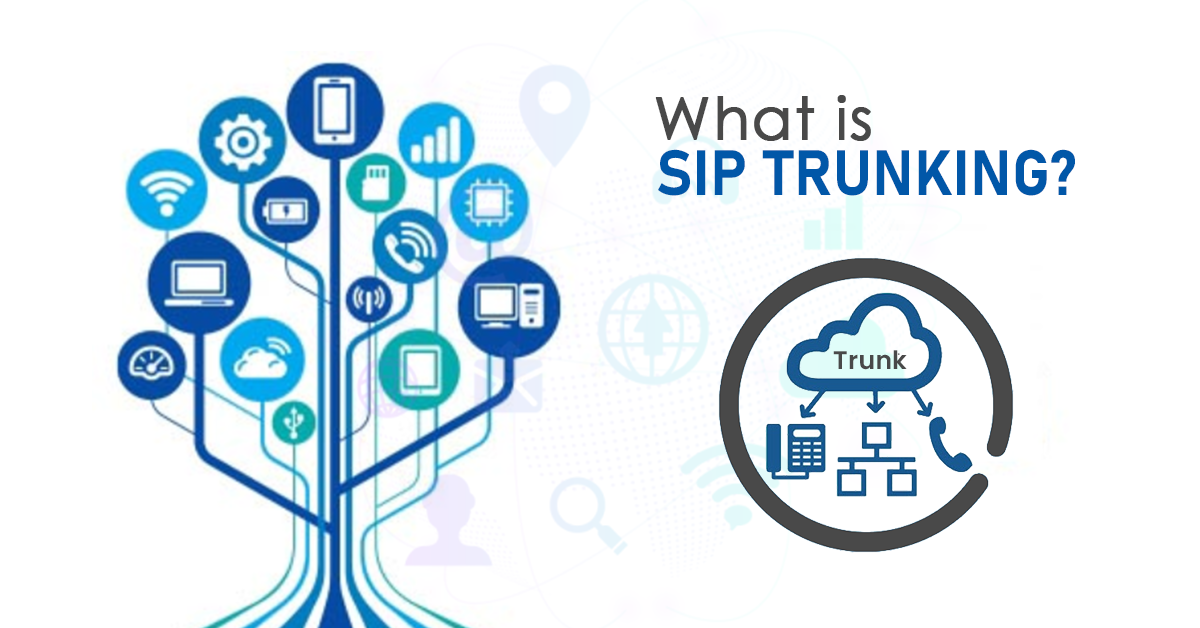 Session Initiation Protocol (SIP) trunking is a widely known communication solution that allows businesses to connect their existing PBX system to the public switched telephone network (PSTN) through the internet. This technology has gained popularity due to its cost-effectiveness, scalability, and ability to integrate with other communication technologies.
However, if you are not familiar with this technology, then this blog will provide you with comprehensive information to understand SIP trunking, how it works, and the benefits it can offer to businesses of different sizes. So let's get started!
What is SIP Trunking?
SIP trunking is a communication technology that enables businesses to make and receive phone calls over the internet instead of traditional phone lines. SIP stands for Session Initiation Protocol, which is a standard protocol used to initiate, maintain, and terminate real-time communication sessions, such as voice and video calls, over the internet.
How does SIP Trunking Work?

The common steps of how calls are made using SIP trunking solutions are:
The first step is to select and signup with a SIP Trunk provider. Once done, the business will receive phone numbers and credentials from the provider to set up their connection with the provider's network.
In the next step, the business configures its existing phone system with the SIP provider's network by setting up SIP trunks using appropriate credentials and settings.
Now when a phone call is made or a phone number is dialed, it gets routed to the PBX which transmits the call to a SIP trunk on the provider's network.
As a reply, the SIP trunk opens a VoIP session with the number, and the call is processed and established.
Then comes the call handling part, where the data is transmitted over the internet in real-time. To handle the call, various features such as call recording, call transfer, and call hold can be used.
Once the call is completed, the SIP trunk terminates the session.
Benefits of SIP Trunking
SIP is a powerful technology that offers numerous benefits to businesses regardless of their size. Here's a list of some of the major benefits:
The very first benefit of SIP trunking is cost savings. This is because there is no physical equipment required in setting up the system, and installation cost is significantly reduced as compared to other solutions where cabling work is required. Businesses can simply make calls using the internet which is less expensive.
The next benefit of SIP trunking is scalability and flexibility. Phone lines can be added and removed as and when needed without any investment in additional hardware or software licenses. So it's an ideal choice for growing companies or businesses that experience fluctuations in their call volumes.
Another key benefit of SIP trunking is its flexibility. It allows employees to make and receive calls using any device such as a laptop, mobile phone, tablet, etc., offering complete convenience to those working from remote locations.
When it comes to integrating other communication tools into the phone system to streamline communication and collaboration, SIP trunking lets businesses do so quite easily. This helps employees in working together and get things done effectively and efficiently.
SIP Trunking vs. Traditional Phone Lines
By now, it is clear that SIP trunking and traditional phone lines both provide a way for businesses to communicate by making and receiving phone calls. Both these technologies have their certain advantages and disadvantages, as mentioned below:
Transmission
Traditional phone lines use a physical connection typically copper wires to transmit voice data over PSTN. This physical connection is limited by the number of available wires, which is a costly process. In terms of functionality, traditional phone lines offer only limited features such as call forwarding and caller ID.
On the other side, SIP trunking makes use of the internet to transmit voice data eliminating the need for hardware and wires. There is flexibility in the number of lines used and is certainly cost-effective. In terms of features, there is a much wider range as compared to traditional lines. 
Scalability
This is another factor where SIP trunking beats the traditional lines. Through SIP trunking, businesses can scale up and down by adding and removing SIP trunks to align with the changing demands of their business. For remote workers, this proves to be a great advantage as they can connect with the phone system by having access to a strong internet connection. However, traditional lines have fixed capacity. To scale up, additional physical phone lines must be added which again adds to the cost and takes time.
Configuration
When it comes to the ease of configuration, SIP trunking is certainly better than traditional phone lines. SIP trunks can be configured using web-based portals and wizards, however traditional; phone lines require manual installation which needs high expertise and more time.
Reliability
This is a parameter where traditional lines are ahead of the SIP trunking. This is because SIP trunking works over the internet, so if the internet connection is slow or unreliable then it can cause result in poor quality of service of the phone system. Traditional lines are less susceptible to issues like internet outages, power outages, etc.
SIP Trunking vs Cloud PBX: Which Is Right for Your Business?

It is true that both SIP trunking and Cloud PBX are popular solutions used by businesses to fulfill their communication needs. While both technologies offer reliable and efficient communication, there are some key factors that differentiate these from one another, as mentioned below:
SIP Trunking solutions connect business phone systems to the public switched telephone networks over the internet. With this, businesses are able to take advantage of internet-based communication, such as lower investment. Through SIP trunking, communication technologies like instant messaging and video conferencing can be integrated into the PBX.
On the other side, Cloud PBX is a unified communication phone system that is hosted in the internet cloud, rather than on-site. In simple words, a business doesn't need to invest in expensive equipment and installation to set up and run its phone system. Cloud PBX offers features such as voicemail, call forwarding, etc.
Are you still thinking about which option is the right choice for your business? Well, here are some points to help you:
Cost
In cloud PBX, a business doesn't need to invest in PBX servers because the service provider takes care of that. Now, that the phone system runs over the internet cloud and you don't need to buy any extensive hardware, your initial setup cost is saved. This can be as low as several hundred dollars.
In the case of SIP trunking, your savings depends on the on-premise PBX that you already have. So if your equipment is really outdated and then you might have to invest in buying a new one. Also, you may need to pay for the VoIP gateway along with any installation or configuration charges.
Key Takeaway- If you don't currently have a PBX, Cloud PBX services will be the better option. But if you have one, then you must consider the benefits of SIP trunking. A lot of your equipment can be reused which will save you significant money on your current PBX bill.
Technical Expertise and Maintenance
In the case of Cloud PBX, your service provider will be handling the maintenance of the server and software. Also, technical challenges such as outages and disruptions are on their part. So you don't need to make any investment in all these activities.
In the case of SIP trunking, the PBX is locally installed, which means servers are stored on your premises. So you'll need a team of IT experts to look after the equipment along with the tasks of updates and troubleshooting.
Key Takeaway – Your ultimate objective is to establish a stable business phone system and to achieve that any investment would be worthwhile as long as it guarantees high quality of service.
Size of the Business
Hosted PBX services are generally considered a good option for companies with a lesser number of employees. Those startups and small-sized businesses, say up to 20, can avail of high-quality phone services by opting for hosted PBX services.
Now, when it comes to organizations that have more employees and are growing rapidly, it is always a better option to go for SIP trunking
Key Takeaway – Figure out your current employee count along with the planned number of employees. Also, consider whether you currently own a PBX system or not.
Call Quality
With cloud PBX, the call quality depends largely on the internet connection. Unstable connections and outages can badly affect the quality of your calls.
However, in the case of SIP trunking, a business can use a dedicated line or have a backup connection that they can switch to whenever required. The only thing to ensure here is that always choose a provider that uses a Tier-1 carrier network to experience the highest possible call quality.
Key Takeaway – Analyze your internet connection and the volume of calls to choose the right option.
Security
As with other activities, security is also looked after by the service provider when we talk about hosted or cloud PBX. So as a business, you depend on your service provider for the security of your PBX. If you are in good hands, then there's nothing to worry about.
In the case of SIP trunking, you can expect superior security. The security of your Phone setup will depend upon your own security policies and how well you are able to maintain them.
Key Takeaway – Analyze other factors such as your staff size and budget before making a decision.
Future of SIP Trunking
As a matter of fact, the future of SIP trunking looks highly promising. More and more companies are switching to VoIP solutions like SIP trunks as their primary mode of communication. This is because of the tremendous advances in cloud computing technology allowing businesses to leverage several benefits including lower costs and increased functionalities. In addition to this, state-of-the-art security measures add to the reliability of these services thus inducing confidence among the organizations to utilize them without worrying about data breaches and cyber attacks on their networks.
And there's even more! The consistent incorporation of new functionalities offers more flexibility in managing communication across an organization or its different global locations, thus making them more appealing to businesses looking for a comprehensive yet economical telephony solution, today as well as in the future!
How to Choose the Best SIP Trunking Provider?
If you are looking forward to selecting the best SIP trunking provider for your business, it is advisable to consider these factors:
Features
Look out for advanced features such as call routing, auto-attendant, call recording, etc., from your SIP trunk provider. You can also ask them for customization and integrations in terms of features that can benefit your business.
Reliability
A business cannot survive in the market if it does not offer reliable solutions. So make sure you opt for reliable services that guarantee minimal downtime. To ensure this, you can check the Service Level Agreement of your provider.
Price
The cost of the service is an important aspect that you should not ignore. Ask your provider about the cost of calling, monthly charges, setup fee, and if there are any other hidden charges.
Scalability
Certainly, you want to avail services from a provider who can handle your current call volume needs and can also scale up and down in the future according to the requirements of your business.
Support
Initially, the need for support services from your provider may not appear essential, but you should not miss this step. Rather, go with a provider that offers 24/7 support and an instant response time.
You can consider these factors and compare different SIP trunking providers to shortlist a few and then finalize the most appropriate one.
Read Also