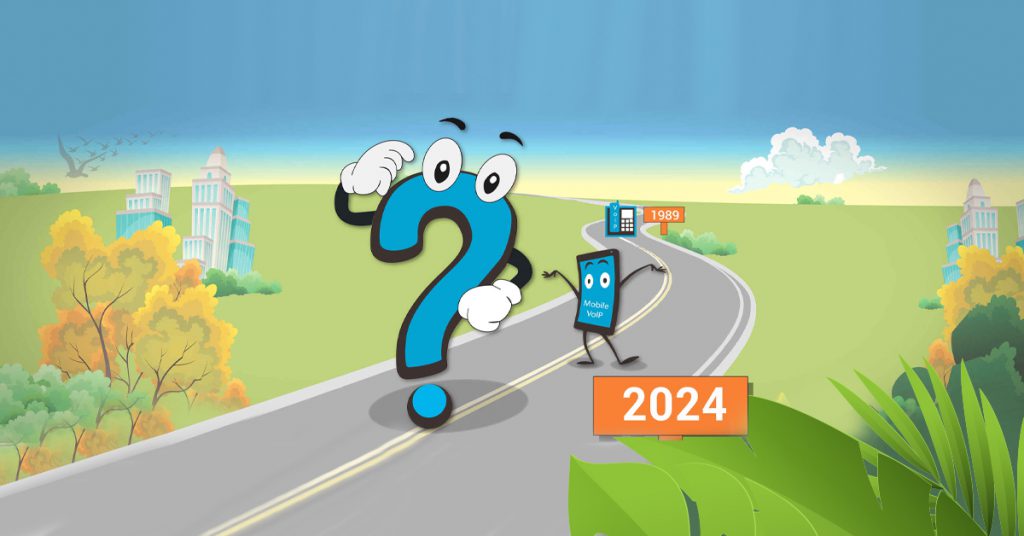 Grand View Research, Inc. reveals that the global Mobile VoIP market is expected to reach USD 145.76 billion which is up to 28% by 2024!
What a pleasant transition of VoIP service to Mobile VoIP after 20 years of launching! Popularity of wireless devices like mobile phones, tablets, etc., is growing day by day, not only at personal level but also at Enterprise level. Enterprises are relying on mobile VoIP features for official communication rather than traditional landline connection or GSM calling option. Moreover, they are letting BYOD (Bring Your Own Device) in order to ensure maximum use of resources using VoIP for bigger cost saving and optimizing the utilization of resources.
Mobile VoIP – Current Trends!
As per statistics, the number of smartphone users in the world today is 6.64 billion. This number is expected to reach 7.33 billion by the year 2025, as per the forecast figures by Ericsson and Radicati group. These statistics make "Mobile VoIP" a name of revolution for doing long distance, international calls at a very lower rate. User dependence on flexible features of mobile VoIP are taking mobile VoIP to a new edge of success.
What are those "flexible features" of Mobile VoIP? By using wireless mobile phones as a VoIP device, it's cheap and user-friendly to make international calls, roaming calls, sending instant messaging & more. At present, by the blessings of good quality and high speed 3G, 4G, LTE, Wi-Fi, VoIP market leaders are embracing Mobile based VoIP  services.
Mobile VoIP – What's Ahead?
Few years ago, it was just the future of VoIP service. Now, mobile VoIP apps are among the most popular applications with exciting cost-effective features offered by VoIP Service providers. But what is the future of Mobile VoIP?
According to figures, the mobile VoIP market is expected to reach 58.21 billion by the year 2025. Can you guess what services of mobile VoIP will dominate the future market? Unified Communication service for enterprise communication and unique features of Mobile OTT service, etc. are the future of mobile VoIP. It will be a huge business opportunity not only for MNOs, MVNOs, VoIP Service providers, Carriers, ITSPs, ISPs but also for emerging new entrepreneurs.
Unify your corporate communications with your smartphone
Unified Communications Market size is projected to reach USD 96.0 billion by 2023; as per a new research report by Global Market Insights, Inc. (Source- Global Newswire)
What is Unified communication or UC? UC is an extraordinary feature of mobile VoIP which lets you make use of business communication functions and features via a mobile phone. For example, not only in the office but also from remote places, you can remain in touch with your office work, access corporate directory information, securely send messages to colleagues anytime, check the presence and availability of other colleagues, log into your office voicemail through your mobile handset.
Popularity of Unified Communications Platforms
According to statistics, 81% of employees feel that collaboration apps improve the overall productivity of the company. Leaving behind the legacy systems, companies are undergoing digital transformation.
UC requires downloaded client software, so make sure it works with your handset. It's really popular among the corporate culture because UC is a highly secure platform for transmitting any sensitive official information. So, Enterprise officials can easily rely on the platform.
Since the Covid 19 epidemic happened, the demand for remote work increased dramatically along with the BYOD culture. With this, there has been a surge in the demand for standardized enterprise communication tools providing growth opportunities for companies operating in the unified communications market.
Ease Your Life with Mobile OTT
Experts say OTT app usage will grow to a $120 billion industry by 2022, and $200 billion by 2024. Mobile OTT is the most popular service of Mobile VoIP. Using Mobile OTT apps, users can experience all the real-time instant features (Calling, Messaging, File Sharing) through a secure platform. The Mobile OTT is popular because of its cost-effective features and friendly real-time communication experience. In fact, some solution providers also offer customizing options for mobile OTT which can be a great business opportunity in future. WhatsApp, Skype, Facebook Messenger, Viber, Telegram are some of the popular free mobile OTT apps.
Besides calling and messaging features, Mobile Top-Up and International cheap calls are also few emerging opportunities for new and existing entrepreneurs. Mobile Top-up was a stress, but with the help of advanced VoIP apps, one can flexibly recharge any GSM number, add mobile VoIP minutes, and send VoIP minutes to FNF from any location. For this process, they can even use the same PIN they use for other features.
In this world, there are huge numbers of expatriates living far from their home to earn livelihood who need to buy VoIP minutes for doing cheap international calls to their home. Global mobility has spiked significantly over the past few years. If new/ existing mobile VoIP entrepreneurs target these expatriates, it's a huge market which can be a real business opportunity.
FMC (Fixed Mobile Convergence)
Fixed Line Convergence is another area which seems to be worth investing in. Let's consider a scenario – You have provided both your personal and business number in your business card. Now, if you give both the numbers in your business card, your client may get confused which number to call to reach you easily. In this case, mobile VoIP can help through a Wi-Fi or internet device. Basic FMC (fixed-mobile convergence) makes it possible for incoming calls to your business number to ring both, your office and mobile phones, as well as any other phones you specify, at the same time or in sequence. Most IP phone systems offer such capabilities.
In simple words, it helps in filling the void that exists between fixed and mobile communications and thus breaks the barrier to work and communicate outside the office walls.
Conclusion
Unquestionably, the mobile VoIP market presents several innovative opportunities to invest in. This market is on a continuous rise and will remain so for several years in the future.

Read Also
Note- This post was last updated in 11-01-2022.