Nowadays Mobile VoIP apps are used for multiple purposes like connecting with brands, browsing merchandise, and watching content other than just chatting with friends. A recent stat reveals that in a list of the top ten apps most used globally, at least six of them are messaging apps. Many people run remote businesses by installing simple business app solutions that ease the business person to connect and communicate with clients from wherever s/he goes, even miles away from desk/home phones.
Thus, mobile VoIP apps have changed the whole concept of both personal and business communication. A Grand View Research, Inc. survey says that the global Mobile VoIP market is expected to reach USD 145.76 billion which is up to 28% by 2024!
Understanding Mobile VoIP
Before we began discussing the mobile VoIP features, it is a good idea to understand the basic concept of mobile VoIP. So, VoIP i.e. Voice over Internet Protocol is a technology using which calls can be made and received using internet-connected mobile devices. Mobile VoIP is a very popular alternative to traditional phone systems that make use of traditional networks which are expensive and less flexible. 
Mobile VoIP applications can be installed on any mobile device such as smartphones and tablets. The only requirement is that the device should be connected to the internet. The flexibility and convenience offered by mobile VoIP apps are simply irreplaceable. Users can stay connected and enjoy calling just from anywhere in the world using any internet-enabled device.
In a successful and competitive current market, hundreds of millions of mobile messaging app companies are fighting hard to best prove themselves, introducing lots of fancy and user-friendly features. The largest and most successful services have hundreds of millions of monthly active users (MAU). For instance according to Statista, below is the depiction of the most popular mobile messenger apps, as of January 2023, based on the number of monthly active users: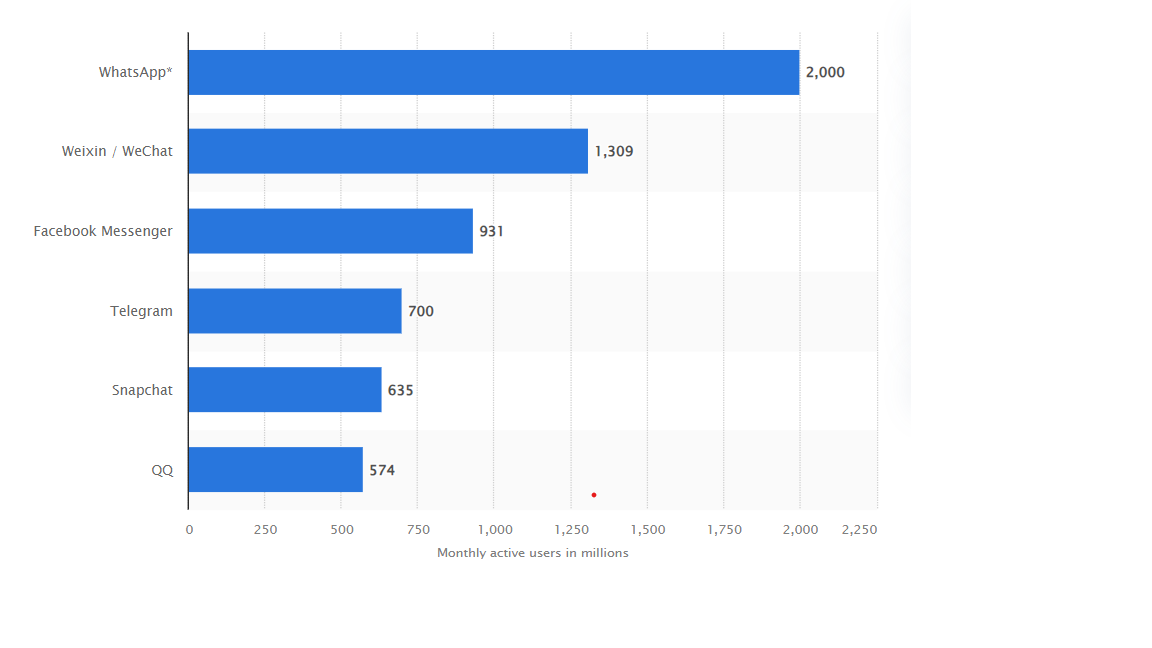 Can you believe it? What do you think of their increasing growth? Probably, incredible user-friendly experiences through cheaper devices, and improved features are helping propel their growth.
Mobile VoIP Features To Boost Your Business Revenue
So, do you think you stand a chance to do well in this competitive industry? Whether you already exist in the market or you are a potential future entrepreneur, you must know about some must-have features to be included in your mobile VoIP product, to come at par with your business competitors.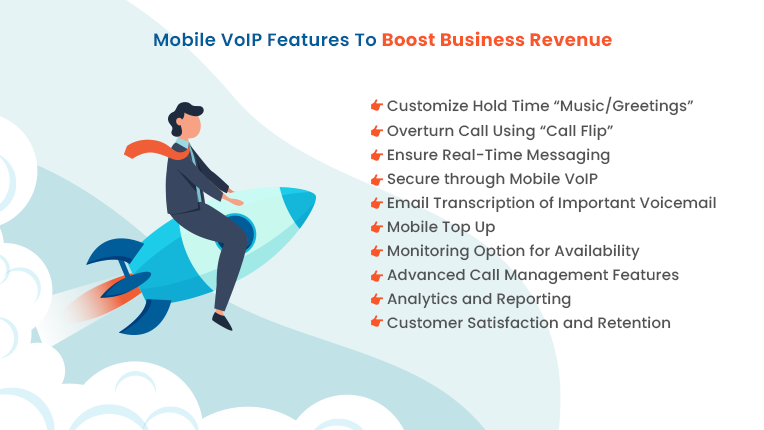 Messaging App features should contain friendly options for both business and personal communication. The main challenge is to merge both needs together. So, what are the unbeatable features? Let's look at some must-have features in your Mobile VoIP:
Customize Your Hold Time "Music/Greetings"  
Every call is important in your business and you need to ensure that your customers do not feel bored when you place their call on hold for some reason. A professional voice greeting helps you make the best first impression possible for your customers. So, this mobile VoIP feature enables you to plan for your customer call holding time, other than terrible elevator music or worse, silence. You may play different audio records, which hold useful/ interesting information, personal greetings, voice prompts, etc., to make your customers' call hold time boredom free. Additionally, you can also greet clients with different messages, depending on who's calling and when.
Overturn Your Call Using "Call Flip"
A simple feature that allows you to handle both, your business & personal calls smoothly. But how does it work? A user can transmit an ongoing call from one device to another within the same extension, without hanging the call. Isn't this an amazing idea? For example, if you are continuing a call on your desktop with your boss but need to go outside for some appointment. the VoIP special feature "Call Flip", lets you carry on with that call outside your office too. If you are within the same extension and you have this fabulous feature installed in your VoIP phone, then you are good to leave the desktop phone by flipping it to your Mobile VoIP!
Ensure the Quickest and Real Time Messaging
Messaging is a popular way of communication nowadays, not only in personal communication but also in business/ corporate communication. According to a report, the open reading rate of mobile messages is 98% versus 22% for email.
This evolution of communication technology has led users to give up on previous methods such as email, or at least made them less reliant. The email has lost its charm over mobile VoIP messaging due to its quicker, cheaper, informal, and more user-friendly way. It even lets you experience the real thing by displaying a message- "XYZ is typing"!! This message increases real-time experience for the users and they don't pause after sending a message.
Secure Your Business Phone through Mobile VoIP
As discussed earlier, enterprise/business communication is under a shift from email to mobile VoIP. Some critics argue that using one's own device for work may make it impossible for users to keep their personal and business communication separate while assuring security at the same time. But with a mobile VoIP app, this isn't the case.
With a proper security layer, users can in fact send & receive calls, text messages, and faxes using any of their numbers. To ensure security for sensitive business communication, every solution provider offers different planning and deals like end-to-end encryption.
For instance, some solution providers set up the application server on the client's own premise, to ensure maximum protection. This helps them protect their privacy while projecting a professional image at the same time.
Email Transcription of Important Voicemail
Voicemail to email transcription transcribes your voicemail messages to text and sends them to a preferred email. You don't have to worry about furiously scribbling names, numbers, and addresses. Take your time and read them in your email at your leisure. This also allows you to file, organize, delete, and search all your voicemails in a way that would otherwise be impossible.
Mobile Top Up
Lets your clients or customers top up or transfer their remittance, and money, as well as pay different types of bills using the Mobile VoIP apps. This feature boosts clients' comfort and allows them a hassle-free life. Moreover, people are really moving to e-commerce and this feature will be the most helpful option for the online/ freelancer business worker, to receive or pay payments using Mobile VoIP.
Monitoring Option for Availability
The Presence Monitoring feature indicates whether your contacts are available, away, or on an active call. If you're managing a team of agents based in different locations or if you're stepping away from the office for a few hours, this feature will be helpful in tracking the phone status of your employees in real time. It also allows users to communicate more effectively with colleagues and staff by calling or sending a message when they know the recipient is free to take their call or message.
Advanced Call Management Features
Mobile VoIP offers a wide range of advanced call management features that empower businesses to take control of their calls and improve their user experience and communication efficiency. Some noteworthy features are mentioned below:

Call Forwarding is one of the key features to ensure that no business calls get missed. It simply forwards an incoming call to another number or device, when not answered primarily. 

Call transfer is quite useful in transferring calls from one agent to another agent or department to ensure that communication happens smoothly within teams. 

Call Recording functionality records conversations and use those recordings for quality, training, and compliance as and when required. 
Analytics and Reporting 
Call Reporting and Analytics is another important feature that provides businesses with insights to call data in the form of comprehensive reports that helps them make data-driven decisions to improve their overall business performance. These reports are generated by the system on the basis of various call metrics such as call duration, call volume, call quality, etc. Businesses can identify and understand call patterns and identify peak hours to efficiently allocate their resources. Also, analytics and reporting tools help in tracking call costs and expenditures. Besides this, analytics and reporting in mobile VoIP also perform real-time monitoring, call recording analysis, user activity tracking, etc. which can help businesses in many ways. 

Customer Satisfaction and Retention 

Mobile VoIP presents a number of ways that help businesses in boosting customer satisfaction and retention. The number one way is that mobile VoIP ensures high-quality communication by facilitating clear and reliable communication. The second way is by providing easy access to customers whenever they want to connect with the business. They can use any device and get in touch with the team or agent. 
Last Words
So from the above-stated points, it's clear that there's more to Mobile Messaging apps. The first stage of the chat app revolution was focused on growth. In the present and next phases, the company's focus is on building unique and more user-friendly features and monetizing through VoIP apps' massive user base. So, as a Mobile VoIP entrepreneur, one must offer the best comfy features to their users.


Read Also
Note: This post was updated with latest information on 30-06-23.