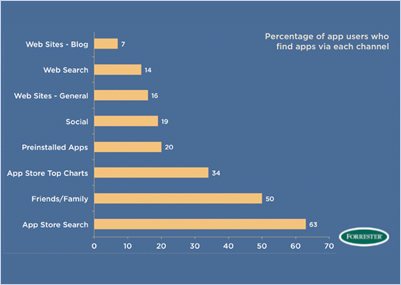 A successful VoIP business relies on the right marketing strategy, which not only helps in making profit but also enhances the brand visibility.
Online advertising is one of the most common tactics adopted by VoIP service providers to acquire new customers. However, in the long run, running ads on Google, Yahoo and other search engines proves a costly affair for SMBEs.
Although these are some of the regular activities, one prime requirement is strong Apps Store presence, which is must for every VoIP service provider. As per a report published by Forrester, a market research company, maximum app users prefer app stores to search for an app more than any other channel.
What an app store presence can do for your VoIP Business?
Provide visibility before millions of data enabled smartphone users
More customer acquisition resulting higher revenue
Enhance your brand image
A report published by Gartner states that total number of app downloads will reach 205.4 billion by 2015. This clearly states what an app store presence can do for your business.

Source: © Gartner (September 2012)
The Right App Marketing Strategy
Although, being present in the app stores increases the possibility to be exposed to millions of visitors, the right apps marketing strategy is the key mantra. Without the right tactics, the visibility of your apps is bound to suffer.
Content is the King
Apps uploaded in the app stores must have detailed description about their features, which facilitates the users to get complete knowledge before downloading. In this age of limited data packages, most users prefer to understand about the features before moving ahead and downloading the applications.
App Screenshots
Your apps in the stores must be supported by screenshots, which clearly communicates the audience regarding the functionalities. Images are always better than running text.
Review Ratings
Reviews & ratings are the best ways to develop customer trust. If your apps are supported by positive reviews and ratings, then definitely there are more chances for users to be convinced regarding the quality. Reviews and ratings also enhance the ranking of the apps in the app stores.
Being a service provider, your prime concern would be to enhance your brand visibility, and app store presence contributes towards the same.
For a free demo please fill the form below:
Read Also