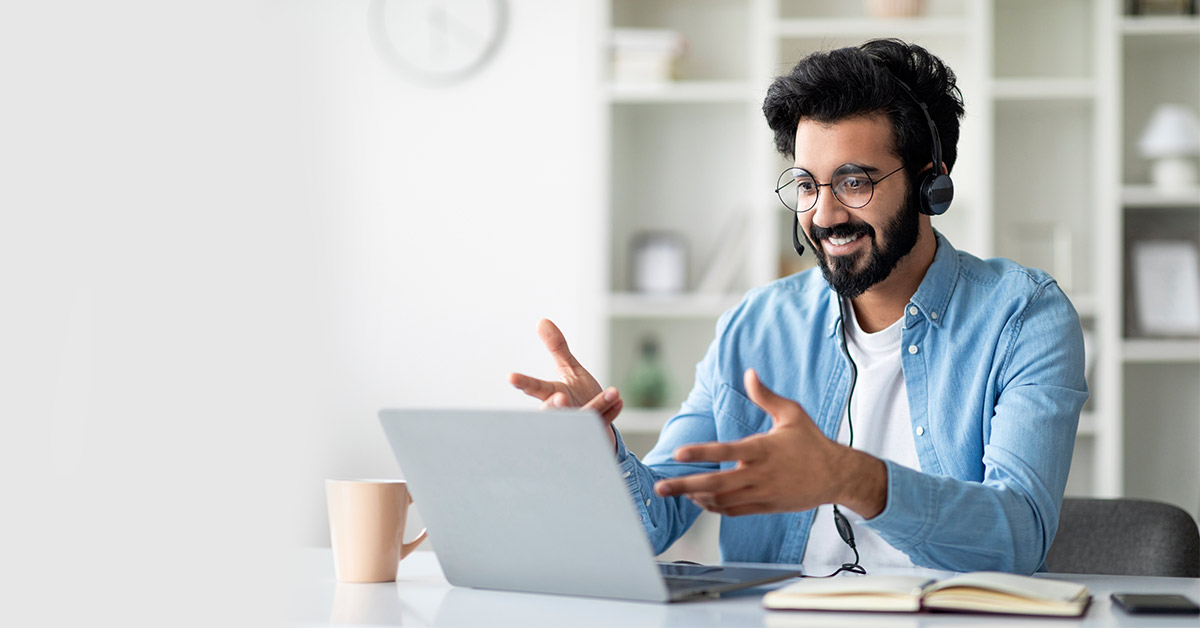 Are you a small business owner juggling with multiple phone lines? Or, you're a startup tired of struggling with poor call quality? Or, maybe you're just a curious mind. Well, this article is going to make your life so much easier. Yes, there's a lot of valuable information here, for each one of you! 
Just grab your cup of coffee and sit back as we dive deep into the world of VoIP Numbers. This is your personal guide to what is a VoIP number, how does VoIP works, and real-world use cases, including the relevance of VoIP numbers with cloud telephony. And, by the time we're done, you'll surely wonder how you ever managed without a VoIP number!
Let's get started!
What is a VoIP Number?
VoIP first started gaining popularity in the year 1990. Today, it has become the go-to telephony technology for businesses around the world. Even the statistics support the same. 
As of 2023, the market size for VoIP in the US was approximately $17 billion. Globally, the market for VoIP technology is expected to reach around $102.5 billion by 2026.
Let's begin with the basics. VoIP stands for Voice over Internet Protocol. A Voice over Internet Protocol Number is just like a real telephone number. However, this number is not associated with a specific, physical phone line. Rather it operates on the internet cloud. This means that a VoIP number can be used to make calls from any internet-enabled device. This could be your laptop, smartphone, tablet, etc. 
Who Uses VoIP Numbers?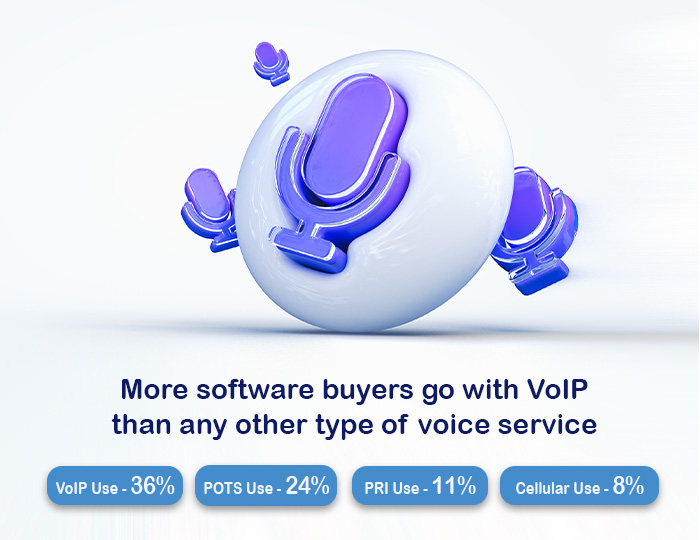 Source- Software Advice 
VoIP numbers are a versatile tool and can be used by a wide range of people and businesses, which include:
Tech-savvy individuals

Startups and established companies 

International travelers
Real-life Examples to Help You Understand Who Uses VoIP Numbers
A freelance graphic designer might use a VoIP number to maintain a professional image.

Another example could be a global corporation that might employ VoIP numbers to expand its reach and offer local numbers in multiple countries. 
What are the Different Types of Virtual Numbers?
VoIP or Virtual Phone Numbers come in different forms. This is something that can provide your business with a valuable advantage when it comes to making calls.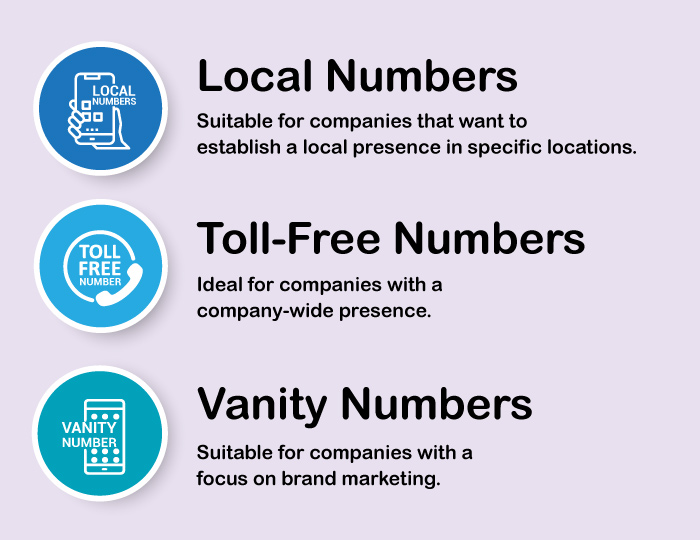 Local Phone Number
As the term suggests, these numbers start with an area code specific to a location. This could be a particular region, city, or state. These numbers are best suited for businesses that are regionally based or have a localized customer base. However, these numbers hold immense value for those who wish to establish their presence in a specific geographic area, even if their base location is elsewhere. 
Let's understand with this local VoIP phone number example:
TechSolutions Inc. is based in Chicago. This company can establish a local presence in New York City and San Francisco using local VoIP phone numbers. They prominently display a New York City number for their NYC customers and a San Francisco number for their SF customers, even though all calls are routed to their Chicago office. This creates the impression of local offices, enhancing trust and accessibility in multiple cities.
Toll-Free Phone Number
As a business, you aim to encourage customers to reach out without any hesitation. Yet, some customers may be reluctant to incur charges for calling your business. This is precisely where toll-free numbers come to the rescue.
Here's a Toll-Free VoIP phone number example:
When a customer dials a toll-free number like 1-800-GO-FEDEX, the business (in this case, FedEx) covers the cost of the call. 
Vanity Phone Number
What if you could brand your business through your phone number? Isn't it a great idea? Well, vanity phone numbers do this for you. These custom phone numbers can be made unique to every business. A vanity phone number spells out a word, name, or acronym using the letters on a telephone keypad. This makes it easy for customers to remember and dial.
Check out this Vanity VoIP phone number example:
"1-800-PIZZA-LOV" spells out "PIZZA-LOV," which could be an ideal choice for a pizza delivery business. 
Why do you Need a VoIP Number?
Are you still thinking "Why would someone use a VoIP number?" The information above already supports the fact that a VoIP business phone number isn't just a bunch of digits. Rather, it's a powerful tool that can be a game-changer for your business. Here are some more reasons why you must get a VoIP number:
Cost-Effective Solution for Businesses Aiming to Save Money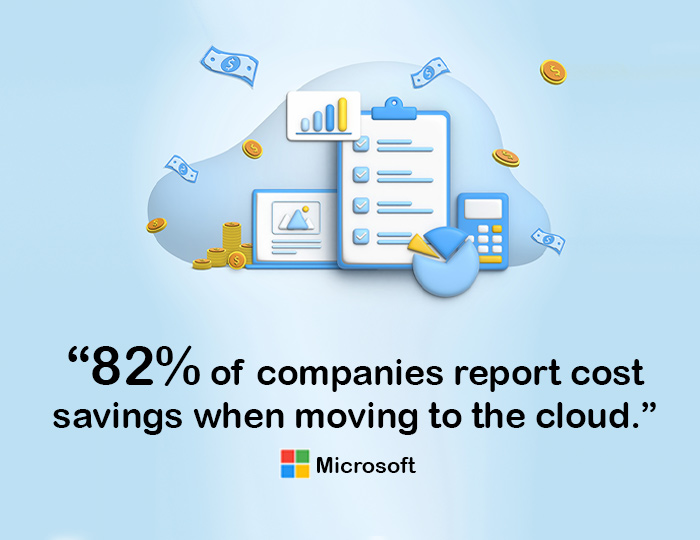 VoIP numbers work over existing internet connections. They usually come in the form of monthly service plans, which are quite affordable. There's no role for traditional telephone infrastructure. This means there's no expensive hardware or maintenance cost. 
Moreover, VoIP numbers are just like building blocks. Suppose, you are an online store that started with one VoIP number. Now as your business gains more customers, you can effortlessly add additional VoIP lines at affordable rates. In other words, you can keep expanding to match your current communication needs without any major cost overhauls.
Offers Excellent Call Quality
One of the biggest benefits of using a VoIP number is that it offers higher voice quality as compared to landline telephone services. VoIP makes use of Codecs to compress voice data for transmission. Modern-day codecs like the G.711, G.722, and Opus offer high audio quality with low latency. The G.722 particularly offers twice the bandwidth of an analog phone call. This results in clear and crisp voice quality. 
Synchronized Communication Across Various Devices
How about having a personal hotline that follows you everywhere? It feels great, right? 
This is another significant advantage of having a VoIP number. It enables you to freely communicate using multiple devices such as your laptop, smartphone, or even your internet-enabled office phone. This means if you are on the move and forgot your laptop, you are still easy to reach via your phone.
How do VoIP Numbers Work?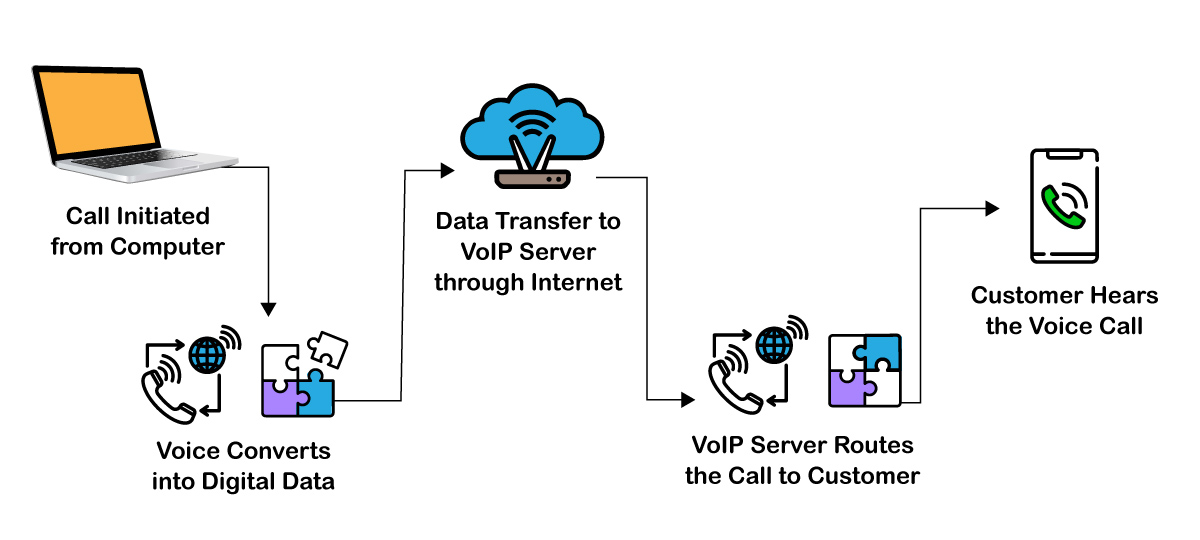 In traditional phone systems, calls are routed through local telephone companies. In the case of VoIP, the 'local telephone companies' are replaced by 'broadband connections'. Here's how a typical VoIP call happens:
With the initiation of a VoIP call, the voice data from the caller is converted into packets. This process is called packet-switching.

These tiny data packets then travel across the internet. They break geographical barriers that confine standard phone calls.

Upon reaching their destination, these packets are re-assembled. The voice data is retrieved and played back. This completes the communication.
9 Useful Features You Can Get with a VoIP Number
VoIP Numbers often come with a variety of features. It depends upon the provider whether these features are free of cost or paid. Here's a list of some of the most common features offered by VoIP services:
1. Call Forwarding
Calls can be redirected to different numbers or devices. This makes sure that calls are never missed, no matter what. 
2. Voicemail-to-Email
Voicemail messages are transformed into email attachments for easy access. 
3. Call Recording
Important conversations can be recorded and stored as files for future reference, training, and compliance. 
4. Auto Attendant
Create automated menus to assist and guide callers throughout the call for a better experience. 
5. Number Portability
Keep your existing phone number when switching to VoIP which saves you from unnecessary work of updating contacts. 
6. Local and International Numbers
Establish the credibility of your business as per the target location with the help of these numbers. 
7. Call Analytics
Offers valuable insights as per your call patterns that help in making informed decisions. 
8. Call Queue Management
Calls can be kept in queue and transferred to available agents for better call management. 
9. Conference Calling
Virtual discussions with multiple participants can be made over calls for better collaboration. 
Difference Between a VoIP Number and a Regular Phone Number
Here's a comparison table to help you understand – "what does a VoIP number mean?" and how it is different from a landline phone number.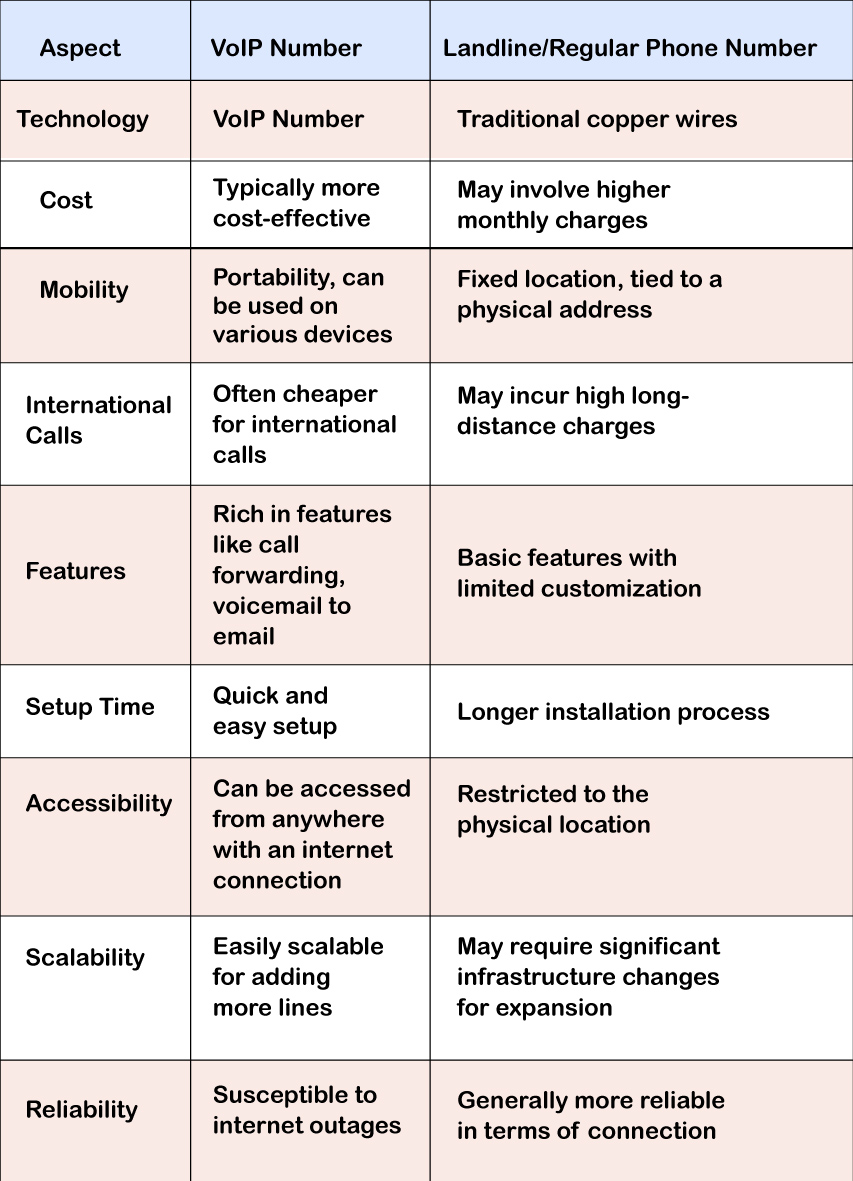 How to Get a VoIP Number for Business?
Getting a VoIP number is a very simple process these days. Here's the step-by-step process. 
Choose Your VoIP Provider
Suppose you are planning to buy a new vehicle. What will be your first step? You'll list all the nearby dealerships and visit them, right? The same goes for the VoIP number. Make a list of VoIP providers and explore those options. While each provider will have its unique features, choose the one that best suits your needs. 
Pick Your VoIP Number or Port Your Existing Number
Consider this as if you are choosing a new home. Certainly, you want the perfect address. With VoIP, you have different options to choose from. For example, you can opt for a local number to establish the credibility of your business or a toll-free number for a nationwide reach. 
If you want to port an existing number, let your provider know. They will guide you through their specific porting process and provide the necessary forms.
Register Your Business Details
You'll need to share your business information such as your company name, address, contact details, etc., with your VoIP provider. It's much like filling your customer profile for an online store. This will help them to set up the service and ensure everything runs smoothly. 
Download the App
This is where the action begins. Now that you've signed up, it is time to download the App on your device, typically, a smartphone or a computer. This is just like downloading any app from your phone's app store. Your provider will share the app details with you. 
Do the Configuration
Consider this as if you are customizing your new vehicle. You can set up the ringtone, call forwarding, voicemail, etc., for your VoIP number. This customization helps in making your VoIP number truly yours.   
Start Dialling
It's time to dial out, receive calls, and watch your business thrive. No matter, if you are on the go, working from the office, or your favorite cafe, your VoIP number is right there with you.
How Much Does a Virtual Phone Number Cost?
The cost of a virtual phone number is not like "one size fits all". It depends upon various aspects like your needs, budget, etc. So here's the deal:
Call Volume
You'll need to have an estimate of the call volume of your business. Get an idea about how many calls are made daily, as well as, how much call time is required. 
Caller's Location
This factor is often ignored, but you don't want to make this mistake right? Calls from one country may incur more costs than calls from another. Moreover, the device used by the caller, such as a landline, or mobile also affects the cost. So, get an idea about this as well. 
Type of Virtual Number
You've got different options here. Suppose you opt for a local VoIP number in New York, it may cost you around $5 to $30/month. In the case of toll-free numbers, it may cost you anywhere between $2 to $50/month. It's always a good idea to check with your provider beforehand. If you consider getting an international VoIP number then the cost will be on the higher side. It's just like the difference between a domestic and an imported vehicle. 
Additional Features or Add-Ons
VoIP numbers come with an array of premium add-ons like call forwarding, call recording, voicemail, IVR, etc. Though these features are usually available at reasonable prices. So ask your provider about the different VoIP plans they offer and select the most appropriate one. 
4 Best Virtual Phone Number Providers of 2023
We have reviewed and compared several popular virtual phone number providers of 2023. Here's our pick of the best VoIP phone number service providers for businesses of all sizes. 
REVE Cloud Telephony

One of the top business phone system providers in the market. REVE Cloud Telephony offers carrier-class cloud PBX with both options of on-premise and off-premise installations. You get 50+ countries' virtual phone numbers such as Vanity, DID, and Toll-free numbers. 
REVE Cloud Telephony comes with a powerful set of features including White Labeling, HD voice & audio calls, Call Screening, Web Calling and Click-to-Call, Call Conferencing, Chat and File Sharing, Auto Attend with Live Analytics, etc.   
REVE Cloud Telephony also offers multiple call termination options so that you can take calls anytime, anywhere. Plus, it comes with various routing choices like managing different time zones, assigning multiple numbers to teams, and terminating calls to multiple teams. You can get a free demo from the experts before making up your mind. 
Ooma Office Phone

It's another popular office phone system provider that offers toll-free numbers at reasonable prices. By default, you get one toll-free number with any of the Ooma plans, however, you always have the option to add more. 
This VoIP platform comes with a variety of advanced features such as virtual receptionist, extension dialing, music-on-hold, smart mobile phone apps, ring groups, etc. Getting started is easy and can be done within a few minutes. 
Zoom Phone

Another leading cloud business phone system provider. It offers virtual phone numbers and also comes with call management tools, virtual receptionist, conference calling, call forwarding, call queues, voicemail transcription, call monitoring, advanced analytics, and more. This platform is also easy to set up as you need to select a plan, add users, and start making calls. 
Google Voice

This is a good option if you are looking for VoIP numbers along with some basic cloud telephony features at no cost. Most of the calls to Canada and the U.S. are completely free, however, for certain U.S. numbers you need to pay. 
In terms of features, Google Voice offers basic features such as voicemail, call screening, and the ability to block callers. It is a great option if you don't need advanced phone system features and want to get started quickly. 
3 Effective Tips to Protect Against VoIP Fraud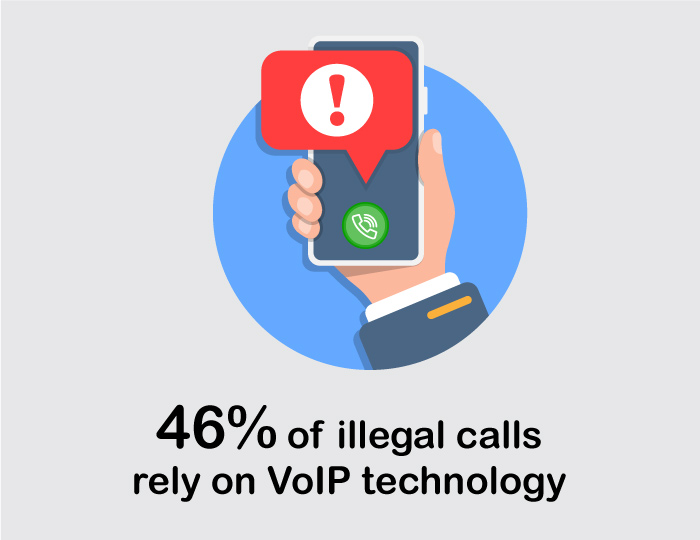 VoIP phone numbers are hosted in the internet cloud. This means like every other technology, they are also susceptible to cyber threats and frauds. Statistics reveal that "46% of illegal calls rely on VoIP technology." Some of the most common VoIP attacks include Caller ID Spoofing, Vishing, Toll Fraud, Eavesdropping, etc. However, these threats can be prevented by practicing these 3 effective tips:
Invest in Strong Passwords
Your password is your key. Using preset or easy-to-guess passwords is an automatic invitation for the attackers. Make sure you follow the below-mentioned points:
Never use the same password across different interfaces. Your mobile VoIP should have a different password from your web VoIP system. 

Use a minimum of 16 characters. Include a variety of numbers, symbols, and uppercase and lowercase letters.

Avoid password generators. They often recycle common or already-used passwords that hackers may take note of.
Consider Using a Security Solution
Investing in an advanced security solution like Session Border Controller can offer long-term benefits to your business. SBCs act as Firewalls and employ robust security mechanisms to prevent unauthorized access to VoIP systems. Also, SBCs encrypt VoIP traffic and restrict access based on IP addresses. 
REVE SBC is an advanced security solution that protects VoIP numbers and networks from various security threats. Take advantage of the free demo. 
Watch Out for the Call History on Your System
Be vigilant about monitoring the incoming and outgoing calls on your VoIP number. Unusual calls are often associated with fraudulent or malicious activities. If you find such activities on your phone system, then you may want to find the answer to how to trace a VoIP number. Keeping a watch on call history can help in identifying these suspicious calls and helping you to take timely action. 
Are You Ready to Get a VoIP Number?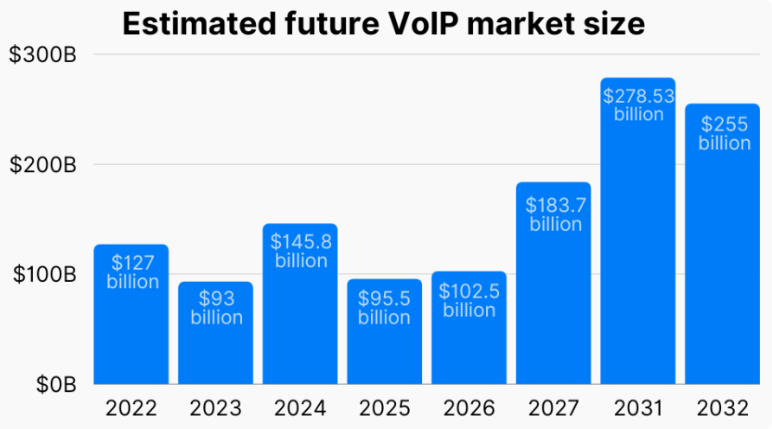 Source – HeadPhonesAddict
The above graph suggests that the future of VoIP is promising. It is also clear that no matter which VoIP number you select, it offers immense value to your business. However, the decision of switching to or getting a new VoIP number cannot be made overnight. We suggest you take your time and think about your current and future requirements. Even better – Take opinions from those around you. Get in touch with our VoIP experts to know the practical advantages of VoIP numbers for your business.