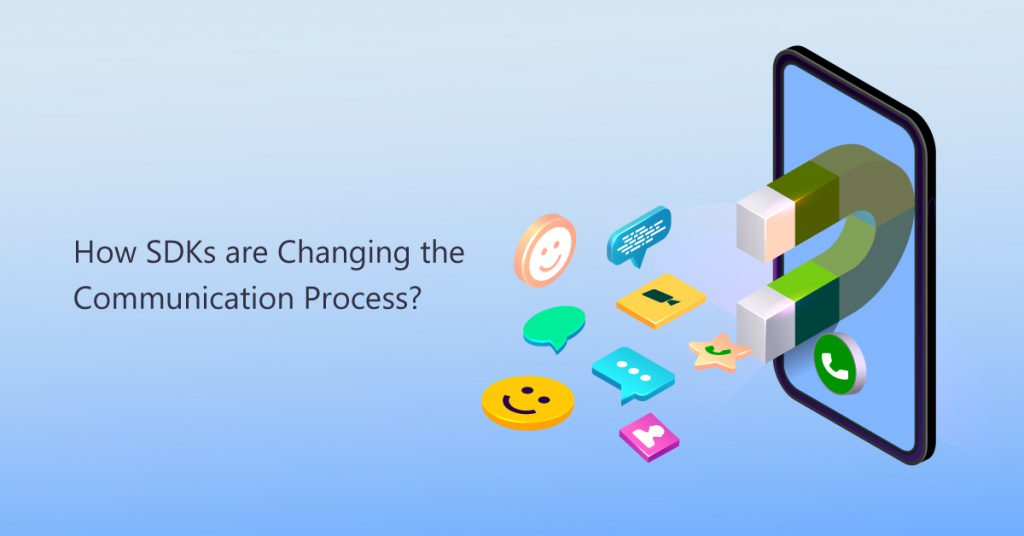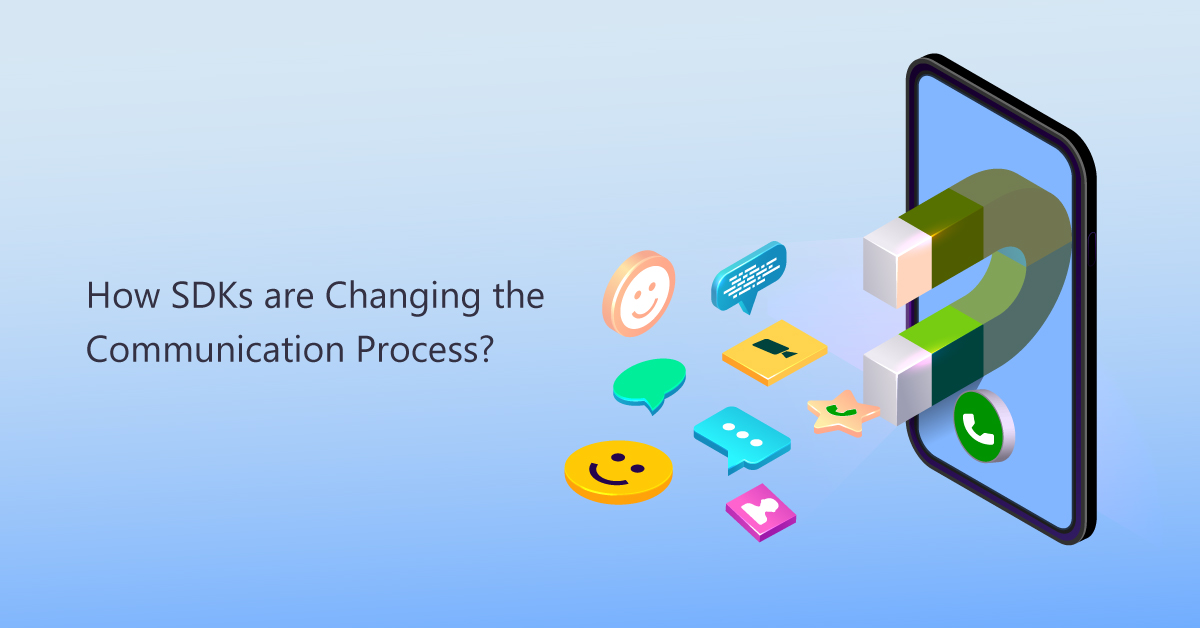 In today's world, Software Development Kit (SDK) and Application Programming Interfaces (API) are the driving force behind web communication and the implementation of third-party APIs. The in-app messaging along with voice and video call SDK is the most sought after and widely used across industries.
APIs or Application Programming Interface is a set of compatible protocols and tools for building application software. SDK or Software Development Kit, on the other hand, is a set of Software Development tools which enables the creation of applications for a certain software package, software framework, hardware platform, computer system, video game console, operating system or any other similar development platform.
In plain words, SDK is a toolbox that includes APIs, along with further instructions that allow developers to create systems and develop applications. While the main purpose of APIs is to allow communication between applications.
How Communication SDKs & APIs Help Businesses  Grow?
SDKs and APIs help businesses to grow faster due to better interaction with the customers as well as within the organisation, utilizing all their features. The SDKs and APIs come to rescue where businesses need specific functions integrated into their own services. This, therefore, results in the enhancement of the pre-existing features of the app and making it more interesting.
In this way the chat, voice and video call SDK and APIs help the businesses to increase revenue, extend customer reach and value, support sales and marketing activities, simulate business and technical innovation and also simplify the integration of backend data and applications.
In-App Messaging Chat SDKs
Chat SDKs are the best suited to add instant messaging functionality to any application. And with the option of customizable UI, businesses can create their in-app communication process for their userbase.
With in-app messaging chat SDKs, businesses can offer individual and group chat along with file and location sharing. They also can enable push notifications to make customers aware of the latest offers or announcements regarding their products. In addition to this, the multilingual aspect of the in-app messaging chat SDKs helps to increase the appeal to people by using their preferred language.
Message broadcast feature is also available along with real-time data backup, animated Gifs and cross-platform messaging. With the in-app messaging SDKs businesses can enable proactive chats and also sync devices when logged in from other devices.
Voice Call SDK
Adding a voice call function to your business application is easy with the help of SDK. Many SDKs are completely customizable which ensures configuration at a faster pace.
One of the most demanded features is a peer-to-peer call in real-time. And Voice Call SDKs enable businesses to include this functionality in their apps. In addition to this, features like paid call or chargeable call, call recording for further uses, conference or carrier calls to multiple users from calling app or desktop all are available.
Voice Call SDKs enable high-quality audio calls even in low bandwidth networks. Along with this, DTMF Tones, and real-time cross-platform calls to a desktop, mobile app or carrier network are also the highlights of the Voice Call SDKs.
Video Call SDK
With the help of SDK, businesses can add video calling functions to any mobile application. Prominent SDKs offer businesses the flexibility to add video call features and provide a real-time communication platform to their customers. Hence, while selecting SDKs for your business, make sure that the SDK supports both mobile and web thereby resulting a smoother communication.
The demand for a video call is growing rapidly in recent times. And therefore keeping up with the latest trends, Video Call SDKs offer peer-to-peer video calls in real-time. Also, it ensures that the quality is maintained even in low bandwidth connections.
With Voice Call SDKs video call recording function is available which allows businesses to store, compose and retrieve them from the cloud. Therefore, using the Video Call SDKs businesses can organize multi-party video conferencing, which is a great help for the corporate environment. In addition to this, Video Call SDKs also offer 1-to-1 or group calls on browsers, Chrome and Firefox.
Industries using chat, voice and video call SDK and APIs
Telecom Industry
To keep up with the customer expectations and the growing competition in mobile and web Technologies, the Telecom sector needs to use SDKs and APIs. This aids in increasing their efficiency in adopting new technology. In addition to this, increasing service availability across multiple ecosystems will further help to simplify the process of delivering services via mobile networks and the web.
How do voice and video call SDK and APIs help the Telecom Sector?
 It will increase the efficiency of new service development while reducing the time to market it.
SDKs and APIs will maximize the use of internal resources to generate new ideas.
It will help to share information with other organizations for delivering value-added hybrid services.
SDKs and APIs provide the exact tools required for the development thereby simplifying related things.
It helps to provide valuable in-app services.
Healthcare Industry
It has been proven that direct and instant communication can help to reduce errors by 50% and help to save around $53 billion in the medical industry. Therefore the in-app messaging feature is playing a major role here. It helps to bring doctors and patients together to interact at any given time and from any place.
Benefits of in-app messaging SDKs for the healthcare industry:
It reduces patient's travel expenses
Enables better care at the patient's own house.
Helps to facilitate personalized monitoring
Leads to an increase in the diagnosis accuracy
Travel Industry
Communication is a crucial part of the travel industry. And direct communication helps to resolve issues in a much faster way in the travel industry where a wide range of factors come together.
Benefits of in-app messaging SDKs for the travel industry.
Helps businesses in better collaboration with the leading transportation service providers
Automation of operations such as information, booking, invoicing, billing and several related ones help to save time and effort.
Businesses can manage all operations, website contents functions in a better way.
Makes it easier to attend to customer query and solve it efficiently.
Examples of Brands using Voice and Video Call SDKs
Uber
Real-time call functionality has helped Uber to enhance their ridesharing experience. The voice call integration with Uber App has amplified the driver's connectivity with the rider.
Voice connectivity between the rider and the driver has pushed the business ahead in addition to the actual business value. Further, the voice call feature also enables high-quality calls instantly to stay informed about the ride. And therefore, as a result, the voice and video call SDK have helped in retaining customers.
Swiggy
In the food ordering app, Swiggy, Chat is the prime mode of communication for customers. Over 70% of the Swiggy customers select chat over calls. And on the efficiency part, the tasks which usually to around 10mins on a call with an agent was accomplished in around 10 seconds over chat.
Chat is the crucial subsystem in the overall order experience in Swiggy. They account for more than 10 million messages per day with 350 thousand conversations for over 35 million transactions per day.
VitalHub Chart
VitalHub Chart app offers clinicians real-time access to patient information from hospital Electronic Medical Record systems. Through this app, Healthcare providers can view quick summary and access patient charts, lab results, critical results, orders and statuses, medication history, and allergies. To fit specific workflows, this application provides different layouts for different medical staff for physicians, nurses, and pharmacists.
KRY
KRY is a digital health app that has revolutionized medicine in Sweden. This app allows users to consult with a qualified health professional in minutes, via their smartphone or tablet using the app feature of voice and video call SDK.
Care providers can read patients' symptoms through the app and view photos that patients provide, all this before an appointment.  The doctor can give prescriptions, advice, or a referral to a specialist, through real-time video consultation. Patients can pay the consultation fee through the application itself.
Conclusion
To build your own real-time messaging or chat feature can prove challenging. It requires expertise, resources, capital expenditure and time. And connecting millions of users in real-time is a big hurdle.
Voice and video call SDK along with in-app messaging simplify all these complications of messaging. They provide APIs and all other necessities that have been tested and are adaptive to your business needs.
SDKs, therefore, open up opportunities for businesses to reach a wider audience which would otherwise prove difficult. And for all that the only requirement is a functional SDK tool that other apps can implement and integrate with.