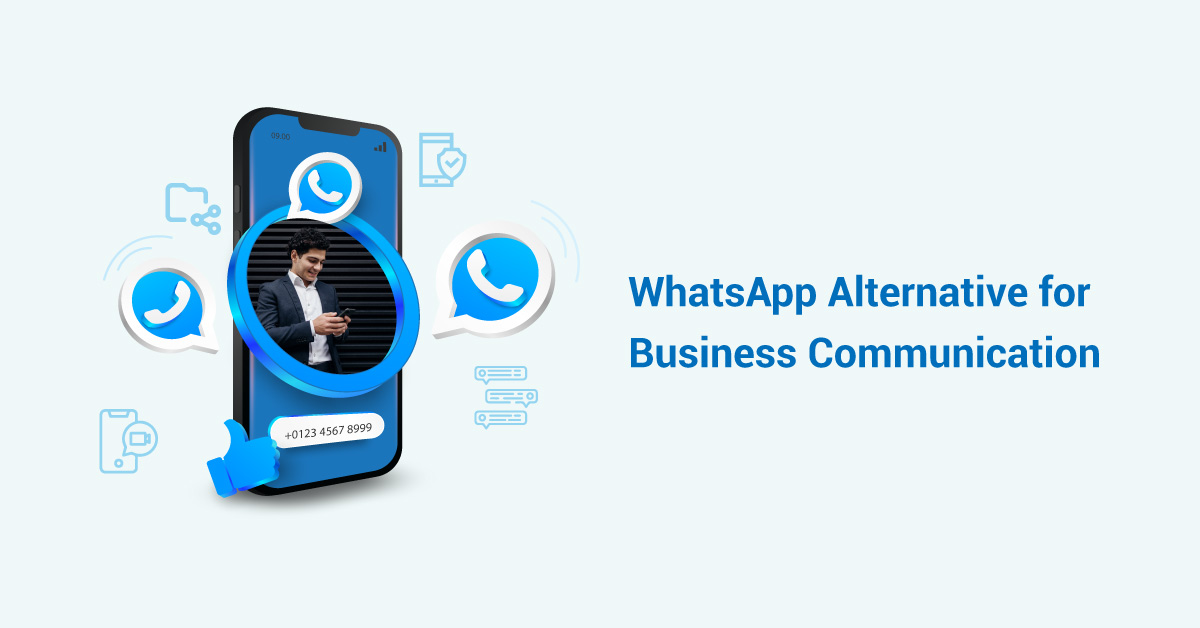 With a staggering 2 billion active users per month, WhatsApp is the most popular messaging app in the world. While it is loved and liked for everyday communication, when it comes to business communication, it's a big 'No'. Why? Well, let us discuss why businesses prefer using a WhatsApp alternative for secure communication.
Risks Associated with Using WhatsApp for Business
Safety and Security
Obviously, this is the number one reason. A business cannot be at ease when it is about its safety and security. There's a lot of sensitive information being shared between employees relating to projects, clients, deals, etc. which a business cannot disclose to third parties. WhatsApp has some major security loopholes as the news states:
"Using just your phone number, a remote attacker can easily deactivate WhatsApp on your phone and then stop you from getting back in. Even two-factor authentication will not stop this." Source – forbes
WhatsApp is not controlled by the business which using it. This means a business cannot exercise its due-diligence over WhatsApp to ensure privacy. Also, the chances that employees can expose company data while sharing files and media through WhatsApp are quite high. With all this, using a secure WhatsApp alternative for business communication seems to be quite a wise decision.
Work-Life Imbalance

When WhatsApp was launched into the market, it was meant for personal communication. With each passing day, it became a household name. Now, there has been a rising trend of work-from-home culture which led to usage of WhatsApp for business interaction. But this has created a 'no work-life balance' scenario. It is because employers can send a business or work related message to an employee at any hour of the day. This can be a real spoiler when the receiver is having a good time with friends and family. Again this is a valid reason for not using WhatsApp for business communication.
Lack of Features
Certainly, business communication demands a special set of features in an app rather than basic tools for personal chats like in WhatsApp. Suppose an employee want to search a colleague from a hierarchy which is not possible through WhatsApp because there is no way to differentiate between personal and professional contacts.
Lack of User Management
WhatsApp groups are limited to 100 people at once, which is a major shortcoming of the app. For large organizations, where employee count is more, it is difficult to scale internal-communications company-wide. For the HR teams and management, this can be a constant headache as they have to add and remove people from groups basis any change in their mobile phone numbers.
Propagates Unprofessionalism
It is now evident that WhatsApp is a 'consumer-grade' messaging app made for personal and causal communication. No wonder if someone sets their WhatsApp name to MONSTER007 or THEBONDISHERE which looks quite unprofessional in the business environment. Moreover, accidently forwarding inappropriate messages to colleagues or work groups can lead to chaos and confusion. Together, all these factors will create and disjointed and disconnected workplace communication.
Affects Productivity

It is human nature to get distracted easily. Receiving personal messages on WhatsApp during business hours can be a major distraction for employees. One might be using WhatsApp to discuss a project with a colleague but might also be chatting with a friend side by side. This eats up time and productivity of the employees and affects growth of the business as well.
What to Use Instead of WhatsApp for Business Communication?
As discussed above, we have seen that there are several issues with WhatsApp that makes it inappropriate for business communication. So what should a business use instead of WhatsApp? An Enterprise Communication App designed for enterprises like the REVE Secure Communication App is the best alternative to WhatsApp.
Features of REVE Secured Communication App
Instant Messaging for one-to-one and group conversations
Audio and Video calling for one-to-one and group calls
Call Conferencing to conduct online meetings with ease
Media Sharing to send and receive documents, files and folders
Directory Searching to find colleagues within the business groups
Location Tracking and Sharing between co-workers
Message Broadcasting to send messages in a single go
Multiple Network Compatibility to stay connected everywhere
Why you Must Choose REVE Secured Communication App for your Business?
Ensure maximum privacy of your communications with Military Grade Security
Have complete control over your data by having server installation in your own premises
Create a private controlled environment through additional authorization layers for authentic registration
Customize the app as per your business needs through white label branding
Read Also