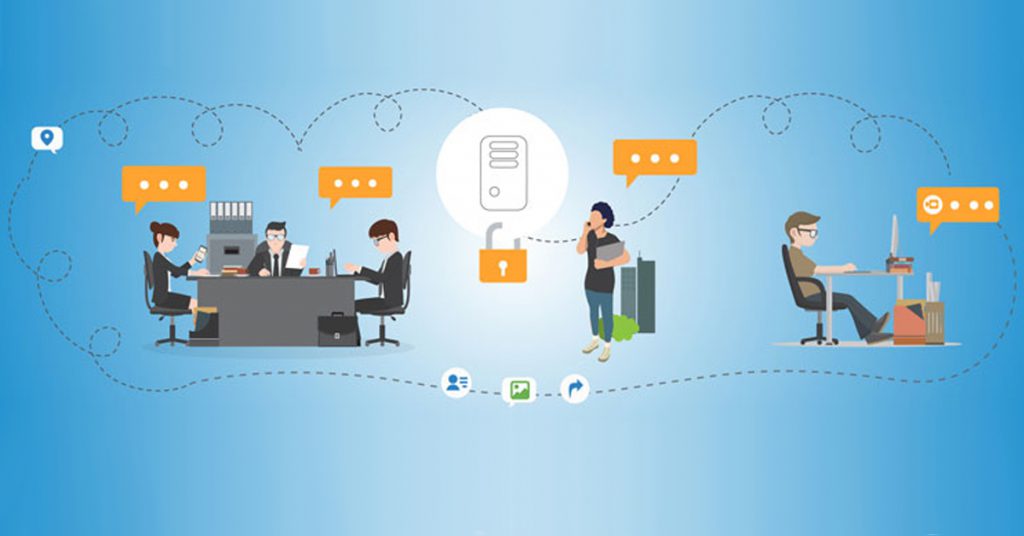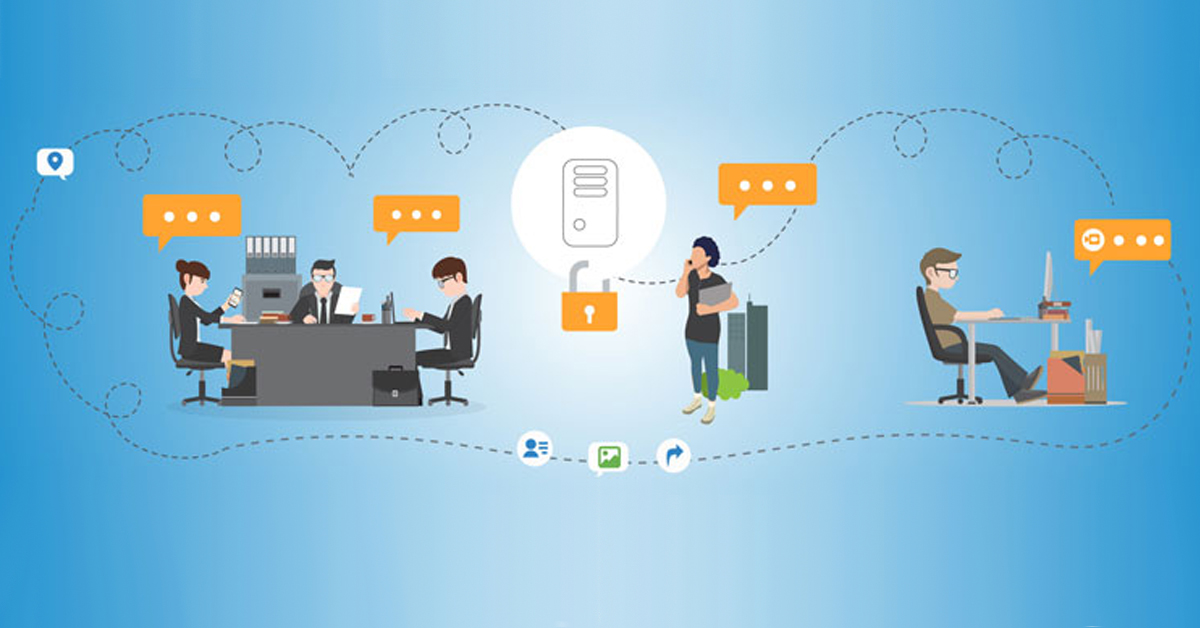 As per a survey , it has been found that "More than 56% of global messaging app users say that they've messaged businesses to get help during the different stages of the buyer's journey." In another study, it was found that "Availability and activeness of a brand instills purchasing confidence in more than 66% of the consumers while 55% of them feel more connected to the brand."
There's a saying by famous leadership theorist John Adair, "Communication is the sister of leadership". Communication plays a fundamental role in all facets of any enterprise. It is, therefore, important that inter-office communication should be quick and effective.
Business Communication – Then & Now!
A few years back, business communication was email based. But, steady entrance of Instant Messaging for business is re-shaping the idea of enterprise communication in the recent years. The evolution of Instant Messaging into the enterprise sphere changed the concept of communicating through one's own brand and assured the traceability of sensitive business communication within a very short time.
Workplace communication statistics show that "86% of employees and executives cite the lack of effective collaboration and communication as the main causes for workplace failures." On the other hand, teams that connect effectively experience a productivity increase of 20-25%. From these statistics, it is evident that enterprises need to understand the importance of Instant Messaging Apps for business.
But surprisingly, enterprises don't want their employees to use personal IM applications like WhatsApp, Facebook Messenger, Viber, and Skype. Rather, an enterprise prefers to have a corporate identity, an audit trail, and administrative control in their customized Enterprise Messaging App via any expert.
Importance of Instant Messaging for Business
Do you know why there is a transition from email towards enterprise messaging apps for internal communication of any enterprise like Healthcare Organizations, Legal & Advisory Firms, Financial & Banking Institutions, Travel & Hospitality Companies and more? Consider some real life facts:
Accelerate Enormous Team Productivity
In the world of mobility, the demand for an Instant Messaging solution is on the rise and why not because the benefits are endless:
Instant Messaging significantly reduces e-mail traffic and helps employees become more productive, as it calls for more immediate and direct response.
Mobile enterprise messaging allows to directly address, drive and solve topics.
The real-time and group messaging capabilities lead to faster response times and decision-making.
As a result, internal collaboration is improved, processes are accelerated, and productivity is increased. Employees can easily collaborate on various projects, they can instantly connect with key stakeholders, and share relevant documents.
Stats say that "WhatsApp has over 2 billion users worldwide with 100 billion messages sent each day." Another stats tell us that the number of worldwide IM accounts is expected to grow at an average rate of about 6% over the next 4 years. All these figures make it clearly evident that IMs are popular and that people really like using instant messaging tools.
Benefits of Instant Messaging – There's more!
In addition,  instant responses like one-to-one  chats for faster decision making, group chats to quickly solve topics, team channels for immediate updates, and digital content sharing for better information exchange, etc., are the best outcomes possible through enterprise messaging apps to increase the productivity of any business.
So, what's the ultimate upshot of using Enterprise Messaging Solution?
Faster processes and workflows
The instant part of these messaging apps makes it all. One can share files just within the blink of an eye. One can share information with all colleagues or employees as quickly as they need. How about giving feedback to team members – just type the comment and done, it's that fast! Further, one can easily know who's available and who's out of office. Rather than typing emails to know one's availability, one can see status to see if the other person is online or not.
Less hardcopy files, email overload
Since it is easy to set up and control, there's no hassle of installing huge hardware systems or endless bundles of wires. These apps are user-friendly so it's just a few simple steps to launch the app and you can get started just like that!
Reduced message handling time
Since email is a formal way of communication, there are a number of things you need to think about and do before you hit that Send button. But with messaging, it is as easy as ABC. The interactive and engaging nature of these messaging apps makes it easy and quick to handle messages.
Less time spent in meetings
Physical boardroom meetings are no more exciting and the amount of time spent for such meetings makes it even worse. With emails, communication gets bogged down and sometimes, it takes endless days, weeks and even months to end one discussion. Virtual meetings in 'real time' can be easily held through instant messaging apps.
Reduced travel expenses and time
Since collaboration between teams and with clients gets easier and instant through instant messaging apps, companies can save huge amounts of money that would otherwise go in travelling. Another bonus is the time savings. Spending time on travelling to collaborate for work eats up a major chunk of your productive hours.
Increased employee satisfaction and relationship
Instant messaging platforms are a great way to encourage the rapid flow of ideas and inspires everyone to participate and contribute. In IMs everyone is on the same page which means each and everyone in the group has the same level of access to shared information. With this no one feels excluded and ultimately promotes employee satisfaction.
Exceptional Features Helps Garnishing Employee Attachments
Popular free messaging apps have defined or limited features such as one-to-one chats, group chats, file sharing, calling, etc., which is not enough for replacing the stack of files in an enterprise as well as traditional communication methods of any business. Because the Enterprise Messaging App needs to hold a lot more ifs & buts in it.
Specialized Enterprise Messaging Apps need to be robust and secure, have advanced directory search options and a location tracking system through which upper tier employees can easily track the location of their subordinates. So, let's check how some features of a customized Enterprise Messaging App can look as per your business need:
Ability of universal digital content sharing
Pre-defined team lists and channels
Access to the whole corporate directory on the go
Option to search for messages and content
Access and exchange documents from corporate file sharing solutions
Zero fear of losing data or leakage
Specialized Instant Messaging Apps Provide Better Security and Data Protection
IT security has become a core topic for businesses and advanced protection of corporate data is a must nowadays. As per stats, 46% of organizations in the U.S. named "compliance" as their highest priority.
Advanced instant messaging for business apps provide state-of-the-art technology and help businesses to tackle security concerns like very strong encryption during transport and at rest, robust protection of all user and corporate data, cloud and on premise locations at buyer's option, guarantee of local data protection law, professional administration and control of the organization and its users, mobile security layers including EMM support, and everything else required for enterprise-wide security and compliance.
It is now clearly evident that the majority of businesses will deploy new enterprise messaging apps in the next couple of years. Due to the increasing demand, business messaging will likely spin out of the unified communications category as an individual market. Enterprise messaging is a fast-growing field and will become a big market.
Employees can be more efficient in an aligned team and department
It takes 90 minutes for the average email to be opened, but just 90-180 seconds for the average text to be read. When messages are time sensitive, or questions require a quick answer, saving an hour and a half can be a huge boon for the company's bottom line. Not convinced? A Deloitte study estimated that efforts to help workers be more mobile generates an extra hour of productivity per employee, per day. Moreover, Enterprise mobile messaging apps allow employees to stay in sync on the go, so they can weigh in on important projects, update the team after customer meetings, and feel connected to their peers while traveling or working remotely. Imagine completely eliminating those moments of "catching up" at the start of a meeting.
Instant Messaging for Business – Conclusion
So, let's sum up the facts behind the transition between Email to Instant Messaging for business in Enterprises again:
An average email response rate is 1hour 30 minutes where text takes on average 3 minutes to respond!
Unlike Email or phone calls, instant messaging for business is free of overhead, more informal in context of subject lines, signatures or voice messages.
Instant Messaging Apps are secured, protected and simple to use. For example, we text like we talk. We use simple language, emoticons to convey feelings, and grammar can be imperfect.
Enterprise Instant Messaging App helps in increasing productivity, takes a few seconds even in a crowded or loud space, it's easy to multi-task.
With customized Enterprise Messaging App, it's possible to get your own branded app as per your business requirement.

Read Also
Note – This post was last updated on 06-01-2022.