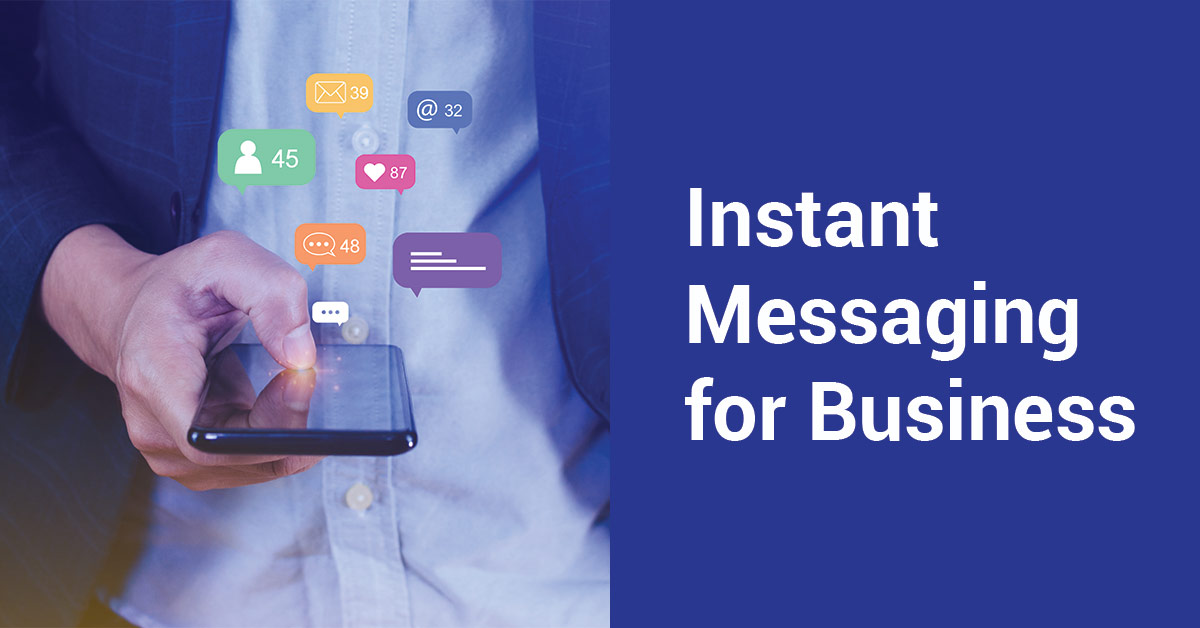 Introduction 
There's a saying by famous leadership theorist John Adair, "Communication is the sister of leadership". 
Effective communication is the essence of any successful business or organization. An environment where information flows clearly and efficiently certainly results in better decision-making, teamwork, and adaptability. Today, the significance of using instant messaging for business in the corporate landscape cannot be overstated. Instant messaging platforms enable employees to improve their internal communication, productivity, and overall business performance. Let's understand the concept of instant messaging for business, its significance, and how you can get a branded instant messaging app for your business. 
Business Communication – Then & Now!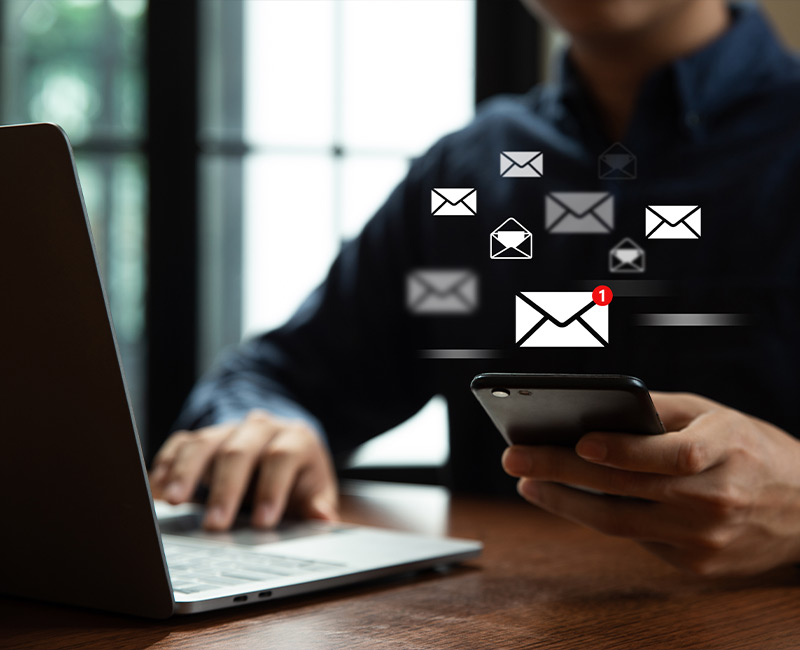 A few years back, email served as the primary channel for business communication. According to the statistics provided by The Radicati Group, the average office worker receives 121 emails per day. Moreover, this overwhelming volume of email communication leaves 30% of workers feeling inundated by their inboxes (Adobe). However, in recent years, the steady entrance of instant messaging for business is reshaping the idea of enterprise communication. It has redefined the notion of communicating under one's own branding while simultaneously ensuring the traceability of sensitive business communication in real-time.
But surprisingly, enterprises don't want their employees to use personal IM applications like Facebook Messenger, Viber, and Skype. Rather, they prefer to have a dedicated Instant messaging app that represents their corporate identity and helps them keep an audit trail as well as administrative control. This is where the role of Instant Messaging for Business truly comes to the forefront. 
What is Instant Messaging?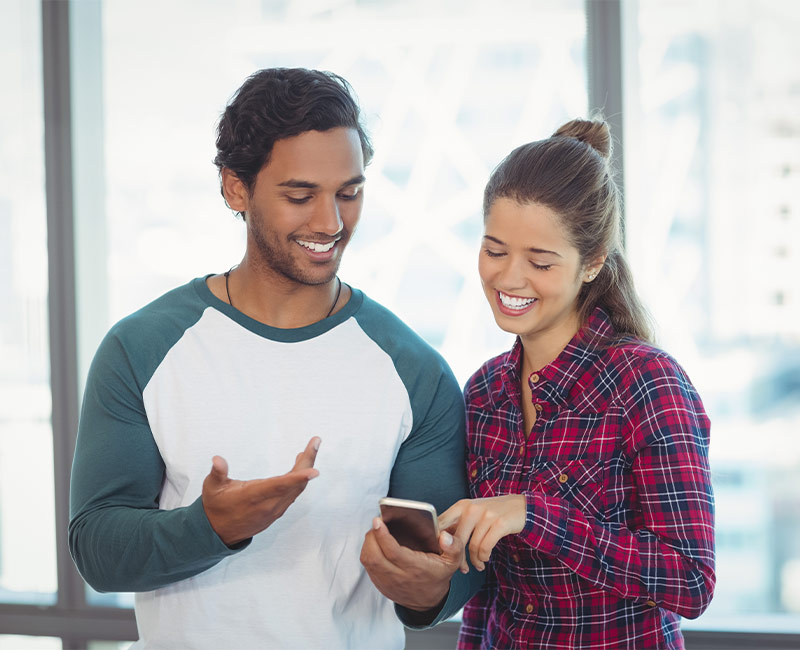 Instant messaging or IM, in its broadest sense, refers to the use of real-time text, audio, and video communication platforms, that allow users to exchange messages and connect swiftly. Unlike the asynchronous nature of email, instant messaging allows for immediate communication, which is why these are also referred to as 'Instant Chat Apps'. Within the corporate sphere, IM is also referred to as 'Business IM' because the IM platform is specifically tailored to the corporate setup. As per statistics provided by Pumble, 80% of remote workers work with Instant Messaging Apps. Business IM Platforms empower employees to connect in real-time predominantly through text, audio, and video. 
Importance of Instant Messaging for Business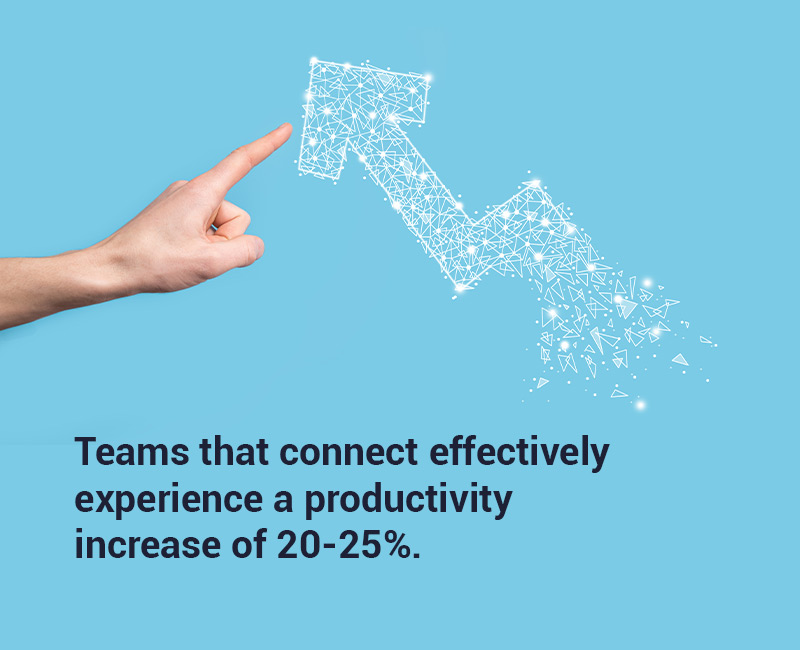 Workplace communication statistics show that "86% of employees and executives cite the lack of effective collaboration and communication as the main causes for workplace failures." These compelling statistics underscore the need for enterprises to understand the importance of instant messaging apps for their business communication. 
Accelerate Enormous Team Productivity
In the world of mobility, the demand for instant messaging solutions is evergrowing, and why not because the benefits are endless:
Instant messaging for business significantly reduces e-mail traffic and helps employees become more productive, as it calls for more immediate and direct responses.

Mobile enterprise messaging allows teams to directly address, drive, and solve topics.

The real-time and group messaging capabilities lead to faster response times and decision-making.
As a result, internal collaboration is improved, processes are accelerated, and productivity is increased. Employees can easily collaborate on various projects, they can instantly connect with key stakeholders, and share relevant documents.
How Does Instant Messaging Work?
Instant Messaging technology is a type of online chat through which users can send and receive text messages in real time over the internet. A typical IM app works by facilitating connection between known users which is usually done by using a contact list or a friend list. Most of the modern IM apps use 'Push' technology and incorporate various additional features including emojis, file sharing, video chat, location sharing and tracking, etc. Here is a step-by-step detail about how a typical IM app works:
Firstly, the user launches an IM application on his phone. The IM client attempts to establish communication with a designated IM server that is associated with the enterprise or organization. 

In response, the IM server validates the username and password, thus completing the login process and establishing the connection. 

Once logged in, the user can see a list of contacts who are online. As the user logs in and out, their status on the chat app change to online and offline respectively. 

When a user sends a message to a contact, it traverses from their IM client to the connected IM server. From there, it directly reaches the receiver along with a notification on their device. 

The conversation in real-time happens as the messages go back and forth between the clients and servers with very little delay. 
Key Features of Instant Messaging for Business
Instant Messaging
It's the most fundamental feature offered by instant messaging apps that allows real-time text communication between individual users or even groups. Through this feature, users can make quick and synchronous conversations making it ideal for timely business discussions and the exchange of information. 
Audio & Video Calling
Another significant feature of IM apps is audio and video calling which allows users to have voice and video conversations in real time. In business scenarios where detailed discussions are required, audio and video calling serve the purpose. Moreover, for remote work and virtual meetings, this feature is simply invaluable. 
Call Conferencing
The conferencing feature expands on voice and video calling by allowing multiple users or participants to join a single call. Again an extremely useful feature for group meetings, client presentations, and any other type of collaboration that requires the participation of multiple parties. 
Media Sharing
Sending and receiving information is essential for streamlined business communication. The media sharing feature makes it possible by enabling employees to share various types of files such as documents, photos, videos, and audio files, directly within the IM platform. 
Directory Searching
This feature simplifies contact management by allowing users or employees to quickly search and connect with colleagues within the organization. This organized search functionality helps users easily find specific individuals. 
Location Tracking & Sharing
As the term suggests, this feature allows users to share their real-time location or request the location of other users. This is especially useful for field teams, deliveries, and coordinating in-person meetings.
Message Broadcasting
A highly valuable feature that is useful for sending company-wide announcements, updates, or alerts to a predefined group or list of recipients. This helps in ensuring that important information reaches the intended audience quickly.
Benefits of Instant Messaging for Business – There's more!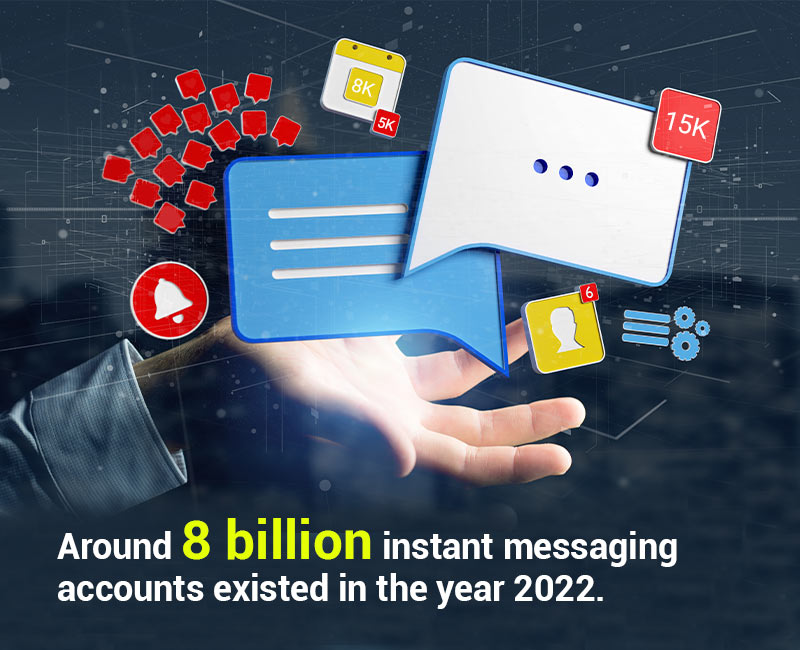 Sounds amazing, right? 
In addition,  instant responses like one-to-one chats for faster decision-making, group chats to quickly solve topics, team channels for immediate updates, and digital content sharing for better information exchange, etc., are the best outcomes possible through enterprise messaging apps to increase the productivity of any business.
So, what's the ultimate upshot of using instant messaging software for business?
Faster Processes and Workflows
The 'instant' part of these messaging apps makes it all. One can share files just within the blink of an eye. Information can be shared with colleagues or employees as quickly as they need. How about giving feedback to team members? – Just type the comment and done, it's that fast! Further, one can easily know who's available and who's out of office. Rather than typing emails to know one's availability, one can see the status to see if the other person is online or not.
Less Hardcopy Files and Email Overload
IM apps reduce hardcopy files and email overload by streamlining quick discussions in dedicated chat channels and simplifying information retrieval, as past conversations and shared files are readily accessible through search functions. 
Reduced Message Handling Time
Since email is a formal way of communication, there are a number of things you need to think about and do before you hit that 'Send' button. But with messaging, it is as easy as ABC. The interactive and engaging nature of these messaging apps makes it easy and quick to handle messages.
Less Time Spent in Meetings
Physical boardroom meetings are no more exciting and the amount of time spent for such meetings makes it even worse. With emails, communication gets bogged down and sometimes, it takes endless days, weeks, and even months to close one discussion. Virtual meetings in 'real-time' can be easily held through instant messaging apps, presenting an impeccable alternative.
Reduced Travel Expenses and Time
Since collaboration between teams and clients gets easier and more instant, companies can save huge amounts of money that would otherwise go in traveling. Another bonus is the time savings. Spending time while traveling to collaborate for work eats up a major chunk of employees' productive hours.
Increased Employee Satisfaction and Relationship
Instant messaging platforms are a great way to encourage the rapid flow of ideas and inspire everyone to participate and contribute. In IMs, everyone is on the same page which means each and everyone in the group has the same level of access to shared information. With this, no one feels excluded, and ultimately promotes employee satisfaction.
Exceptional Features Helps Garnishing Employee Attachments
Popular free messaging apps have defined or limited features such as one-to-one chats, group chats, file sharing, calling, etc., which is not enough for replacing the stack of files in an enterprise as well as traditional communication methods of any business. Because the Enterprise Messaging App needs to hold a lot more ifs & buts in it.
Specialized Enterprise Messaging Apps are robust, and secure, have advanced directory search options, and a location tracking system through which upper-tier employees can easily track the location of their subordinates. So, let's check how some features of a customized enterprise messaging app can look as per your business needs:
The ability of universal digital content-sharing

Pre-defined team lists and channels

Access to the whole corporate directory on the go

Option to search for messages and content

Access and exchange documents from corporate file-sharing solutions

Zero fear of losing data or leakage
Specialized Instant Messaging Apps Provide Better Security and Data Protection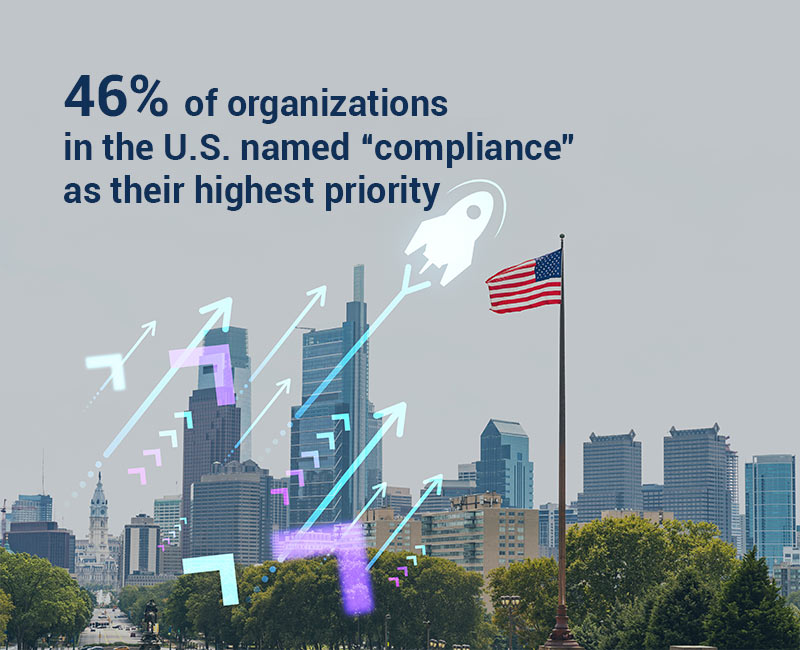 IT security has become a core topic for businesses and advanced protection of corporate data is a must nowadays. Advanced instant messaging apps for businesses provide state-of-the-art technology and address security issues comprehensively. This includes robust security measures such as robust encryption for data in transit and at rest, adherence to local data protection regulations, professional administration, and user control, layers of mobile security including EMM (Enterprise Mobility Management) support, and a comprehensive suite of tools necessary to ensure enterprise-wide security and compliance.
Employees can be More Efficient in an Aligned Team and Department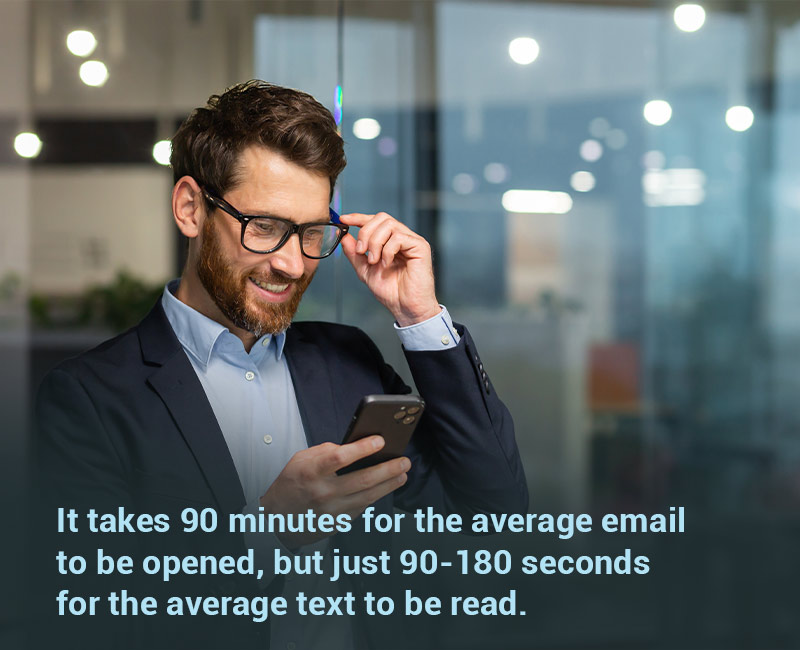 When messages are time-sensitive, or questions require a quick answer, saving an hour and a half can be a huge boon for the company's bottom line. Not convinced? A Deloitte study estimated that efforts to help workers be more mobile generate an extra hour of productivity per employee, per day. Moreover, enterprise mobile messaging apps allow employees to stay in sync on the go, so they can weigh in on important projects, update the team after customer meetings, and feel connected to their peers while traveling or working remotely. Imagine completely eliminating those moments of "catching up" at the start of a meeting.
The impact of instant messaging in the business world is now clearly evident. What's the future of instant messaging? The probability that the majority of businesses will deploy new enterprise messaging apps in the next couple of years is quite high. Due to the increasing demand, instant messaging in the business world will likely spin out of the unified communications category as an individual market. Enterprise messaging is a fast-growing field and will become a big market.
Top 3 Instant Messaging Apps/Software for Business in 2023 & Beyond
WhatsApp
With over 2.5 monthly active users worldwide, today, WhatsApp is one of the easiest mediums to reach anyone including colleagues at the workplace. 
Key Features:
WhatsApp Web is the web version provided by WhatsApp. Users need to scan a QR code from their mobile device and can start using WhatsApp on their computer. 

WhatsApp Business is another valuable feature that provides powerful tools specifically for businesses. By using the WhatsApp API, businesses can get access to features like automated greetings, away messages, analytics, etc. 

WhatsApp offers rich communication options like voice & video calling, location sharing, and group chat, and supports different types of multimedia files. 
Limitations:
Despite being an easy-to-use and feature-rich app, WhatsApp for internal communication does raise some concerns. 
Data Privacy

– WhatsApp is owned by Facebook which makes privacy of data a big concern for companies that need complete confidentiality of their data. 

Data retention

– The data exchanged over the app is stored on its servers which means businesses lack control over their data. Also, WhatsApp offers options for automatic deletion of messages, but that may not align with the security policies of a business. 
Slack 
Slack is another popular platform that offers channels and organized spaces where teams can discuss projects and share resources. 
Key Features:
Channels –

This feature helps easily organize multiple projects, ensuring everyone stays informed about the progress, thus fostering productivity.

Huddles – Transition from chat to calls is possible with just a tap without affecting productivity. Additionally, team members can share screens making it a powerful tool for discussions and brainstorming.
Canvases – This feature promotes collaboration by offering dedicated space to curate and share ideas related to projects.
Limitations:
Restricted File Storage:

The lower tier and free plans of Slack offer only limited file storage. This can be a concerning challenge for businesses with extensive data storage needs as they need to manage and access older files and conversations. 

Security Concerns:

Slack places a strong emphasis on security however, there have been instances of data breaches and security vulnerabilities in the past. Businesses with strict security requirements may need to implement additional measures.
REVE Secure Communication App
Specifically tailored for enterprises, the REVE Secure Communication App offers unparalleled reliability, security, and customization. This robust platform ensures faster yet real-time business communication and collaboration and comes with a wide range of advanced instant messaging features.  
Key features:
On-premises Server Installation – For the

REVE Secure Communication App, the server is set up, hosted, and maintained within the physical premises of the business. This lets the business take full command of its data, application deployment, and security policies on the database.

White Label Branding –  It's an exclusive feature that helps businesses add their company's branding through the instant messaging app. This includes adding the logo, identity, and general information. Apart from this internal advertisement could be possible.
All Platforms Availability –  The cross-platform compatibility feature of the REVE Secure app ensures multi-device accessibility on Android, Windows Phone, and iOS, including mobile phones, tablets, and PCs.
Military Grade Security – The REVE Secure app employs robust 1024-bit encryption to keep highly classified information secured and ensure maximum communication privacy.
Limitations:
Cost

– As this app supports on-premise server installation, the cost may be a bit on the higher side which may be a concern for businesses with budget limitations. 
Instant Messaging Tips & Tricks
In personal conversations, instant messaging is more casual, but here we are talking about the workplace which focuses on a professional or structured approach. here are some tips and tricks for using instant messaging in the workplace effectively:
Set Clear Communication Guidelines:

The company must clearly establish the communication guidelines for using instant messaging such as etiquette, and appropriate use of emoticons and GIFs. 

Create Well-Organized Channels:

This can be very helpful to categorize conversations in terms of project, team, or topic. Naming and organizing channels makes it easier to find and reference discussions. 

Embrace Status Updates:

EMployees must use status updates to communicate their availability. This helps team members know when you're free for discussions or busy with tasks. 

Respect Availability Status:

Be mindful of colleagues' offline or "Do Not Disturb" statuses. It is better to avoid sending non-urgent messages when they are unavailable. 

Provide Context in Conversations:

When sharing documents or information, mention the context in your messages to help recipients understand the significance and relevance of the content.

Secure Your Account

: Always ensure two-factor authentication (2FA) to prevent unauthorized access to your account. 

Backup Important Data:

It is a good practice to periodically back up essential conversations or files to ensure you have access to critical information, even if it's accidentally deleted.
Tips to Choose the Instant Messaging Platform for Your Business
Making an informed decision when choosing the right instant messaging platform is essential to ensure effective communication within your business. Here are some key tips to help you:
Ensure Top-Tier Security Standards

Look for White Label Branding 

Check Cross-Platform Support 

Choose a Reliable Vendor

Look for 24/7 Technical Support
Instant Messaging for Business – Conclusion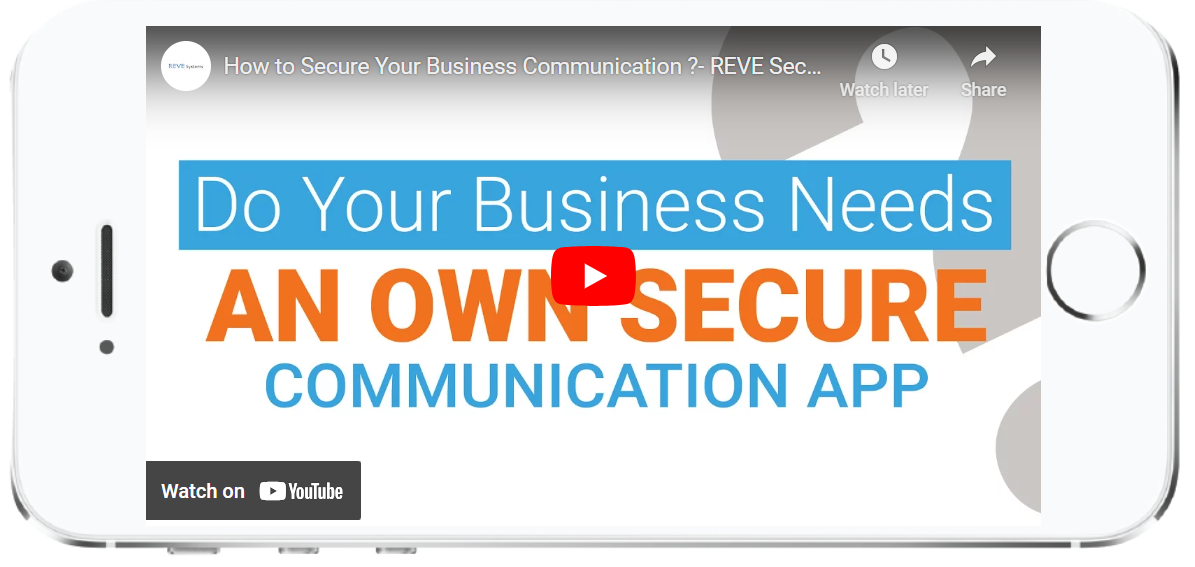 Today's fast-paced business work demands instant communication. Traditional communication channels are not fast enough. You just can get to know whether the person you have emailed something to is currently online or not. You might receive an answer from them within a few minutes if your luck is good. This is the main reason for the popularity of instant messaging apps. 
So, let's sum up the facts behind the transition between Email to Instant Messaging for business in Enterprises again:
An average email response rate is 1 hour 30 minutes whereas text takes on average 3 minutes to respond!

Unlike Email or phone calls, instant messaging for business is free of overhead, and more informal in the context of subject lines, signatures, or voice messages.

Instant Messaging Apps are secured, protected, and simple to use. For example, we text as we talk. We use simple language, and emoticons to convey feelings, and grammar can be imperfect.

Enterprise instant messaging apps help increase productivity by taking only a few seconds even in a crowded or loud space, it becomes easy to multitask.

With a customized enterprise messaging app, it's possible to get your own branded app as per your business requirements.

Read Also
Note – This post was last updated on 17-10-2023.