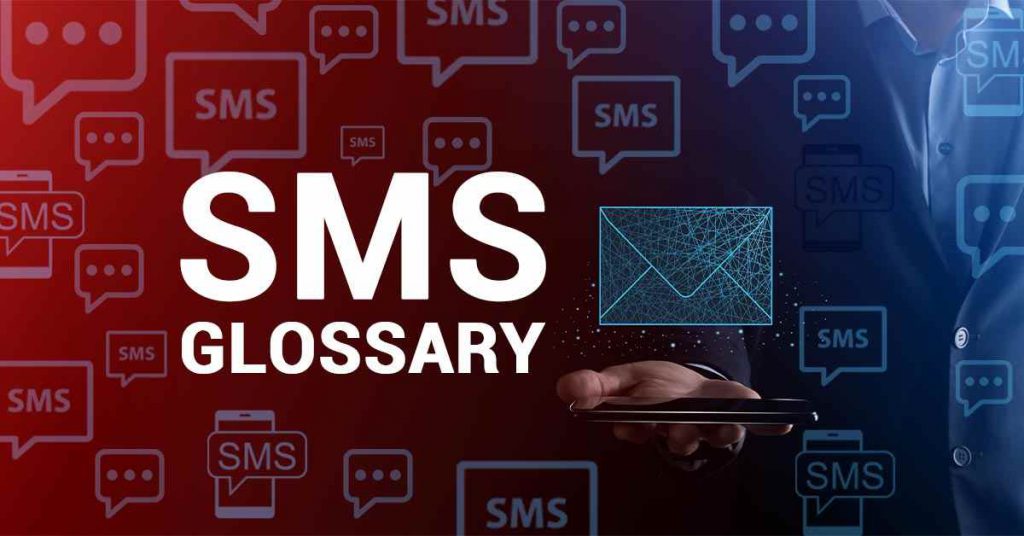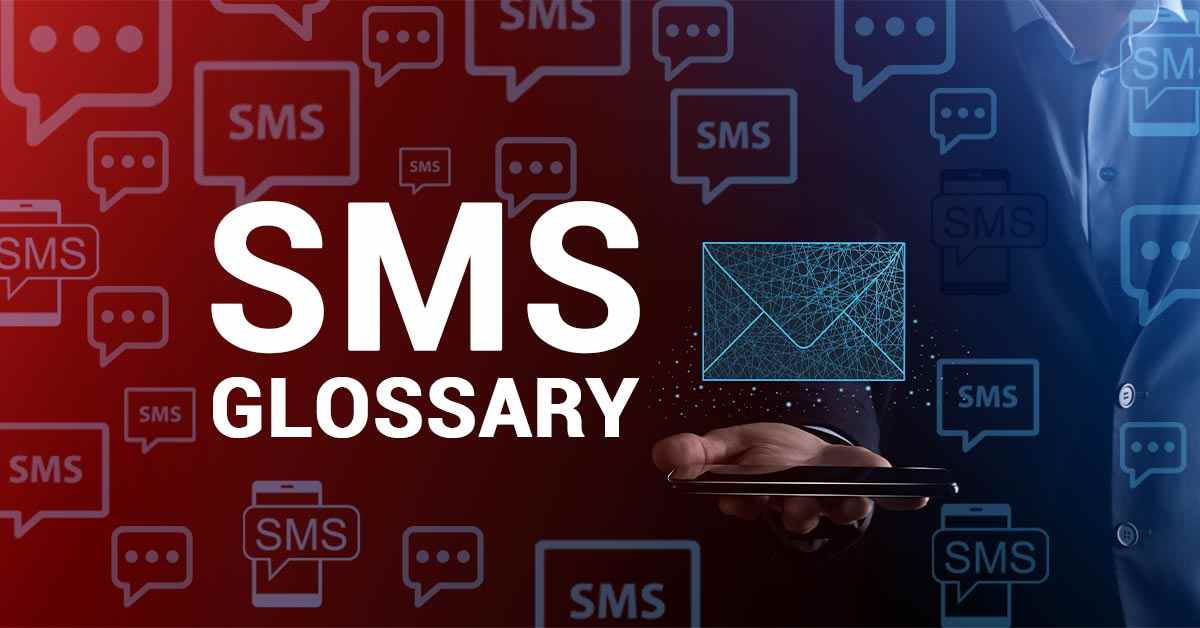 With 9 out of 10 people opening their text messages, SMS is still a much popular mode of communication as compared to others such as email. Here we are going to mention some of the most important and widely used SMS industry terminologies that you should know and understand.  These popular SMS terminologies will help you in running your day-to-day SMS business without any hassle. 
1. A2P Messaging
This is Application to Person messaging where mobile messages are sent from an application to a person or a mobile user. It is also termed enterprise or professional messaging. Here the message is initiated from a business application and not from a user's mobile device.
2. Alphanumeric Sender ID
These IDs are used in one-way messages where a mix of numbers from 0 to 9, both upper and lower case letters, and space characters are used. An alphanumeric sender ID can be as long as 11 characters and generally represent the business or brand name.
3. Binary Messages
This type of massage is used to send data such as small files, rich content such as ringtones, images, and to send WAP push messages. Here the messages are encoded to get over the restrictions in some characters.
4. Concatenated Messages
Concatenation means to link or join together. So, the idea of concatenation here is used to divide longer messages into small parts and send them individually to the recipient. The messages are then collected and reassembled at the recipient's end in the same order in which they were sent so that the message gets recreated. This is done because of the 160 characters limit in traditional SMSs.
5. DLR (Delivery Report)
The delivery report provides the current status of the SMS that has been sent out. Short message service center notifies through a message that the SMS sent from a device has been delivered to the recipient.
6. Fixed Sender ID
This type of sender ID is usually the sender's mobile phone number that cannot be changed as per the need of the user. It adheres to the standard MSISDN format where the maximum length is 15 digits, reserving 1-3 digits for country code.
7. Flash SMS
Flash SMS is a sort of pop-up notification that does not arrive as an SMS rather it lands directly on the home screen of the user's mobile phone. It is the user's choice to save it else it will get deleted automatically. These messages are sent for emergency alerts, deals, and offers.
8. Global Title (GT)
A global title is an address that comes into play when routing of messages on telecommunications networks happens through the SCCP protocol. This address is theoretically unique but practically changes over time.
9. International Mobile Subscriber Identity (IMSI)
The International Mobile Subscriber Identity is usually a 15-digit unique number that identifies a GSM and UMTS, network subscriber. It is embedded in the SIM card of the mobile phone and usually consists of 3 parts – mobile country code, mobile network code, and mobile subscriber identification number.
10. Local Time Stamp
It is a feature that is useful for international enterprises who wish to send messages or notifications to their customers adapted to their local time. This facility displays the timestamp in accordance with the customer's or recipient's local time.
11. Mobile Network Operator (MNO)
A Mobile Network Operator, also known as Wireless Carrier, Mobile Network Carrier, Cellular Company, and Wireless Service Provider, offers wireless voice and data communication to its subscribed mobile users.
12. Mobile Originated SMS Message (MO SMS)
Mobile Originated messaging refers to a message that is sent from an end user's, customer's, or subscriber's mobile phone to the service provider. Generally, these messages are sent by users as a reply when they participate in a contest initiated by the service provider.
13. Mobile Number Portability ( MNP)
It is a facility that allows a mobile network user to switch from one wireless carrier to the other, irrespective of the location, without changing his mobile number. This generally happens when a mobile user is not satisfied with the services provided by the current network operator, so he shifts to another operator keeping the same mobile number.
14. Mobile Station International Subscriber Directory Number (MSISDN)
It is a 15-digit number that helps in the identification of an international mobile phone number. It is the full phone number of a mobile device that includes country code and area code or national destination code and is used to identify a GSM or UMTS subscription.
15. HLR Query
Also called Network Query or Number Look Up, Home Location Register Query (HLR Query) is a real-time query that fetches current connectivity and portability data of a mobile phone. The HLR database has all the information about every mobile phone in the mobile network and thus acts as a primary source of information for subscriber data.
16. Person to Application (P2A)
Also known as Mobile Originated Messaging, here SMSs are sent from a mobile user to an application. A typical example is when a user wishes to subscribe to a particular service offered by the business; he starts the interaction with the business by sending an SMS.
17. Person to Person (P2P) Messaging
Also called Peer-to-Peer messaging, it is the simplest type of messaging that happens when one mobile phone user sends a text message to the other. A simple example is messaging between two friends. A mobile operator acts as an intermediate that is responsible for forwarding messages from one point to another.
18. SMS Aggregator
SMS Aggregators act as an intermediate between wireless carriers and SMS software providers. So, if a business wishes to send messages to its customers, SMS aggregators simplify the job by handling all the technicalities that are to be maintained with the wireless carriers.
19. SMS Reseller
An SMS reseller purchases SMS credits in bulk from the SMS Service Provider at wholesale rates and then resells them in small batches to customers at a price that yields profit.
20. SMS Power Switch
It is a user-friendly remote power control switching device that is fully controlled by the means of an SMS or text message. This simply means that to operate, one just needs to send a text message with the appropriate numeral command.
21. MCC
Mobile Country Code is a code that is used to identify the country of a specific mobile phone subscriber.
22. SMPP
Short Message Peer-to-Peer protocol is used in the telecom industry for exchanging text messages between external short message entities, routing entities, and message centers.
23. SMSC
Whenever a message is initiated by a mobile phone, it first reaches an SMSC. A short message service center (SMSC) is responsible for routing an SMS to the recipient and if in case the receiving end is not available then SMSC stores the message and delivers it once the recipient is available.
24. 2-Way SMS
It's a facility or a platform where outbound and inbound messages are incorporated into one service. To put simply, using this feature, a user can send and receive messages on the same number over a web interface. For example, if a business sends a message to a client then the client can also reply using preset commands or codes.
25. Message Log
The Message Log facility helps in getting real-time insights into the SMS traffic. It helps in figuring out the performance of the SMS campaigns through various filters including period filter, routing filter, content filter, etc. It is quite useful if there is an issue such as SMS failure.
We will be coming up with more SMS industry terms to help you keep your knowledge up to date.
Want a Robust Platform to Start your SMS Business?