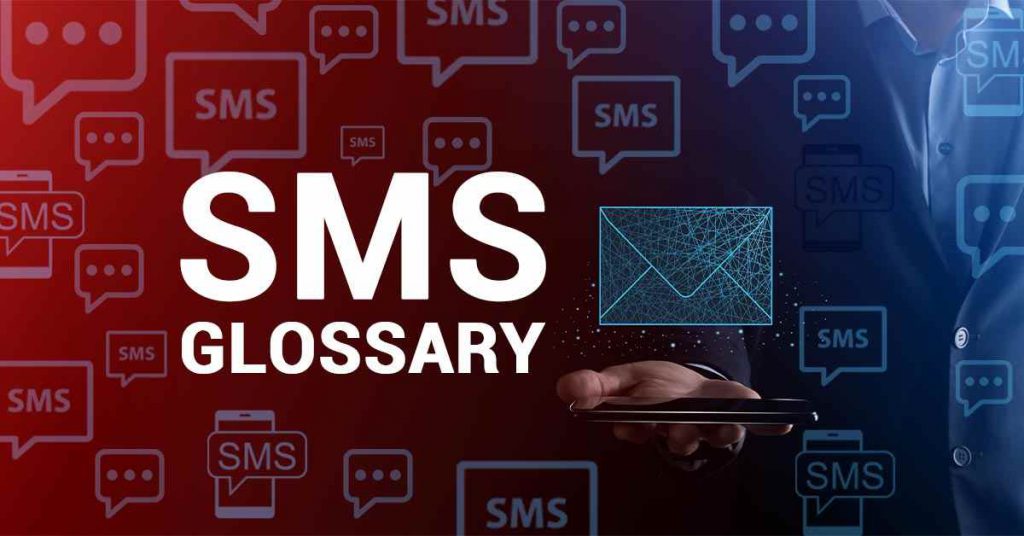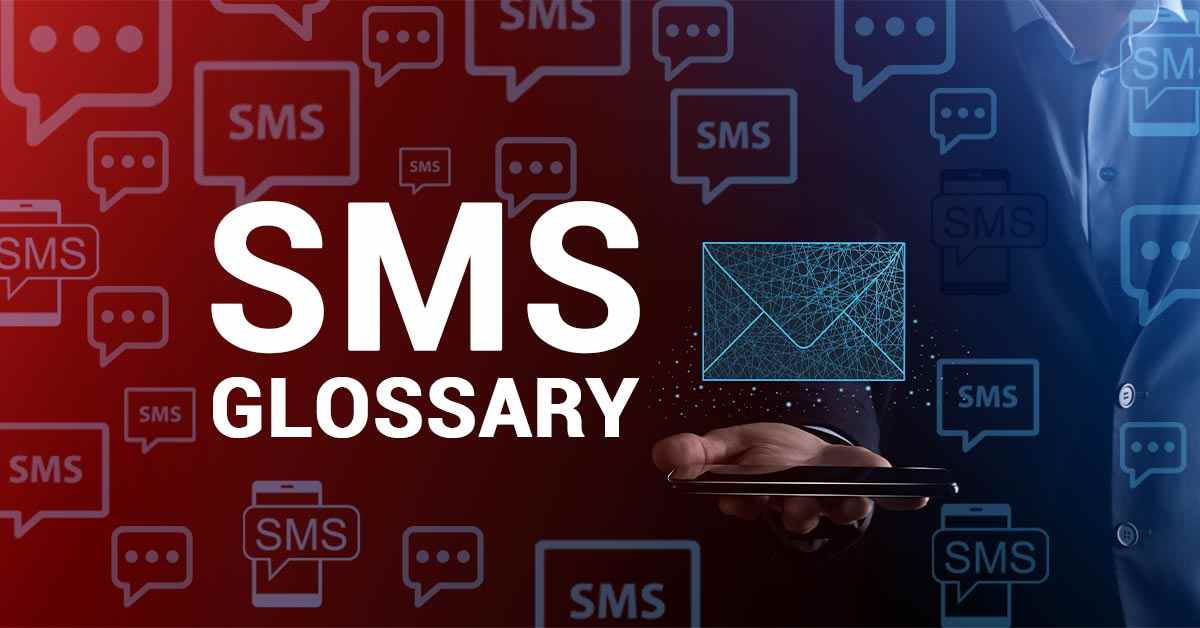 With 9 out of 10 people opening their text messages, SMS is still a popular mode of communication when compared to other modes such as email. Here we are explaining some of the most important and widely used SMS industry terminologies that you should know and understand.  These popular SMS terminologies will help you in running your day-to-day SMS business without any hassle.
1. A2P Messaging
This is Application to Person Messaging where mobile messages are sent from an application to a person or a mobile user. It is also termed as enterprise, business, or professional messaging. Here, the message is initiated from a business application, and not from a user's mobile device. Typically, the line of communication is one-way which means the recipient is not always expected to respond or reply.
2. Alphanumeric Sender ID
These IDs are used in one-way messages wherein a mix of numbers from 0 to 9, both upper and lower case letters, and space characters are used. An alphanumeric sender ID can be as long as 11 characters and generally represent the business or brand name.
3. Binary Messages
These type of messages are used to send data such as small files, rich content such as ringtones, and images, and to send WAP Push messages. Here, the messages are encoded to get over the restrictions in some characters. In technical terms, a binary SMS is in XML format made up of up to 140 bytes of data which is divided into two parts – User Data Header and Message Data.
4. Concatenated Messages
Concatenation means to link or join together. So, the idea of concatenation here is used to divide longer messages into small parts and send them individually to the recipient. The messages are then collected and reassembled at the recipient's end in the same order in which they were sent so that the message gets recreated. This is done because of the 160 characters limit in traditional SMSs.
5. DLR (Delivery Report)
The delivery report provides the current status of the SMS that has been sent out. When a message is sent, it first reaches the SMSC which stores it and tries to deliver it. Once delivered, the Short Message Service Center or SMSC sends a notification message that the SMS sent from a device has been delivered to the recipient.
6. Fixed Sender ID
This type of sender ID is usually the sender's mobile phone number that cannot be changed as per the need of the user. It adheres to the standard MSISDN format where the maximum length is 15 digits, reserving 1-3 digits for country code.
7. Flash SMS
Flash SMS is a sort of pop-up notification that does not arrive as an SMS rather it lands directly on the home screen of the user's mobile phone. It is the user's choice to save it else it will get deleted automatically. These messages are sent for emergency alerts, deals, and offers.
8. Global Title (GT)
A global title is an address that comes into play when the routing of messages on telecommunications networks happens through the SCCP protocol. This address is theoretically unique but practically changes over time.
9. International Mobile Subscriber Identity (IMSI)
The International Mobile Subscriber Identity is usually a 15-digit unique number that identifies a GSM and UMTS, network subscriber. It is embedded in the SIM card of the mobile phone and usually consists of 3 parts – mobile country code, mobile network code, and mobile subscriber identification number.
10. Local Time Stamp
It is a feature that is useful for international enterprises who wish to send messages or notifications to their customers adapted to their local time. This facility displays the timestamp as per the customer's or recipient's local time.
11. Mobile Network Operator (MNO)
A Mobile Network Operator, also known as Wireless Carrier, Mobile Network Carrier, Cellular Company, and Wireless Service Provider, offers wireless voice and data communication to its subscribed mobile users.
12. Mobile Originated SMS Message (MO SMS)
Mobile Originated messaging refers to a message that is sent from an end user's, customer's, or subscriber's mobile phone to the service provider. Generally, these messages are sent by users as a reply when they participate in a contest initiated by the service provider.
13. Mobile Number Portability ( MNP)
It is a facility that allows a mobile network user to switch from one wireless carrier to the other, irrespective of the location, without changing his mobile number. This generally happens when a mobile user is not satisfied with the services provided by the current network operator, so he shifts to another operator keeping the same mobile number.
14. Mobile Station International Subscriber Directory Number (MSISDN)
It is a 15-digit number that helps in the identification of an international mobile phone number. It is the full phone number of a mobile device that includes country code and area code or national destination code and is used to identify a GSM or UMTS subscription.
15. MT SMS (Mobile Terminated SMS Message)
Mobile Terminated SMS simply gets terminated or delivered on a mobile phone. These are sometimes also referred to as Mobile Terminated Messages. These messages are sent from the mobile SMS provider's system and are delivered to a subscriber's mobile phone. These types of messages are usually generated in response to a MO message. For example, a customer sends a message "ORDER" and in response, the system generates a message "20% off on your next order".
16. MVNO
MVNO is a mobile virtual network operator. It is a company that provides mobile phone service but does not have its licensed frequency allocation of the radio spectrum, nor does it have the necessary infrastructure to provide the full mobile network service. An MVNO usually signs a business agreement with a mobile network operator to get access to bulk MNO services at wholesale rates. Subsequently, MVNO then defines its retail prices.
17. HLR Query
Also called Network Query or Number Look Up, Home Location Register Query (HLR Query) is a real-time query that fetches the current connectivity and portability data of a mobile phone. The HLR database has all the information about every mobile phone in the mobile network and thus acts as a primary source of information for subscriber data.
18. Numeric Sender ID
It is the default sender type of SMS message in the standard MSISDN form. Recipients can reply to messages with a numeric sender ID. It is the name or number that the recipient will see at the top of an SMS usually highlighted in the "from" section. A numeric sender ID only consists of numbers up to 11 characters.
19. Termination Rates
Termination rate is the charge that one telecom operator charges to another when the latter's call terminates on the former's network. Suppose you make a call from your network A to a friend who has network B. Now, the operator of network A will charge you a fee per minute for your call. Also, operator of the network A will be charged a certain amount of fee by the operator of the network B because the call has been terminated on its network. In other words, the termination rate becomes a part of Operator of Network A's cost of providing the call to the customer.
20. Person to Application (P2A)
Also known as Mobile Originated Messaging, here SMSs are sent from a mobile user to an application. A typical example is when a user wishes to subscribe to a particular service offered by the business; he starts the interaction with the business by sending an SMS.
21. Person to Person (P2P) Messaging
Also called as Peer-to-Peer messaging, it is the simplest type of messaging that happens when one mobile phone user sends a text message to the other. A simple example is messaging between two friends. A mobile operator acts as an intermediate who is responsible for forwarding messages from one point to another.
22. SMPP
SMPP is the short message peer-to-peer protocol. It is a telecom industry protocol for exchanging SMS messages between SMS peer entities such as Short Message Service Centers (SMSCs).
23. SMS Aggregator
SMS Aggregators act as an intermediate between wireless carriers and SMS software providers. So, if a business wishes to send messages to its customers, SMS aggregators simplify the job by handling all the technicalities that are to be maintained with the wireless carriers.
24. SMS Gateway
It is the entry or exit point for SMS Messages. SMS Gateway enables a computer system to send and receive SMS messages to and from an SMS enabled device such as a mobile phone. It performs the role of the translator as it makes the sent message compatible for delivery over the network so that it reaches the intended recipient.
25. SMS Hubbing
It is a new structure that defines the international flow of SMS traffic between operators. It was introduced as a solution to a problem that restricted the growth of international SMS i.e. the working of international mobile inter-operability. An SMS Hub is like a transfer house from where the SMS traffic is transmitted to its final destination. Thus SMS hubs are implemented to intermediate the SMS traffic and offer larger SMS coverage.
26. SMS Reseller
An SMS reseller purchases SMS credits in bulk from the SMS Service Provider at wholesale rates and then resells them in small batches to customers at a price that yields profit.
27. SMS Power Switch
It is a user-friendly remote power control switching device that is fully controlled by the means of an SMS or text message. This simply means that to operate, one just needs to send a text message with the appropriate numeral command.
28. SS7
It stands for Signalling System Number 7 which is a set of protocols used by mobile phone networks to exchange data for processing voice calls and text messages. SS7 protocol is also used in prepaid billing to ensure that the customer is billed the right amount according to their specific tariff.
29. MCC
It stands for Mobile Country Code which is used to identify the country of a specific mobile phone subscriber. It usually consists of 3 decimal digits wherein the first digit represents the geographic region. It is used in combination with MNC i.e. mobile network code for unique identification of a mobile network operator.
30. SMPP
Short Message Peer-to-Peer Protocol is used in the telecom industry for exchanging text messages between external short message entities, routing entities, and message centers. You can also read our post on SMPP Server: How to Choose Best Secure SMPP Server Provider?
31. SMSC
Whenever a message is initiated by a mobile phone, it first reaches an SMSC. A short message service center (SMSC) is responsible for routing an SMS to the recipient and if, in case, the receiving end is not available then SMSC stores the message and delivers it once the recipient is available.
32. 2-Way SMS
It's a facility or a platform where outbound and inbound messages are incorporated into one service. To put it simply, using this feature, a user can send and receive messages on the same number over a web interface. For example, if a business sends a message to a client then the client can also reply using preset commands or codes.
33. Message Log
The Message Log facility helps in getting real-time insights into SMS traffic. It helps in figuring out the performance of the SMS campaigns through various filters including period filter, routing filter, content filter, etc. It is quite useful if there is an issue such as SMS failure.
34. Unicode
Also called as the Unicode Standard, it is an information technology standard that allows the consistent encoding, representation, and manipulation of text expressed in most of the world's writing systems. It's an SMS MT feature that allows sending of any content within an SMS message.
35. WAP Push
Wireless Application Protocol Push or WAP Push is a mechanism to push WAP content to a mobile handset without minimum user intervention. In other words, it directs an SMS recipient to a web page or a website without them having to enter the web URL in their phone's browser. It is sent in the form of an encoded message that includes a link to a WAP address which is in the header of the SMS. So when an SMS recipient taps on the link, the phone prompts them to open the content, and they are directed to the address and the content gets displayed.
36. OTP SMS
OTP stands for One-Time Password which is an authentication mechanism where OTP is sent to the registered mobile number of a user through an SMS. This mechanism is also known as 2 Factor Authentication. Usually, there's a specific time frame within which an OTP can be used.
37. CPaaS
Communications Platform as a Service or Cloud communications platform is a category of cloud computing services that allow developers or organizations to add real-time communication capabilities such as voice, video, and SMS messaging to their applications without needing to develop backend infrastructure and interfaces. This is often achieved with the help of Application Programming Interfaces and software development kits.
38. 3G Mobile Technology
3G is the third generation of wireless mobile telecommunications technology which was introduced in the year 2003. It was an upgrade over all the 2G networks offering faster data transfer and internet access. This helped users to browse websites, make video calls download media files on the move.
39. 4G Mobile Technology
Succeeding 3G and preceding 5G, 4G is the fourth generation of mobile phone technology. As each generation of wireless cellular technology introduces improvements in upload/download speeds, call clarity, and reduced latency, 4G offers speeds of up to 100 Mbit/s.
40. 5G Mobile Technology
5G is the fifth-generation technology standard for broadband cellular networks. It is the successor to 4G networks and its worldwide deployment began in the year 2019. This technology is meant to deliver higher data speeds, massive network capacity, ultra-low latency, and more reliability, and availability, thus, resulting in providing a uniform user experience. Using 5G, users can enjoy extremely high-speed internet, real-time streaming of data, location-based technology, etc.
We will be coming up with more SMS industry terms to help you keep your knowledge up to date.
Looking for an SMS Platform?