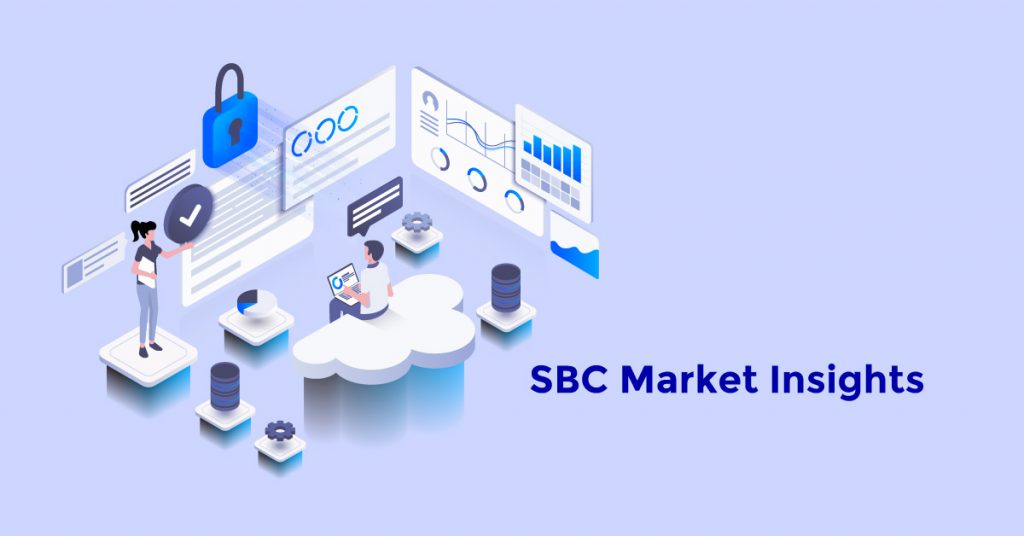 Session Border Controller Market Scenario
Application of technology is being rapidly adopted by businesses of various verticals all over the globe. More and more SMBs are switching from PSTN lines to IP Telephony or VoIP based PBXs. Also, the rising number of mobile internet users along with 5G devices is experiencing tremendous growth and are anticipated to continue to grow at a fast pace. All these factors are contributing significantly towards the growth of the Global Session Border Controller market.
Growth Figures (By Year) – 2019 to 2028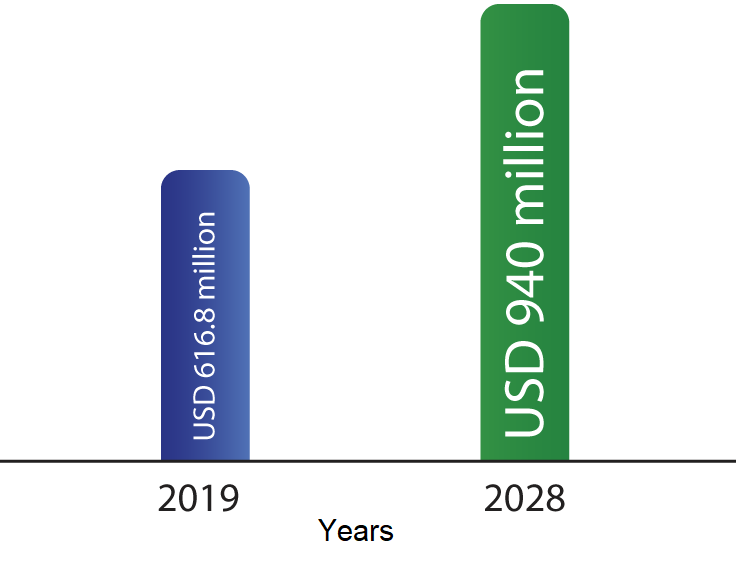 In the year 2019, the global SBC market witnessed a revenue of USD 616.8 million and is expected to hit the mark of USD 940 million by 2028.
Growth Figures – By Region
There are 5 main regions basis which the worldwide SBC market is segmented. This includes North America, Europe, Asia Pacific, Latin America, and the Middle East & Africa. While North America is expected to capture the largest session border controller market share owing to growth at a CAGR of 4.04% during 2019 to 2028, the market in Asia Pacific is expected to grow at a CAGR of 6.07%, which is highest among all.
In the case of the former, some of the primary factors behind growth in this region include implementation of Artificial Intelligence and Internet of Things, etc. across industries from various verticals. For the latter, presence of several SBC manufacturers and component providers along with initiatives by the government towards expansion of digital technologies, are the major growth drivers.
Growth Figures – By Type
By type, the Global SBC market is segmented into three major categories, as Enterprise SBC, Service Provider SBC, Hybrid SBC. Enterprise SBC – Also known as E-SBCs, this segment holds the largest share in the market. E-SBCs are a crucial component amongst organizations to achieve security and constant network connectivity as there is a constant rise in BYOD culture and remote working. This segment is further divided based on their size as Small, Medium and Large Enterprises. Looking at the growth forecast, the medium scale enterprises are likely to grow with the highest rate of CAGR of 5.13% from 2019 to 2028. 
Growth Figures – By Size
Session Capacity is another parameter depending upon which the market is further categorized as <300, 300-1000, 1001-5000, 5001-10000, and >10000. Here the 5001-10000 segment is expected to grow with the highest CAGR of 5.08% during 2019 to 2028.
Growth Figures – By Industry
Additionally, based on the end-use industry verticals, the market is segmented into government, transportation, BFSI, healthcare, manufacturing, IT & telecom, energy & utility, etc. Among all these, the IT & telecom industry's session border market share is projected to generate a revenue of USD 332.32 million by the end of 2028.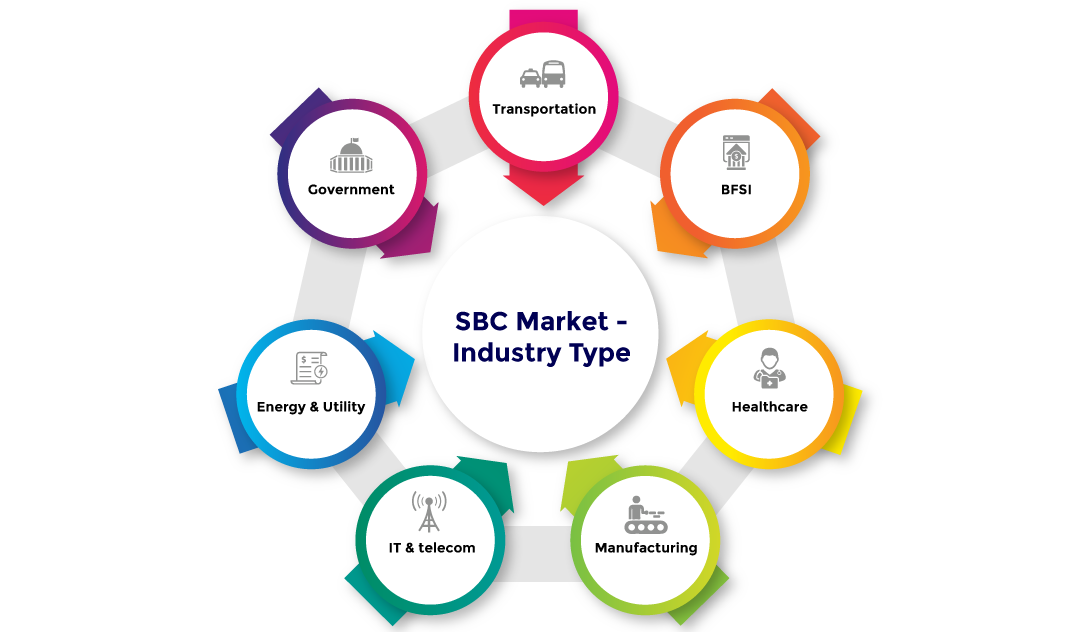 Session Border Controller Market Drivers – Growth Indicators 
Security of Business Communication Channels
VoIP offers greater scalability, flexibility and cost-effectiveness as compared to traditional communication technologies. With these benefits, it has become one of the most preferred communication technologies among businesses. While its adoption is on a continuous rise, various security concerns among enterprises are also growing.
Due to this, the need to deploy session border controllers is also rising. It is because, primarily, SBCs function towards protecting and securing the network from hackers. SBCs work in real time and upon detecting a potential threat, they immediately block it and raise alert as well. Cyber threats such as DDoS attacks and toll frauds can easily attack IP communication channels but by deploying SBCs, companies can keep a check on such cyber threats.
Besides security, there are several other factors that will fuel the growth of Session Border Controller market size, as mentioned below:
Growing Popularity of next generation IP communication platforms and networks where SBCs can be of great use in terms of security, quality and connectivity.
Rising need for Seamless Customer Experience as SBCs help in improving call quality.
Increasing demand of High-speed data network connectivity
SBC Market Constraints
While everything has its own pros and cons, SBCs also have their downside. Some of the major factors that can hinder the growth of the global session border controller market are:
Interoperability i.e. SBCs ability to normalize different dialects of SIP signals to mitigate multi-vendor incompatibilities is quite complex that limits its implementation.
The set up or installation and maintenance of SBCs require high technical expertise which also limits the growth of the market.
Poor implementation practices and complex configuration are also the drawbacks of SBCs.
Lack of awareness about the availability of session border controllers in the emerging global business market also hinders the growth.
Availability of Open-source SBCs also inhibits the growth.
Final Words
In the coming years, the global SBC Market is expected to incur expansive and promising growth owing to an array of advantages it offers to the telecommunication sector. In other words, the Session Border Controller Market is a competitive landscape where we can see new innovations taking place leading to a promising growth chart.
Data Source : Research Nester 
Read Also