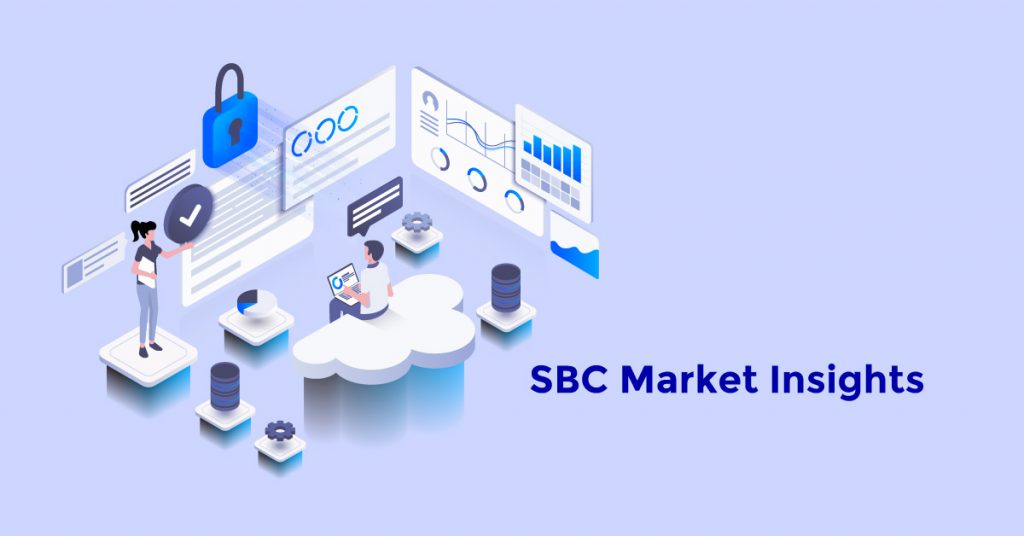 Session Border Controller (SBC) Market Overview
Session Border Controllers today occupy a vital role in modern communication infrastructure deployment. The Session Border Controller Market has changed in one decade with several technological advancements and the entry of new market players.   
Introduction to Session Border Controller
A Session Border Controller is like a vigilant gatekeeper of communication that happens between different networks. SBCs ensure the integrity, quality, and security of communications as they happen. What started as a perimeter security element has now become the central switching element at the core of many networks. Also known as Border Elements, VoIP Gateways, or simply Gateways, the expansion in the role of Session Border Controllers has brought in several new trends that we are witnessing today. 
Evolution of SBC Technology: Past, Present and Future 
In the beginning, SBCs were used for firewall functions, which means their role revolved around protecting the VoIP networks from unauthorized access. In these early days, SBCs were primarily focused on basic security functions to secure VoIP calls. 
The role of SBCs evolved significantly over the years. SBCs have extended their capabilities beyond basic security measures and offer advanced features like Encryption, NAT traversal, QoS, etc. Modern-day SBCs also offer the feature of interoperability which allows businesses to establish secure connections between different networks. 
Let us take a look at some of the ongoing figures about the global session border controller market:
According to market research, the

global session border controller market

is projected to grow at a compound annual growth rate (CAGR) of 7.4% during the forecast period from 2020 to 2027 and reach a market size of US$ 2.5 billion by 2027.

The Global Session Border Controller demand is forecasted to be valued at US$ 1200 Million in 2032, growing at a CAGR of 5.4%.

According to a report by MarketsandMarkets, the global session border controller market size is expected to grow from USD 1.1 billion in 2020 to USD 1.5 billion by 2025, at a Compound Annual Growth Rate (CAGR) of 6.5% during the forecast period.

As per a report by Research and Markets, the global session border controller market size is expected to grow to USD 2.29 billion by 2024, at a CAGR of 9.2%.
Global Market Analysis and Forecast
The application of technology is being rapidly adopted by businesses of various verticals all over the globe. More and more SMBs are switching from PSTN lines to IP Telephony or VoIP-based PBXs. Also, the rising number of mobile internet users along with 5G devices is experiencing tremendous growth and is anticipated to continue to grow at a fast pace. All these factors are contributing significantly to the growth of the Global Session Border Controller market.
Growth Figures (By Year) – 2019 to 2028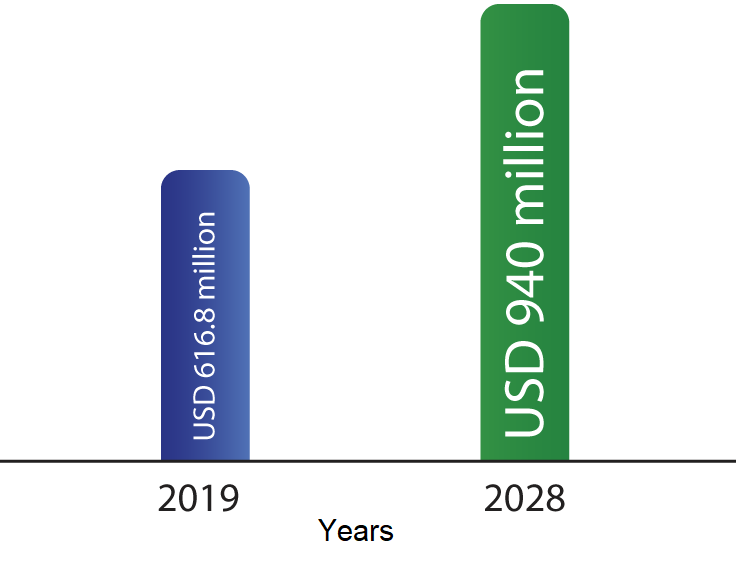 In the year 2019, the global SBC market witnessed a revenue of USD 616.8 million and is expected to hit the mark of USD 940 million by 2028.
By Type
By type, the Global SBC market is segmented into three major categories – Enterprise SBC, Service Provider SBC, and Hybrid SBC. 
Enterprise SBC 
Also known as E-SBCs, this segment is anticipated to hold the largest market share of 79.27% by the end of 2026. E-SBCs are a crucial component amongst organizations to achieve security and constant network connectivity as there is a constant rise in BYOD culture and remote working. This segment is further divided based on their size as Small, Medium, and Large Enterprises. Looking at the growth forecast, medium-scale enterprises are likely to grow with the highest rate of CAGR of 5.13% from 2019 to 2028. 
Service Provider SBC
This class of SBCs, also known as Carrier-Grade SBCs, is used by telecom service providers. These Session Border Controllers are mainly designed to handle the unique demands of large-scale communication networks. 
Hybrid SBC
Hybrid SBCs are deployed within an enterprise's network, but these are designed to handle both internal and external communication. In other words, this class of SBCs bridges the gap between the enterprise's internal network and external networks.
By Application
In the realm of communication networks, SBCs are utilized in many ways, as mentioned below:
1- IP Contact Centers
Communication that happens between customers and agents within a contact center must be smooth and secure. SBCs ensure this by managing call sessions, handling protocol interworking, and upholding the quality of service. 
2- SIP Trunking
Session Border Controllers act as a cornerstone of SIP trunking solutions by providing a connection between an organization's PBX and the ITSP. With this, they ensure the reliability and security of voice and multimedia sessions over SIP trunks. 
3- Cloud-Based IP Communication Service
In cloud-based communication services, SBCs are an essential component for managing and securing interactions among different networks and endpoints. SBCs ensure seamless traffic flow between users whether they utilize contemporary VoIP solutions or conventional phone systems. 
4- Service Provider Border Security
For service providers, SBCs act as a first line of defense providing protection to their networks from malicious parties and threats. By enforcing security policies and conducting protocol normalization, SBCs protect their network infrastructure from potential attacks. 
5- Others
Apart from the areas mentioned above, SBCs are often used in various other scenarios. Consider a situation where communication networks need to be linked together to ensure correct call routing, interoperability, and security. Such scenarios may involve IoT networks, Unified Communication platforms, etc. 
By Industry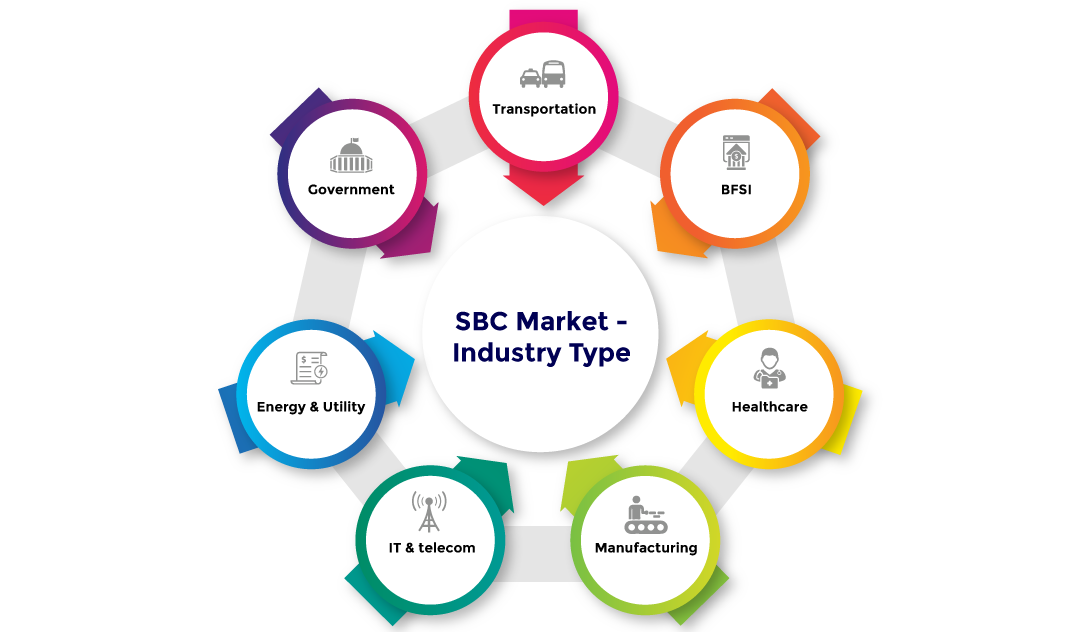 Additionally, based on the end-use industry verticals, the market is segmented into government, transportation, BFSI, healthcare, manufacturing, IT & telecom, energy & utility, etc. Among all these, the IT & telecom industry's session border market share is projected to generate a revenue of USD 332.32 million by the end of 2028.
By Size 
Session Capacity is another parameter depending upon which the market is further categorized as <300, 300-1000, 1001-5000, 5001-10000, and >10000. Here the 5001-10000 segment is expected to grow with the highest CAGR of 5.08% from 2019 to 2028.
By Region
There are 5 main regions basis which the worldwide SBC market is segmented. This includes North America, Europe, Asia Pacific, Latin America, and the Middle East & Africa. While North America is expected to capture the largest session border controller market share owing to growth at a CAGR of 4.04% from 2019 to 2028, the market in Asia Pacific is expected to grow at a CAGR of 6.07%, which is the highest among all.
In the case of the former, some of the primary factors behind the growth in this region include the implementation of Artificial Intelligence and the Internet of Things, etc. across industries from various verticals. For the latter, the presence of several SBC manufacturers and component providers along with initiatives by the government toward expansion of digital technologies, are the major growth drivers.
By Players 
The major players in the Session Border Controller (SBC) Market include Cisco Systems, Ribbon Communications, Cataleya, AudioCodes, REVE Systems, Sangoma, Oracle Corporation, Nokia Corporation, and Avaya Inc. Apart from these several new players have also entered the SBC market in both enterprise and service providers segment. 
Driving Forces Behind SBC Market Growth
Security of Business Communication Channels
VoIP offers greater scalability, flexibility, and cost-effectiveness as compared to traditional communication technologies. With these benefits, it has become one of the most preferred communication technologies among businesses. While its adoption is on a continuous rise, various security concerns among enterprises are also growing.
Due to this, the need to deploy session border controllers is also rising. It is because, primarily, SBCs function towards protecting and securing the network from hackers. SBCs work in real-time and upon detecting a potential threat, they immediately block it and raise an alert as well. Cyber threats such as DDoS attacks and toll frauds can easily attack IP communication channels but by deploying SBCs, companies can keep a check on such cyber threats.
Increased Focus on Customer Experience
Besides security, intelligent control is another USP offered by SBCs which helps businesses to obtain more control over their VoIP communication channels and achieve their customer experience goals. Through Intelligent Call Routing functionality, SBCs ensure that for every network, an optimal route is chosen to deliver a call to its final destination.
In other words, it makes sure that communication is provided via only the most advantageous channels so that each conversation properly reaches the intended person. Also, SBCs offer a number of features including advanced media processing capabilities, NAT Traversal, disaster recovery, etc. that improve the reliability, security, and quality of VoIP communications. This, in turn, boosts customer satisfaction and leads to better customer experience.
Rising Demand for BYOD
The workplace scenario has changed completely. It is more flexible and mobile than ever before. Employees can work from anywhere using any supporting device. Geographical boundaries have simply vanished. Now, with companies adopting BYOD strategies, the traffic from SIP communications is on a continuous rise.
Session Border Controllers can help companies manage the growing SIP traffic by providing them with the right set of tools. Session Border Controllers (SBCs) can support Bring Your Own Device (BYOD) by providing security and management for VoIP communications. SBCs can be placed at the border of a network to inspect and control SIP and other protocols used for VoIP. They can authenticate and authorize devices before allowing them to connect to the network, and can also encrypt and decrypt communications to ensure secure transmission. Additionally, SBCs can provide Quality of Service (QoS) management to ensure that BYOD devices receive adequate bandwidth for high-quality communications.
With all the above-mentioned trends, it is evident that there will be a significant rise in the demand for SBCs.
Challenges and Opportunities in the SBC Industry
The SBC industry is also not untouched by challenges. Some of the major factors that can hinder the growth of the global session border controller market are:
Interoperability i.e. SBCs' ability to normalize different dialects of SIP signals to mitigate multi-vendor incompatibilities is quite complex and limits its implementation.

The setup installation and maintenance of SBCs require high technical expertise which also limits the growth of the market.

Poor implementation practices and complex configuration are also the drawbacks of SBCs.

Lack of awareness about the availability of session border controllers in the emerging global business market also hinders growth.

Availability of Open-source SBCs also inhibits the growth.
Here are some significant opportunities in the Global Session Border Controller Market:
Market Growth
In light of the market's current transformation, it is evident that the global SBC market will be growing significantly in the years ahead. This growth presents opportunities for companies to expand their offerings in the global market and capture a larger share. 
Technological Advancements
With the global SBC market being constantly in flux, there exists a window for industry players to embrace technological advances and develop innovative SBC solutions. These may encompass upgraded security protocols, increased scalability, and seamless integration with cutting-edge technologies. 
Market Segments
In the SBC market, stakeholders can strategically focus on particular market segments to harness growth potential. By identifying and catering to segments with a strong demand for SBC solutions, stakeholders can expand their market presence and improve profitability.   
SBC Deployment Models
When it comes to deployment, SBCs offer various options for organizations to choose from as per their requirements and preferences. Take a look:
On-Premises SBC Solutions
This type of SBC solution is installed within an organization's physical infrastructure. From a configuration, security, and management point of view, this model offers more control to the organization. It is suitable for companies with well-established IT infrastructure and has strict security and privacy requirements. 
Cloud-based SBC Services
In this model, the SBC functionality is provided as a service as the SBC is hosted in the cloud by a third-party service provider. Businesses or organizations that have limited IT resources and require scalability and ease of management can opt for this model. Some key advantages of cloud-based SBC services include quick deployment, automatic updates, and the ability to fulfill fluctuating communication requirements. 
Hybrid SBC Deployments: Best of Both Worlds
This model combines the best of both on-premise and cloud-based SBC solutions. Through hybrid deployment, companies or organizations can maintain an on-premise SBC for critical communications and can leverage cloud-based SBC services for traffic that is less sensitive. This model is ideal for companies that want to keep their sensitive data on-premise while benefiting from the scalability of the cloud. 
Future Trends and Innovations in the SBC Market 2023-2033
Based on the current trends and estimated growth of the session border controller market, below mentioned are some predictions for this market:
The growth in the market can be attributed to the increasing adoption of session border controllers in various industries and the growing need for advanced security features.

The increasing adoption of cloud-based solutions and the integration of AI and ML technologies are expected to drive the growth of the market in the future.

The increasing use of WebRTC and SIP Trunking is expected to continue driving the growth of the market. The increasing need for compliance with regulatory requirements, such as GDPR and HIPAA, is also expected to drive the adoption of session border controllers in various industries.

Furthermore, the rise in the adoption of virtual communication and collaboration tools will also drive the growth of the market in the future.
However, it's important to note that these predictions are based on the analysis of past trends and current market conditions, and actual market performance may differ from these predictions due to unforeseen events or changes in market conditions.
Summary
In the coming years, the global SBC Market is expected to incur expansive and promising growth owing to an array of advantages it offers to the telecommunication sector. In other words, the Session Border Controller Market is a competitive landscape where we can see new innovations taking place leading to a promising growth chart.
Data Source: Research Nester 
Read Also
Note – This post has been updated with the latest information on 31-08-23.