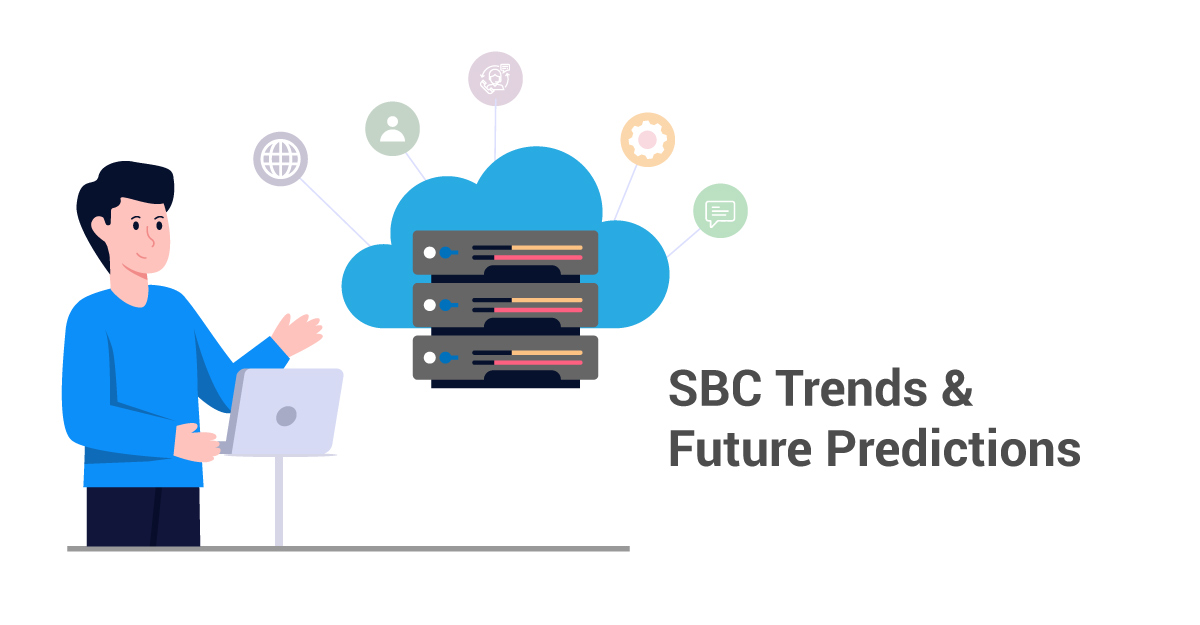 Two decades back, nobody in the market knew about SBCs. But fast forward to today, SBCs are one of the most important technologies worldwide. What started as a perimeter security element has now become the central switching element at the core of many networks. Also known as border elements, VoIP Gateways or simply gateways, the expansion in the role of Session Border Controllers has brought in several new trends that we are witnessing today.
Session Border Controller Market – Ongoing Trends
Let us take a look at some of the most popular trends that are paving the path for session border controllers:
More Inclination towards Security
Security and privacy have become the primary focus for enterprises all around the world. With the high vulnerability of IP communication channels to cyber-security threats, more and more sophisticated SIP attacks are happening everyday such as distributed denial of service attacks, toll fraud, etc. The need to deploy advanced safety and security measures is also growing.
Session border controllers (SBCs) are used to secure and manage VoIP (Voice over Internet Protocol) and other real-time communications sessions at the network edge. They act as a security gateway between the enterprise's internal network and the public internet, protecting against various security threats such as Denial of Service (DoS) attacks, toll fraud and unauthorized access to the network.
Session Border Controllers empower enterprises to have advanced level control over their VoIP environments. This also helps them safeguard their revenue and productivity from getting impacted.
Increased Focus on Customer Experience
Besides security, intelligent control is another USP offered by SBCs which helps businesses to obtain more control over their VoIP communication channels and achieve their customer experience goals. Through Intelligent Call Routing functionality, SBCs ensure that for every network, an optimal route is chosen to deliver a call to its final destination.
In other words, it makes sure that communication is provided via only the most advantageous channels, so that each conversation properly reaches the intended person. Also, SBCs offer a number of features including advanced media processing capabilities, NAT Traversal, disaster recovery, etc. that improve the reliability, security and quality of VoIP communications. This, in turn, boosts customer satisfaction and leads to better customer experience.
Rising Demand for BYOD
Workplace scenario has changed completely. It is more flexible and mobile than ever before. Employees can work from anywhere using any supporting device. Geographical boundaries have simply vanished. Now, with companies adopting BYOD strategies, the traffic from SIP communications is on a continuous rise.
Session Border Controllers can help companies in managing the growing SIP traffic by providing them the right set of tools. Session Border Controllers (SBCs) can support Bring Your Own Device (BYOD) by providing security and management for VoIP communications. SBCs can be placed at the border of a network to inspect and control SIP and other protocols used for VoIP. They can authenticate and authorize devices before allowing them to connect to the network, and can also encrypt and decrypt communications to ensure secure transmission. Additionally, SBCs can provide Quality of Service (QoS) management to ensure that BYOD devices receive adequate bandwidth for high-quality communications.
With all the above mentioned trends, it is evident that there will be significant rise in the demand of SBCs.
Session Border Controllers – What to Expect in Future?
Let us take a look at some of the ongoing figures about the global session border controller market:
According to the market research, the global session border controller market is projected to grow at a compound annual growth rate (CAGR) of 7.4% during the forecast period from 2020 to 2027 and reach a market size of US$ 2.5 billion by 2027.
The Global Session Border Controller demand is forecasted to be valued at US$ 1200 Million in 2032, growing at a CAGR of 5.4%.
According to a report by MarketsandMarkets, the global session border controller market size is expected to grow from USD 1.1 billion in 2020 to USD 1.5 billion by 2025, at a Compound Annual Growth Rate (CAGR) of 6.5% during the forecast period.
As per a report by Research and Markets, the global session border controller market size is expected to grow to USD 2.29 billion by 2024, at a CAGR of 9.2%.
Future of Session Border Controllers: Growth Predictions
Based on the current trends and estimated growth of the session border controller market, below mentioned are some predictions for this market:
The growth in the market can be attributed to the increasing adoption of session border controllers in various industries and the growing need for advanced security features.
The increasing adoption of cloud-based solutions and the integration of AI and ML technologies are expected to drive the growth of the market in the future.
The increasing use of WebRTC and SIP Trunking is expected to continue driving the growth of the market. The increasing need for compliance with regulatory requirements, such as GDPR and HIPAA, is also expected to drive the adoption of session border controllers in various industries.
Furthermore, the rise in adoption of virtual communication and collaboration tools will also drive the growth of the market in the future.
However, it's important to note that these predictions are based on the analysis of past trends and current market conditions, and actual market performance may differ from these predictions due to unforeseen events or changes in market conditions.
Final Words
Despite the evident benefits, many companies are still not using SBCs to protect and manage their communication networks. Well, that's surprising, but given the growing complexity and security threats associated with networks, the interoperability and security capabilities of SBCs will surely become indispensable in the coming time.
Read Also