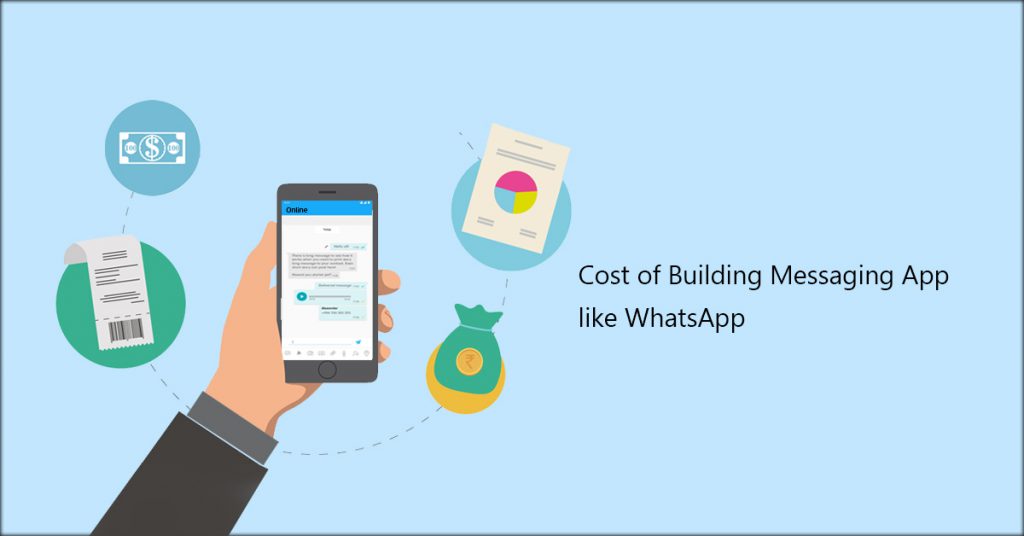 Messaging App like WhatsApp is the most popular form of messaging in this 21st century. These instant messaging apps are used both on personal as well as professional fonts.
However, the cost of building the Messaging App like WhatsApp are quite high. The cost of developing an app for two of the major platforms that are Android and iOS can go well over $50,000.
While this shows a major increase in the cost of app development over the last 10 years, the advantages that these apps have brought to people are quite balanced given to the increase in their building cost.
Revenue and Usage Statistics of Messaging Apps
The rapidly growing popularity of these Instant Messaging apps is due to the wide range of features they offer along with their basic function of sending messages. These features have helped to make things a lot easier or people in every sector.
Considering both personal and business or official usages, these Instant Messaging apps dominate a huge market today. What initially was thought to be a new trend in technology, today dominates the mainstream leaving the traditional telephone service providers far behind.
The growth statics of messaging apps also show that it is one of the investing hotspots as this technology is going to grow and reach an altogether different level in recent years.
Recent Statistics of Messaging Apps:
Why WhatsApp is So Popular: Messaging App like WhatsApp
The need for a communication process that is simple, fast and low cost is what has led to the beginning and evolution of the Messaging Apps of today. Popular instant Messaging Apps like WhatsApp, Telegram, Snapchat, WeChat had a primary goal of offering users the facility to exchange messages in real-time only via internet.
Evolving from the initial function of real-time messaging, the messaging App like WhatsApp offers a lot more today. These apps have added features like profile creation, file and image sharing, audio-video calls, status, stories, photo filters for images, stickers and many more to give it an entertaining corner and make it more appealing to the users.
The increasing popularity of Messaging App like WhatsApp are directly related to some of the prominent features they offer.
Some important functionalities of Messaging App like WhatsApp:
Real-time 1-on-1 or group chats
Images, File and Live Location Sharing
Audio, video messages and calls
Sharing Contacts, links and more
Add stories, status, build a profile
The availability of these features is beneficial for people in general as they can stay connected easily. Further, the compatibility and availability of messaging App like WhatsApp on multiple operating systems help it to retain its position as the popular choice.
Steps in Building an App Like WhatsApp or Telegram
While Messaging App like WhatsApp is fun and convenient to use, a lot goes behind the scene to build it. The app development process is lengthy with lots of complications. It requires extensive planning, selection of right strategies to take each step, decide which features or functions to include, detailed designs and most importantly a skilled workforce.
To get an estimate of how much money you would need to develop an app from scratch, this 5 points which will give you an estimate.
Plan Architecture of Messaging App
To build a Messaging App like WhatsApp you need to first understand what goes on in the background of this app and the factors that result in such high quality messaging app.
WhatsApp uses Ejabberd XMPP Application server for handling the heavy message traffic. It also has a high-performance web server named YAWS dedicated to multimedia file storage. WhatsApp uses Mnesia for databases and FreeBSD operating systems for power servers. In addition to this, WhatsApp also uses Extensible Messaging and Presence Protocol (XMPP) technology for message transfer.
While the technical details mentioned above are some of the major ones, various other technologies go on in the backend. If you have the resources you can try gathering each component, else you can hire app development companies to do the heavy lifting.
Choose Right Monetization Strategies for High Return
The 3 major factors that you need to keep in mind while selecting the monetizing model for your messaging app are target audience, your competitor and app idea. The target audience will help you to recognize who will use your messenger more. Proper research on the market and your competitors will bring many important points forward. And finally adding something to the general idea of creating a messaging app will help your app to grow fast and attract more users.
Monetizing strategies are those that will help you to gain that extra revenue from your app. There are 3 major ways in which you can monetize your Messaging app.
In-App Purchase: When users buy something inside the app to enhance their messaging experience or subscribe to any premium function.
In-App Advertising: A common and quick way to earn from your app. However,
too many ads can adversely affect the user experience.
Peer-to-peer Transactions: If your users send money to each other using your app, you can charge a fixed fee for each transaction made.
Check here to know more about App Monetization: How to Monetize Your OTT App For High Returns
Decide Features and Functionalities for App
Your selection of features and functionalities have a huge impact on the app development cost. In addition to this, the set of features that you select for your app also affects the way the app would be received in the market.
If you aim to make a messaging App like WhatsApp then you need a powerful server to manage all the operations seamlessly. The app development cost depends on the amount of time the development team would take to create the features you want to include.
Some of the important features to include are:
Registration and authentication
User Profile
Account(Privacy, Security, change number, delete account)
Contact Sync
1-on-1 chat & Group Chat
Audio-video calls
Chat & Call history
App Settings & Chat Settings
Web/Desktop version
End-to-End Encryption
Data & Storage Uses
Msg & App Notifications
About App & Help
Hire Experienced App Development Team
There are 2 available options when you want to make a Messaging App like WhatsApp. Firstly, you keep an in-house development team. Secondly, you can hire an app development company.
However, hiring an app development company produces better results. This is because they have the experience and the ability to deliver top product quality by integrating the latest technologies and proven methods for the best output.
But on the other hand, the in-house development team would give you more room to make adjustments according to your vision. Here are some of the team members and skills you need to include: project manager, business analyst, software developers, app tester, UX/UI Designer, marketing manager.
Turn your App Idea into a Great Design
Designing details like colour theme, font style, icon design or layout of each app page matter a lot for your app to stand out. And therefore, in addition to being a feature-rich app, it also needs to be attractive and also simple to use.
Keeping the interface fresh and user-friendly so that all the main functionalities are easy to find and use would help your app become user favourite. Too much complication, however, turns the audience off.
How Much It Cost To Develop a Messaging App Like WhatsApp
To know how much your app development would finally amount to you can multiply the total number of hours of development to the per hour cost of the development. Although it is difficult to present a fixed rate, the above calculation would help you to narrow it down.
As already mentioned before, the app development cost depends on several factors. And therefore, you can go on adding the amount as you complete the budget of each part.
How To Reduce the Cost for an App like WhatsApp
Both the options of hiring an app development company as well as going for an in-house development team are costly. The in-house development team also associates with itself the trial and error process which would cost more resources as well as can impact the product launch deadline as well.
Therefore considering all the pros and cons of these 2 options, there is a 3rd option that has become quite favourable in recent years. This is the white-label app solution.
White-Label Solution
A White-label solution is where a 3rd party develops the app and business buy the readymade product. Customisation options are available which gives the app the room to make changes according to the desires of the business. For example, changing the brand name, logo, UI designs, colours, adding for removing features and more.
With a white –label solution businesses do not need to think about the app development at all. They receive a ready to launch the product at a much lower price than the previous 2 options of the in-house development team and hiring an app development company. Further, all after service support available makes it easier to handle any technical factors leaving the business to focus on its main goal.
Apart from white-label apps, many businesses also choose custom apps. Custom apps are built for a specific user or group of users within an organization. These apps address specific needs within an organization as opposed to more traditional, standard software used by the masses. To know more about White-Label App Solution check here.